Hungary has been jam-packed with major international productions in recent months, including Legendary Entertainment/Warner Bros' Dune, Lionsgate's The Unbearable Weight Of Massive Talent starring Nicolas Cage, eOne's UK-Hungary film Mrs Harris Goes to Paris, Amazon Studios' Birds Of Paradise, Amblin's comedy film Distant, Showtimes' new series Halo and Netflix's The Last Kingdom.
National Film Institute Hungary has worked hard with the production companies, studios and authorities to help ensure safety on set, including the introduction of strict Covid-19 guidelines and protocols, and training for health and safety supervisors.
Mrs Harris Goes to Paris, starring Isabelle Huppert and Lesley Manville, filmed in several locations across Budapest in October and November 2020, doubling the city for Paris and London. The $13m project is being financed and distributed by eOne, received $900,000 (HUF279m) in support from the National Film Institute of Hungary, and accessed the local 30% cash rebate.
"The film was originally due to shoot in Bucharest, Romania, but we positioned Budapest as advantageous with its secure 30% incentive and slightly better locations, particularly for doubling Paris," says the film's co-producer Jonathan Halperyn of Hungary based Hero Squared.
Another international production hoping to return to the city to double it for Paris is the Netflix/BBC true crime series The Serpent, which tells the story of French con-man and mass murderer, Charles Sobhraj (Tahar Rahim), who is discovered and trailed by a young embassy official (Billy Howle) in Bangkok in the 1970s. All the prep had been done, including choosing shooting locations across Budapest, when the coronavirus struck.
"The plan is still to return there, doubling the city centre for Paris," explains Cait Collins, line producer on The Serpent, to KFTV. "Budapest is half the price of a Paris location and half as stringent in terms of the hoops you have to jump through to get the permission. We were told in Paris it would be four weeks minimum and we would have to submit everything in Paris to the finest detail we could provide. Whereas in Budapest, they could be more flexible and it only takes about three weeks for permissions."
To help get shooting back up and running, "we are working, in conjunction with the National Film Institute, on various new initiatives, including a new training program for health and safety supervisors with Covid-19 international guidelines," adds Ildikó Kemény at Pioneer Pictures to KFTV, who are the local production service providers for The Serpent and The Witcher. "Studios and rental houses are also investing into all necessary safety precautions so that we can get back to work as soon as possible."
Perfect kingdom
Hungary has proven hugely popular as a shooting location in recent times with Denis Villeneuve's adaptation of Frank Herbert's sci-fi tome Dune one of the biggest productions to shoot there, taking over the Origo Studios in Budapest last year. Villeneuve is clearly a fan having already shot Blade Runner 2049 there.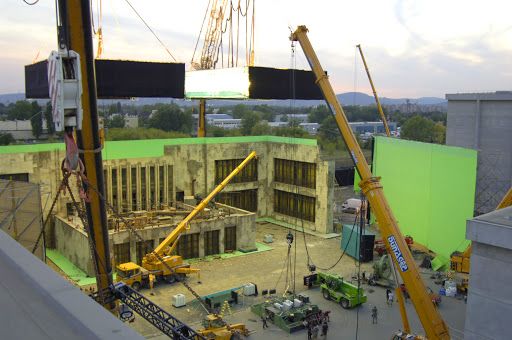 Origo Studios
But he is not the only one to be drawn in by the enticing 30% filming incentive, cheap and efficient crew, and state-of-the-art studios. Other recent productions have included Netflix drama The Witcher, starring Henry Cavill, which also filmed at Origo, as well as the backlot at Mafilm Studio; historical movie The King, featuring Timothée Chalamet as English monarch Henry V; and Carnival Films' major BBC Two historical drama The Last Kingdom, which doubled the country for ninth-century Britain.
"We filmed on the backlot owned by Korda Studios about an hour outside Budapest, where they had a medieval town ready constructed out of wood, so a lot of the infrastructure was already there," says Collins, who line produced series three of The Last Kingdom.
"There's also a great freedom and flexibility to their approach at the studios. If you go to more western studios, they have a system, how they want to do it and certain structures in place. But I found in Budapest they say, 'what can we do to make it work for you?'."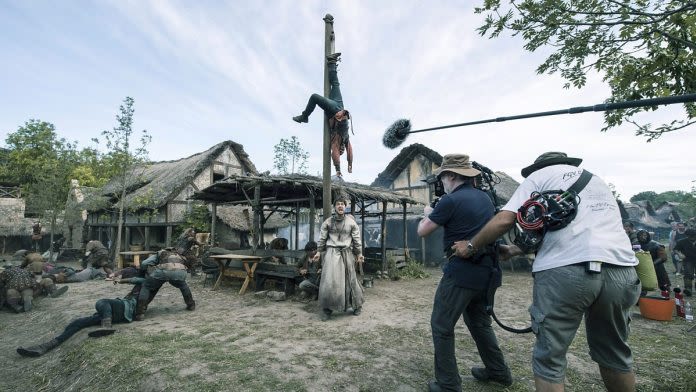 The Last Kingdom filming in Hungary
The Last Kingdom shot several action sequences, involving Vikings, some of which were filmed in the forests and lakes surrounding the studios. But, despite temperatures dropping to minus 15 degrees at times, this didn't prove too much of an obstacle.
"The local crew are brilliant, and because the basic labour and transport are so cheap and efficient (and used to doing this), it is all very easy. When we had to climb the hills to get the best shots, they never questioned it. No drama, no madness."
The only area that still needs improving is getting the local crew to grow into the heads of dept (HoD) level, says Collins, "but that will come with more experience and incoming productions giving opportunities for people to step up to those roles."