The Greek government and Hellenic Film Commission have worked hard to draw international productions in, despite Covid, with a number of productions coming to the country to shoot in 2020/21, including Ruben Östlund's Triangle of Sadness, Maggie Gyllenhaal's The Lost Daughter and German-Italian-Greek co-production Daughters.
One of the huge positives has been the approved rise in the country's cash rebate incentive for film and TV productions from 35% to 40%, and an acceleration of the application process and payback of the rebate. An added bonus is the new 30% tax credit, which can be combined with the rebate.
The Covid case numbers were also relatively low, compared to other countries, over the summer of 2020 from May onwards when the country opened up to productions again. One of these was German director Nana Neul's road trip movie Daughters (Tochter), which was filming in Germany in March when the production was put on hold due to the coronavirus. "We were supposed to go from Germany to Italy and then end in Greece. But that changed once we were able to film again and instead we started back up in Greece in mid-June on the island of Amorgos," explains Bettina Brokemper at Heimatfilm, the German co-producers. "The experience was great, like filming at an outdoor studio where the cast and crew could walk from one location to the other and maintain their social distancing requirements."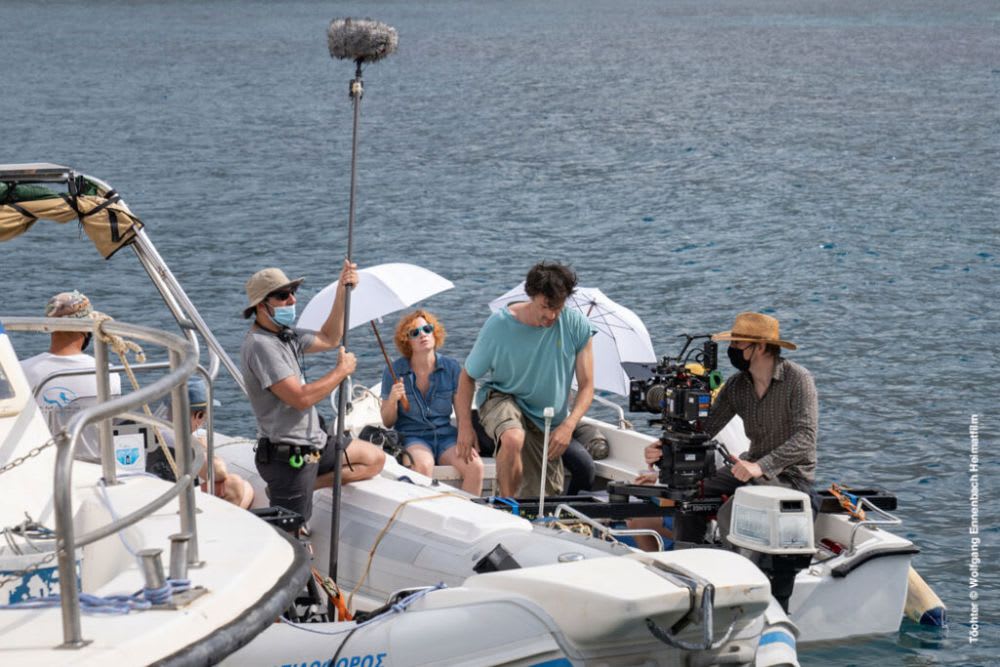 Daughters filming in Greece
Another big project to shoot was Östlund's Triangle Of Sadness, produced by Erik Hemmendorf of Stockholm-based Plattform Produktion and starring Woody Harrelson, which managed to film on the islands of Euboea (Evia) from 19 September for eight weeks. Plus, Marcel Barrena's Spanish drama Mediterraneo, about the refugee crisis, currently in production with Arcadia Motion Pictures and local outfit Heretic; Francois Uzan's French comedy Say Cheese, which was shooting in September and October (Radar Films and Unagi); and Yelena Popovic's US-Greek (Viewmaster and Simeon Entertainment) film Man of God, starring Mickey Rourke, which wrapped in September after a five-week shoot in and around Athens. Another gearing up to shoot is Jason Raftopoulos's Voices in Deep, produced by Australian Exile's Entertainment.
Renowned director Cary Joji Fukunaga also managed to shoot the new Perrier commercial, one of the biggest in 2020, in Athens in late August-early September. Roads, squares and major streets of the capital were shut down completely – an unusual feat for commercials in Greece. Green Olive Films worked closely with the Athens Film Office, The Municipality of Athens and the Mayor's office to achieve this.
"With a local crew of 220 people and 150 cast and an international team of 40 people, the production teams were split into different units and we had to ensure that there was an independent COVID-19 team that attended the tech recce's, provided risk assessments and mapped out Covid-19 stations and disinfection points on each location and unit base to ensure everyone's safety," explains Maria Kopanou, executive producer at Green Olive Films.
More recently Gyllenhaal's The Lost Daughter, adapted from Elena Ferrante's novel, has been one of the first international productions to shoot in Greece in Autumn 2020. Initially planned for a North American shoot, The Lost Daughter moved to Greece after the pandemic, and is currently filming with an all-star cast including Olivia Colman, Dakota Johnson, Jessie Buckley, Peter Sarsgaard and Paul Mescal.
For filming during the second lockdown, the Hellenic Ministry of Culture and Sports updated safety guidelines, including the need for personnel to take rapid tests on a weekly basis, indoor spaces must be well ventilated and disinfected, and the two meter distancing rule must be applied.
Despite these restrictions, Greece is managing to pretty much carry on where it left off before the virus when it attracted a number of International projects, including Michael Winter­bottom's Greed, which used the islands of Mykonos and Delos for Sony Pictures and Film4, and Ferdinando Cito Filomarino's Born To Be Murdered starring John David Washington and Alicia Vikander. The conspiracy thriller from Frenesy Films and RAI filmed some complex scenes in Athens, including riots in Syntagma Square in front of the Greek parliament. While Dutch production company Lemming Film doubled the Nida Plateau on the island of Crete for Syria while filming Shariff Korver's Do Not Hesitate with Greece's Heretic.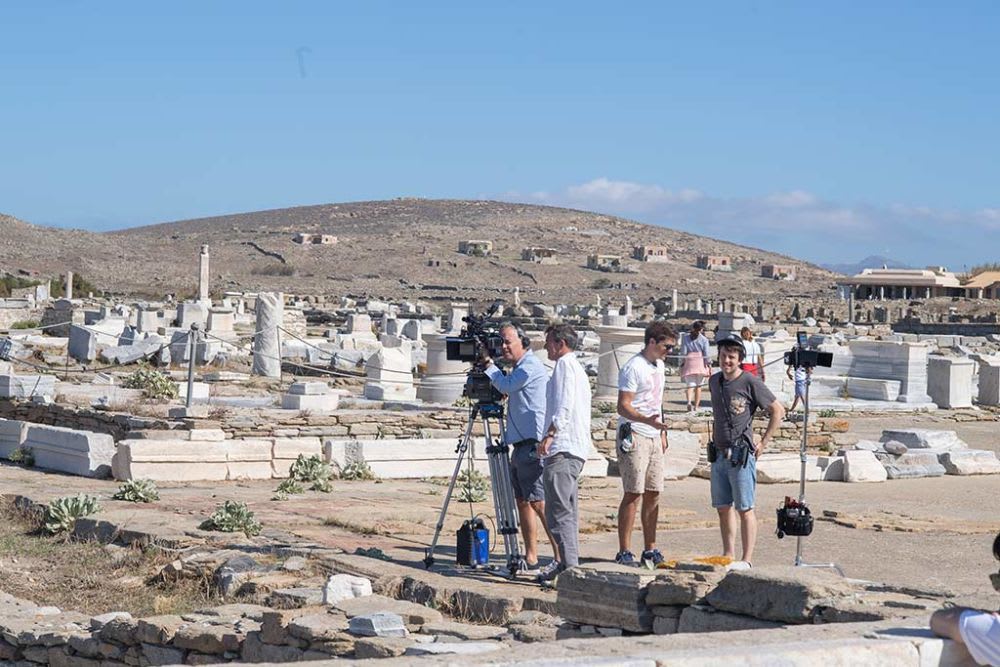 Greed filming in Greece. Credit: Sony Pictures Releasing
Winterbottom's series The Trip to Greece also filmed across the country in 2019. "There are stunning locations and the local crew were fantastic, and spoke English perfectly," says Melissa Parmenter of Revolution Films, the UK producers of the series.
TV series The Durrells has also filmed on the Greek island of Corfu for UK broadcaster ITV. "Some of the locations were quite remote, however there were always ways to work around them, sometimes with boats, sometimes with trucks," explains producer Pat Lees. "We worked on the last three seasons of the show with the experienced Greek line producer Kostas Raftopoulos who, along with his crew, brought these elements together, assisted with the location permits and created excellent working practices with the UK cast and crew."
The majority of the Greek film crew came from Athens, "which is the main crew base of the Greek film industry", adds Lees.
For latest information regarding Covid safety guidelines visit: https://www.filmcommission.gr/hfcnews/safety-guidelines-for-filming-in-greece/