UAE is the filming hub connecting Asia and Europe. Within 300kms radius, you can find everything from modern cities to rocky mountains, and beaches and dunes.
Abu Dhabi's attractiveness as a shooting location was clearly on display as the backdrop of Michael Bay's slick action thriller 6 Underground. The production touched down in 2019 and shot in 25 locations across the emirate, which appeared both as itself and stood in for a variety of other places, including California, Afghanistan and Nigeria.
The high rises of the Abu Dhabi Global Market (ADGM) financial quarter and Al Reem Island stood in for Hong Kong. The landmark Etihad Towers, which also featured in Fast & Furious 7, doubled for Las Vegas, while an imaginary country called Turgistan was created in the backlot of state-backed media and entertainment hub Twofour54, which has provided infrastructure and incentives to more than 500 entertainment companies.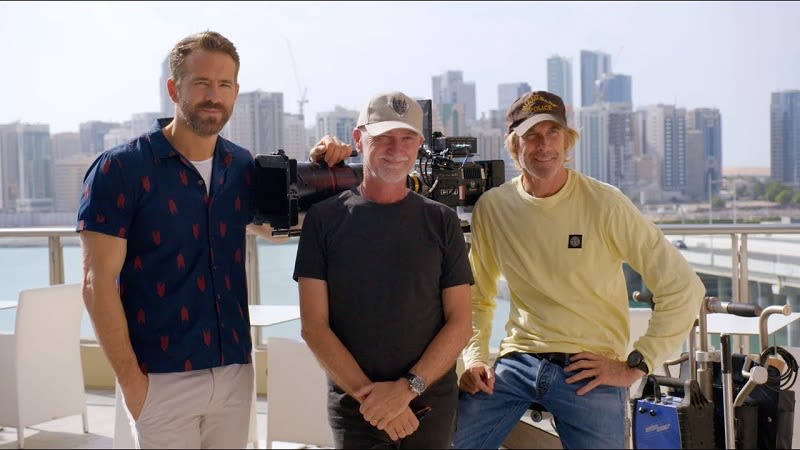 6 Underground via TwoFour54 Abu Dhabi
Other high-profile projects to shoot in Abu Dhabi include Denis Villeneuve's Dune, which shot against the backdrop of its deserts, the French and English language thriller Mirage, Sonic The Hedgehog, Mission: Impossible - Fallout (where they filmed the famous HALO jump) and Star Wars: The Force Awakens.
Dubai is rich in its locations as it provides all types of scenery along with the trademarks of Burj Khalifa, The Palm, Burj Al Arab, and Bluewater Islands amongst others. The overall planning of Dubai can cater to scenes of a futuristic nature, urban subcultures, desert landscapes, luxury lifestyles and along with humbly lived areas that are full of stories and texture, says Dania Salha Quaglio from Camouflage Production, who have been servicing a big production from a leading sports brand.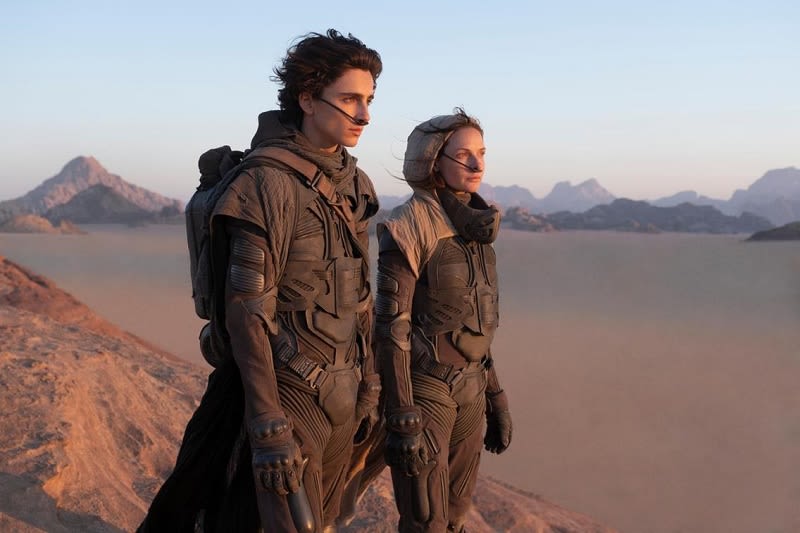 Dune filming in Abu Dhabi via Warner Bros
Beyond its wealth of locations, other major draws are the emirate's 30% cashback rebate for all productions and the burgeoning services and facilities offering that Abu Dhabi has worked hard to build over the past decade.
"Creatively, Abu Dhabi offered us what the script called for and the great tax incentives and overall infrastructure was appealing," says 6 Underground executive producer Garrett Grant.
The neighbouring emirate of Dubai is also drawing international productions with its futuristic buildings and luxury hotel complexes, such as the palatial Atlantis, The Palm. There are plenty of locations to choose from and the weather is constantly good, says Rafic Tamba, CEO at local production service providers VIP Films. It is also one of the safest places to shoot these days as it has put very strict rules in place from the start.
One of the most desired locations for filming this year is the World EXPO 2021 site, for which filming permits are managed by the Expo event organizers, says Jax Donaldson, executive producer from local production service providers Filmworks . Plus, there's also Dubai's amazing landmarks, such as the Burj Khlifa, Downtown district, and the world deepest swimming pool at Deep Dive Dubai, say Jay Nehme and Gabriel Chamoun, partner and CEO, respectively, at local production service providers The Talkies, who recently shot a 60" car ad in the city with 20 cars moving in full sync round a hero vehicle using a Russian arm.
"Producers use Dubai and Abu Dhabi to shoot commercials (and features) for the wide, clean roads and bridges with ultra-modern city backdrops, and police support for road control is always excellent," enthuses Ian Ross, owner of local production services provider Central Films, who are busy shooting car commercials in these Covid times. "But there are also deserts in Sharjah and Dubai with various shades of sand, and dramatic mountains that meet dunes up to an hour outside the city."
One of the most stunning locations just outside Dubai is Hatta, which offers massive desert mountains, with turquoise waters calmly resting between them at Hatta Dam. There's also the Wasit Nature Reserve in Sharjah; the Hajar mountains; and the desolate Snoopy Island in the Emirate of Fujairah, where the mountains meet the sea.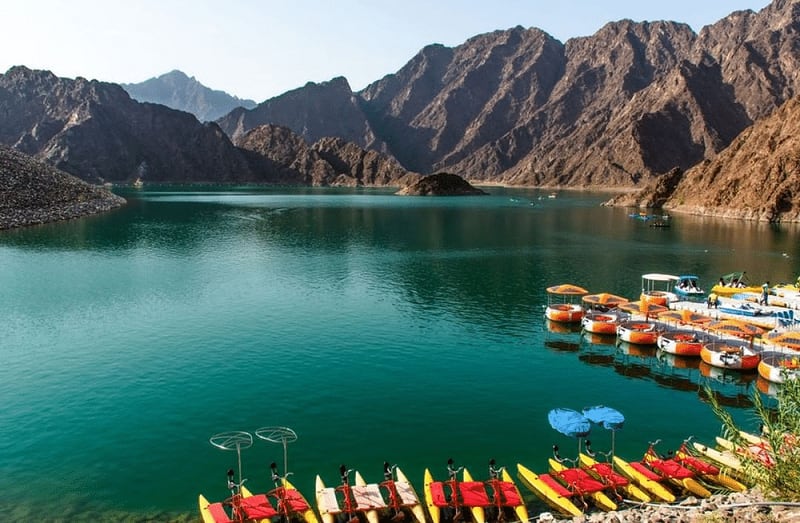 Hatta
To prove how much can be taken in on a shoot, 6 Underground filmed in 24 locations across Abu Dhabi over the course of a 27-day shoot, as well as the oasis city of Al Ain and the northern emirate of Ras Al Khaimah.
"The region can also double for any modern city in the US, and other parts of the Gulf, such as Saudi Arabia," adds Chamoun at The Talkies.
Examples include George Clooney's Syriana, which doubled Dubai for the Iranian desert, Brad Pitt's Netflix film, War Machine, used Abu Dhabi to represent Afghanistan, and Bollywood film Baby used the city as a double for Turkey.
"The UAE also has a very cosmopolitan population, so it's possible to cast for most nationalities," adds Jana Barnard, a line producer at VIP Films.
Just be aware that a sub-tropical, arid climate dominates the United Arab Emirates. Summers tend to be hot and humid, and there's only marginal respite in the winter months. Thunderstorms can also strike during the summer and sandstorms are an occasional threat, which can have a dramatic effect on visibility.
Permits
Permits are easy to get provided you have a local based production service provider, insists Tamba.
In Abu Dhabi, there are two classes of permits for filming: ground permits and aerial permits. While in Dubai, the Dubai Film and TV Commission (DFTC) is the sole entity authorised to issue media shooting permits.
Most locations are easily accessible. Price and permission depend on the location and the type of production. For more details on procedures and costs in Dubai, go to… http://www.dubaifilmcommission.ae/filming-in-dubai/how-to-film-in-dubai/permit-fees
Jarvinen from Filmworks also makes the important point that the UAE requires an entire script to be approved by the releveant authorities, not just the segments to be filmed in the UAE.
Dubai
Central Films' Ian Ross and Karen Coetzee say Dubai boasts many unique locations. "We have very diverse landscapes like beaches, deserts, city and mountains -- all within a 30 to 60 minute travel of the city. The city areas are beautiful, clean and with wide roads.
He adds: "The UAE is underutilised and, unlike L.A. and parts of Europe where you can recognise the same streets and corners in films, we continuously have new locations to offer as the city expands."