The United Arab Emirates has grown in popularity as a filming territory thanks to its versatile, striking contemporary and desert locations that are often called on to double for other places, enticing financial incentives, and impressive plans to expand its studio and crew offerings.
The emirates is currently going through a massive vaccination drive and testing is readily available. Production has already resumed with safety rules in place and those coming from other countries need a negative PCR test.
"There have been a lot of international productions in both Dubai an Abu Dhabi in the last six months because it is open and managed," insists Shane Martin, chief executive of Boomtown Productions in Dubai to KFTV, who have been busy with ad campaigns for the likes of Mercedes, Geneis and Chevrolet.
Paramount's Mission: Impossible 7 and 8 recently finished shooting in the region with the support of the Abu Dhabi government and local film and TV commission.
"We had started prepping for Mission: Impossible 7, in Spring 2020. They were going to shoot two big scenes with hundreds of crews. So, we put together filming protocols with government and Paramount," explains Hans Fraikin, Abu Dhabi Film Commisioner, to KFTV. "But we were very strict about the bubbles. We had nearly 300 international and 200 local crew. Everyone was put into five different hotels and they could never mix. Same with the extras. It worked really well and we didn't get one Covid case.

"We had dozens of health and safety advisors to make sure everyone abided by the protocols, testing, social distancing etc. No one could get close to Tom Cruise. The set was like a military drill and they never waivered."
Abu Dhabi's attractiveness as a shooting location was also on display as the backdrop of Michael Bay's slick action thriller 6 Underground. The production touched down in 2019 and shot in 25 locations across the emirate, which appeared both as itself and stood in for a variety of other places, including California, Afghanistan and Nigeria.
The high rises of the Abu Dhabi Global Market (ADGM) financial quarter and Al Reem Island stood in for Hong Kong. The landmark Etihad Towers, which also featured in Fast & Furious 7, doubled for Las Vegas, while an imaginary country called Turgistan was created in the backlot of state-backed media and entertainment hub Twofour54, which has provided infrastructure and incentives to more than 500 entertainment companies.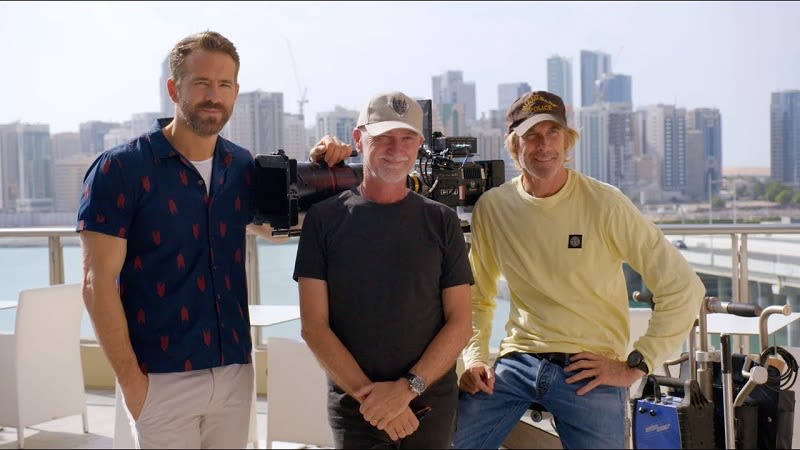 6 Underground via TwoFour54 Abu Dhabi
Other high-profile projects to shoot in Abu Dhabi include Denis Villeneuve's Dune, which shot against the backdrop of its desert, the French and English language thriller Mirage, Sonic The Hedgehog, Mission: Impossible - Fallout (where they filmed the famous HALO jump) and Star Wars: The Force Awakens.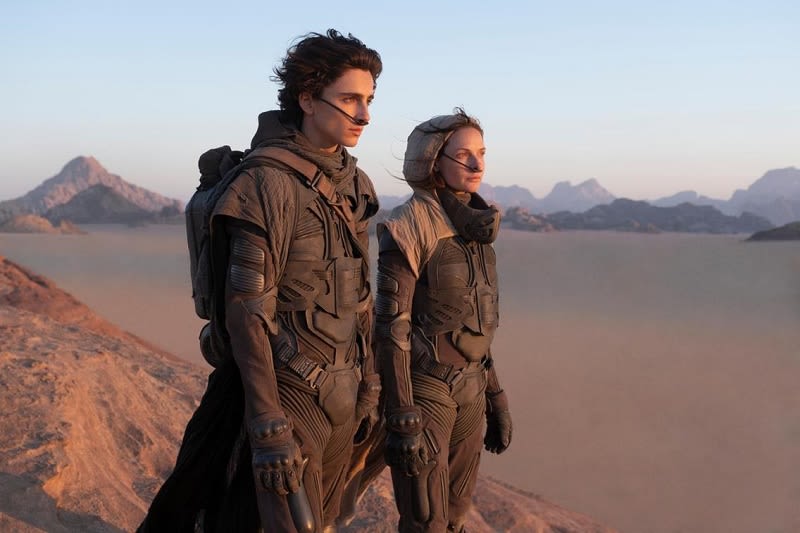 Dune filming in Abu Dhabi via Warner Bros

Beyond its wealth of locations, other major draws are the emirate's 30% cashback rebate for all productions and the burgeoning services and facilities offering that Abu Dhabi has worked hard to build over the past decade.
"Creatively, Abu Dhabi offered us what the script called for and the great tax incentives and overall infrastructure was appealing," says 6 Underground executive producer Garrett Grant.
The neighbouring emirate of Dubai is also drawing international productions with its futuristic buildings and luxury hotel complexes, such as the palatial Atlantis, The Palm. "There are plenty of locations to choose from and the weather is constantly good," says Rafic Tamba, CEO of local production service providers, VIP FIlms. "It is also one of the safest places to shoot these days as it has put very strict rules in place from the start."
Attracting Bollywood
The emirate is just under three hours by air from Mumbai and continues to be a popular destination for Indian film­makers. The territory played host to Bunty Aur Babli 2, a reboot of the Hindi-language crime comedy drama, produced by Aditya Chopra under his Yash Raj Films banner.
More than 350 cast and crew worked on the 10-day shoot in 2020, which took place against the backdrop of the Abu Dhabi Equestrian Club and Emirates Palace. It follows in the wake of other Bollywood productions including Bharat, Saaho, Dishoom, Race 3, Bang Bang and Tiger Zinda Hai.
The territory is also becoming a hub for the wider region, and has welcomed more that 20 Middle East and North African TV and film productions over the last 12 months. These include the Saudi-set soap opera The Inheritance, co-developed by UK TV writer Tony Jordan, for which a bespoke studio was built.