"There are no places on earth where anything is guaranteed with regard to the weather anymore." This is the stark warning of Mike Downey, a film producer and chairman of the European Film Academy, talking about the effects of climate change on filming locations worldwide.
Although the subject has been somewhat overshadowed in recent months by the coronavirus pandemic, it is still very much a major ongoing concern that needs addressing. Ironically, the coronavirus might even be helping the cause by putting a stop to film and TV productions and most air travel over the past couple of months.
China and Northern Italy have recorded major falls in nitrogen dioxide - a serious air pollutant and powerful warming chemical - while residents of Venice have noticed a vast improvement in the water quality of the famous canals running through the city, and carbon monoxide levels are down worldwide.
"It's one of the only positives of the coronavirus. Maybe we should have a two months hiatus every year," jokes producer and director, Marios Hamboulides, sarcastically. He recently worked on the US TV series Warrior about a martial arts prodigy in the 19th century, based on a treatment by Bruce Lee, which filmed in Cape Town, but is now working remotely on an animation project.
Trouble shooting
Joking aside, the effects of climate change and increase in natural disasters have been there for all to see in recent times. The Australian wildfires caused extensive damage earlier this year; the Amazon rainforest burned more than usual (aided by the Brazilian government's deforestation efforts), the Panama Canal is running out of water and Venice canals flooded then two months later were reduced to muddy trenches. There have also been the California wildfires, typhoon Hagibis in Japan, Cyclone Idai in Southern Africa and much more.
"Studios have to do their due diligence on what the safety implications are when choosing shooting locations, including potential natural disasters like tsunamis and earthquakes," says Georgette Turner, LMGI, an experienced UK based location manager, who's projects include Mission: Impossible – Fallout, Edge of Tomorrow and Night at the Museum: Secret of the Tomb.
"Anywhere you go, the weather and conditions are not predictable. It has a huge effect on production," adds American veteran location scout and LMGI vice president Lori Balton, who worked second unit for Marvel's Shang-Chi and the Legend of the Ten Rings, which filmed in Australia during the fires earlier this year. "Everywhere the light and air was different because of the particulate matter in the sky."
Toronto based location manager and scout John Rakich, whose recent credits include the new Netflix series Grand Army and Jupiter's Legacy, agrees: "Wherever you are now, the seasons are not predictable. I've got designers asking me 'will there be green trees in March?' and my answer is 'I don't know anymore'. If you want to do a winter movie with snow, good luck!"
Indeed, relying on snow proved to be a problem for Sky Atlantic show Fortitude, starring Richard Dormer, Dennis Quaid and Michael Gambon, which filmed in the East fjords of Iceland for series 1 and 2.
"We were set up in Reyðarfjörður, which is on the coast with mountains and fjords. The producers were hoping for a lot of snow all the time, but that is tricky with global warming," explains Einar Sveinn Þórðarson of Pegasus Pictures, the series' production service providers in Iceland. "The climate is not as consistent as in the old days. The snow would come and go, so we had to have a plan B and C, including using fake snow to keep the scenery consistent."
Reyðarfjörður, Iceland
This is a common problem. Veteran producer Iain Smith has been working on a new drama called Arctic 30, about a group of Greenpeace activists who tried to protest Russian oil exploration in Arctic waters. "Filming in Russia is tricky because of the extreme weather, so we had to look further south in places like Estonia and Lithuania, but the snow there is less reliable because of global warming," he explains.
This unpredictable weather has an obvious knock-on effect on production schedules. Many days can be lost. "This could be $250,000 to $750,000 a day on the big projects," says Smith. Then there's the actors to consider, who often have tight shooting windows.
Planning, research and a great understanding of locations are therefore key. "For example, filming in South East Asia in April is a nightmare because it's very hot. While going to the Caribbean in August/September, you're asking for trouble. I've heard of sets being destroyed in hurricanes," warns Smith.
What's harder to accommodate for is the severity of the impact of natural disasters. In Australia, for example, there have been bush fires, due to the heat, for a number of years. But it would have been hard to predict how ferocious and devastating the recent bush fires were going to be.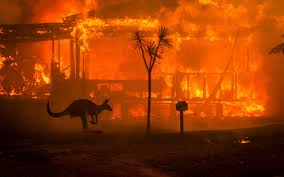 "Most of the impact was in remote areas, although some urban communities were affected. But the biggest concern going forward is the fact that a serious spread of the fires could happen again," says Australia based location manager Duncan Jones (Thor: Ragnarok).
This will be a great point of concern for studios and production companies as they generally like to prepare for locations at least a year to 18 months in advance. "Films that were planning on going to Australia could consider going somewhere else," warns Turner. "Then once you go somewhere else that looks like where you were going to go in the first place it becomes your new norm."
Industry effects
Undoubtedly, the industry itself at all levels (production, distribution, sales, festivals etc) is contributing to this climate change problem. A study by BAFTA estimated that a massive 13 metric tonnes of carbon dioxide is created per hour of broadcast material.
Plus, there is the huge problem of waste and emissions from productions, whether it's the destruction of film sets, maintaining the use of equipment on sets, or just getting rid of rubbish.
"As location managers, we've noticed we have to put in a lot more power generation to support our huge shoots," explains Tom Howard, a UK based location manager who recently worked on The Secret Garden and Misbehaviour. "We've got some cars that are hybrid, but not enough hybrid generators. Then there are generators running overnight for the camera trucks. We've tried using battery backs, but they don't last long enough and to charge them up you have to stick them back on a generator. The production managers ask if we can use bio fuel. We tell them it costs 20p extra, and they say we can't afford it."
This is part of the major problem of persuading productions to have a green budget and someone to oversee it. "They say we need a policy on recycling and waste, which is great. We need someone to sort the waste disposal at source, so it's not contaminated, which also requires specialist bin bags, but when I tell them it'll cost £1,500 a week, they say 'Oh no, just put three bin bags out and some signage up and we'll put it on the call sheet,'" adds Howard.
Similarly, at the end of productions, whole sets are often thrown in the skip, especially on larger productions. The intention is for them to be recycled, but the likelihood is they will be chipped and burned. "People should re-use sets," insists Howard. "But the higher up you go in the production scale and value, they don't want to see their sets being re-used for Eastenders or on a low budget drama, so it's destroyed."
Take action
There are, however, signs that the industry is heading in the right direction, and steps are being taken.
The European Union launched the five-year Green Screen Interreg project in 2017 with the support of commissions, funds and development agencies in eight European regions and a budget of nearly €2m. "The project's goal is to reduce the carbon footprint of European film and TV production through the sharing of information, development of regional policies, and training in sustainable measures," explains Downey at the EFA.
Film commissions worldwide are also acting. The European Film Commission Network (EUFCN) website has assembled toolkits, guides and handbooks from nine of its member commissions. Among them, the Flanders Audiovisual Fund (VAF) in Belgium is often highlighted as a leader because it ties sustainability to funding: it requires productions to receive "eco-coaching" and to meet carbon footprint standards before they can receive the last 10 percent instalment of support.
The Trentino Film Commission's T-Green Film bills itself as the first regional fund in Europe that awards and certifies productions applying environmental protection measures to their works. While the Hamburg Schleswig-Holstein Film Commission's Green Shooting Card is a seal of approval that can be helpful when applying for location permits. And the Green Screen initiative of Film London, a lead partner in the EU Green Screen project, provides an interactive step-by-step guide, department tailored tips, action plans, potential discounts on filming fees for certain locations, and an official audit and Green Screen stamp at the end.
Film-makers are following suit. "Responsible producers like myself are obliged to look after the environment as part of our filmmaking strategy," insists Smith. "We tend to use second- hand timber and are careful to make sure it's re-used. We also try to keep people flying less. Instead of bringing as many Americans over for the Warner Bros./Netflix TV series Sandman, shooting in the UK, we're trying to stay as local as possible. Finding talent, crew and directors here, if possible."
Fatima Lageras from production service outfit Swedish Fixer agrees: "If the country you're filming in offers professional equipment and crew, use it! And require that your service partner (as much as possible) only use eco-friendly sub vendors when it comes to catering and transport options."
Again, this is where the coronavirus might have a knock-on effect in a positive way, as people get used to travelling less by plane. "It will be interesting to see if we can sustain this as the virus dies away," says Sir David King, former foreign secretary's special representative for climate change. "In other words, develop new habits over the next year, having more virtual meetings, reduce the need for travel."
Timur Bekmambetov recently managed to shoot parts of his film V.2 Escape from Hell using remote filming methods during the coronavirus. He directed a battle sequence using the Microsoft Teams collaboration platform.
V.2 Escape from Hell
Other productions are doing the same. "We have arranged video streaming solutions for clients, providing full quality monitoring so that a director and/or producer can be present and control the shoot even if they are not present in person," says Lageras.
"we can imagine a more sustainable and cost-effective approach to film production abroad blossoming from the virus-scorched earth. One in which client and agency stakeholders travel less as they grow comfortable with virtual presence on set," insists Michael Moffett, managing director of Production Service Network, whose UK team worked with director Ferras Fayyad remotely through What'sApp during filming of 2020 Oscar nominated documentary The Cave.
Overall, there's a lot that can and should be done by the industry. "We can be a huge force for change, but we must act collectively and fast," insists Downey. "It's not hard to conceive of a time in the not too distant future, as our planet begins to fail, when people may choose to watch or not watch something based on whether it was made sustainability or not."