The Covid-19 Film and TV Emergency Relief Fund, created to support the UK creative community during the coronavirus pandemic, launches today (April 8) with initial donations totalling £2.5m ($3.1m).
Established by The Film and TV Charity in partnership with the BFI, it is supported by funds from Netflix, the BFI, BBC Studios, BBC Content, WarnerMedia and "several generous individuals".
The BFI has announced it will contribute £500,000 ($617,000) of National Lottery funding to the initiative. Streaming giant Netflix previously donated £1m ($1.23m).
The time-limited fund – applications will remain open for two weeks – is being administered by The Film and TV Charity, with support from BFI staff. Both organisations are covering all overheads, enabling donations to go directly to eligible workers and freelancers across film, TV and cinema.
One-off grants of between £500 and £2,500 will be awarded based on need.
According to a new survey conducted by The Film and TV Charity, 93% of industry freelancers are no longer working due to the crisis; 74% are not expected to receive any support since they are either ineligible for either the government's self-employment income support scheme or have not been furloughed as PAYE freelancers under the government's job retention scheme.
In addition, 74% of respondents said they were very or extremely worried about their income in coming months, while 45% said they were worried about meeting basic living costs of food, medicine and accommodation.
BFI chief executive Ben Roberts said: "We know a huge number of freelance professionals in our community have been some of the hardest hit during the coronavirus crisis, so we are delighted that the fund is now open for applications."
Alex Pumfrey, CEO of The Film and TV Charity, said the scheme would highlight applicants who are "experiencing particular distress" and that its team would respond to those "red flags" with personal follow-up calls. The charity has also made an appeal for additional donations to grow the emergency relief fund.
Applications for the one-off grants can be made via The Film and TV Charity's website here.
Repayable Grants Scheme
Additionally, the charity has also unveiled a Covid-19 Film and TV Repayable Grants Scheme, offering support for industry freelancers waiting for payments under the UK government's self-employment income support scheme.
Interest-free grants of up to £2,000 will be offered to those eligible for self-employment income support but who are struggling with the wait for payments in June. This scheme opens next Wednesday (April 15) and applicants will have one week to make a claim via the charity's website here.
The charity said applicants do not need to provide any guarantees and there is no arrangement fee. Recipients will be asked to repay the grants by the end of September.
Both the one-off grants and repayable grants sit alongside the charity's existing Hardship Fund, which offers £500 to provide stop-gap support.
Urgent call for further donations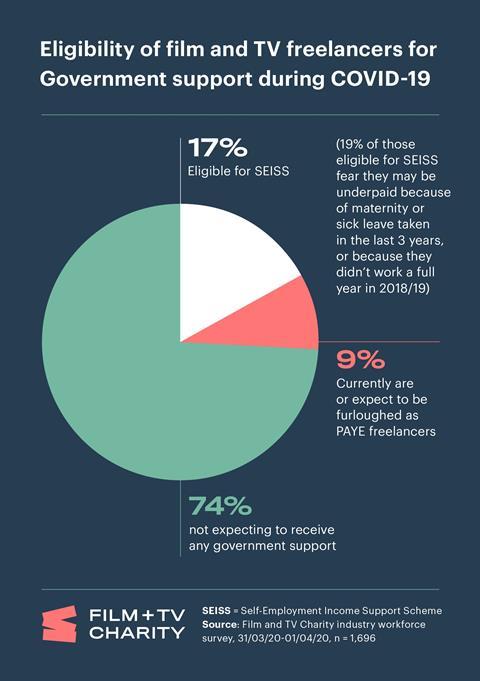 SOURCE: FILM & TV CHARITY
In order to help more people the Film and TV Charity is now inviting further donations to the Emergency Relief Fund from individuals and corporations.
"By donating, corporates and individuals will be helping those who have been vital to our industry's huge success story; this is our industry rallying to support our community," said Pumfrey. "I believe we can come together like never before, and that we will eventually emerge from this crisis with a kinder, more compassionate and even more creative spirit."
Furthermore the two organisations have also recognised the significant mental health pressures arising as a result of the coronavirus crisis and are developing new advice specifically tailored for the film and TV industries on how to stay mentally fit at home. Conducted in line with the charity's existing Whole Picture Programme for better mental health, it will also create a new supportive community forum for freelancers.
The BFI-led, industry-wide Screen Sector Task Force is also looking at the wide-ranging impacts of Covid-19 on the whole industry and its workforce, as well as working closely with the UK government to ensure all of the ramifications and impacts are considered.
The BFI has up-to-date industry advice for freelancers and other areas of the sector here.