The cast and crew of Pathe's romantic drama Eiffel, starring Romain Duris and Anglo-French Sex Education star Emma Mackey, returned to a set outside Paris on June 4 after a near three-month hiatus due to the Covid-19 pandemic.
The $20m (€22m) feature had three weeks of shooting left when France went into a national lockdown on March 17, which began progressively lifting from May 11. Eiffel is one of the first bigger-budget features to go back to work since the beginning of June alongside comedy franchise Les Tuche 4 and World War Two drama Adieu Monsieur Haffmann. A handful of popular soaps such as Plus La Belle Vie returned to their sets at the end of May.
Productions are now bound by a set of Covid-19 era protocols drawn up by France's Central Committee for Hygiene, Safety and Working Conditions (CCHSCT), after protracted negotiations with local producers. The 48-page document covers everything from the provision of hand sanitiser and personal protective equipment (PPE) to love scenes, which it suggests be rewritten where possible along with fight and crowd scenes.
Producer Vanessa van Zuylen, who operates under the banners of Paris-based VVZ Production and L'Insensé Films, said the return to the set of Eiffel has been less challenging than she had feared thanks to meticulous planning.
"We were worried it would slow things down and that everyone would have an awful time trying to figure it out and even recognising one another in their masks but actually once we got into the shoot, the cast and crew were quick to adapt," she explained.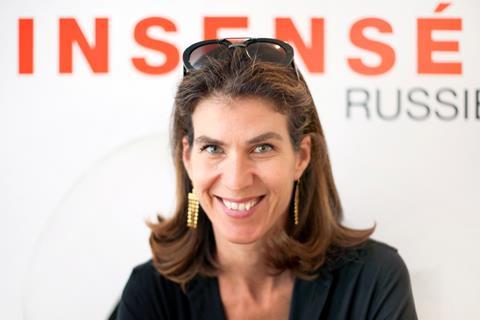 Van Zuylen spent three weeks figuring out how to get the cameras rolling again with director Martin Bourboulon and the assistant director and location manager.
"One of the challenges is how people move around the set. It's like a little ballet. We did drawings. Everybody has different colours and knows where they need to be so there are never more than 50 people on the set at any one time," she added.
Other measures included Duris and Mackey self-isolating for 14 days and everybody involved in the production taking a Covid-19 test, albeit on a voluntary basis. The rest of the cast and crew have pledged to keep to their lockdown groups outside of work hours to create a Covid-19 free bubble for the production, she added.
"It was important from a psychological point of view as much as anything. Now we know everybody on set has tested negative there's no fear. People aren't looking at one another wondering if the other person has got it, which I think would have been particularly hard on the actors," said van Zuylen.
Love scenes and crowds
Mackey co-stars as Adrienne Bourgès, a mysterious past love of celebrated civil engineer Gustave Eiffel, played by Duris. As both actors have been self-isolating, they could technically shoot love scenes under the new protocols but only at their own volition, says van Zuylen.
She reveals, however, all intimate and crowd scenes had been shot prior to the lockdown.
"We were lucky. We had 500 extras in some of the scenes and 2,000 extras in total," she explains. "There's no way we could have gone ahead now unless we'd been given a special dispensation by the Ministry of Culture. I don't think that would have been very likely given the current restrictions of 50 people to a set. Even then, I don't see how we could have done it… we'd have had to test everyone and then get them to self-isolate for 14 days."
Additional measures include state-of-the-art ultraviolet lights to clean cameras and other equipment, special disinfectant sprays for costumes and the hiring of a nurse and doctor for the set.
"We sent out a sort of protocol questionnaire asking each department what they needed for their own security. It was the director of photography who suggested the ultraviolet lights," added van Zuylen. "With everything we've done, there is no way Covid could get onto the set – it's like Fort Knox – but it was important for everyone to feel safe."
Extra costs
Van Zuylen acknowledged the new Covid-19 measures have come at a cost. "We're up to around €80,000 ($90,000) and that's not counting the extra hours, it's too early to calculate that yet. That's a lot of money for a production like ours, for any production in fact," she said.
She expressed gratitude, however, for the creation of a special €50m ($56m) guarantee fund by the National Cinema Centre to cover extra costs incurred by TV and cinema productions, impacted by Covid-19 in the future, whether it be due to illness on the set or another national lockdown. This state-backed guarantee fund is a key factor in enabling French productions to start shooting again.
In the wider French film industry, concerns remain, however, about the applicability of the CCHSCT protocols.
The country's influential Société des Réalisateurs (SRF), or Directors Guild – which features the likes of Bertrand Bonello, Catherine Corsini, Rebecca Zlotowski, Jacques Audiard and Céline Sciamma on the board – put out a statement last week saying the protocols were "incompatible" with filmmaking.
"The part of our sector that can really adapt and restart shoots under such conditions is very small," said the body. "If people can't get closer than a metre, or touch, or embrace, or cry or laugh too hard for risk of spitting… the representation of a world 'without Covid' is quite simply no longer possible."
It called for a rethink of the CCHSCT guidelines more in line with the "singular nature" of cinema
"We want to get back to work as rapidly as possibly but not in a way that is damaging to the content of our films and our artistic choices… we fear that a resumption of shoots under the conditions defined in the guide and with the literal application of the rules it proposes will put the integrity of our films at risk."
It added the extra costs related to implementing the measures would have the most impact on fragile, independent films.
International productions
The return of international productions in the meantime is in on hold for now as France's borders have been closed since March 17.
The country is expected to reopen its European borders on June 15, ahead of a wider European Union push to open up to travellers from outside the region progressively from July 1.
Travel between France and the UK remains more complicated for now, however, due to the UK's new quarantine rules requiring people arriving in the country to self-isolate for 14 days. France has reciprocated with similar rules for arrivals from the UK, although it is not entirely clear how it is being enforced on either side.
Stephan Bender, acting chief of Film France, the state-backed agency supporting international productions in France, says he expects the country to open up to incoming productions by mid-summer, at least for teams working on pre-production or coming in to do recces.
He noted that luckily few international productions had been caught out by the lockdown.
"There were no catastrophes. By a stroke of luck, Ridley Scott's The Last Dual wrapped as planned as the lockdown began," said Bender, referring to Scott's medieval drama, which was shooting in the Dordogne region in southwest France when the pandemic took off.
"A number of productions booked in for the early summer were able to postpone. We've been busy throughout the lockdown fielding enquiries and we're expecting it to be busy from late-August to September."