Denis Villeneuve's sci-fi epic Dune, starring Timothee Chalamat, Rebecca Ferguson and Javier Bardem, is among several major projects scheduled to return to shoot in Hungary in the coming weeks, confirmed Hungary's National Film Institute (NFI) to KFTV.
Dune will be doing some additional filming in August at the Origo Film Studios near central Budapest. Other projects set to return to the studio this year include Amazon's The Banker's Wife, an international thriller based on Cristina Alger's best-selling novel, which is being backed by some of the Homeland team, and Sony's The Nightingale, starring Elle and Dakota Fanning as sisters torn apart at the start of WWII.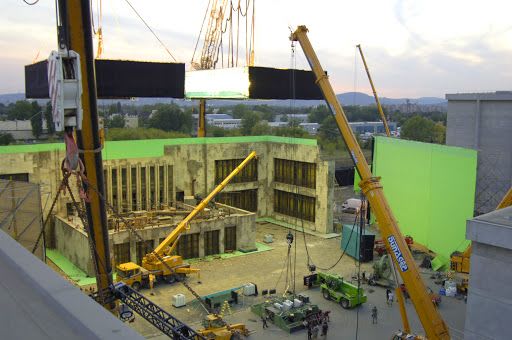 Origo Studios
The filming of Showtimes' live-action, scripted series Halo, based on the record-shattering video games, will resume at the Korda Studios near Budapest, which offers six soundstages, the largest of which is 64,310 sq ft with a net buildable height of 20 metres.
Meanwhile, Netflix has already been building sets in two studios at the NFI Mafilm studio complex in Fót for its series Terra Vision, with shooting set to start in mid-July.
The unique medieval backlot at Mafilm studio has also been booked by a US production for the second half of July. There has been an increase in interest from several international and domestic productions for the studio's soundstages and backlots since the government announced plans back in April to expand Mafilm. This includes new soundstages being built, which will increase the present studio capacity by an additional 9,600 square metres to a total of 12,000 square metres.
Mafilm studio medieval backlot
Another production hoping to return to the country is the Netflix/BBC true crime series The Serpent, which tells the story of French con-man and mass murderer, Charles Sobhraj (Tahar Rahim), who is discovered and trailed by a young embassy official (Billy Howle) in Bangkok in the 1970s. All the prep had been done, including choosing shooting locations across Budapest, when the coronavirus struck.
"The plan is still to return there, doubling the city centre for Paris," explains Cait Collins, line producer on The Serpent, to KFTV. "Budapest is half the price of a Paris location and half as stringent in terms of the hoops you have to jump through to get the permission. We were told in Paris it would be four weeks minimum and we would have to submit everything in Paris to the finest detail we could provide. Whereas in Budapest, they could be more flexible and it only takes about three weeks for permissions."
In an additional boost to these arriving productions, Hungary's film commission has confirmed that special exemption can be granted for non-EU residents to enter Hungary without mandatory quarantine. This follows the European Union's decision not to include some countries, including the US, in its list of 'safe' countries.
Hungary's National Film Institute, however, has drawn up some health and safety recommendations to help protect cast and crew against the coronavirus.
The impressive packed 2020 schedule follows a record breaking 2019 in terms of film and TV production spend, which grew about 50% year-on-year to $565.6m. An impressive 94% of that came from international productions.
The greatest amount, $48.2m, was spent on TNT's The Alienist: Angel of Darkness, the second season of the Emmy-winning drama series, starring Dakota Fanning, Luke Evans and Daniel Brühl. Showtime's Halo spent just over $41.3m, while both Netflix's Shadow and Bones and the feature biopic Harry Haft spent $24m.
Many of these projects are attracted byHungary's enticing 30% tax rebate based on local spend. The rebate can even reach 37.5% through the addition of qualifying non-Hungarian costs.