Independent production in North America has been resuming after months of scarcely any activity in late spring and early summer, when Covid-19 infections spiked across the US. And as the new framework for production evolves under safety protocols, confidence levels are rising gradually — tempered by the knowledge that regional spikes can bring everything back to a standstill.
Productions must comply with union and guild guidance, and are being forced to revise schedules to steer clear of high-infection areas, and operate nimble, smaller crews. By many estimates, coronavirus protocols can add anywhere from 10%‑20% onto a budget.
And then there is the issue of insurance. As the pandemic began to unfold, carriers stopped offering coverage on losses stemming from Covid-19, such as shutdowns or claims by infected parties on a production, preventing companies from securing completion bonds.
A few insurance products are emerging but they can be prohibitively expensive for independent productions, offering limited coverage and premiums that can reach 10% of the coverage limit.
Not everyone can afford to self-insure like studios and streamers. Without government relief plans like those in the UK and Canada, the majority of independent productions in the US are walking a tightrope. With all that said, and the recent consolidated return-to-work guidelines issued in September by unions and guilds, filmmakers and production companies have been finding their way back.
Shortly before the US went into lockdown in March, producer Courtney Lauren Penn looked at the roster at her Los Angeles-based Renegade Entertainment. The company she launched last year with actor and filmmaker Thomas Jane had planned to shoot three features in 2020. "I saw we were very soon going to be in a different mode for what was likely to be an extended period," says Penn. "We looked at what would likely be the survivable elements."
They decided to move ahead with "lower-risk profile" The Last Son Of Isaac Lemay, a western with mostly exterior shots, where cast and crew would be able to live in a bubble on a large ranch. Jane, Heather Graham, Sam Worthington and Machine Gun Kelly star, and the film went into production in Montana in October.
The producers hired Covid-19 consultants and adopted customised protocols and zones to keep people separate from director Tim Sutton, the producers and actors. A Covid‑19 compliance officer ensured protocols were observed, and daily testing went further than the Screen Actors Guild (SAG) mandate of a lab-based PCR (polymerase chain reaction) diagnostic test taken within 48 hours of returning to work. Lead financier VMI Worldwide handles sales and the production has insurance that covers Covid-19.
North of the border
Limelight president Dylan Sellers shot two films in Canada, shuttling between Vancouver for Warner Bros Home Entertainment's A Cinderella Story: Starstruck and Ontario for the independently financed Naomi Watts thriller Lakewood, which Phillip Noyce directs. Both films shot from late July to early September.
The plan was to film Lakewood in New York state, near to Watts' home. Sellers was concerned about Covid‑19 protocols in the US and knew money could be saved through production incentives in Canada. So in June, less than a month from the start of principal photography, they pivoted. Sellers flew cast and crew to Toronto where they undertook a mandatory 14-day quarantine before travelling a few hours to North Bay.
"It was a crazy fast pre-production," he says, adding that, on balance, what would have resulted in a 25% saving from Ontario incentives was cut down by Covid-19 expenses to "a 10%-15% win". Limelight bonds its own films and took out standard insurance. Canada's federal relief programme would offer protection against coronavirus-related contingencies so long as the production implemented proper protocols, which it did. "Everybody wore masks, religiously," says Sellers.
There was regular rapid testing — less sensitive than the gold-standard PCR test but able to produce results in 30 minutes. The production hired more vans so people could distance on shuttles, and handed out individually wrapped, pre-packaged food.
AGC Studios, which shot a secret untitled Neill Blomkamp supernatural thriller near Vancouver over the summer, is in production on Queenpins in Pomona, California after prep in Los Angeles on the Kristen Bell comedy shut down in March.
"That's a conundrum for an independent film because you've raised enough money to make the movie pre-coronavirus, and then the only way you can go back up is if you're able to cover these extraordinary costs that all relate to Covid-19 safety," notes AGC's head of film Linda McDonough.
AGC had Covid-19 coverage through Chubb and paid the premium in March, three days before carriers stopped offering coronavirus insurance. Armed with what McDonough describes as "an insurable path to production", AGC sold worldwide rights to STX in a negative pick-up deal that absorbed a budget hike due to Covid-19 protocols.
McDonough brought on Anne Rimoin, the renowned UCLA professor and epidemiologist who had decades of experience working on ebola outbreaks in the Democratic Republic of Congo. Queenpins operates within zones that delineate actors and key crew from the rest of the production, and everyone is mandated to wear not only masks but face shields or goggles approved by Rimoin. The idea, McDonough notes, is to treat everybody on set "as if they're contagious".
Writer-director Jon Sherman shot Blended Family Productions' low-budget romcom They/Them/Us with a crew of 50 over 20 days in August in Columbus, Ohio after postponing from June. He estimates Covid-19 protocols raised the budget from $550,000 to $700,000.
The production had standard insurance. There was no completion bond because of the low budget, and no Covid-19 coverage was available in August. "If we'd had a Covid-19 shutdown, it would not have been covered by insurance," says Sherman. "It was a huge risk."
SAG, he says, "really put us through a bunch of hoops". Rapid testing was not available for the production and there was a seven-day wait in Ohio, so Sherman found a local testing "guru" who was able to turn around their results quickly.
Sherman reconfigured shot lists to reduce the number of people on set, and had minimal crew during intimate scenes between the leads. SAG "wanted to see shot lists, drawings of all the rooms we were shooting in and where the actors were going to be in relation to the camera — so they were really tough on us".
Despite rigorous attention from SAG, by the end of the shoot he says the guild's representative was impressed. "There's no secret to it," says Sherman. "It's just about all the testing that you can do."
CASE STUDY: MIDNIGHT IN THE SWITCHGRASS
Director Randall Emmett on his experience filming during the pandemic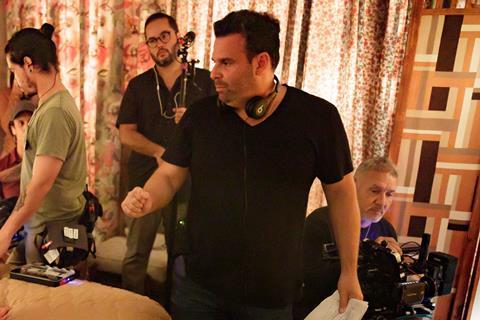 The adage about never forgetting your first time carries extra resonance for Randall Emmett, who shot his feature directing debut — Florida‐set crime thriller Midnight In The Switchgrass starring Emile Hirsch, Bruce Willis and Megan Fox — at the height of the pandemic. In mid-March, just five days into the Puerto Rico shoot in San Juan and the Dorado Beach resort, production on the $15m feature was shut down.
The Puerto Rican governor declared a state of emergency, so Emmett — who has produced more than 100 features including The Irishman and Silence — immediately flew the cast back to Los Angeles and sent the local crew home. He began daily calls with the Hollywood unions and guilds to discuss protocols. "That became our mission — how do we get back to work, what's it going to cost, how are we going to keep everybody safe?"
When guidelines began to emerge, Emmett brought the production — sold by Highland Film Group — back to Puerto Rico in July, ready to implement a strict set of protocols. He checked the entire cast and crew into the same hotel to keep them safe.
It was to be in vain. Two members of the production had previously tested positive for Covid-19 in California, and, despite testing negative prior to flying to the Caribbean island, they tested positive again on arrival. It turned out to be a false positive, but Emmett was not prepared to take risks and shut down the production for a second time, without shooting a single day.
"The first time I was devastated," he recalls. "The second time I was optimistic and excited and then, of course, heartbroken. I felt at that point, with cases spiking around the world, the safest things was to try to mount it in California."
With cast intact and a mostly new Californian crew, Emmett and his producer partners found a 200-acre ranch in Santa Barbara to act as base for the rest of the shoot. They prepped in August and shot in September with union-compliant protocols that included Covid-19 supervisors, regular testing, zoning and masks. "It looked like outer space — everybody's got shields and face masks and gloves, and you're keeping distance," he says. "It's still making the movie but it was a little different to what I was used to."
While Emmett estimates Covid-19 protocols have brought "substantial" additions to the budget — the consensus among the production community is that it can be up to 20% — it is better than the alternative. "If you don't follow union guidelines, they will shut you down."
This article originally appeared on sister site, ScreenDaily.