The UK-Hungary film Mrs Harris Goes to Paris, starring Isabelle Huppert and Lesley Manville, is filming in several locations across Budapest throughout October and November, doubling them for Paris and London.
Directed by Anthony Fabian and based on a novella by Paul Gallico, the film tells the story of a widowed cleaning lady (Manville) in 1950s London who works, starves and gambles to raise funds to travel to the Dior fashion house in Paris to buy the dress of her dreams.
The $13m project is being financed and distributed by eOne, received $900,000 (HUF279m) in support from the National Film Institute of Hungary, and accessed the local 30% cash rebate (which can reach up to 37.5% when including rebate on foreign spend).
Xavier Marchand (Moonriver Content), Guillaume Benski (Superbe Films) and Anthony Fabian (Elysian Films), are producing the feature, with Daniel Kresmery and Jonathan Halperyn of Hungary-based Hero Squared co-producing. Philippe Carcassonne and Lesley Manville are executive producers.
Here Halperyn talks to KFTV about handling Covid requirements, accessing funding and shooting at a variety of incredible locations….
Why did you decide to film in Hungary, rather than Romania as originally planned?
I'm an American producer, but I live in Hungary. We (Hero Squared) try to entice producers from all over the world to shoot their films here. We act as local producers in Hungary and Croatia and offer a variety of locations.
Mrs Harris Goes to Paris was originally set up to go to Bucharest, Romania, but we positioned Budapest as advantageous over Bucharest with its secure 30% incentive and slightly better locations, particularly for doubling Paris.
Andrassy Boulevard doubles for a fashionable Parisian street, and the Hyunadi Lepsco (or Hunyadi stairs) in Buda, below the castle, easily reminds one of Montmartre.
It was exciting to have all the locations needed in one city where you can suspend belief that Budapest is Paris and London.
The film makers were relieved that we were able to make it work financially here and would have an easy time finding locations. Plus, the lifestyle is great. Budapest was still pretty open in prep and during the first half of shooting the restaurants were open. Now we're under more of a lockdown and there's a curfew, but it's not drachonian and production has been able to continue.
What support have you had from the National Film Institute in Hungary?
They have provided incredible support for this project, including co-production funding of $920,000 (HUF 279.5m), which is a significant contribution towards the $13m budget.
They have also helped keep the industry functioning through the pandemic. Thanks to their support, we are able to bring international film and TV workers into Hungary to work without quarantining because they understand we have rigorous policies and procedures surrounding our testing and working practices. Everyone on set gets tested regularly.
What Covid restrictions and requirements do you have in place?
Ours are based on best Hollywood practice. We are all wearing our PPE and social distancing, and we are split into zones and constantly tested, including before entering production.
While the Hungarian and UK crews had previously had two different viewpoints on the virus (because the UK had more significantly been affected by the virus, while Hungary had been relatively unaffected before this second wave), everyone came together in a sense of personal responsibility to protect the production. The UK crew became accustomed to a society that was more open (but required more caution to avoid the virus) while the Hungarian crew needed to curtail their personal activities to ensure a safe shoot. You need that kind of commitment in this environment.
The closer they get to actors the more careful they are about social distancing and wearing masks. Protecting our actors is the number one priority, especially as we have actors over 50 and 60, so it's important to keep them safe and healthy.
Budapest was quite open at the start of production, but cases have been spiking, so we are in partial lockdown. Right now tourists aren't allowed to stay in hotels, only business people, and bars and restaurants are closed, so they are hurting. But the government is doing all it can to keep businesses open and production going, as much as possible, as it's important for everyone. On this project alone there are about 200 crew and 600 extras, and we are working with business owners, so that's a lot of people. Fortunately, we are not subject to the curfew when working.
Can you tell me about some of the locations you've been filming in and how you're doubling the city for Paris and London?
In this movie, the main focus is doubling Budapest for Paris, which it has done many times previously for other projects. The city can also double for many other cities, whether Central and Eastern European or Western. It can even be shot for American cities because it offers modern building and streets.
Some of the key locations used around the capital for Mrs Harris Goes to Paris include…
Ferihegy 1 and Airplane Park
This is an amazing closed and abandoned terminal that can be used for filming. We shot a sequence there of the protagonist, Mrs Harris, coming out of the Parisian airport. We didn't have to clear the site out, you can just go in and do what you like. There's an airport terminal and an airplane park with several planes from different eras. We managed to shoot inside one of them. It was a surprisingly easy location to film in.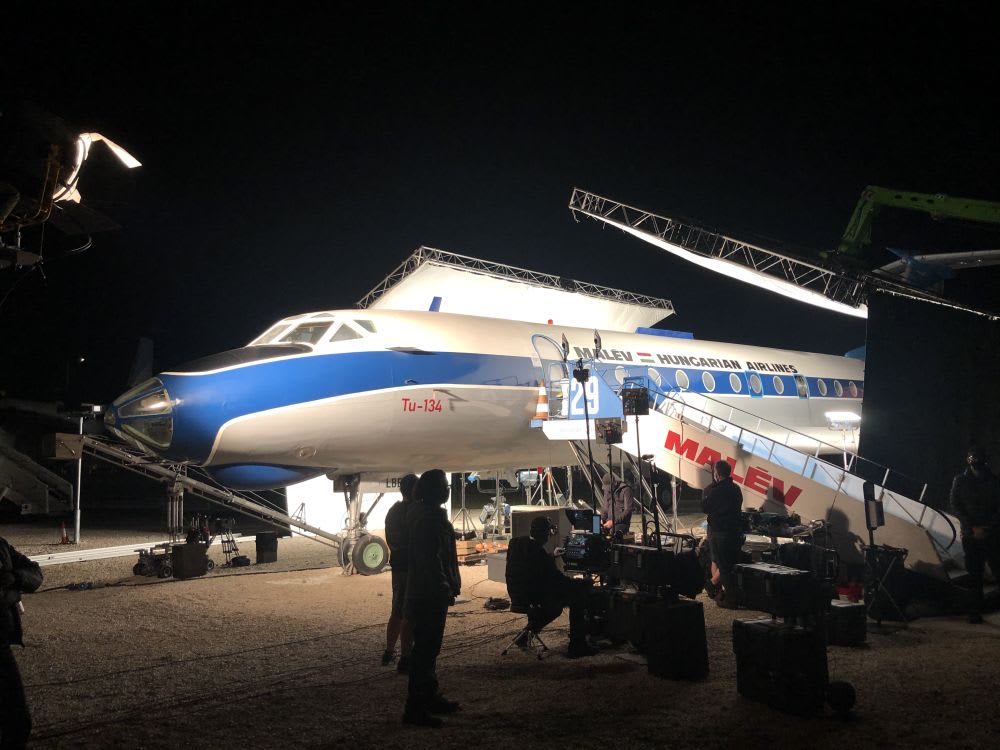 Filming at Ferihegy 1 and Aeropark. Credit: Hero Squared
Express House (Adria palota)
This used to be the headquarters of the Hungarian boating company, but is now abandoned, and has been used by a load of recent shows and films, including Anonymous Content's The Alienist and Netflix's The Spy. The site has very distinctive rooms and several apartments, so you can be set dressing in one, while shooting in another. You wouldn't think finding an apartment to film in was complicated, but if you want to be true to the style of apartments in Paris or London, then you have to find an apartment that works for the production designer and director. We were able to paint, build and put in new window frames, so that they looked Parisian and from London. We wanted everything to be authentic.
Kincsem Park
It's a horse and dog racing venue, with both modern and old features. We filmed a dog racing sequence there at night, and it was easy to get the 1950s look. The location owners were very accommodating.
Filming at Kincsem Park. Credit: Hero Squared
Brody House
This is an amazing hotel and club environment, a bit like Soho House in London with fancy apartment/hotel rooms. They have a very nice staircase, which we filmed. We've also filmed in their apartments for previous projects. We love Brody House and studios. It is an important stable of our lives (and they throw great parties in non-Covid times).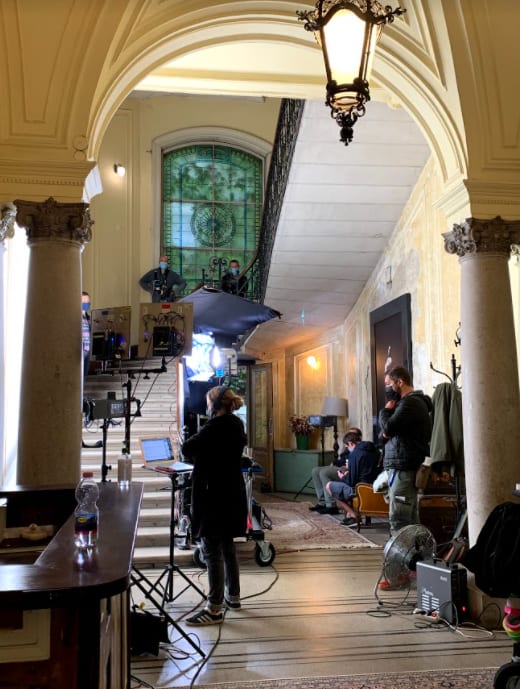 Filming at Brody House. Credit: Hero Squared
Origo Studios
We built several big sets at these impressive studios, including the replication of the interior of the Dior salon, staircase and sewing room.
Other locations include the NY Café, Operettszinhaz (Budapest Operetta Theatre) and Liszt Ferenc Music Academy.
Has it been much harder to film at these locations during Covid?
Shooting on location has been much more difficult. We have to secure our locations, make sure they're clean and we cannot interact with the public too much who are not in our testing pool or procedures. So, keeping them away from our cast and crew is tricky.
Where else are you filming?
We are filming a couple of days in London and Paris to get shots of some of the iconic locations.