Diver, architect, solider, policeman, producer, transport assistant, actor and close protection officer are just a few of the jobs James Cutting has had in his varied and fascinating career.
We'll come on to some of these, but it is as a location manager and producer where he feels happiest, most recently handling locations for the Apple TV series Ray James, which is being kept under wraps, but has been shooting around London, including Greenwich, and Netflix's film The Dig, starring Ralph Fiennes and Carey Mulligan.
The Dig
For the latter, about the historical excavation of the Anglo-Saxon burial ship at Sutton Hoo in Suffolk, it was a return to home for Cutting, who grew up in the area and is very familiar with all the sites and people, which helped getting permission to shoot.
"We filmed all over Suffolk and Norfolk and it was easy because I'm a local lad. Every bit of farmland we filmed on, I knew the owners because I was either at Young Farmers or school and college with them, even the Earl at Holkham Hall," says Cutting.
But the logistics weren't all plain sailing. For one scene they wanted to feature a period fishing boat, which was "rotten to buggery", but weren't allowed to drive any vehicles on to the beach to collect it. "So about 30 of us (RNLI guys, set dressers, props and location crew) had to put this boat, which weighed several tons, on to log rollers and push it up the beach, just like they did with the original Sutton Hoo boat to get it to the mount where it was buried. It was quite funny," laughs Cutting.
The dig scenes at Sutton Hoo in the film were actually shot at the village of Shackleford in Surrey because it was easier access from London than the real Sutton Hoo site in Woodbridge. "It was on a location assistant's farm. They dug it out and built the mounds, which took months, but in the end it looked almost identical to the original site," says Cutting.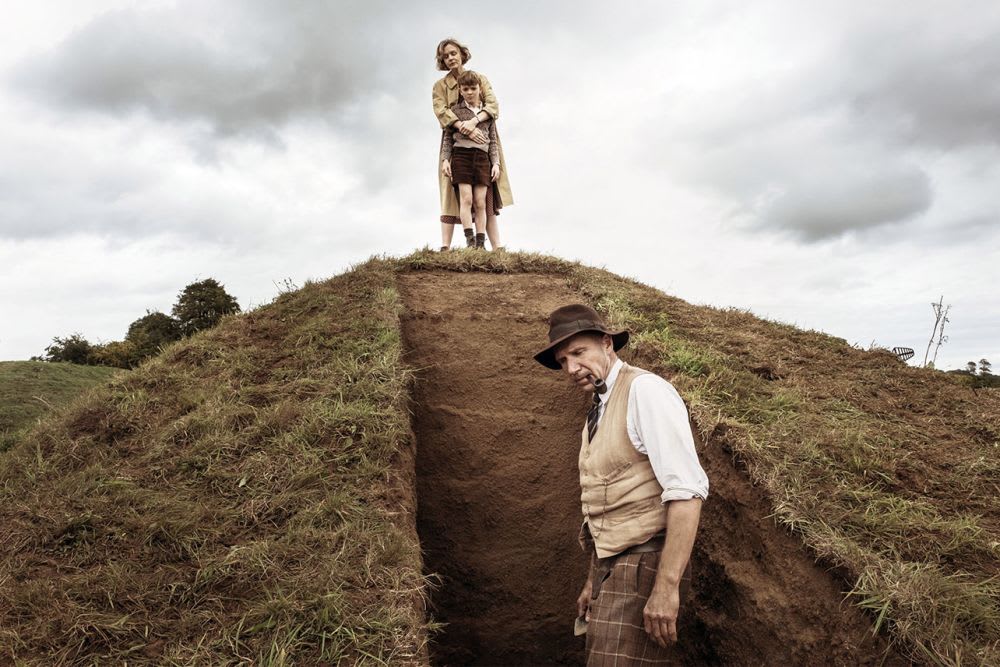 The Dig. Credit: Netflix
He concedes that the lack of infrastructure in Suffolk and Norfolk, with only one major road, is the one negative about location finding in the region because "otherwise it could have a booming film industry". But he has always found a way to work, no matter what the circumstances or difficulties.
Protecting Pitt
This has been evident for the 20 years or so he's been working on film and TV projects in Morocco, including some major blockbusters like Mission: Impossible - Rogue Nation, starring Tom Cruise, Green Zone with Matt Damon, Ridley Scott's Kingdom of Heaven and Babel with Brad Pitt.
Indeed, for the last of these, he worked very closely with Pitt as his close protection officer. "I was living with him for six weeks, but it wasn't to protect him from any terrorist attacks, it was to keep the papparazi off his arse because at the time there was a lot of talk about him possibly seeing Angelina Jolie," explains Cutting. "We had to set up secret rendezvous for them, and I had a friend dressed like Brad in motorcycle gear who would cycle everywhere so the paparazzi chased him instead. I was offered a quarter of a million pounds for a shot of Pitt and Jolie together, and £1 million for them kissing. But they never got it. It was hilarious."
Off the back of that, and thanks to a recommendation from Pitt, Cutting got the same job protecting Jake Gyllenhaal for the film Rendition. He then had some small acting roles in films like Paul Greengrass's Green Zone and Salmon Fishing in the Yemen where he impressed so much he was given his own trailer.
Cutting playing a journalist in Salmon Fishing in Yemen. Credit: James Cutting
He also used ingenuity and intuition to get a job on Mission: Impossible - Rogue Nation. "I had just finished filming a doc when I saw a procession of trailers go past at about midnight. So, I followed them into this industrial area. I parked up and security saw me and assumed I was the location manager. I went up to one of the drivers who was Romanian and found out who the producers were and wrote to every one of them saying I noticed they were in town, gave them my CV, and mentioned I speak French and Darija (Arabic). The next day I was offered the role of transport captain, managing the 120 or so local mini bus drivers, which was like herding cats."
Cutting certainly likes variety, which is why he's taken his hand to so many things, but it is doing the location stuff and producing, which he is better known for, having worked on several TV series, including Ben Fogle NLITS, Born to Explore and Bye Bye Belgium in Morocco.
Masterful Morocco
He only has positive words to say about the country as a filming location and its people. "Logistically it is easy to shoot there because there are no parking fees and you can set up a production base camp anywhere with enormous units and tech," he enthuses. "The crew are very experienced and there are plenty of younger guys coming through from Marrakech's School of Visual Arts, which has great facilities, including brand new stages and editing equipment."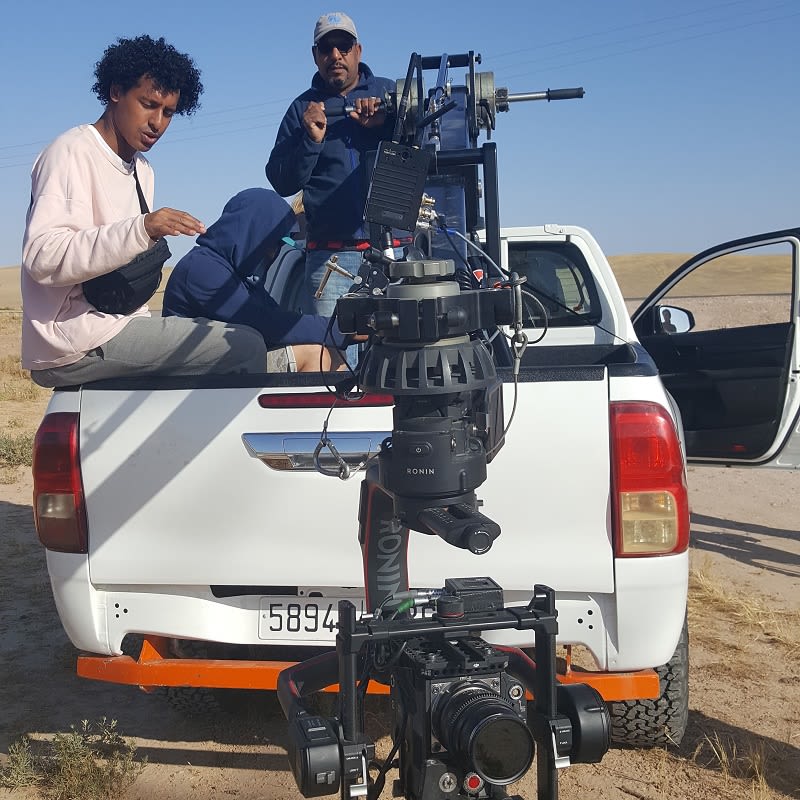 Moroccan crew using an improvised Russian Arm. Credit: Richard Cutting
Next up, he's producing his own TV series to be called Healing Allies: The Sahara Challenge, with Nick Knowles hosting. The first series will feature seven American and seven British bomb disposal operatives (serving and veterans) travelling in 4x4s across Morocco, from Marrakech through the Atlas Mountains into the Sahara. The plan is for them to tell their stories over a camp-fire and the production to do recreations.
"We'll shoot these at the EOD (explosive ordnance disposal) training camp because it's a closed set, so things can be blown up, and they've got replicated Afghan type villages, as well as streets that look like Northern Ireland (where lots of the stories are about)," explains Cutting.
"It will be like a cross between The Grand Tour, Hurt Locker and Ice Cold in Alex. We could go the Netflix route, via Prince Harry, who's already expressed an interest via one of the charities (Felix Fund). We've already secured David Coward as director, who's one of the best documentary film makers."
The difficulty is he's stuck in the UK and can't return to Morocco yet, which means filming has been pushed back to June and could be extended even further. "The embassy are trying to set up a special visa for me, and if they do, I've also got another five projects lined up there," concludes Cutting, who plans to split his time between Morocco and the UK going forward.