KFTV hosted a lively and informative Talk about filming in Ontario yesterday (22 March) with leading industry experts discussing all that Ontario has to offer, including its doubling potential, enticing incentives, and quality local crew and studios.
The live webinar, sponsored by Ontario Creates, was hosted by Chris Evans, Locations Editor for KFTV, World of Locations and Screen international, and involved the following speakers…
Carol Banker Experienced US TV director and producer, (Titans, Glee, The X-Files)
Justin Cutler, Ontario Film Commissioner
Albert Shin, producer/director/writer (The White Fortress, In Her Place)
John Rakich, supervising location manager, (See, Jupiter's Legacy).
WATCH THE FULL VIDEO HERE…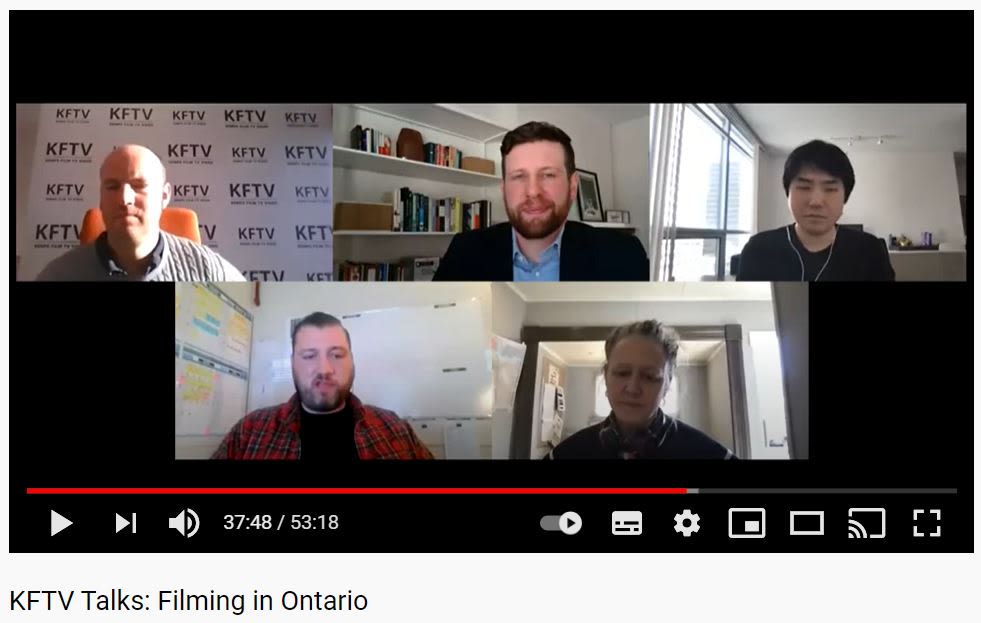 If you would like to find out more about how to sponsor/take part in one of our expert webinars please email sarah.keegan@mbi.london or call +44 (0)208 102 0939
In a wide-ranging chat, the panellists covered issues like…
Covid entry and filming requirements
Justin Cutler
The covid cases are under control across the province. Filming is taking place and actually being on set in Ontario is one of the safest places to be at the moment because of the rock solid health and safety protocols put in place in consultation with the industry.
There is currently a 14-day quarantine period and you're required to have a negative test before you enter the country.
John Rakich
For the Apple series there's been mandatory testing between 1 and 3 times a week, depending on which zone you're in, and mandatory mask wearing, temperature tests, physical distancing. We've been able to make it work.
We just don't tend to do big scouting anymore, a lot of it is done digitally or remotely.
Carol Banker
We're used to the current environment., We're good at taking mask breaks, and no longer break for lunch, which is great for momentum. The only problem is air quality – have to leave set if it gets to a certain number.
Larger crew
John Rakich
The crews are larger, which we thought would be the opposite, but when you add it health and safety officers, compliance, increase in labour etc they add up.
Carol Banker
Are crews are larger now. We deepen most of our departments so if we need higher day players they're already here and if there is a positive test we have a larger pool to pool from, so we don't need to shut down.
Production increase
John Rakich
There is a voracious appetite for content with new streamers cropping up every week, so we are in a heavy capacity in this province at the moment.
Province appeal
Carol Banker
The incentive is a great draw as are the locations – there are a variety of skylines. We've doubled Toronto for Detroit, San Francisco and Gotham in Titans. It is really cinematic and beautiful.
The locals are incredibly helpful and knowledgeable and the crew are very talented. People are much more film friendly - we've never had difficulties with neighbours. Our locations dept do their due diligence.
The casting gene pool is deep in Ontario. I get multiple interesting people I'm choosing from.
Justin Cutler
Our incentives are quite competitive and very stable, so producers can bank on it. Our service production tax credit is valued at 21.5% for production expenditure and labour, and there is no annual cap on that. It's also a refund and not a buy back, which makes it easier for producers to process. That can be combined with our federal tax credit.
You don't need to bring in crew from all over the world, just key executives, and host your entire production using domestic labour.
The infrastructure is another big piece - We've got about 3m square feet of stage space, and are about to increase that by 600,000 sq ft across five facilities this year, which should help us keep up with demand.
Double take
Justin Cutler
Downtown Toronto can double for any big American city, but if you just drive an hour out of the city you can get a lot of Mid West America and prairie looks. Plus plenty of small towns, like Port Hope where both chapters of IT filmed. Then up north you can get forests, mountains and dedicated snow, which is great for big budget productions, and plenty of infrastructure.
John Rakich
You drive 10 minutes within Toronto itself and it looks architecturally completely different. You can get multiple locations. We've done San Francisco, the beaches of Normandy, everything. Ontario has a plethora of looks from waterfalls to limestone cliffs to flat fields. Put me in a car with someone and within two hours I can show them something they've never seen before.
Albert Shin
There's a city that goes along with Niagra Falls, which is incredible and won't be able to find it anywhere else.