When he looks back at what he achieved for Paul Greengrass's western News Of The World, production designer David Crank laughs and says: "I was surprised we pulled it off."
Charting the 400-mile journey across post-Civil War Texas of newspaper-orating veteran Captain Jefferson Kyle Kidd (Tom Hanks) and a traumatised orphan (Helena Zengel), Greengrass's adaptation of Paulette Jiles' novel is epic in scope. Yet, with a relatively tight budget of $38m, Crank somehow realised the entire odyssey — taking in seven different towns along the way — in a 30-mile area centred on Santa Fe, New Mexico.
"It was wild," Crank tells Screen, speaking from his home in Richmond, Virginia, where he has lived all his life. "We had to figure out how to tell the story of the journey and make it feel like you've gone 400 miles, because the landscape changes drastically, but we had to find everything in this one spot."
Fortunately, Crank had much experience facilitating big visions under restrictive conditions. Having started out as a theatre-set designer in 1980s Richmond, he moved into film around 1990, cutting his cinematic teeth as a set painter. "I like the intensity of film work," he says. "I like that you get to focus on one thing for five or six months, and it's kind of sink or swim." As he moved into art direction, he was taken under the wing of Jack Fisk, who has designed all of Terrence Malick's films, and he worked with Fisk on The New World, The Tree Of Life and To The Wonder.
"With Terrence you learn to think on a small budget, but you also learn to always consider everything on a huge scale, because he is a poet, so that's the way he sees things," says Crank, whose credits as production designer include The Master and Inherent Vice for Paul Thomas Anderson and Knives Out. "You also learn to anticipate things that might come up, because he wants to shoot everywhere. So that was very good training."
Crank sees similarities between Malick and Greengrass, with whom he had never worked previously — Crank's connection to the production was via Hanks' company Playtone, having worked on HBO's John Adams as supervising art director and, more recently, Second World War drama Greyhound as production designer. "Paul always comes at something from leftfield. But as soon as he does, you think, 'Oh man, he's right.' He's an incredible storyteller, but he also listens to everybody. You felt when you came to work each day, you had to bring something on the plate for him."
Variety pack
Crank's first contribution, perhaps his biggest, came during his initial interview with Greengrass. "If you're going to have all these towns on the journey, they better all be different," he told the director, "otherwise there's no reason to keep going from town to town." Achieving this became particularly challenging when they settled on a single movie ranch, Bonanza Creek, to represent four of those towns (Wichita, Red River Station, Dallas and Cranfills Gap), because "it just financially made sense".
Together with director of photography Dariusz Wolski, Crank meticulously mapped out how they would present each settlement using the ranch's 24 buildings and five interior sets, "so you didn't see all of it on the first town". He began with drawings, which "were always from Hanks' character's point of view coming into town," and at Greengrass's behest even went through the sets and acted scenes out with a few of his crew, filming them on a phone for the director. ("I hope they are buried somewhere in a hole very deeply," laughs Crank.)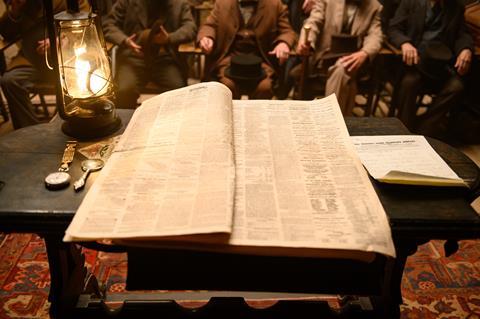 There was also plenty of old-school ingenuity. "The first [newspaper] reading in the movie is in the same barn as the last reading," he reveals. "We just turned it around. We opened some windows and moved everything around, and it became a totally different place."
Bonanza Creek did not require much building from scratch — but instead careful repurposing of what was already present. "Many movies had been made there that had all added very strange things," says Crank. "You had to strip it all back down and get it all within our world. Paul likes to have things as real-feeling as he can. His background is in documentaries."
Keeping it real meant researching the true America of 1870, rather than playing to the Old West of popular cinematic myth. "I did a lot of photo research," Crank says. "There's a lot of glass plates from the Civil War and they're incredible with the amount of detail they have in them. I saw how primitive things were in towns back then. It was very, very rough. Nobody was worried about the cornice on their door; the finish of their house was the last thing they were interested in."
This striving for reality also applied to the newspapers read by Hanks in the film. "They were based on real newspapers, which we rebuilt using the same masthead to put our own articles into them," Crank explains. "Paul was very particular about the paperwork. We would put all the galleys up on the wall and he'd go through them with a magnifying glass. Then we found a company in LA that would print on Japanese paper, which was the closest we could find to the texture of [1870s] newsprint. The funny thing with those papers is you can't read 'em. The writing is minuscule — like angels dancing on a pinhead."
Almost as difficult to read is Crank's immediate future. During lockdown, he has been caring for his elderly parents and, while he has been reading scripts, nothing has yet convinced him as a viable next project under current, Covid-affected conditions. One, for example, involved scenes in a refugee camp. "I thought, 'What, is everybody in the camp gonna be 10 feet apart?' You can't do it." Still, having earned Oscar, Bafta and Art Directors Guild nominations for News Of The World, Crank is sure to continue his own epic journey.