A wealth of under-the-radar locations and studio-built sets have come to the fore during the pandemic, as producers look to combine location shoots with Covid-safe bubbles. Jenni Reid and Chris Evans turn the spotlight on five in Europe
Isle of Wight, UK
New Regency's drama series The Beast Must Die, starring Jared Harris and Cush Jumbo for Britbox, shot from August 2020 for 11 weeks on the Isle of Wight. Based on a 1930s novel set originally in Cornwall, the team decided to relocate the story to the island — four miles off England's south coast — after scouting for locations back in September 2019 and noting its potential for long boat shoots out on the water. The Isle of Wight held even greater appeal after the pandemic struck.
"It worked really well," says series producer Sarada McDermott. "We were self-isolating on an island that didn't have a large number of cases. We stayed in these glorified caravans with views of the sea, which was marvellous.
"People stayed in their accommodation and were driven to different locations around the island. Then they drove back for dinner together in their little pods. In combination with a lot of testing — everyone from cast and crew to drivers — we had no [Covid-19] cases."
The team shot at 60 locations across the island — on the coast, in boats and in the grand Gatcombe House. They also constructed a police station in a derelict building and spent a week in a disused convent, which they swapped out for the main character's house, a hospital, a café and more.
Executive producer Ed Rubin points out the island is easy to navigate — it can be driven around in 40 minutes — and is well connected, with ferries running hourly, even during the shooting run when the pandemic had forced a reduced service.
Filming permission was relatively easy to obtain and, aside from bringing large items such as cranes from the mainland, most of what the production needed could be sourced locally.
The island recently launched its own film commission, Filmwight, and there is an expectation more large houses will sign up to location booking websites, giving international producers even more options.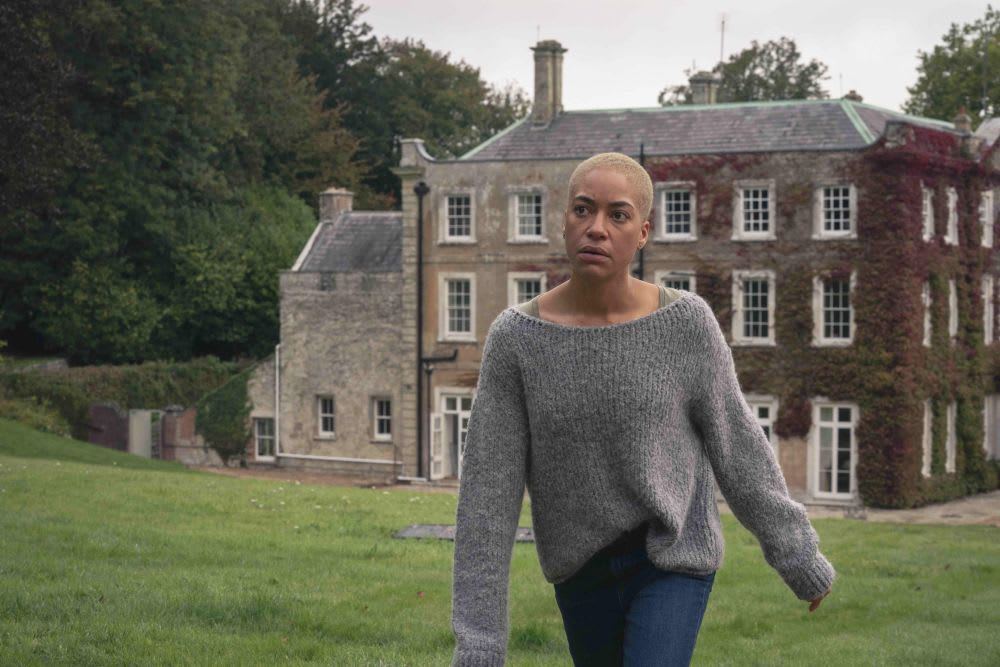 The Beast Must Die filming on the Isle of Wight. Credit: Gareth Gatrell/Britbox
Waterside Manor, Sussex, UK
Further east on the south coast of England sits Waterside Manor in East Sussex, which doubles as a Belgian safe-house in Neil Maskell's UK indie feature Klokkenluider starring Tom Burke and Jenna Coleman. The house's owner says it has not been used previously for filming but is now available for location work.
"We didn't need to do much to the house as it was pretty much perfect," says producer Helen Simmons of Erebus Pictures. "From the outside it didn't look particularly English, so it could be ambiguous, and anywhere we shot it from — from a drone or from the water around it — it was completely isolated."
It also allowed enough space for everyone to set up camp for the three-week production. As the budget did not stretch to daily testing, cast and crew were checked on entering their bubble, which they could not leave for the duration of the shoot.
The surrounding area was similarly adaptable to filming needs. "We transformed a little coffee shop in Lamberhurst, called Teise & Coffee, into a Belgian patisserie," says Simmons. "There are some beautiful local landscapes, including vineyards, that could be anywhere."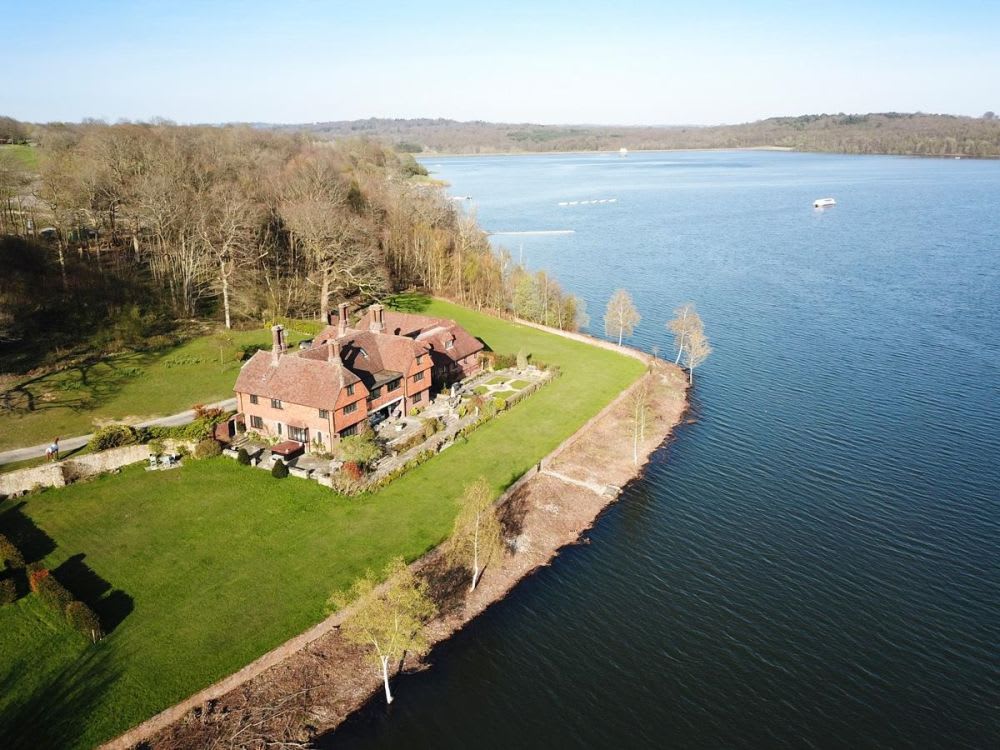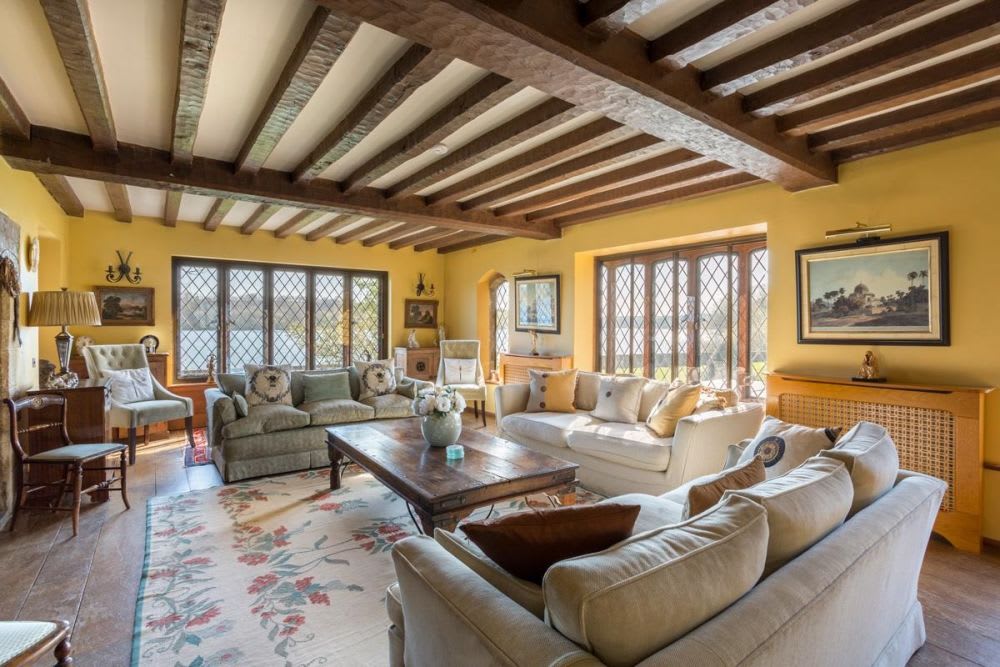 Waterside Manor inside and outside
The Stag Brewery site, London, UK
One of the more unusual places being converted to allow filming is the former Stag Brewery site in Mortlake, south London. It is awaiting redevelopment but in the meantime has hosted production of the second season of Sky series Temple, which stars Mark Strong as a surgeon working in an illegal clinic under London's Temple underground station.
"We built an enormous set in the old bottling plant, which is about 15,000 square feet," says producer Liza Marshall, head of Hera Pictures, "It's like a giant hangar so it's easy to social distance. Vans can come in and out, and we have hand-sanitising stations. We had to clean everything, fix some damage, put power back in, get the doors working and put up walls to have individual art and production offices, but it's the perfect base."
The production already had experience of converting derelict sites, having used the former 'Honey Monster' cereal factory in Southall for season one of Temple. "It was like the Mary Celeste; they'd just walked out leaving stuff behind, including Honey Monster and Quaker Oats pictures everywhere," says Marshall. "We made our own offices and took out a tasting laboratory to turn it into costume and make-up.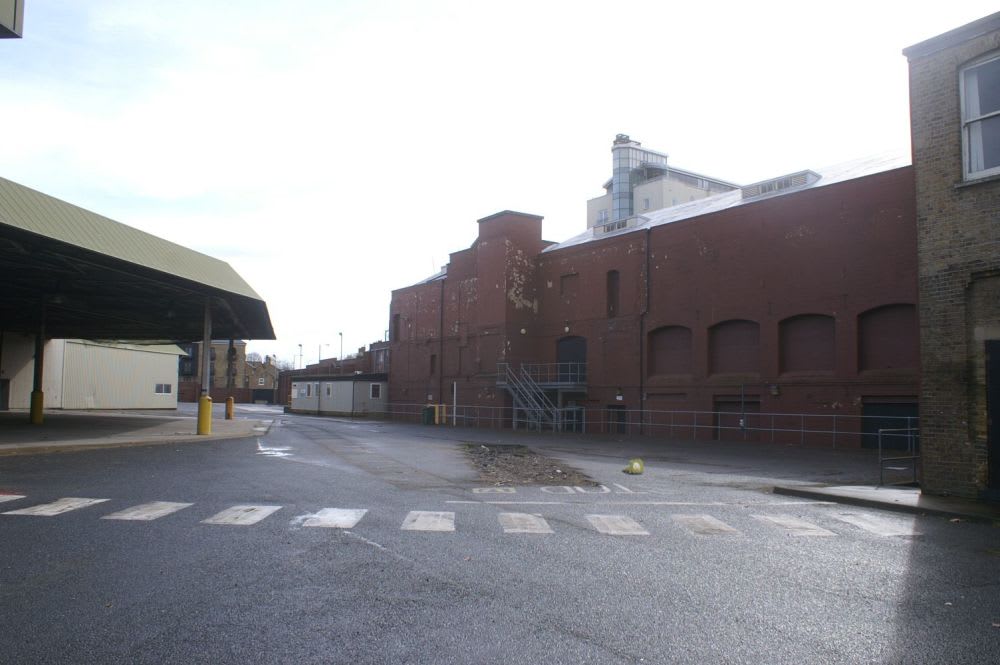 The Stag brewery where Sky's Temple series has been based. Credit: Ad-Locations.com
Bavaria Studios, Munich, Germany
Shooting on location has simply not been possible for some larger productions. The team behind Roland Emmerich's modern retelling of The Magic Flute had hoped to film in Morocco but it became clear the pandemic would not permit such a move. They turned instead to Bavaria Studios in Munich, which constructed a massive set that could be adapted in three ways, including as Moroccan streets.
Fabian Wolfart, who produced alongside Emmerich's Centropolis Entertainment, Tobis Entertainment and Quinta Media, is reported to have said "the transition went smoothly and naturally. Bavaria Studios quickly became interested in this set being implemented. If we had stuck to Morocco longer, we still wouldn't be able to shoot there. We're also much happier with producing here."
A sustainable studio model was designed, from which three sets could be displayed. The construction of the basic set in Bavaria's internal workshop took several months but the conversion phases only a few days.
According to Michael Hilscher, head of sales/marketing and production management at Bavaria Studios, the facility has seen a significant rise in demand in 2020 and 2021, and is fully booked for the remainder of 2021. The studio offers custom builds as well as standing sets that include a Munich street, Bavarian villas, a prison, a courtroom and a U-boat.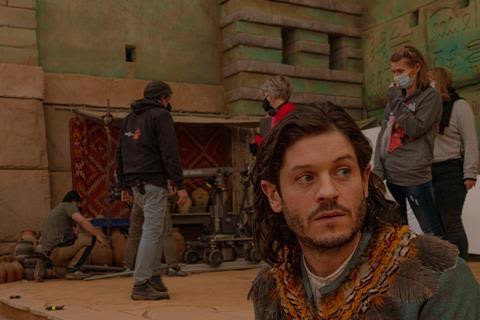 The Magic Flute filming at Bavaria Studios. Credit: Luis Zeno Kuhn
PFI Studios, Belgrade, Serbia
The filming of seasons three and four of fantasy-adventure TV series The Outpost has been taking place at PFI Studios, just outside Belgrade, during the pandemic.
The site offers eight stages, a 12.5 hectare backlot and standing sets including San Francisco City Hall, Venice, Monte Carlo and Washington DC streets, as well as famous Belgrade buildings.
The Outpost producers — Balkanic Media, Electric Entertainment and Arrowstorm Entertainment — had shot season one in the US but moved the production to Serbia where a large medieval town (the outpost of the title) was built.
"We've been able to achieve a level of production scale and polish that made The Outpost look like a new show. PFI Studios is a great facility with a backlot available for us to build a large exterior set," says Dean Devlin, head of Electric Entertainment. "The quality local crew have also helped. We've been truly impressed by their talent and experience."
The production was meticulous in its preparations. "We planned and prepared a detailed and thorough anti-Covid plan. Our medical team is run by a doctor who for 30 years was the head of a Belgrade ER ward," explains Jonathan English, founder of Balkanic Media.
"The main part of the plan was the podding system, where departments are working in isolation from each other. Meetings are held virtually and we try to maintain the highest protocols and precautions around the cast and crew," says English.
"Every person entering the studio complex is logged and had their temperature measured. They were not permitted to enter if it was above 37.2˚c," adds Barbara Sandic Stetic, executive director of PFI.
Everyone disinfected their hands and shoes using sterilisation mats and disinfecting gels and sprays, and cleaning crews performed daily wipedowns of all equipment.
"Studios and standing sets are more appealing to productions in these difficult and challenging times because they are easier to disinfect and keep safe. It is a controlled environment for filming and therefore much safer for production staff, crew and actors," says Sandic Stetic.
The Outpost's set at PFI Studios, Belgrade. credit: Aleksandar Letic
This report featured in our latest issue of World of Locations. Read it here.