Spain's Canary Islands have long been a popular destination for international shoots, offering filmmakers generous financial incentives over the years. The volcanic archipelago has a different tax regime to mainland Spain and has, therefore, been able to offer significantly higher rates.
Since 2020, the tax rebate has risen from 40% to 50% for the first $1.2m (€1m) and 45% for the rest (up from a previous 40%). The per-project cap is set to rise to $21.9m (€18m), significantly higher than the $12m (€10m) in place for the rest of Spain.
The impact of the new incentives will be fully appreciated once the pandemic eases its grip on the industry and international travel, but the Canary Islands have already enjoyed a busy schedule in 2020‑21. Even at the height of the pandemic in Spain last spring, the archipelago was less adversely affected than the rest of the country and lockdown was shorter and less severe, giving more leeway to international productions to adapt their shooting plans.
Some productions resumed work in the second half of 2020, including HBO Europe's first Danish original series Kamikaze, directed by Annette K Olesen and produced by Profile Pictures, which shot in August in Gran Canaria. Further productions to film over 2020-21 included George Clooney's feature The Midnight Sky for Netflix, which was based on the island of La Palma in February 2020 with some filming taking place at the Roque de los Muchachos Observatory in Garafia.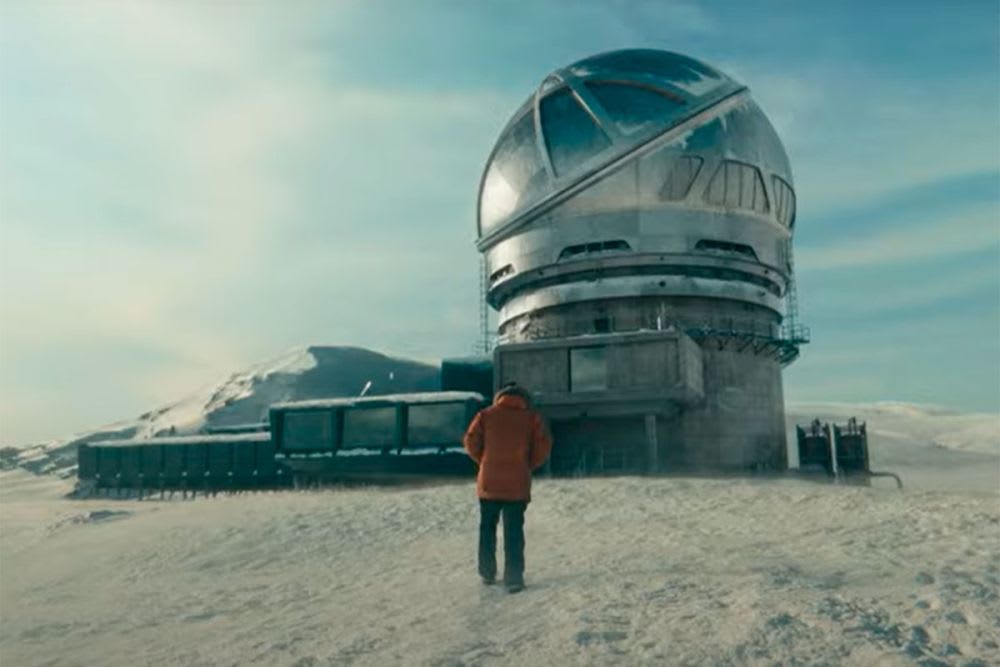 George Clooney's The Midnight Sky filming at the Roque de los Muchachos Observatory in Garafia. Credit: Netflix
Apple TV+'s Foundation, based on the sci-fi novels of Isaac Asimov and starring Jared Harris, shot on Tenerife. Meanwhile, Netflix's new Alex Pina series Sky Rojo used locations on the islands as well as in mainland Spain, and the second season of Movistar Plus's Pepe Coira-created series Hierro — which shares its name with one of the Canary Islands — also resumed shooting. Other titles shooting in 2021 on the islands include Danish director Frederikke Aspöck's period drama Empire for Meta Film.
These join a portfolio that includes Warner Bros' Wonder Woman 1984, Universal Pictures' Jason Bourne (where Tenerife stood in for Greece), Paramount's Allied, Lucasfilm/Disney's Solo: A Star Wars Story and Ron Howard's In The Heart Of The Sea for Universal, as well as European shoots such as Lucile Hadzihalilovic's Evolution.
The pandemic has also meant European brands such as Louis Vuitton and Volkswagen, that would usually shoot commercials in South Africa, have instead opted for the Canaries due to the travel restrictions.
Locations
The Canary Islands excel when it comes to exterior locations, offering spectacular volcanic scenery. The mountain ranges encompass Spain's highest peak, Mount Teide on Tenerife, while the sand on the beaches is either a striking black or a glittering white. There are also tropical forests, such as Los Tilos on La Palma, and natural wonders, such as El Charco de los Clicos, a stunning green lagoon inside a crater by the beach in Lanzarote.
The architecture offers contemporary locations such as the auditorium in Tenerife as well as towns and villages well suited to period films. Some have a Latin American feel, for example Tenerife's Garachico and San Cristobal de La Laguna or Angulo on La Gomera.
Infrastructure and crew
The construction of a new studio on Gran Canaria, with two soundstages of 1,200 square metres and 1,800 square metres and a height of 12 metres, will help attract international shoots to the Canaries. It is expected to be open to productions in early 2022. There are also the facilities of the Plato del Atlantico studio complex in Tenerife, with one broadcast stage of 420 square metres and two stages of 550 square metres each.
Like in the rest of Spain, crew and service companies are excellent, with companies such as Sur-Film (Wonder Woman 1984, Solo: A Star Wars Story) and Volcano Films (Exodus: Gods And Kings, Evolution) as well as companies specialising in underwater shoots.
"The local passion that they have for the islands shows through. I think that´s why it's not just the tax breaks in the Canaries, but also the crews that are fantastic," enthuses Mally Chang, a unit production manager for The Witcher and The Eternals.
This feature is part of the Canary Islands profile in our new issue of World of Locations, which you can read here.