South Africa-based Frog Squad consists of a team of experienced, ex-Navy, marine specialists who have worked on projects of all sizes, from local shark shows to big blockbuster films and TV series, like Tomb Raider, Black Sails and more recently the Jack Ryan TV series.
They provide marine services, diving co-ordination and underwater cameras and equipment, as well as marine location scouting and safety risk assessments. But also, once on set, their workload and expertise can stretch to a whole lot more varied and incredible activities, working with several different departments.
Here Jason Martin, marine co-ordinator at Frog Squad, explains why they are the company to turn to for all water-based filming and gives insight into some of the impressive work they have done and can do for productions shooting in South Africa or anywhere else in the world.
Can you provide details about your company and the services you provide?
Team Frog Squad was born in the SA navy, my partners and I left the force after years of naval work and used the learnt skills to provide a marine base service to the film and TV industry. Our company offers full marine film services including underwater diving and underwater cameras and operators. It is very rare to have both in-house.
The marine department is one that needs to offer support to all the other departments, including stunts, unit, camera, lighting, health & safety and even craft. The co-ordinator has a lot to organise and oversee, making sure that all other departments have free access to the water set to be able to do their job. So, we cater for front of camera action and activities, as well as behind the scenes where all other departments' requirements must be met.
We are fortunate to have worked on some big projects in South Africa over the past 10 years, from The Crown to Tomb Raider and Black Sails.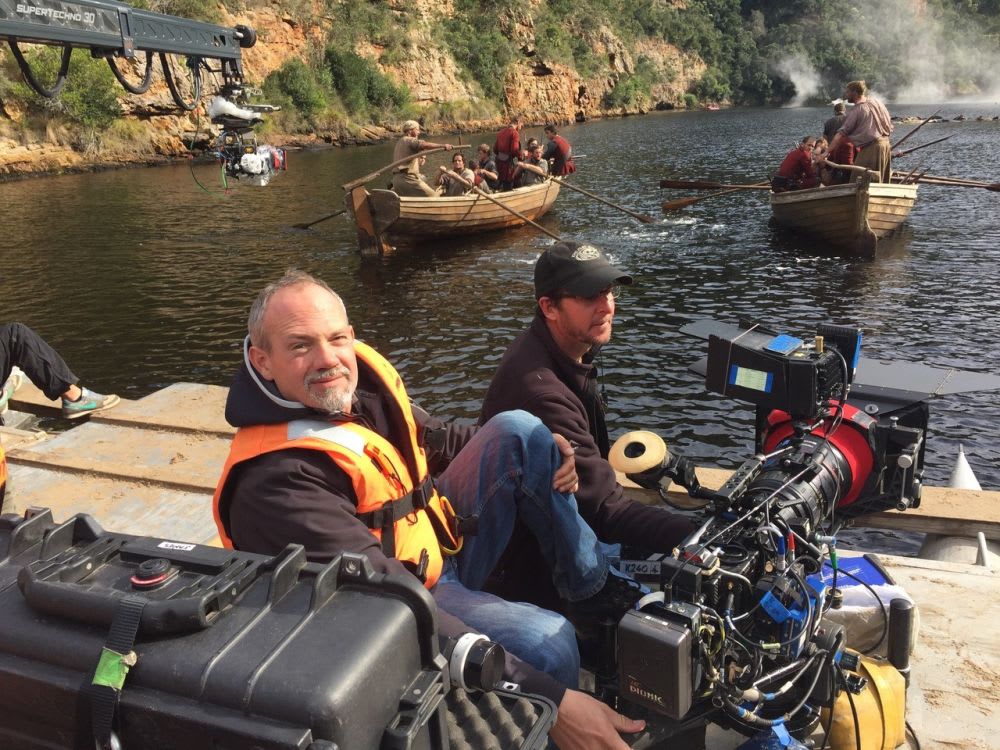 Starz show Black Sails filming in South Africa with the Frog Squad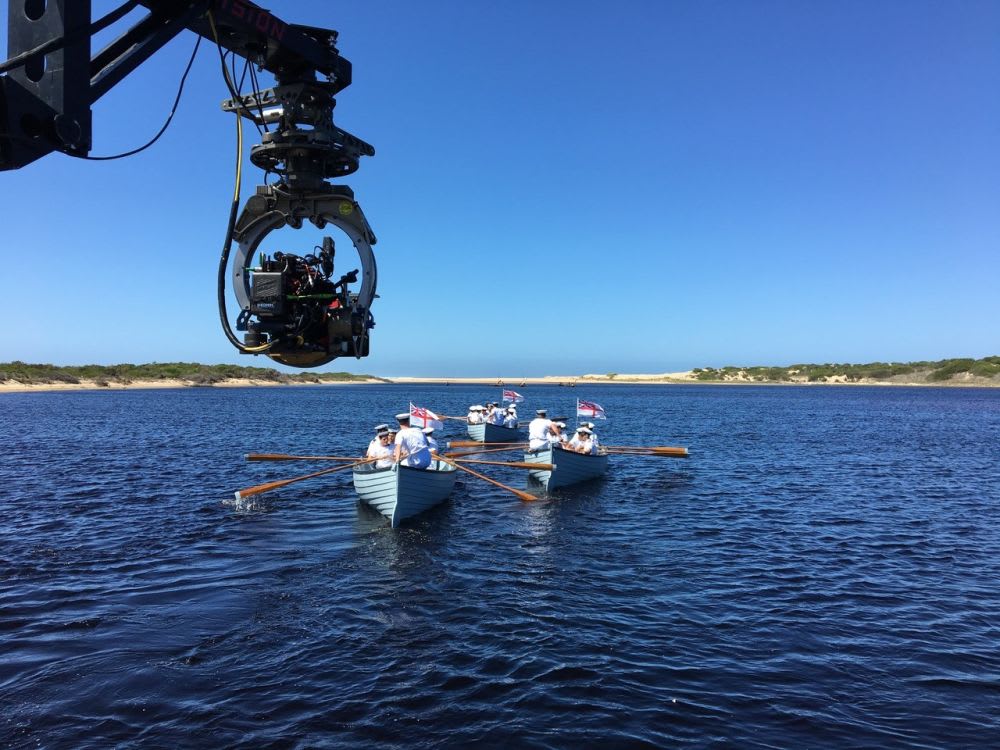 Netflix's The Crown filming in South Africa with Frog Squad
The studios, like Warner Bros, come to South Africa and use our services because they know they'll have the quality marine support to get their projects completed properly.
We're also part of the Stunt Alliance – a respected collection of action directors, stunt co-ordinators, special effects and master craftsmen collaborating to provide outstanding action sequences for screen worldwide. That's been massive for us.
In the last few years, we've also had calls from production companies to work overseas, which is something we'd like to explore more. We've had companies working in say Mauritius call us up because they've used us before in South Africa and been impressed with our work, and asked if we could go there to assist them.
One of the biggest overseas jobs we did recently was with Paramount Television on the Jack Ryan TV series, which took us to Colombia for four to five months, shooting on the rivers there.
Can you tell me more about that?
There was a lot of water work with boats and planes for that one. It was an awesome show to be involved in. We worked with the art department to build the hero boats because they wanted something very specific. We then had to organise for them to be transported 1800 kilometres in the middle of Columbia to do the river scenes, and again up north to Cartagena.
Then once we were on the water we had to provide camera boats and support boats. I had a whole department of about 50 people working for us. A marine co-ordinator is not just someone who has a radio and drives a boat. When we got involved in Jack Ryan they wanted someone to oversea the building of the boats, but also handle them. Loading a boat into the river isn't the same as lifting a container off the back of a truck. We couldn't find a crane, so we had to end up using a mining crane that they ship the gravel out of the riverbeds with.
The camera department then wanted to use a Technocrane to do the filming, so you can't just use any boat, you've got to find one that can take that kind of crane. The closest one we could find was 800km away, so had to get that transported over.
We also hired local river guides who knew the rivers to be my crew. We did a whole training programme with them because Paramount have got their usual crew orientation, but we had to orient them how to work on a film/TV set. It's not normal day-to-day experience, so our role was bridging the gap.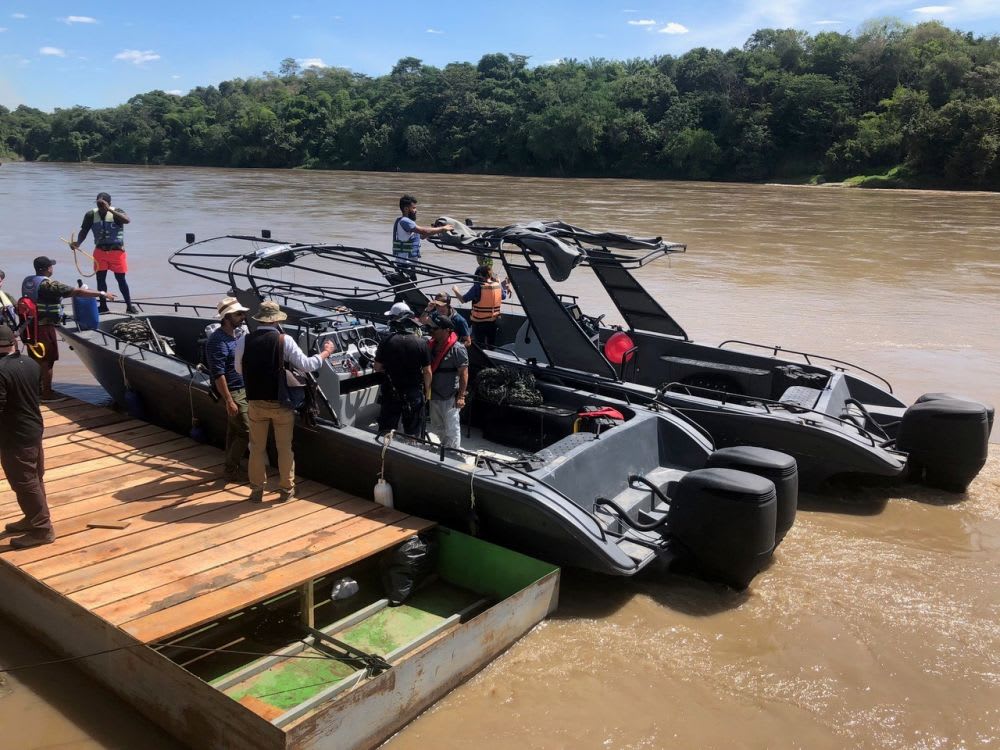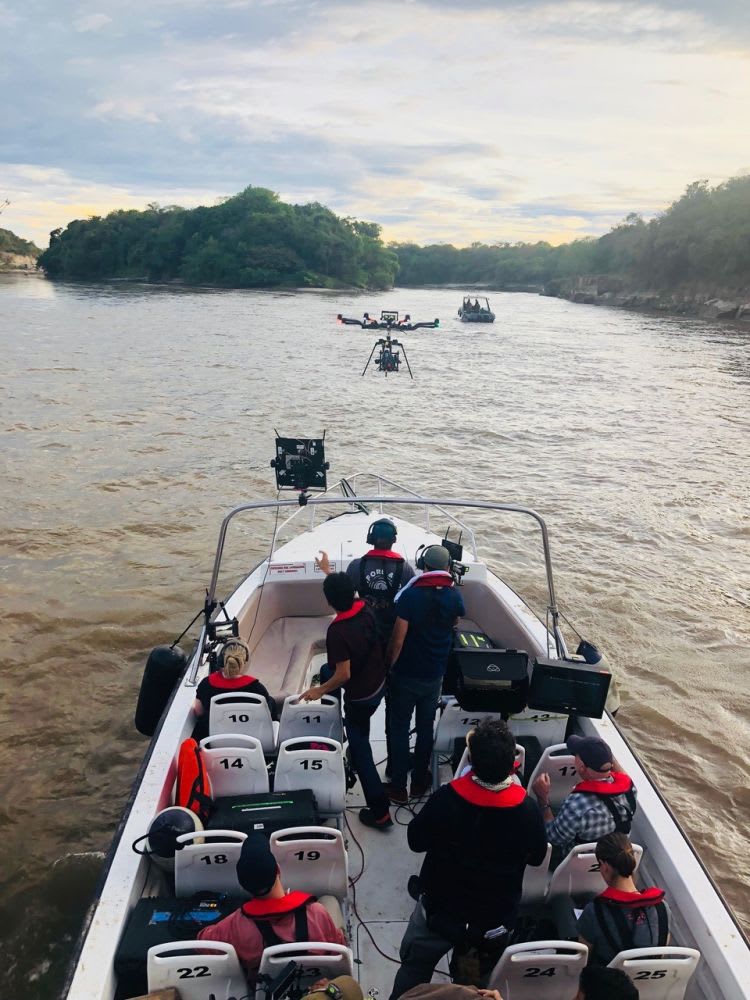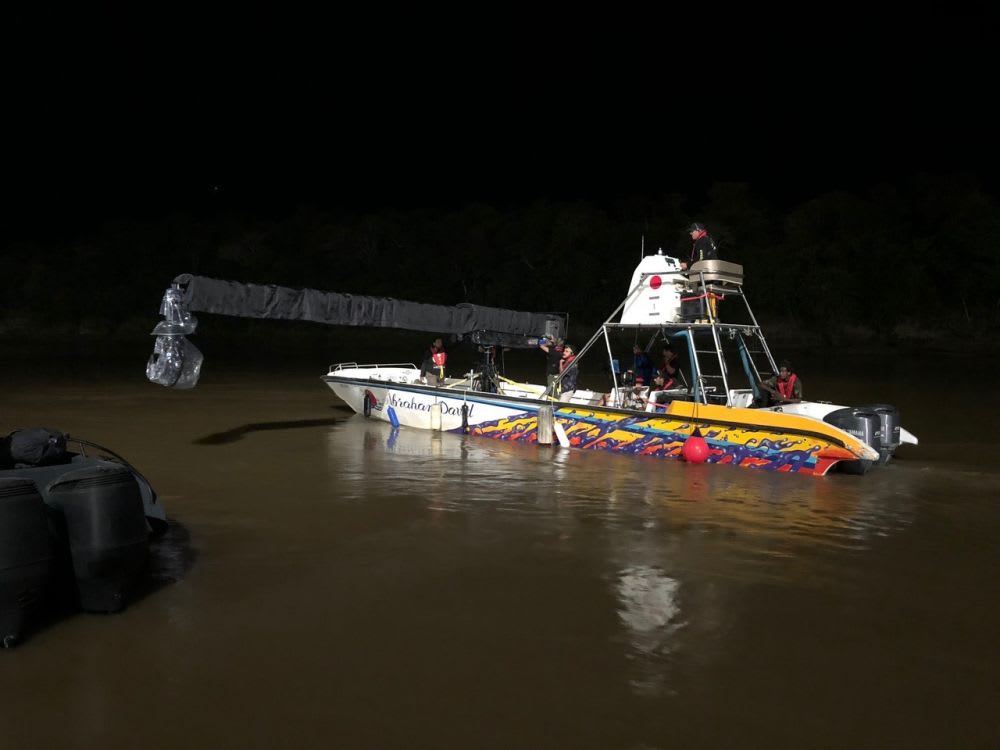 Paramount Television/Amazon Studios' Jack Ryan series filming in Colombia with Frog Squad, including the Techno Crane in the last image
It's these types of challenging, but important jobs, that we want to get more involved in. Once we're brought onboard, we sit with the designer, the DoP and the grip team. We then come up with solutions for what they want. It's not just here's a boat, make it work. It's the other way round.
What about the other recent projects you've worked on over the past couple of years?
We (Frog Squad) have helped with Raised by Wolves season 2, Venus Fly Trap (part of the Resident Evil series), Eraser 2, Slumber Party Massacre, Around the world in 80 days, and a large Fear Factor that came to South Africa.
On the Venus Fly Trap show, we did a lot of work at the tanks in Cape Town Studios, which are great, and only about 30 minutes from Cape Town CBD and 10 minutes from the coast.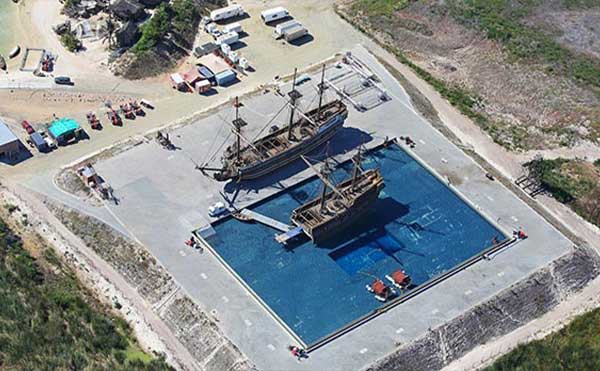 Cape Town Studios' water tank
We've also done Deep Blue Sea 2 and 3 and will do 4 next year. For the third film, they wanted to create a little village, which was slowly sinking, so they did that at the studios and green screened it. We then went and did a couple of plate shots in the ocean for real. Then I went up the east coast for a couple of weeks and got doubles for all the actors. I filmed with the team with real sharks in a safe coral reef called Aliwal Shoal in Durban.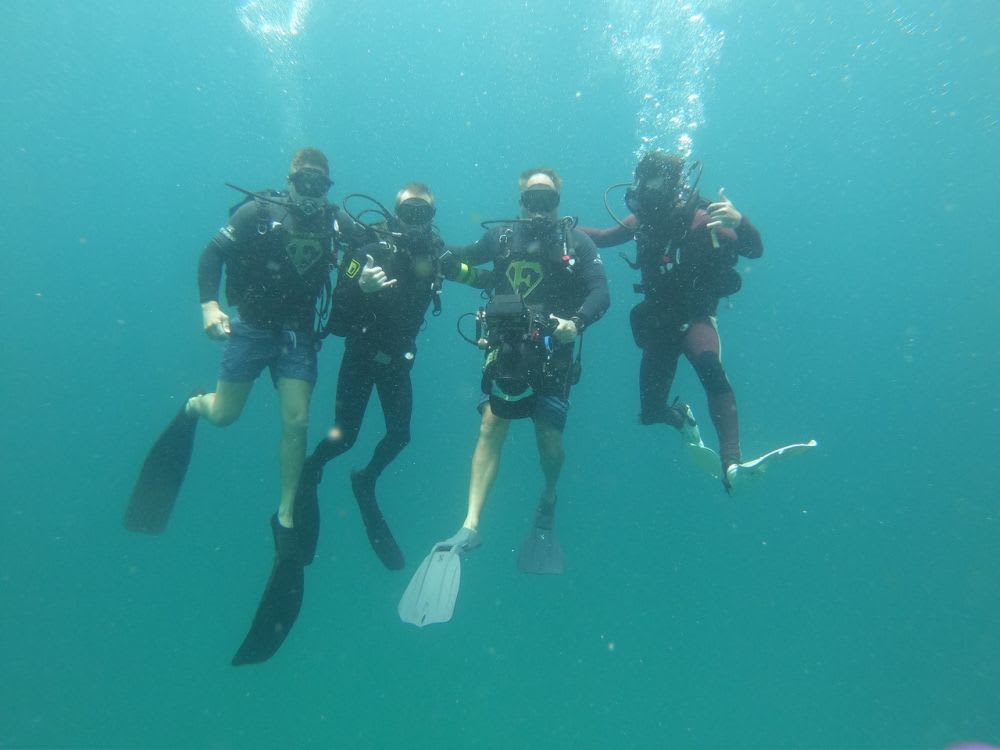 The Frog Squad working on Deep Blue Sea
So, we can do the usual have a boat and put a camera on it, but also far more advanced work too.
What makes your company stand-out from the competition?
We have four co-ordinators all of whom are IMDB credited, who's marine knowledge and skill has been born in the military but who have worked the marine trades for decades. This experience includes but not limited to trans-continental sailing, cruise ships, commercial diving from inshore civil to offshore work. We have worked with police, the military, all forms of sport and tech diving. One of ours co-oridnators has even worked as a underwater bomb disposal diver in the Gulf and black sea.
Our other attribute is we have two commercially qualified underwater camera operators who have worked on blockbuster shows such as the ones mentioned above.
We own and operate our custom-built underwater camera systems and I believe we are the only marine company to offer both above and underwater services including the camera operators.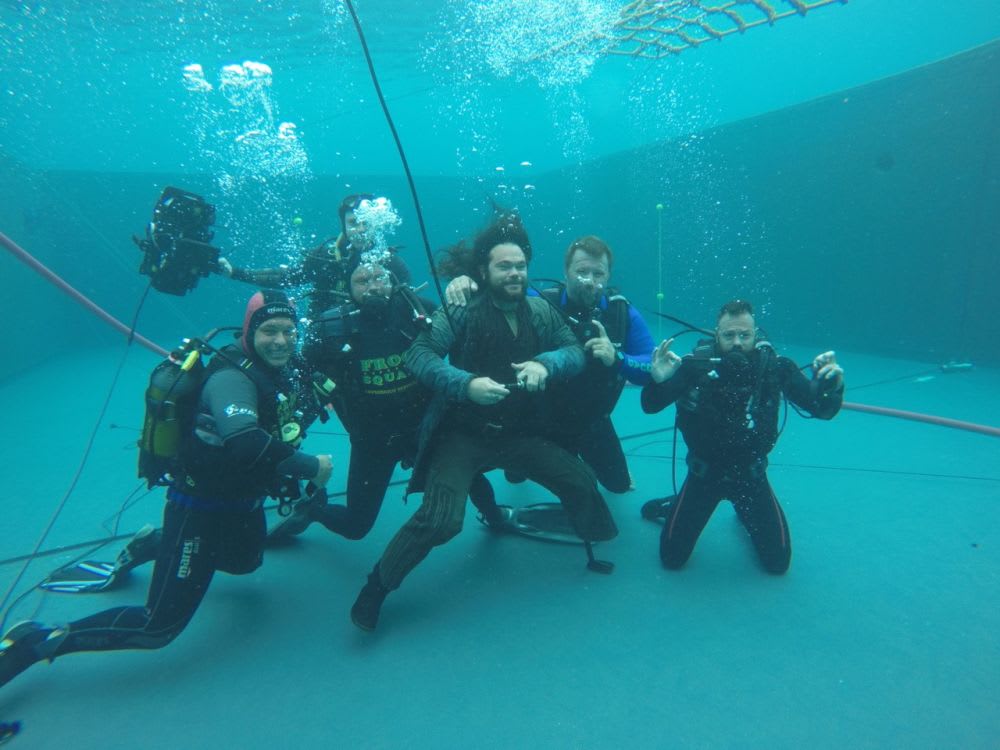 The Frog Squad team working on Black Sails
We use qualified divers and skippers with the proper manpower and health and safety training. This has changed the industry a lot. I can't just hire any dive master that's been doing it for years, I have to find the right person for the particular project. So we've developed a base a of crew that have a good film resume, but also qualified to do the work no matter what the project.
I can put a safety diver on set and he's looking after a cameraman who's got a million rands worth of camera equipment. He's also handling health and safety to make sure nothing's going to hurt him while he's in the water. It's a really important role and they should definitely be paid a good rate for the work they do.
We love facilitating the work in South Africa, but are keen to work abroad more too. Productions can get duped into familiarity – using the same company when they shoot in certain countries, but they need to realise that there are lots of good companies like us in other countries who can do quality marine work anywhere.
What is the latest situation with Covid in your country and how are you coping/adapting?
The South African film industry response to COVID has been amazing. Once travel opened up again, each company that brings work into the country adopts the COVID protocols and we start work. There are also COVID supervisors on set to monitor behaviour and supply masks and disinfectant.
Our services haven't changed, but the way in which we crew up has. All crew get tested three times a week, and we have formed two teams that work independently to avoid contamination and our cleaning and sanitising has been stepped up. But once we are on the water or under the sea its back to business as usual. The only downside is we now wear a mask above and below the water.

What makes South Africa a great shooting location?
It is a great place to shoot for one reason above the rest and that is we have great crew, with the technical know-how required to film big international shows. Our people demographic can match anywhere in the world, so extras are a plenty.
Our country is beautiful, from desserts to forests, oceans to rivers we have successfully filmed for all regions of the world.
We also currently have a 25% film rebate in place for international shows, and in Cape Town we have the film studios with tanks and stages.
How do you see the film, TV and commercials landscape changing over the coming months?
The need for face-to-face meetings will be limited. I think there will be more power given to 2nd unit and stunt unit DoPs to get the shots required. Less access to actors means we'll need better stunt personal for the doubling and the use of VFX face replacement will become common practice. I think directors / DoPs will need to be able to delegate more, so more prep time required on shows, and more satellite units.
You can get in touch with Jason and the rest of the Frog Squad team at Jason@frogsquad.co.za, +27 823 496 688 or via their social media handle @frogsquad on Instagram and facebook.