Earth Angel's Emellie O'Brien explains how her team got suited and booted, working back-of-office and on-set of psychological thriller The Woman In The Window to help divert 86% of set waste from landfill.
Fox 2000 Pictures made the important decision to reteam with sustainable production experts Earth Angel on thriller The Woman In The Window, having previously worked with the company on Steven Spielberg's newspaper drama The Post.
Directed by Joe Wright and starring Amy Adams and Gary Oldman, The Woman In The Window, the final film released by Disney under the Fox 2000 banner, follows agoraphobic Anna Fox (Adams), who spies on her new neighbours and witnesses a disturbing crime in their apartment.
Over the course of the 53-day shoot at a non-official studio converted from a former armoury in New York, Earth Angel and crew members from every department set goals around energy conservation, materials recycling and responsible sourcing, crafting strategies to meet these goals.
"Fox already had their own green policies and programmes in place, so they were very supportive and excited about having a dedicated team managing sustainability on set," says Earth Angel CEO Emellie O'Brien.
Calling itself the 'eco department', Earth Angel's team was integrated into the production like any other department. It had an experienced back-of-house team, including a New York co-ordinator who oversaw the sustainability agenda, a materials co-ordinator dedicated to repurposing and donating materials used, a supervisor based in the offices, and an internal analytics manager who produced reports and carbon footprint assessments.
"These guys at pre-production were meeting with the production and department heads, setting the stage for what was to come, so that our boots-on-the-ground folk — consisting of green runners/PAs dedicated to sustainability — could come in and really make a difference," explains O'Brien. "We had done the educating, informing and communicating so the PAs' lives would be easier on set."
They were soon at work tracking waste production each day at the converted studio, assessing the strategies' effectiveness and developing new tactics along the way. All the while using as their bible, the Green Production Guide — a comprehensive collection of sustainability best practices and green vendors — which Earth Ange helped put together with the Production Guild of America and Holly­wood studios.
"We used the same checklist pretty much everyone in North America uses. It's called the Peach [production environmental actions checklist], which is a tool of the Green Production Guide," explains O'Brien. "Because it's a generic template, we tailored it and chose what to focus on with this particular project."
The buy-in from the production team and crew was quick, and from cast members too. "Amy Adams was really enthusiastic about what we were doing on set and went out of her way to help and thank our eco PAs," adds O'Brien.
The eco team tracked waste diversion both on set (what the shooting crew were doing) as well as at the off-production facilities (for example monitoring the construction materials from the build phase through to post-shoot removal).
This dedication to the cause yielded a number of successes:
The production banned single-use plastic water bottles and encouraged refillable alternatives, a measure that avoided the use of 57,600 plastic bottles.
Staff recycled 13 pounds of electronic waste, including printer cartridges, halogen lightbulbs and more.
The crew also recycled 17 pounds of textiles such as clothing, towels, blankets, curtains, belts and handbags, and donated 86,371 pounds of materials.
47% of all lumber purchased was certified by the Forest Stewardship Council, the Sustainable Forestry Initiative or the Programme for the Endorsement of Forest Certification.
The wardrobe department purchased 25% of the movie's costumes from thrift stores, rather than buying new.
Some 24 metric tons of CO2e were avoided through the use of hybrid vehicles.
The production partnered with Rock Can Roll to donate 1,700 pounds of leftover food to shelters, charities and food banks. It also implemented PPE recycling programmes through TerraCycle, a company specialising in hard-to-
recycle items.
"We had great success with The Woman In The Window because so much of the film was shot on stage in Anna's apartment. We were able to repurpose a huge amount of the construction material on the film, because we were so contained," says O'Brien.
One challenge faced by the production was the use of an alternative studio space, that did not have enough electricity to power the sets. Supplemental generators were hired but the challenge was finding ones powered by biodiesel rather than fossil fuels.
"We couldn't get a biodiesel fuel higher than a B5 blend [5% bio, 95% diesel]. Getting the delivery and supply of anything higher than that was too logistically complicated. But that's a universal issue across New York City, it wasn't particular to this film," says O'Brien.
Overall, though, the green initiatives that were followed throughout the production avoided the emission of 360 metric tons of carbon dioxide equivalents, saving more than $71,000 and diverting 86% of on-set waste from landfill.
It also achieved a 73% total waste diversion rate when factoring in waste produced in the production office and elsewhere. Earth Angel also recognised the green crew member of the week as a way of incentivising participation in the sustainability programme.
"We were also able to repurpose a lot of the materials, giving them to non-profits and small businesses, who were able to use flooring, for example, that we pulled up. So that was a real triumph," says O'Brien.
Once production wrapped, reports were filed to Fox's sustainability manager, who was "very pleased with the outcome, especially as we're one of the only departments that has a return on investment in the thousands," concludes O'Brien.
PROFILE - Earth Angel
Emellie O'Brien (pictured below) has spent the past 10 years as a 'green steward', managing sustainability on the sets of some major film and TV projects. Her dedication to green practice and passion for the environment garnered her the nickname 'earth angel' from crew members, hence the name of the company she founded.
O'Brien and the team at Earth Angel integrate a standardised method of environmental accountability to productions and track the environmental and social impact, helping achieve the production's desired sustainability results.
Four key areas, known as the S's, are covered:
Strategy (a customised sustainability programme)
Staff (skilled eco crew to implement the strategy)
Stuff (eco supplies and equipment, materials, management and repurposing)
Stats (data collection, analysis and reporting)
Earth Angel's list of film and TV credits includes Amazon's The Underground Railroad, Netflix's Space Force, Disney's Avengers: Infinity War, 20th Century Fox's The Post and Warner Bros' The Goldfinch.
Contact earthangelsets.com
This feature is part of our comprehensive Sustainability Report, which you can read below...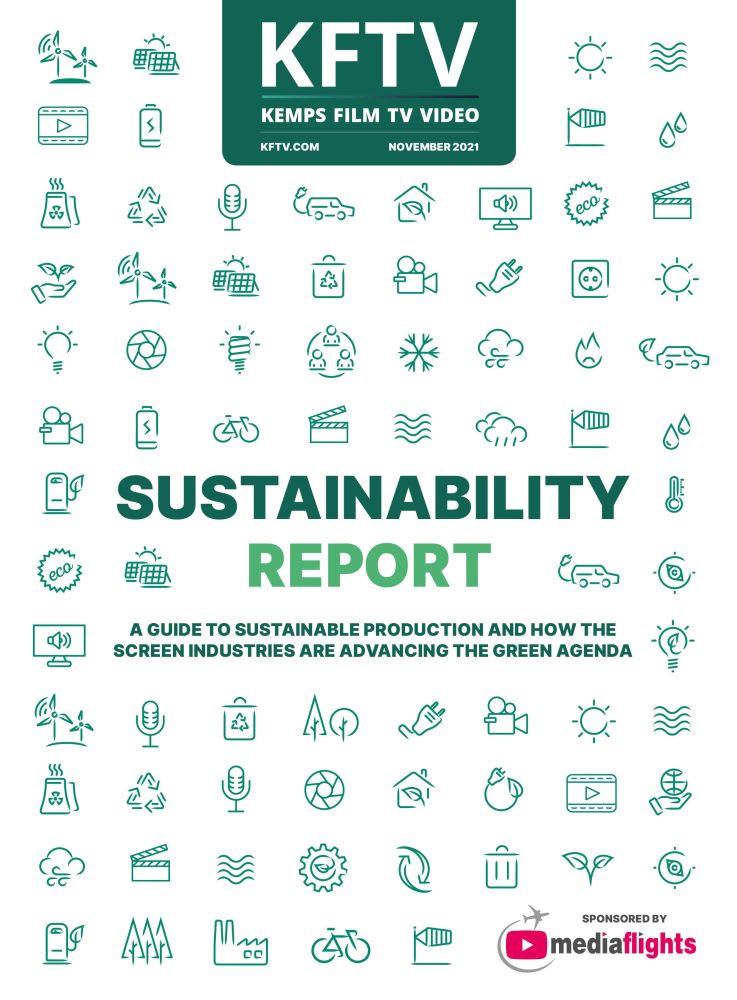 Homepage image: On the set of The Woman in the Window. Credit: Melinda Sue Gordon, Netflix