The UK is busier than ever with international film and high-end TV production, which has been coming to the UK in huge numbers for many years. The territory boasts competitive, reliable and transparent film and high-end tax reliefs, an expanding supply of top-notch studios, a strong crew base, a booming post-production and VFX industry, a wide array of locations and the language.
Assistance is available for incoming productions on everything from location scouting to sourcing crew, from finding studio space to obtaining permission from police, local authorities and landlords for road closures, night-time shoots and access to historical sites.
Every part of the UK has strong national and regional agencies — Wales Screen, Screen Scotland and Northern Ireland Screen among them — which not only facilitate filming and TV production but often have funds to invest in projects.
The government is aiming to create 30,000 new jobs in the screen industries over the next five years — but will only be able to do so if the production boom continues.
Film and high-end TV production spend in the UK was at $3.8bn (£2.8bn) in 2020, 21% down on the previous year but still a sizeable number given the devastation wrought by the pandemic in the early part of the year. As the British Film Institute's annual statistics round-up revealed, the final quarter of 2020 saw a huge $1.7bn (£1.2bn) spend for film and high-end TV, the second highest three-month spend on record — and the investment and activity from both the US studios and the streamers has risen sharply since then.
The appeal of the UK for international production was further underlined by Amazon Studios' decision in late summer 2021 to bring the second season of its $1bn version of The Lord Of The Rings to the UK (the first season had shot in New Zealand). Meanwhile, in September, streaming giant Netflix announced plans to further entrench itself in the UK production sector by leasing the Longcross Studios complex outside London. This followed the announcement in August that yet another major studio complex was being planned, this time in Broxbourne, Hertfordshire.
The many titles shooting over 2021 include Disney/Marvel's Doctor Strange In The Multiverse Of Madness at Longcross Film Studios in Surrey; Paramount's Mission: Impossible 7 at Leavesden, Hertfordshire and on location in Yorkshire and Derbyshire; and Apple TV+'s comedy Ted Lasso and spy thriller Slow Horses on location in London, with the latter also at the city's 3 Mills Studios. Season two of Net­flix's The Witcher has made its home at Arborfield Studios, 40 miles west of London, while Stephen Merchant's The Outlaws filmed at Bristol's The Bottle Yard Studios. Series six of Peaky Blinders is at Space Studios in Manchester.
The sixth season of Starz's Outlander is housed at Wardpark Film & Television Studios in Scotland, while Disney's fantasy series Willow and season three of the BBC's His Dark Materials are in Wales, at Dragon Studios and Wolf Studios respectively.
Paramount and eOne's Dungeons & Dragons is housed at Titanic Studios, Belfast; Netflix's The School For Good And Evil at Belfast Harbour Studios; Amblin's untitled Indiana Jones film at Pinewood Studios; Altitude Television's The Ipcress File in Liverpool; Disney's The Little Mermaid at Pinewood; Netflix's Neil Gaiman adaptation The Sandman at Shepperton Studios; Disney's Star Wars: Andor at Pinewood Studios; and the Russo brothers' Amazon Prime espionage series Citadel has shot on location in Oxford.
Studio space
As demand has increased, so has studio space to service these productions with several new facilities in the pipeline. Twelve stages are being built at the new Eastbrook Studios in Barking and Dagenham, Essex (due to open in 2022) while extras stages are also being constructed at Pinewood, Shepperton, Leavesden and Twickenham Film Studios. Building is also under way at the Sky/Universal Studios in Borehamwood.
Outside London, the Littlewoods Studios in Liverpool is due to open in 2023 while plans to build film and TV production facility Mercian Studios in Digbeth, Birmingham, led by Peaky Blinders creator Stephen Knight, are ongoing. Meanwhile, Garden Studios, opened in early 2021 by Thomas Hoegh's Arts Alliance Ventures, is expanding its virtual studio facilities in west London.
One question, however, is whether the skills and crew will remain strong enough to support the new levels of activity. "The biggest conversation in the industry at the moment is ensuring we can meet that demand," says Adrian Wootton, chief executive of the British Film Commission and Film London. "Every new set of stages requires hundreds more people to work on them.
"The crew capacity is stretched," he acknowledges. "We are coping and doing everything we can to support the efforts of ScreenSkills and its short-term training courses."
During late summer 2021, in order to deal with the very real threat of potential skills shortages, the BFI announced a major nationwide skills review on behalf of the Department for Digital, Culture, Media and Sport (DCMS) and in close collaboration with the industry-led skills body ScreenSkills.
Beyond the impact of the pandemic and the ongoing production boom, the major development in the UK this past year has been Brexit and the EU-UK trade and co-operation agreement struck in late 2020. This has not affected the UK's attractiveness for its North American clients. However, issues have emerged relating to visas, work permits, recruitment of EU talent, UK access to EU training courses and the ease with which UK productions can use film incentives in the 27 member states of the EU. This may cause logistical problems for co-productions and for projects based primarily in the UK but also looking to shoot in the EU.
Since the post-Brexit transition period ended on December 31, 2020, UK cast and crew no longer hold EU/EEA status and are now labelled 'Third Country'. It remains a grey area as to what visas and work permits they might need to work in different EU countries or EU professionals need to work in the UK.
Financial incentives
UK film tax relief is a payable cash rebate of up to 25% of qualifying expenditure — capped at 80% of core expenditure — for films of any budget level. Projects need to score at least 18 out of 35 points on a cultural test or qualify as a UK co-production. The high-end TV tax relief operates along similar lines.
Regional and national funds sit alongside the tax reliefs as potential bait to lure international productions. These include the Yorkshire Content Fund, which typically invests $686,000 (£500,000) per project; the Liverpool City Region Production Fund, which can invest up to 20% of the production budget, with a maximum of $686,000 (£500,000) per project; and the West Midlands Production Fund, which can also invest up to $686,000 (£500,000). Northern Ireland Screen has $17.8m (£13m) in an annual development, production and skills fund, and can invest sizeable amounts — up to $2.2m (£1.6m) — in large-scale production. Scotland has its Production Growth Fund, which tends to invest from $275,000-$686,000 (£200,000-£500,000) per project. Wales has its Economic Futures Fund.
This feature is a condensed version of the UK profile in our latest issue of World of Locations, which you can read below...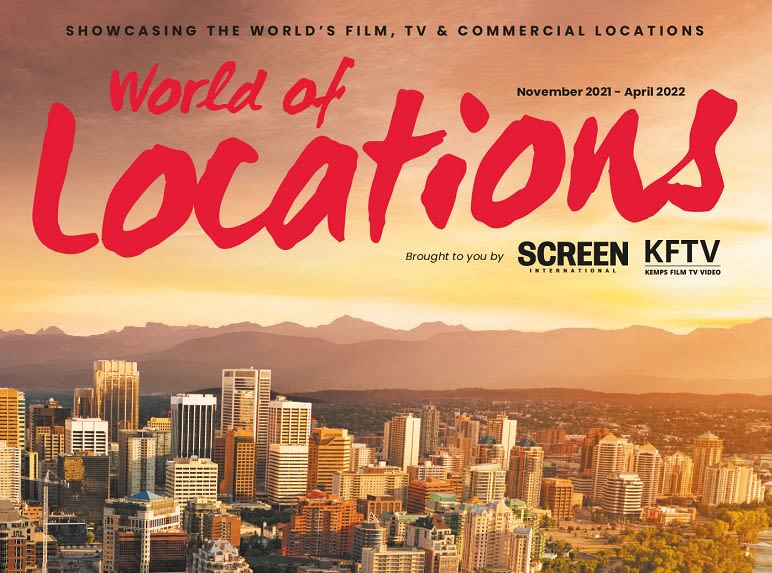 Homepage image: Mission Impossible: 7 filming on the North Yorkshire Moors Railway. Credit: Anna Gowthorpe/Shutterstock