The production team of Apple TV's hugely popular series, SEE, set in a future where the population is blind, have managed to achieve the incredible feat of shooting seasons 2 and 3 back-to-back in Ontario, Canada.
This rapid turnaround wasn't a planned decision, it was brought about by leading man Jason Momoa's incredibly busy work schedule and the unfortunate delay of shooting season 2 due to a Covid shutdown.
Here, the series' Toronto-based supervising location manager, John Rakich, LMGI, explains to KFTV how they managed to persevere in some of the most unlikely filming locations and with the use of Momoa look-alikes for several scenes…
When did you join the series and why was Ontario chosen?
Season one shot in Vancouver. But then the plot changed from taking place in the woods to a more urban environment for season two. At first, they were going to go to Boston, but then changed their minds to come to Toronto. We have a stabler tax credit and established crew. The funny thing is the trucks had already left Vancouver heading East, so it was a shorter drive.
I got involved in October 2019. They had decided to film in Ontario and I was asked by a production manager friend to introduce Jim Rowe, the executive producer of seasons 2 and 3, to local studio heads. The following week the designer arrived, I showed him around and was then onboard.
It was clear from the get-go it was a gigantic show with grand plans. The intention was to block shoot eight episodes, two at a time with a bunch of directors. Filming started in February 2020 with big sets built, prepped and distressed to look 600 years in the future, but four weeks in we were shut down and had to suddenly leave… for six months.
How was it coming back in August?
Everything changed due to Covid, but we adapted. Instead of several directors, we now had a single director, Anders Engstrom, and were basically shooting it in a feature film style, keeping most of the cast and crew together throughout. The script was being rewritten on the fly, schedules were redrawn, and we had to deal with protocols with foreign workers coming into Canada having to quarantine for 10 days.
It was also summer, rather than winter, so different temperature and conditions. Also, when we returned to the existing sets they were no longer suitable, partly because they weren't big enough to accommodate the new spacing rules, so we had to start again.
We also had the problem of a cap on the number of background performers and extras we could have. Pre-Covid we had 400 or 500 of them for big crowd scenes, but now we had to deal with a limit of 50, which we massaged to 75.
Interestingly, we thought the crew numbers would also get smaller, but they were actually bigger to manage the protocols.
We ended up relying on more outdoor environments to accommodate the size of the crew and scope of the show.
Can you tell me about some of those exterior locations?
We were based out of the Cinespace Studios in Toronto (now owned by TPG Real Estate Partners), but we built a giant town set about 2.5 hours outside of Toronto in a city called St. Thomas on the site of a former psychiatric hospital. But the distance and putting people up in hotels meant the costs were skyrocketing. So, we decided to bring the entire set (including village huts, shops and roads), piece by piece, on tractor trailers to a conservation area called Clairville closer to the city, using reclaimed quarries or derelict buildings that were on larger pieces of property.
We're lucky in Ontario that our government agencies, like Ontario Creates, are very pro film, and our conservation authorities manage some pretty incredible parks and outdoor environments, which we're allowed to shoot in, such as the following…
Ontario Place theme park
We built the finale of season 2 at this old theme park, Ontario Place, which had shut down. It was a huge battle sequence between the two main forces in a fortress with giant trenches.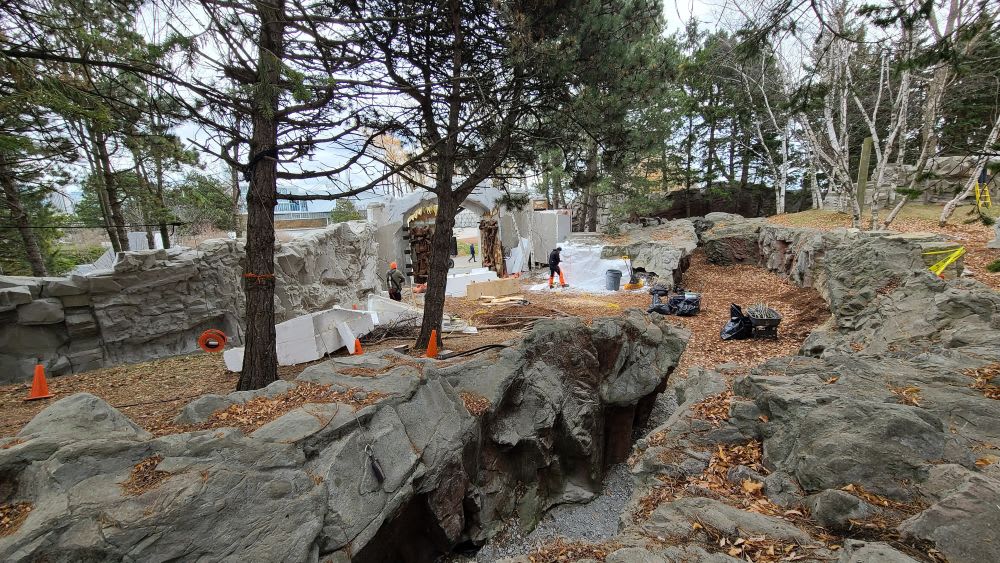 Filming on the log flume ride at the old Ontario Place theme park. Credit: John Rakich
The production designer, Caroline Hannina, and I were trying to find interesting sites and noticed that the park had one of those log flume rides with these giant stone chasms that the flume would go through, which we converted into a WW1 style trench for the fight sequence with blind people, swords and weapons. Plus, we built a gate (see below). Caroline did a brilliant job of making it into the visual world of SEE.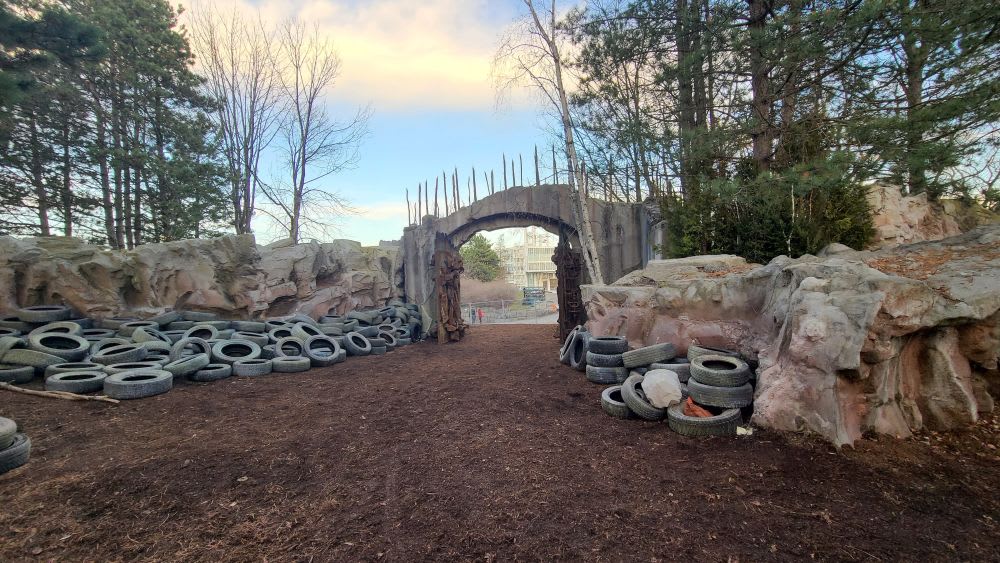 Construction of a gate at the Ontario Place theme park. Credit: John Rakich
Lake Ontario
We also built some incredible sets on the Leslie Street Spit Trail along the beautiful Lake Ontario...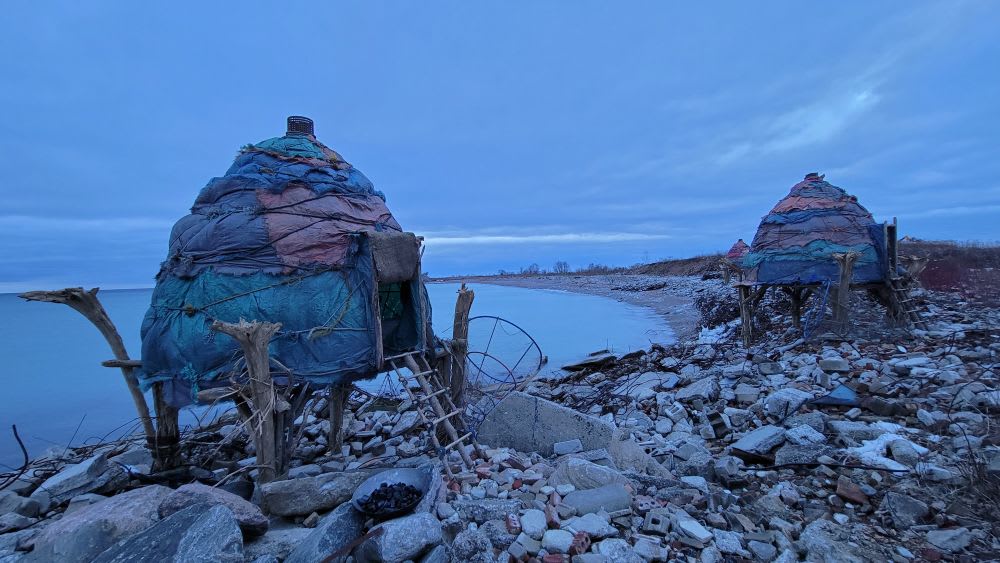 The SEE set on Lake Ontario. Credit: John Rakich
Sheridan Centre Mall
The production team also did an incredible job of converting the closed Sheridan Centre Mall in Mississauga into an abandoned airport...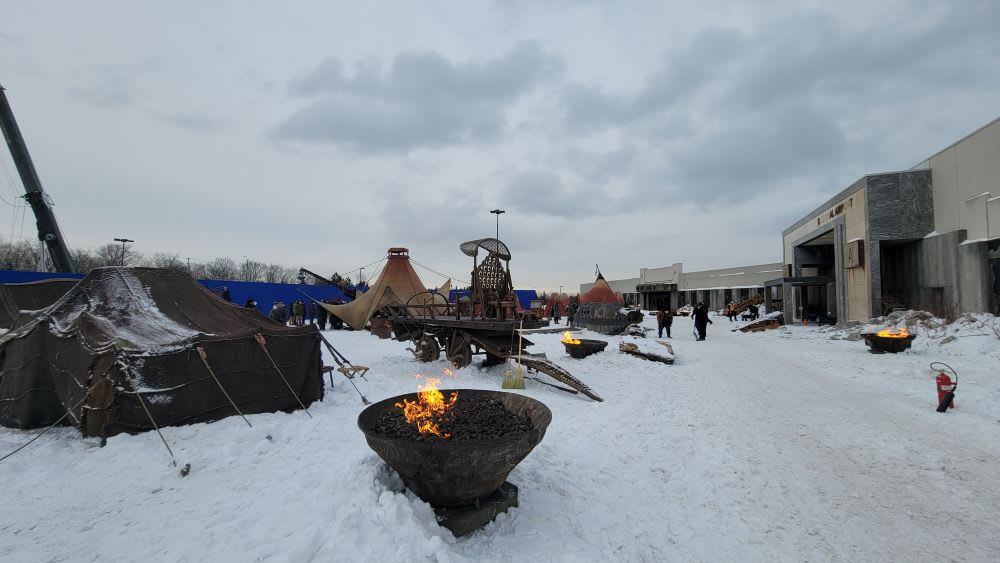 Filming at Sheridan Centre Mall. Credit: John Rakich
How was the transition to season 3?
We had an incredibly tight turnaround to get ready for season 3. Technically we had five weeks (from season 2 wrapping to the start of principle photography of season three) to prep for another eight episodes of TV and a 178-day shoot (from May to October 2021). Usually for something like that you'd have 8 -12 weeks of prep.
A lot of it was driven by Jason Momoa who was only available for eight weeks of filming because he had come straight from shooting the Netflix movie Slumberland, and had to move onto Aqua Man II, but he's in 70% of the production, so we had to re-arrange the schedule and have the script ready quickly.
Our director, Anders, said we are basically shooting three projects - the Jason Momoa movie in 8 weeks then shoot the scenes with the other actors of SEE, including Dave Bautista, and then wrap it all up by October.
We had several locations that were dressed and partially shot, which we had to walk away from then come back at different intervals to do the remainder of a scene. This is because Jason's character would do something, walk away, and then several other actors were brought in at a later stage to carry on.
We were very lucky that one of the stunt guys stayed with us who is a very good camera double for Jason for anything that we'd missed fight-wise because in season 3 there's a lot of fighting, action sequences.
Was it difficult to shoot the scenes where the cast are interacting with Jason, but he's not there?
Because the characters in SEE are blind or visually impaired, we didn't have to rely on that traditional line of site where they're looking at eye level. We could have two characters talking but the camera could be floating and moving because they're not looking at one another, the head could be off to the side communicating. We could be creative with our visual imagery.
The AD team and scheduling were phenomenal in dealing with the fact the schedule was sometimes only accurate for a week and a half at a time and was constantly changing. As were the incredible locations…
Quarries around Toronto
There are a lot of fight sequences and battles in season 3 right from the start, which we filmed in disused and reclaimed quarries just outside the city limits of Toronto.
These gave us that epic vista to play with and space to do what we wanted. We built giant sets using 70 - 80 tractor trailers, trucks, hair and makeup tents – it was a very large foundational footprint.
Car graveyard
One of the really cool locations was this huge yard in a town called Acton, about 45 minutes outside Toronto, where a family had been storing cars for about 60 years, but they've become over-grown by shrubbery and trees, which are literally sticking out of the cars.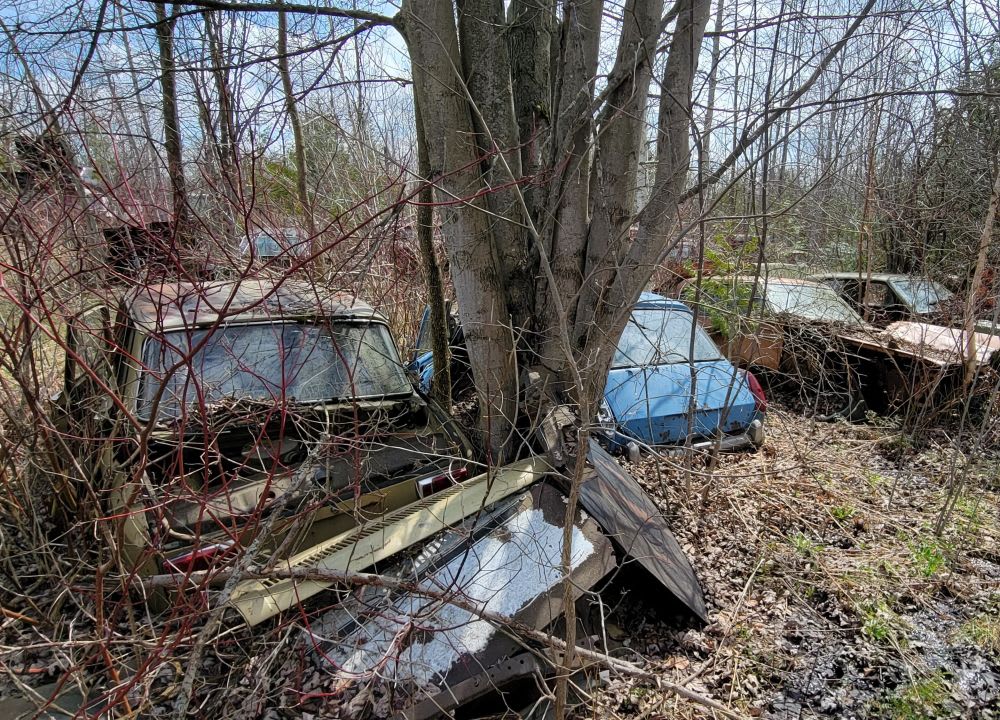 The car graveyard in Acton, Ontario where See S3 filmed
It looks like a car graveyard that nature has taken over, which was perfect for our show because in the world our characters live in, nature had taken over and technology has stopped being useful.
It's a little-known place, unless you're a guy looking for car parts. They've had Instagrammers sneak in and do photos in the past, but no one's ever really shot there because it provides a lot of logistical challenges to production that most people would walk in there and go "no this is too tough". But we knew it would look so great, so made it work.
Although, it was an incredibly tough place to shoot, because it's not a set designed by us, we're now dealing with rows and rows of cars and lane ways that are maybe a vehicle covered in mud. So trying to get heavy equipment, cranes and gear through there on narrow pathways was tough, but it was worth it because when you look at what's on screen it was something this show hadn't seen yet. There's going to be a whole episode that takes place in there and visually it will look really great.
Pearson Airport hangar
One of our studio partners TriBro had an arrangement to use an empty hangar at Pearson International Airport. It's 80 square feet with 50-foot clearance, so we rented it out as a stage space.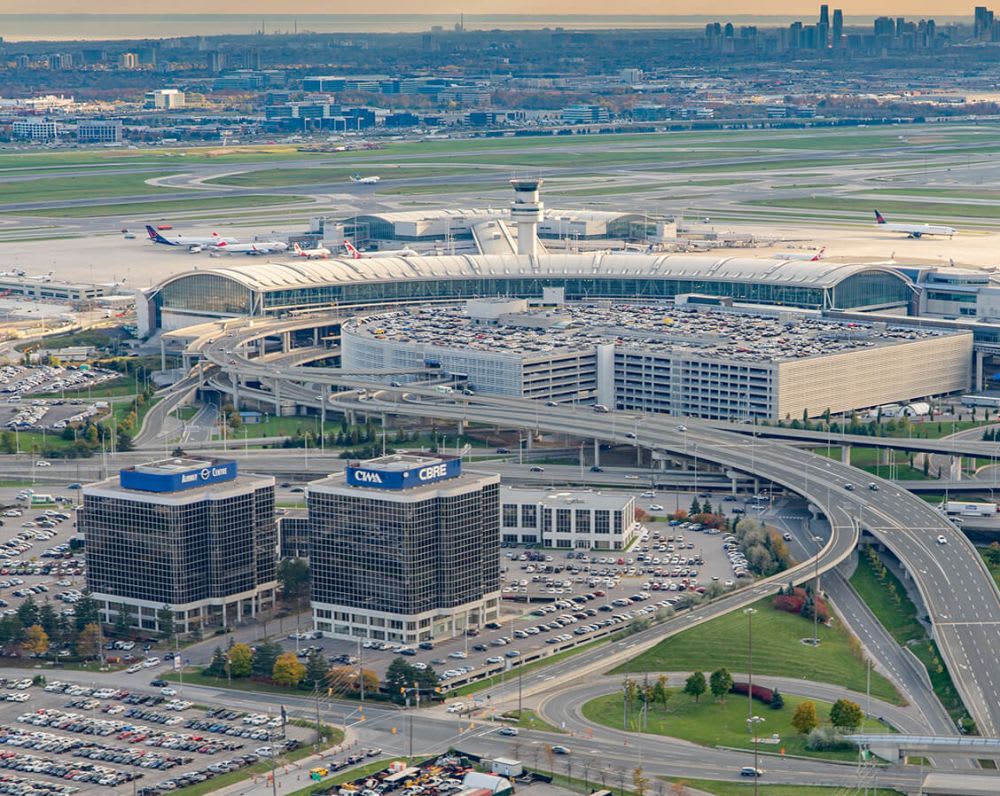 Pearson International Airport
It was not the friendliest for noise because of planes taking off nearby, but we needed a biometrically large space to build our sets in and it worked out perfectly.
Logistically it was brilliant because none of the sequence had sound involved, so for us it was great to shoot in. There was tons of space, we could bring in loads of machinery and tools.
We also built a blue screen set there to display the interior of a well-known space in NY city. So, part of it was CG, but a good part of it was a massive interactive set. There was lots of space to build and work in.
Did you get everything you wanted from the locations?
In the end we shot everything expected of us. We built some really cool, imaginative stuff. We were lucky that every department worked in tandem with each other. Even Covid wasn't that strange, we learned to adapt to getting tests every day.
It was a positive two-year job. We were lucky we got all that time together with more than 90% retention of crew for S2 and S3.
It was a tough, but rewarding, turnaround. When we wrapped, the director said: "Congratulations, we survived!".
What about season 4?
They wrote the ending of season 3 to be open, so it could happen, and the story could potentially continue with the characters, but we will have to see.