CASE STUDY: FIREWORKS
This is part of our comprehensive Virtual Production Report, sponsored by LEDunit studio
Fireworks is a tense short film set simultaneoulsy in an MI6 ops room and a Tripoli marketplace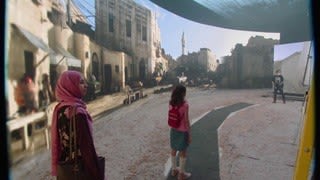 Filming Fireworks. Credit: Wilder Films
Produced by: Wilder Films, with Dimension Studios and Lipsync Post Production
Short film Fireworks was initially conceived as a stage play by writer Paul Lally, developed as an immersive experience for VR headsets using volumetric capture at the suggestion of producer Annalise Davis then reworked as a virtual production.
"I was doing a test of another project in the volume at Dimension when I realised that all the ideas we'd explored in VR for Fireworks could be delivered using VP," says director Paul Franklin. "Once you can find a really compelling creative reason to do it in VP then every aspect of it earns its place."
Fireworks is told in real time, in the tense final moments of an MI6 operation to take out a dangerous target who has been tracked down to a Tripoli marketplace.
Instead of visiting Lebanon, production designer Jamie Lapsley researched the city using Russian language search engines to find "holiday videos" with which to build a version of the city in Unreal Engine. "The project was a chance to design a whole city and to realise that in a way I could never do normally," says Lapsley.
Dimension's Unreal artists discussed lighting, materials and object placement with Franklin's team before creating realistic props and environments in the software.
"The goal was to achieve the essence of a real street section," says Ed Thomas, VP Supervisor. "We built lighting and atmospherics to match what it feels like to be in Tripoli."
Franklin navigated the virtual world with VR goggles to plan the shoot. "The time you would normally spend with your production designer, 1stAD and DP to work out how get around the set, you have to devote to the virtual asset because it is going to be baked into principal photography as you shoot it," he says.
"I was able to put up a virtual movie camera (an iPad on a shoulder mount) and walk around the space looking into the virtual world and could share that with my cinematographer."
Franklin took individual frames from the VR recce to produce storyboards of the entire film.
"Until you put a headset on and explore it is very difficult to visualise issues you may run into," says Ollie Downey BSC. "A VR recce means you can get to the bottom of things comprehensively."
Dimension's Unreal lead Craig Stiff not only built the virtual world, he acted as virtual gaffer. "On a normal job you might say to your gaffer 'I want a SkyPanel here and a backlight there' and in Unreal Craig can just dial that in," Downey says.
Virtual lights combined with practical fixtures were arranged by gaffer Andy Waddington. He says, the physical lighting design has to match the colours and temperatures of the virtual illumination displayed on the LEDs.
The volume itself consisted of a curved LED screen for the main environment with side panels and a ceiling panel to represent more of the scene wrapping around the characters.
"We treated it as though we'd built our set actually in this street in Tripoli," says Downey. "I let the background over expose and treated it as I would a view from a window on a normal set – only one I have more control over."
The real and virtual sets were blended. "For example, the texture of the ground has to blend seamlessly into the texture of your digital ground," Thomas says. "Once you've got that it's very hard to see where reality ends and virtual reality begins."