KFTV editor Chris Evans talks to Mr Mohannad Al Bakri, managing director of the Royal Film Commission Jordan about how and why the Middle East country is attracting so many international productions, what support the commission can provide and plans for a new film studio in Amman.
Can you tell me about the set up of the Royal Film commission - Jordan?
The commission was established in 2003 with a vision to build in Jordan a world-class, cutting-edge film industry where all people of the Middle East can freely make films alongside talented artists.
We have a staff of about 50 employees between our home office, at the film commission in Amman, and our various film centers throughout Jordan and in Los Angeles.
Our mission is to encourage Jordanians and people from the Middle East to tell their stories and provide education and training programs for Jordanians working and interested in a career in the film industry. We are a hub of support to all productions, foreign and domestic interested in shooting in the Kingdom.
What services and incentives do you provide to productions?
Local and international productions can take advantage of a comprehensive film incentive scheme with a cash rebate, tax exemptions, and co-production treaties with Canada and Flanders (The Flemish Region of Belgium).
Eligible international productions can receive up to 25% cashback, capped at $2M per project.
Locally, eligible Jordanian filmmakers can apply to receive RFC's cash rebate for Jordanian film projects produced fully or partially in the Kingdom. Jordanian filmmakers can get up to 15% cashback per project, capped at $353K.
More broadly, within the MENA region, eligible Arab filmmakers that successfully pass RFC's committee's cultural test for Arab film projects produced fully or partially in the Kingdom can also receive up to 15% cashback per project, capped at $353K
All eligible productions, locally, regionally, and internationally can receive tax exemptions on sales tax, customs & duties, and income tax for any non-Jordanian cast and crew member employed by the production.
Lastly, we provide producers with comprehensive services, such as assistance in obtaining filming permits, location scouting, custom clearance, and much more.
What international projects have you helped attract to Jordan recently and how did you support them?
We are in the early stages of pre-production on a few international TV series. We are excited about these productions that we're providing scouting support for and connecting them to our pool of adept production services companies.
We are proud of the various projects that have recently shot in Jordan, including Denis Villeneuve's Dune from Legendary Entertainment, which filmed for 20 days in Wadi Rum and Wadi Araba, using 250 international and 190 local crew. Plus the Moon Knight series for Disney+, which doubled Wadi Rum and Karak for Egypt, and two films debuting at this year's Cannes film festival, Ali Abbasi's competition title Holy Spider, which doubled Aman, Irbid, Zarqa and Balqaa for Iran, and the out of competition feature Rebel directed by Adil El Arbi, which doubled Madaba, Zaraka and Amman for Syria.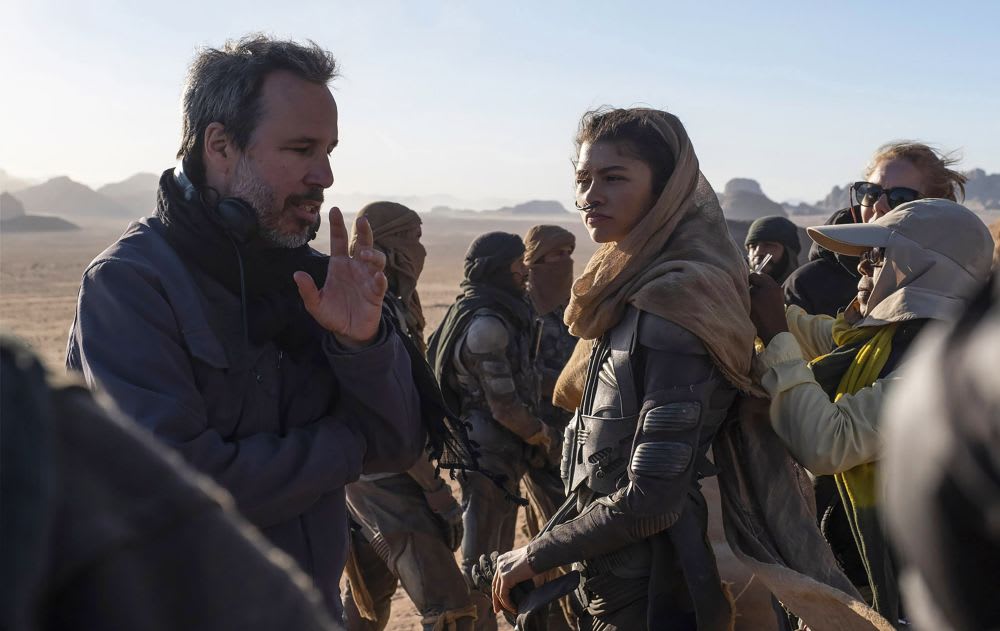 (L-r) Director/co-writer/producer Denis Villeneuve and Zendaya on the set of Warner Bros. Pictures' and Legendary Pictures' action adventure Dune. Photo by Chiabella James
We support all productions to obtain the required filming permits. With Rebel we achieved a new milestone by obtaining permits to use weapons, explosives, and military vehicles within 14 working days instead of 30! because the production had a very tight window to shoot in. Permits normally take between 5 and 30 days depending on the requirements.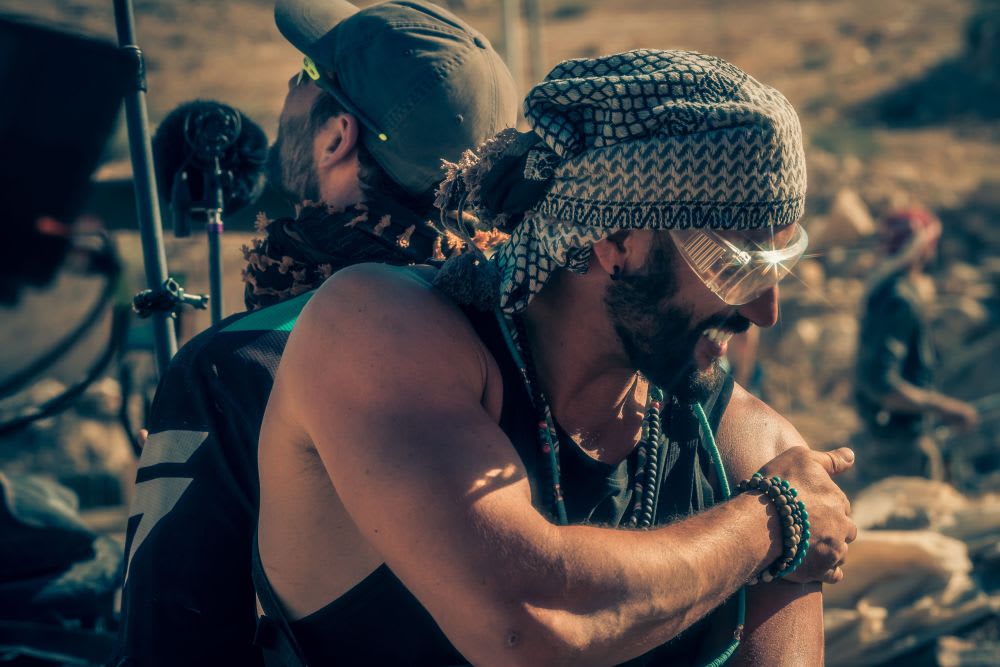 Rebel director Bilall Fallaf filming in Jordan
Why should/do international producers choose to shoot in Jordan? What makes you stand-out from other Middle East countries?
With a total of 131 feature-length narrative films and 25 international TV series (and an array of multinational branded commercials) having shot in Jordan, we've proven ourselves as a premier camera-ready and camera-friendly destination for filmmakers dating back to Lawrence of Arabia, and more recently through Star Wars: The Rise of Skywalker, Dune, and the Moon Knight series. Our credits reflect the production value that Jordan can offer a production of any scope.
We stand out in the Middle East because of our human capital, the fantastic crew base that calls Jordan home. More than 1,000 skilled and competent film industry professionals service the domestic and international productions that choose to shoot in Jordan.
Many foreign productions hire Jordanians as department heads while shooting in the Kingdom. Our experienced crews are in demand due to their skill level and are often hired to support productions in other international markets.
What is the latest situation with filming in Jordan? Are there still Covid protocols and restrictions in place?
Jordan is open for business and welcomes filmmakers from across the globe to shoot in the Kingdom. The Jordanian government has rolled back many of the earlier Covid restrictions that were in place at the height of the pandemic.
Covid testing and proof of vaccination are no longer required to travel to Jordan. However, visitors must complete the Travel to Jordan Declaration Form at gateway2jordan.gov.jo to receive their unique QR code before boarding for travel to the Kingdom.
The RFC has made available Covid filming guidelines to mitigate infection and pave the way for a secure and safe working environment.
Where are the best and most popular places to shoot a film, high-end TV series or commercial and why?
Naturally, we believe that all of our locations are the best. Our most notable locations include the desert landscapes in the southern portions of the Kingdom, such as Wadi Rum and Wadi Araba. However, Jordan is home to vast landscapes and backdrops from nature reserves (Dana Biosphere, Azraq Wetland Reserve), historic sites (Petra, Jerash, Kerak Castle), woodlands (in the Aljoun Forest Reserve), and our urban city centers from Amman to Salt. Plus our unique coastal regions including the Dead Sea (the lowest point on earth) and the Port of Aqaba on the Red Sea. Jordan has a broad palate of locations to fit your taste.
What countries can Jordan double for
Jordan's diverse landscape and the ease of accessibility to the different locations make the Kingdom a favorite for filmmakers who've doubled the country for a variety of countries including Egypt and Syria.
Matthew Heineman's feature debut, A Private War, starring Rosamund Pike, took advantage of Jordan's rich backdrops to double the country for Sri Lanka, Libya, Afghanistan, and Iraq.
Additionally, we are a leading location for war films, having hosted Katherine Bigelow's The Hurt Locker, Sand Castle, and Zero Dark Thirty. Our urban landscapes can easily double for Baghdad and Damascus, and as a home to many refugees escaping regional conflicts, credible casting choices are also available for filmmakers.
Is it easy to get permission to shoot in Jordan? What is the process for applying and who to?
Filming in Jordan is straightforward. We are dedicated to providing productions with comprehensive services that include:
Provision of detailed and fast information about filming in Jordan.
Assistance in obtaining necessary permits.
Assistance in location scouting with knowledge of all locations.
Assistance in customs clearance for technical equipment.
Assistance in casting and recruiting local crew and extras at competitive rates throughout the Production Directory.
Facilitation access to production services, facilities and equipment.
Liaison with private and public sector entities.
All of RFC services are free of charge.
What facilities are available, including studios?
Jordan can accommodate multiple productions and aims to entice productions to base themselves in the country, not just use it as a location. With high-end infrastructure, hotels, and services, we are set to add the next element: a studio facility. In the last quarter of 2022, Jordan will have the first phase of a studio, with two soundstages 1500 sq meters each (16,145.8 square feet), in Amman. This studio will be a new attraction for Jordan as a destination to film.
How experienced are the local crew? Can they handle a few major productions shooting in the country at the same time?
Jordan's crew base comprises more than 1,000 skilled and competent film industry professionals that, at full capacity, can support four to six large projects simultaneously.