Alex Garland has turned to nail-biting horror with his latest feature, Men, which has opened South Korea's Bucheon International Fantastic Film Festival (Bifan) (July 7).
The film, which premiered in Directors' Fortnight at Cannes in May, stars Jessie Buckley as a woman who retreats to the English countryside following the tragic death of her husband, only to attract unnerving attention from local men, all of whom are played by Rory Kinnear.
It is not the first foray into horror for the UK filmmaker, who started out as a novelist with The Beach, which was adapted into a feature directed by Danny Boyle, before turning to scriptwriting with zombie thriller 28 Days Later, also directed by Boyle. Garland made the move into directing in 2014 with sci fi Ex Machina before making biological horror Annihilation in 2018 and tech thriller series Devs, which screened on FX in 2020.
Garland spoke to KFTV's sister title Screen during a break from post-production on his upcoming feature Civil War to discuss the idea behind Men, working with US production and distribution company A24, his struggles with financing and why he is taking an extended break from directing.
Like all your films, Men is built around a powerful central idea. Where did that idea come from?
It came from discovering around 15 years ago that I was surrounded by a bit of iconography called the Green Man. It appeared in everything from Victorian architecture to medieval churches. I quickly learned that nobody really knows where it came from or what it represented, probably because it's pre-Christian and predates a written language that would have explained the iconography. These green men have often been characterised as benign but looks to me like they were in pain or angry or screaming – at least to my eyes.
So why did you choose to tell the story through the character played by Jessie Buckley?
I was trying to make a film about an internal sense of horror. I knew that I didn't want the Green Man to be the lead character, but to be something that was having an effect on somebody else. That character turned out to be a young woman who was going through a divorce.
Over the years, I had written around four or five different screenplays based around this bit of iconography. It always had a female lead but her circumstances would change. In this version, I was interested in stripping it down as much as possible, including dialogue. In truth, this was the incarnation I managed to get financed. I had tried twice before to raise money for the film but failed and it was on this third attempt that I got the money.
What was it about those two previous attempts that meant you failed to secure financing?
If somebody is financing a movie that I'm making these days, they know ahead of time that it's going to have some slightly strange, slightly hallucinogenic or leftfield elements that don't make it just a straight genre piece.
Quite often with my scripts, their strangeness is slightly more hidden so it's easy to read it as a genre thing. I remember with Annihilation that people read as a bit like Predator. So I had an experience for a very long time where I would deliver a film to a studio and they were made very anxious when they saw it, and often tried to drop the film.
Ex Machina was dropped. It was made for Focus but actually distributed by A24 because Universal said, "We can't do anything with this movie." Annihilation was basically dumped [by Paramount] onto Netflix, except for a fairly limited release in America. These days, if you're buying into the project, people takes lines in the script that implies something strange happens a bit more seriously. "He'll do something weird here. Oh, I see, it's multiple births. Great." [laughs]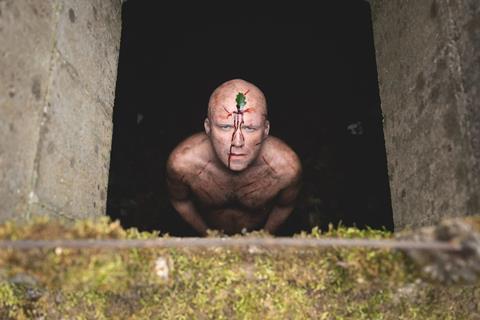 To what extent did your previous work get A24 to support such a bold, visual, complex idea and how creatively freeing do your past successes make you?
In the old days, when I was making films like 28 Days Later, Sunshine or Dredd, there would be an idea in there, but I would be smuggling it in because you had to get it through a conservative studio system. A24 just simply aren't like that and it's incredibly freeing.
But I also feel duty-bound to say that I haven't really had any successes. I work in a very dancing-between-the-raindrops type way. My films have very often made virtually no money or lost money and I've never had mainstream success. But they stick around somehow. I think I've maybe been tenacious.
There are two places that have just flat out supported the thing I tried to make and weren't disappointed in what I handed over. One of them is A24 and the other is FX. I made a TV show called Devs and told them, "This is about quantum physics and grief," and they went, "Yeah, ok," and that was it! [laughs]
Would you consider making another series for TV?
I don't know. I've got a quite complicated but serious internal dialogue about what I'm going to do next. Years ago, I started out as a novelist and then stopped writing novels and started working in film. And I have been feeling quite strongly that I should stop directing films and I should write for other people with the intention of trying to execute the film they want to make, rather than trying to force through the film I want to make, which is what used to happen in the old days.
It could be in part a product that I ended post-production on Men literally 48 hours before principal photography of Civil War so maybe that was just exhausting. But I wonder whether it's time to step back. Civil War will definitely be my last film as a director for at least a while. Definitely.
Streaming money has changed the UK production landscape…
And it's changing again. I suspect this is going to be in a state of flux for a long time. There's been an incredibly rapid expansion and there are elements of that expansion which have already contracted but it won't be across the board. There's been a gold rush, and in some areas, the gold rush is absolutely over. There is a huge change that has happened over the last five years and is now changing again. The signs are everywhere. A few years ago, if you were setting up a shoot, you couldn't get trailers because they were all booked up. Now you can, so there's your canary in the mine shaft.
What can you tell us about Civil War?
Well, in the same way that you could say Ex Machina is sci fi, Devs is a tech thriller and Men is a horror film, Civil War is a war movie – a contemporary war movie. It was a staggeringly difficult film to shoot. I wrapped five weeks ago, and I've been in the edit for the last five weeks. We're trying to get the film in a rough cut state where everything is broadly what one is intending. But, as well as that, there's a lot of visual effects in the movie so we're having to decide which shots were turning over as VFX shots. It's a very technical, non-stop process at the moment. There's a lot going on.