KFTV talks to Trayan Velev, founder and MD of Film Fixers Balkans about what the region has to offer, including incentives and striking locations, and their variety of services, including getting extra money back for productions and supplying swimming pigs.
Can you please provide details about your company and the services you provide?
Film Fixers Balkans is a full-scale video production service company operating in 19 countries across the Balkans and Eastern Europe. We established it eight years ago with the sole purpose to unite the Balkans and reach its uncapped potential.
What production experience do your teams have?
We've worked very hard to establish contacts with the best crews in this huge area that we cover. We work with high-end producers of films and fiction and non-fiction TV series. For example, we filmed an episode of 90 Day Fiancé in Serbia with the help of our local partner Petar, then another episode of the show in Moldova with our partner there Hermann. While in Istanbul we facilitated a brand film shoot for Young & Reckless with our partner there Mutlu.
Which countries do you cover? How are your services different in each?
We are headquartered in Bulgaria, but we've spread our services to Turkey, Greece, North Macedonia, Albania, Kosovo, Serbia, Montenegro, Romania, Georgia, Hungary, Croatia, Slovenia, Slovakia, Bosnia & Herzegovina, Moldova, Cyprus, Armenia and Ukraine.
In all these places we offer full scale production services – from research, accommodation and transport to supporting the shoot itself and post-production services. We have even pitched in with creative ideas. We started with Bulgaria then gradually expanded to cover the whole Balkans and more.
One of our most exciting new partnerships is in Greece with U.S. production company Get Me Out Productions. The collaboration will help develop the film and TV industry in Greece by bringing more producers and original formats to the country. It also involves the opening of a joint office in Athens and a special collaboration on developing new unscripted productions.
What location and logistical support do you provide?
We provide all the support a production might need for every kind of project – even things we haven't expected! For example, on an episode of WWE Total Divas, we had to source a pool to put a few pigs in. The idea was for them to swim. So we started arranging all this – we got the animals ready, we had pretty much convinced a guy to let us use his pool – when the creative team decided it would be too wild a scene to have in the episode!
Another example was just a few months ago when we were deep into the process of trying to get a tiger into Greece for the shoot of a Discovery+ episode of Discovering David Dobrik when we realised how complicated it was going to be, so moved the scene to Turkey where we had an animal available. Thankfully we have the benefit of covering all these countries and can always find a rare vehicle or animal within the appropriate law and availability. Also the logistics in the region are pretty easy.
Can you tell me about some of the other big projects you've worked on recently?
Our projects range from big commercials to travel shows – and the past few months are proof of that.
We shot commercial videos and stills for boutique creative agency 4 Wise Monkeys, working with a new telecoms client Cablenet. This project was truly international – a Cyprus company, a Greek agency, shot with our help at the Ancient Roman set in Bulgaria's Nu Boyana studios with an international cast and crew. Argyris Papadimitropoulos was the director and Thodoris Zacharakis was the director of photography.
Then we serviced an episode of Rainn Wilson and the Geography of Bliss, a new show produced by Radical Media, which will be available on Peacock later this year. For this project we had to put in place very strict COVID protocols at the client's request and the team managed to safely complete the shoot, which covered quite a few cities and contributors.
A few days ago, we wrapped a project which required us to close the biggest streets in Plovdiv – Bulgaria's second biggest city for Red Bull & Red Bull Racing. The process involved lots of meetings with the local authorities and their cooperation – and I am very proud to say that the local community took it very well too – especially when you consider that an F1 V8 engine was playing its music through the city centre for two days straight.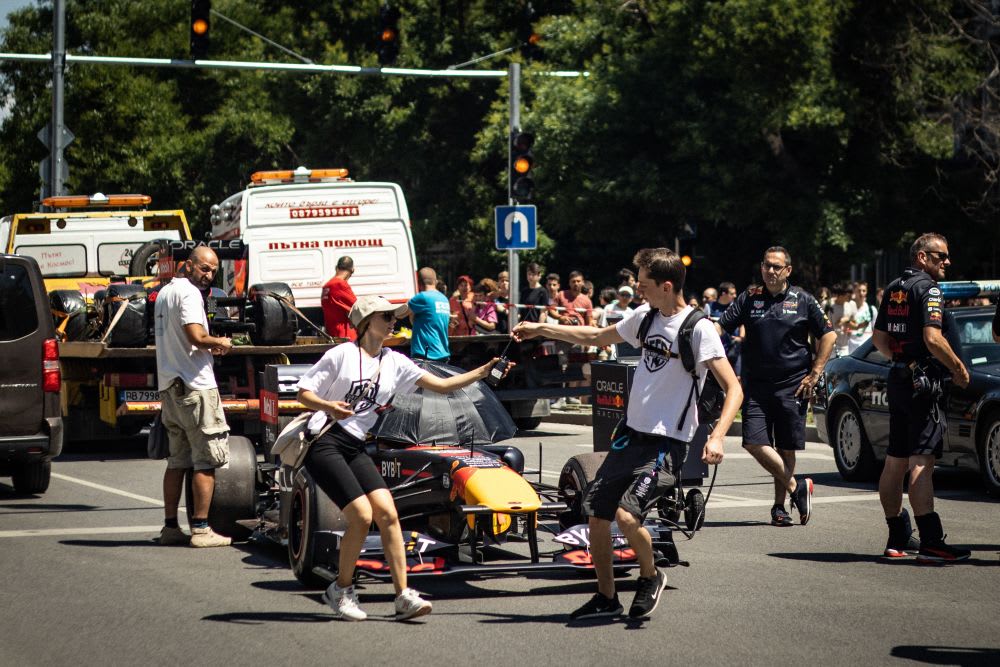 Red Bull shoot in Plovdiv. Credit: Film Fixers Balkans
We've also serviced movies like Nik Kacevski's Australian sci-fi short film Soulmate, starring Holly May Lewis, which shot in Bulgaria.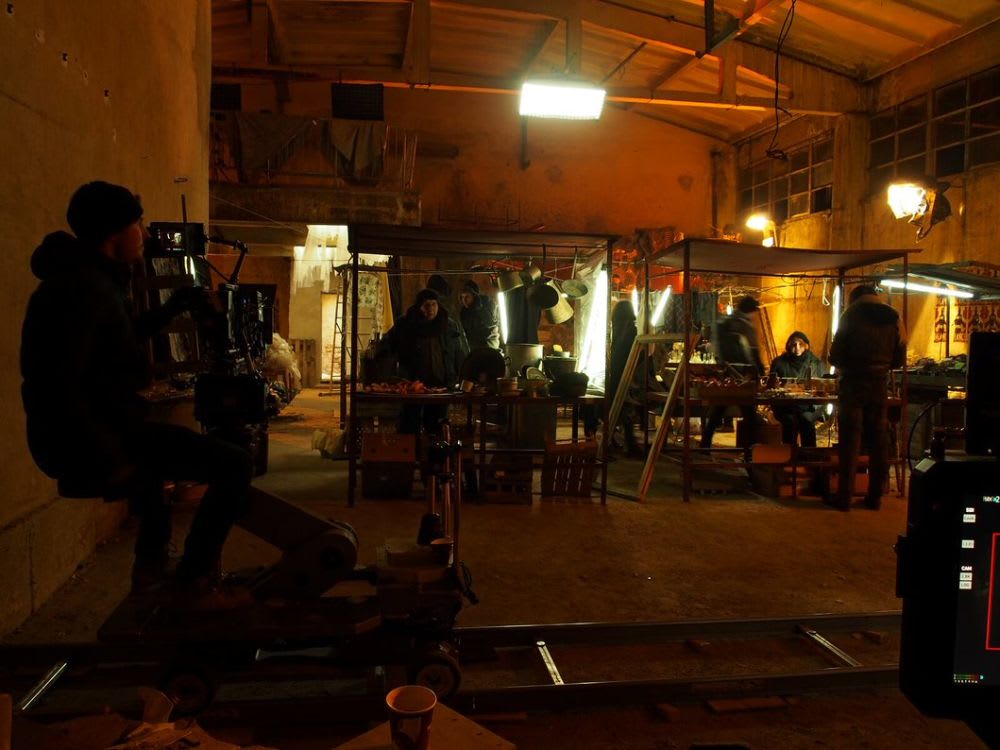 Soulmate. Credit: Film Fixers Balkans
How do you help productions access the tax incentives?
Tax and cash incentives are extremely important for producers in this day and age. Thankfully most of the governments in the region already realised how strong a pull they are, so we have a variety to choose, varying from 25% in Bulgaria to 40% in Greece and 45% in Romania and anywhere in between for the other countries in the Balkans. For the productions to qualify they have to have a contract with a local production or service company (e.g. like ours). A characteristic of the local schemes is that you usually get the cash back after the end of the project which is why we have worked to find ways for them to get the cash back before the end of the project – with the help of bank loans or hedge funds.
What makes you stand out from the competition?
We take great pride in the fact that we offer the Balkans as one product – catering for all production needs. Additionally, we have a company policy which states that each client who takes advantage of all our services can get an extra cash-back on their projects. For example, if a project qualifies for a 45% cash rebate in Romania (meaning the story is set specifically in Romania) we work towards returning an additional 5% from our mark-up. This is available for feature films, TV series and documentaries.
How have your services/working practices changed and adapted to suit client needs in the current environment?
In essence the job of a producer, and even more so the job of a service producer is problem solving – and we've had no shortage of problems in the past couple of years! But we always adapt to the specific needs of the producers we work with and the surroundings. We know budget optimisation is key and the region has all the resources to still be an attractive shooting location even when working with an extremely tight budget. The average income and the standard of living in the region are still relatively low compared to the rest of Europe and although generally this is not positive, it is a main reason for the optimization of budgets of thousands of films, commercial and TV productions in the area every year. Also because of the types of projects we have started with – which were mainly small and low-budgeted – we intuitively work to save as much as possible.
What is appealing about shooting in the Balkans?
The key things are locations and cost-efficiency. But we also have state-of-the-art sound stages, water tanks, and backlots of medieval cities, New York, London, Venice and Roman cities – all within studios in Romania, Hungary, Bulgaria, Serbia or Turkey. As for our crews, I am yet to meet anyone who has done a shoot around here and is not left impressed by them. All the latest equipment is available and even when we have a lot of productions at once, there is no shortage whatsoever.
Which are the stand-out filming locations in the territories you cover and why?
Our real-life locations are absolutely stunning – ranging from the most remote Greek islands through to the highest mountains in the Balkans, plus ancient and modern cities or magnificent castles in Slovakia and Slovenia. We've shot in all of these places with great success and have had much fun.
You wouldn't believe how many times one city has doubled for another one - Budapest has been Paris, Istanbul has been Berlin, or a mountain and a beach have doubled for locations several thousand miles away! Islands in Greece have played tropical islands and Bulgaria's mountains have stood in for the Alps when needed.
Permits are rarely an issue and we've managed to get access to some unbelievable places – from national parks to military bases and border zones. We have hired military helicopters, filmed activities on EU's eastern border, as well as in international waters in the Black sea and the Mediterranean.
What should international producers know about filming in the Balkans before going there?
Everything is possible. They can come with the craziest idea and find great professionals to stand behind it and make it happen. The region has developed a lot since the 90s - they are not going to lack anything and it is a completely safe place to film in and live.
What international projects and plans do you have lined up?
We've been working on a multi-country co-production TV series for the past few months. It is a period TV series about a national hero. That is all I can say for now.
We are also in development on an original travel show, which is planned to start shooting in Slovenia by the end of the year. It will showcase the best practices in the region and put the focus on the positive things that are happening here.
We will also be in Berlin this week for the Berlin Commercial Festival (29-30 July) if anyone wants to speak to us there.