KFTV Underwater Filming Report
Part One: Filming hotspots
Chris Evans and Priyanca Rajput profile some of the most popular underwater filming countries around the world with insights from local and international production experts
Dominican Republic
This relatively small Caribbean island known for its beaches, resorts and golf, has exploded onto the film-making map in the last few years, hosting a number of increasingly high profile productions, including XXX: Return of Xander Cage and M Night Shyamalan's Old.
This is down to a few factors, aside from its stunning locations. "The first is that in 2018 there was an improvement in the country's incentive which meant a reduction of the withholding tax that foreign labour pay," explains Albert Martinez Martin, COO of Lantica Media, owners of Pinewood Dominican Republic Studios. "Then when Covid hit, the DR did well to contain the virus and so productions saw it as a great place to base themselves."
Plus, there are the beautiful beaches, clear sea water, tropical rainforests, and improving infrastructure, most notably the local Pinewood Studios, which has three stages and a water tank (about 30 minutes from the stages) with an infinity horizon view of the sea.
The tank has both a shallow part about four feet deep and a 20ft deep section in the middle with a wave machine. Plus, there are jet skis, diving equipment, support boats and even a sailing boat available for productions.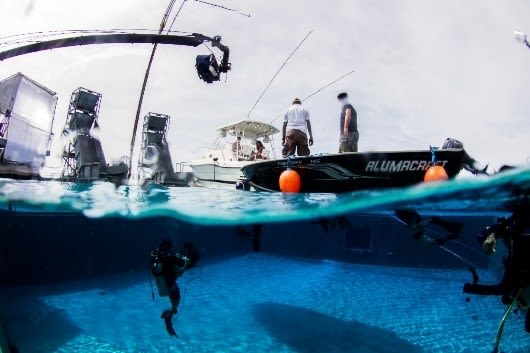 Filming at Pinewood Dominican Republic Studios' water tank. Credit: Diving Services UK
The tank recently hosted M Night Shyamalan's film Old about a group of people stuck on an island who find themselves aging fast and have to try and escape. "The tank's horizon line was definitely a draw," says Ian Seabrook, underwater DoP on the movie. "We were able to build the tunnel section of a cave in the deep section of the tank, which is filled with treated sea water, and we used the wave machine for a scene where the cast had to swim through the surf."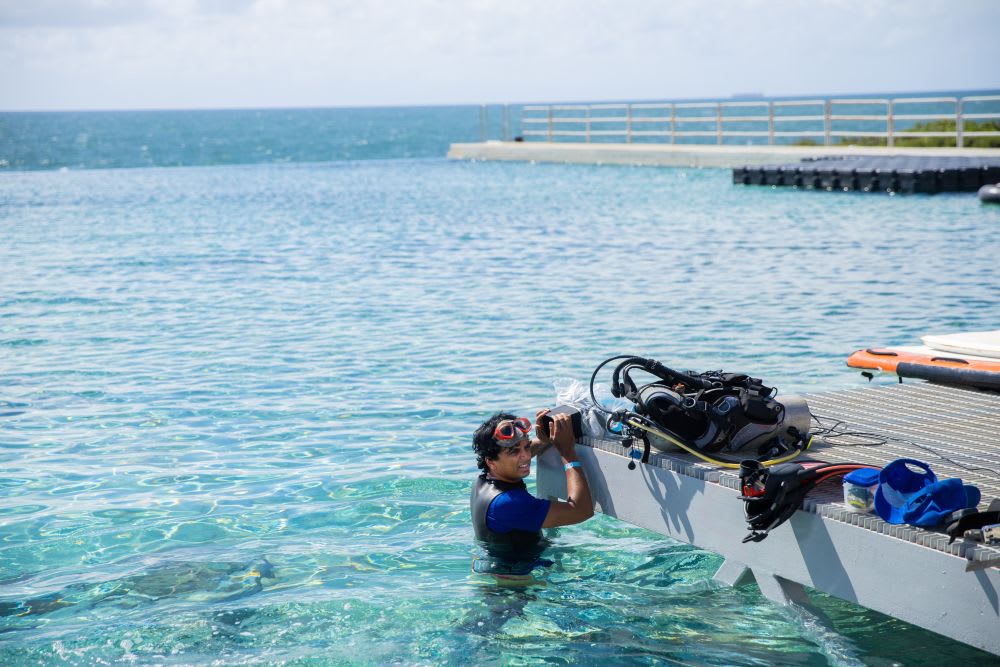 M Night Shyamalan filming Old in the Dominican Republic. Credit: NBCUniversal
On hand for that film, and other projects, are the experts at Diving Service DR, a branch of the renowned Diving Services UK set up by Dave Shaw who designed the tank.
"We have gone from doing very simple projects to massive undertakings and doing things that are really complex and we always pay attention to safety," insists Diving Services marine coordinator in the DR, Bolivar Sanchez.
Most of the bigger projects tend to do studio and tank work, and then some establishing shots on location. Natural settings like caves, forests and waterfalls have actually been recreated in the studios by some TV series.
The team at Lantica and Diving Services DR are so good at their jobs that most productions use them, rather than bringing in their own diving and production experts.
The local film commission (DGCINE) is also working hard to promote the country and industry. "We are in a privileged location in the middle of the Caribbean, accessible from Europe and the US," insists Marianna Vargas Gurilieva, Dominican Republic film commissioner. "We've got diverse locations, jungles, beaches, mountains, deserts, colonial zones and the Studios, including the tank, which gives us a competitive edge. And the crew availability, which has grown exponentially in the past 10 years since the film law was enacted, also helps."
Productions
Pinewood Dominican Republic Studios has been hosting Hulu's show Saint X, while some of the other top-line projects to shoot in the country recently include Vin Diesel starrer XXX: Return of Xander Cage, M. Night Shyamalan's Old, NBC/Peacock's The Resort and Diving Services are currently working on a (undisclosed) major project for MGM.
Crew
Only 10 years ago, there were about one or two local movies made a year in the DR. Now, there's 30 local movies and 15 foreign projects, of which five or six are very large projects. "So it's created an industry of 1000s of people working and we have helped train them," says Martin from Lantica Media.
"Before, if a big project had a crew of 500, they had to bring in 150, then it became 125, 80, and now they can rely almost entirely on our crew. So we have become more competitive and efficient, encouraging the production teams to keep coming back."
There is no regulation in DR that oversees the level of the divers but for Diving Services they follow certain rules. For example, for crew to work with an actor, they have to be a diver, dive instructor or dive master.
"If you're in the water, working close with crew and everyone else in the outer safety circle, you have to be at least a rescue diver, which is the minimum requirement," explains Sanchez.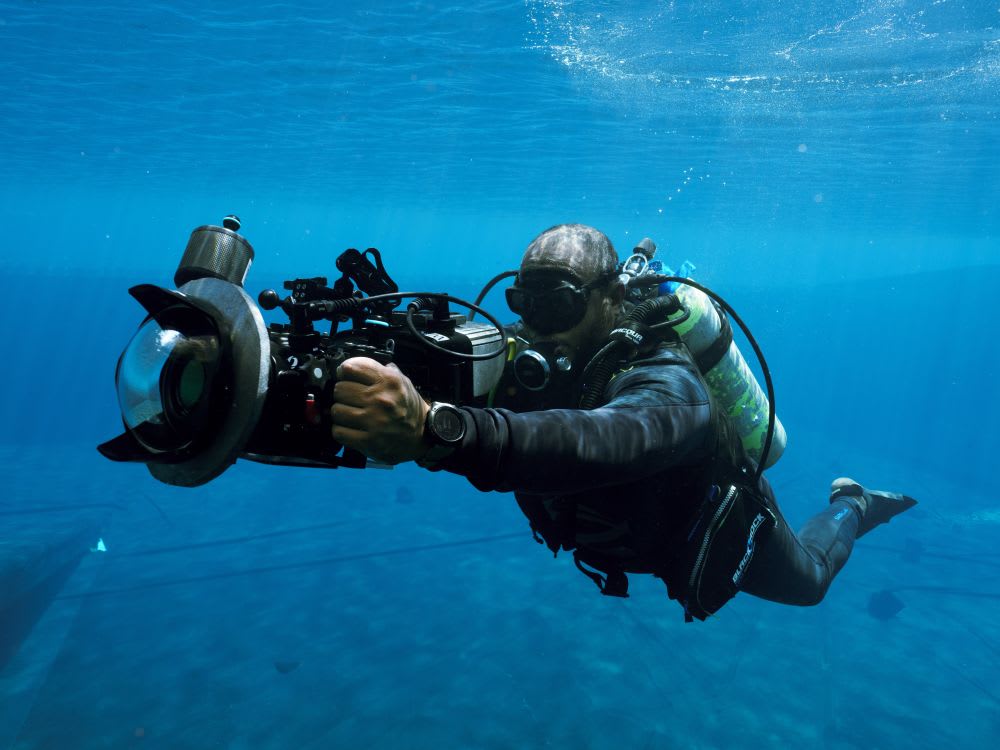 Bolivar Sanchez filming underwater. Credit: Diving Services DR
Crew come equipped with a certain level of skillset, says Sanchez. "We go into a safety trajectory by finding out through local channels, dive shops (not a big community so it's easy to find out) who's a safe diver or a safe instructor, and someone who's reckless doesn't get a second interview.
"Then we bring them to our water tank, where our office is based, and go through different procedures that we follow. The divers are probably used to normally carrying about 6lbs, but they must get used to 30-40lbs without fins because basically we are carrying heavy stuff under water when we're trying to build a set."
Facilities and advancements in underwater technology
Diving Services has a large, self-sustained dive shop at the water tank. Staff look after their own regulators and the compressor filters are sent to a US company every three months to make sure everything is working properly.
In the water, things run a lot slower than dry land filming, says Sanchez. "When you're taking electrical into the water, you're adding a lot of underwater housings to protect it. But new lights that we use have been a blessing because we can change the colour from the outside and they're super easy to manage under water as well, because before we'd be carrying an additional 20lbs to protect the lights, so that's advanced a lot.
"Cameras can see much better in low light, so we use less light now but we still use the same underwater speakers to communicate to everyone on the surface and use the same CCTV close-circuit cameras around the water tank so I can see when I'm coordinating from above. I have a line of sight of every corner in the tank at all times."
Visibility of water and sea life
The region boasts excellent water quality - especially when navigating away from river basins - and on a normal day, DR will have 50-60ft clear visibility of water, especially when you go deeper. "The most I've seen here is 110ft of absolutely clear water - that usually happens in our winter, when the water currents get a little bit colder - that helps," says Sanchez.
Expansion
With the country attracting ever more productions, the team at Lantica are looking to double the size of Pinewood Dominican Republic Studios. Final approval is being sought. Watch this space!
_______________________
South Africa
South Africa is a large and diverse country, with locations from Med-style beaches to arid deserts, mountains, cityscapes, sprawling farmlands, wine farms, African wildlife, rivers, waterfalls, and more.
"You imagine South Africa to be mostly dry land, but actually there are incredible lakes that look like the ones in Switzerland and the cities of Cape Town and Johannesburg are bustling with great beaches," enthuses Toby Walsham, executive producer at UK production outfit FAMILIA.
Cape Town is small enough to make it easy for productions to get around and it is the meeting point of two oceans, the cold water of the Atlantic Ocean on the west and the warmer Indian Ocean waters on the east.
Already popular with divers, and so plenty of experts on hand, the country is growing as an underwater filming hotspot. Major projects to film there and utilise marine services in recent years include Netflix's The Crown, StarzPlay's Black Sails, Kissing Booth 2 and 3, and Netflix's new Resident Evil series.
All these projects were serviced by leading local marine film service company Frog Squad, headed up by Jason Martin (read our Q&A with Jason next week in Part Two of our report). They provide commercially qualified divers and skippers, all with international IMCa certificates, as well as in-house underwater cameras and operators and rigging.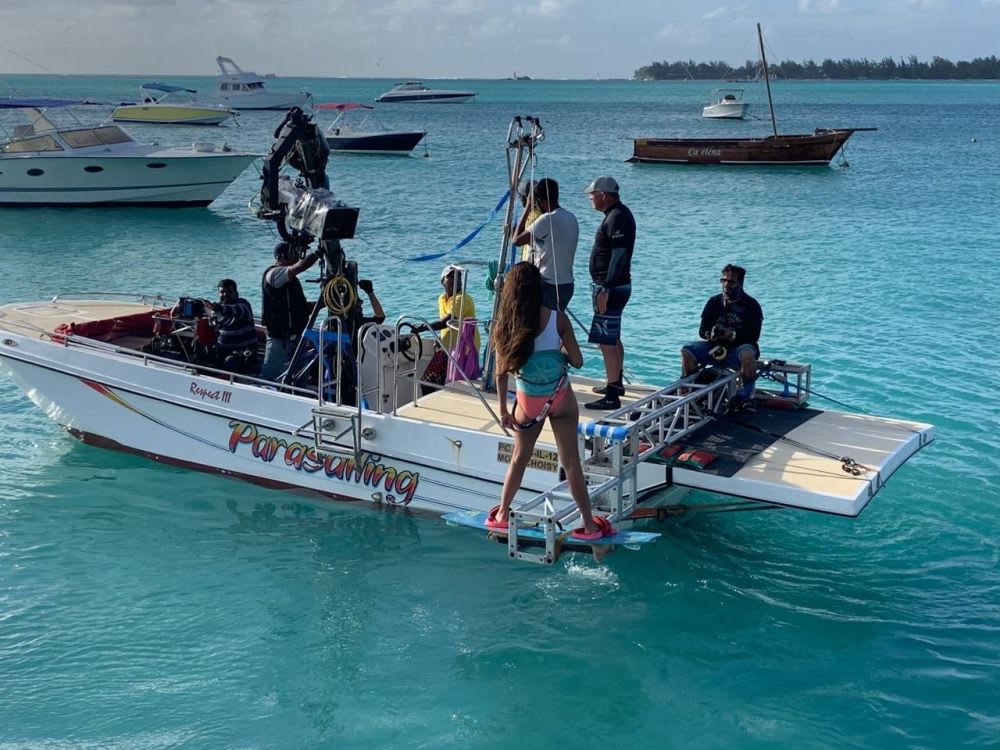 Frog Squad filming in South Africa
Crew, infrastructure and costs
An increasing number of international projects come for the impressive Cape Town Film Studios, offering three outdoor water tanks and five soundstages, which recently played host to zombies in Resident Evil and are currently housing Netflix's pirate adventure series One Piece.
"You can build entire sets at the studios for much cheaper than in the US or Europe. There is also the appeal of no unions," says Marios Hamboulides, UK-based assistant director and producer, who worked on the Cinemax TV martial-arts series Warrior at the studios. "They take the position that they want the international productions coming in, so they pay their people less money on longer hours but keep them working on projects."
The BBC and UK production outfit Mammoth Screen were so impressed with South Africa that they returned for the second series of Noughts + Crosses. "The crews are first class, the locations are cinematic, and government support and financial incentives are strong," says Cheyenne Conway, production executive at Mammoth Screen.
________________________________
Malta
Malta has proven to be a popular filming spot thanks in large part to the Malta Film Studios' water tanks (one indoor, two outdoor), which allows productions to shoot water-based scenes in a controlled environment and enjoy a natural horizon.
UK outfit Brilliant Pictures' thriller Deep Fear, directed by Marcus Adam, filmed on the island and at the tanks earlier this year. "We knew we could double it up as the Caribbean, especially places like Comino, which is this idyllic clear-blue water lagoon," says producer Sean O'Kelly. "We looked around the Caribbean and found the facilities were not great, or the local crew were not that experienced.
"We were also looking for a country that could offer great water tank facilities and the ones in Malta are some of the most established," adds O'Kelly. "On top of that, it has a very attractive incentive for productions with the multi-­cash rebate."
Underwater cameraman Dan Travers adds: "I've done quite a lot of action stuff in the tanks, including for the thriller Renegades. You can build an extensive set there dry [they built and submerged an entire village] and do all your rigging, then they've got huge turbines that drag the sea water in to fill the tank."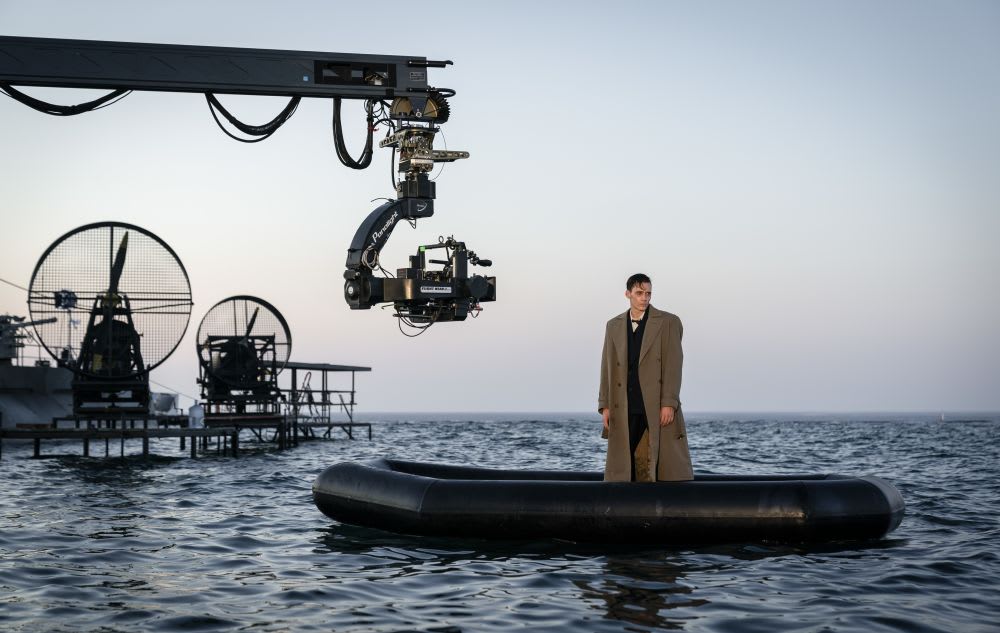 Sky's Das Boot series filming at the Malta water tank
Productions
Big projects to shoot in the country recently include Universal's Jurassic World: Dominion; Ridley Scott's new Napoleon biopic; Apple TV+ series Foundation, which used the water tanks, employing around 400 crew and 800 extras; Sky's Das Boot, which returned for season three; and the Norway-­Germany-Malta Second World War co-production War Sailor.
Tanks lowdown...
Shallow water tank
Mainly used mainly for surface water filming.
300ft x 400ft x 6ft deep with a centre pit of 7ft deep
Deep concave tank
Mainly used for underwater filming due to its depth and water clarity
351ft diameter down to 162ft, Depth of 36ft
Insert tank
Mostly used for close-up shots. Offers sweet or sea water, a dry camera room and its roof can be removed
50ft x 30ft x 12ft deep
Facilities include wave machines, tip tanks, wind machines, rain towers, water shooters and smoke machines.
"We can cater to any maritime and nautical scene and create storms on command in a totally controlled environment," insists Jean-Pierre Borg, research and business development manager at Malta Film Studios.
The plan is to also build a soundstage next to the tanks, which will be "a game changer" adds Borg.
_______________________________________________
Spain
Spain is riding high on a wave of international shoots since the tax rebate was upped in May 2020 to 30%.
Some of the major projects include Wes Anderson's Asteroid City; Netflix's Spanish-made Money Heist; the second season of Warrior Nun; and NBCUniversal's Vampire Academy.
The Andalusia region has also hosted the third season of His Dark Materials and the fourth season of Killing Eve, as well as the Game Of Thrones prequel House Of The Dragon, which shot across La Calahorra in Granada to Catalonia.
"In an area roughly the size of Texas, we have everything in terms of locations," says Fernando Victoria de Lecea, a producer at Menakoz Films and president of Profilm, an association that includes most of the main service providers in Spain.
"There has also been a significant improvement of the incentives, and the skill of our crews is good and praised by all the companies that come to work here. We tend to forget that our film professionals are so good because they have grown up making Spanish films and series. We have to keep making sure the policies to increase the number and calibre of international shoots go hand-in-hand with the support of the local industry."
Marine filming
As far as filming at sea goes, the Mediterranean waters in Spain are "ideal because there's not much in the way of tides, the weather's good, there's great water clarity and you can shoot in shallow waters almost like a studio," explains Dan Travers, underwater cameraman from Diver Dan services.
Travers shot the Netflix White Lines series in Mallorca, which is "great because there's no tide, you've got fantastic bounce from the sand, so that's going to help lighting, and because it's an island, you can always go around the island and find the direction of the light to match how you want it to be, in terms of being backlit."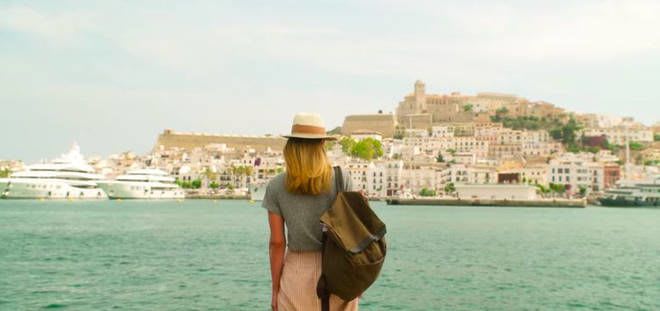 White Lines filmed in Mallorca. Credit: Netflix
Studios and tank facilities
In March this year, the European Commission gave the greenlight to reopen Ciudad de la Luz (City of Light) film studios in Alicante, which includes an 8,000 square meter water tank.
The studios hope to make 26 major films and more than 200 productions over the next five years, creating 4,900 jobs and generating €850m (£730m) in revenue.
Ciudad de la Luz studios
Peter Welter Soler, partner and executive producer of service company Fresco Film, says: "I have it on good word that there is a lot of interest by international investors to open more filming facilities in Spain and Portugal. We need it."
______________________________________
Egypt
Egypt has coral, caves, quality of fish size —everything you'd want within a stretch of 30 miles from Sharm-el Sheikh to Hurghada, says Bernie Prentice, an experienced underwater gaffer who's filmed in the country many times.
"We've been going to Egypt a lot and shooting in the Red Sea where the clarity of the water is great [except a couple of times in the year when there's a plankton bloom]," he adds.
When Prentice and his crew first ventured to the region, there was only one hotel in Sharm El Sheikh. "Only the serious divers went out there," he reveals. "Now that it's built up, production is booming and there is also a built-in blue screen with the natural backdrop."
Experienced underwater cameraman Trevor Evans adds: "The coral in the Red Sea is as good as Australia, and you don't have to travel as far. Plus the choice and variety of fish is incredible, and the sunlight is perfect."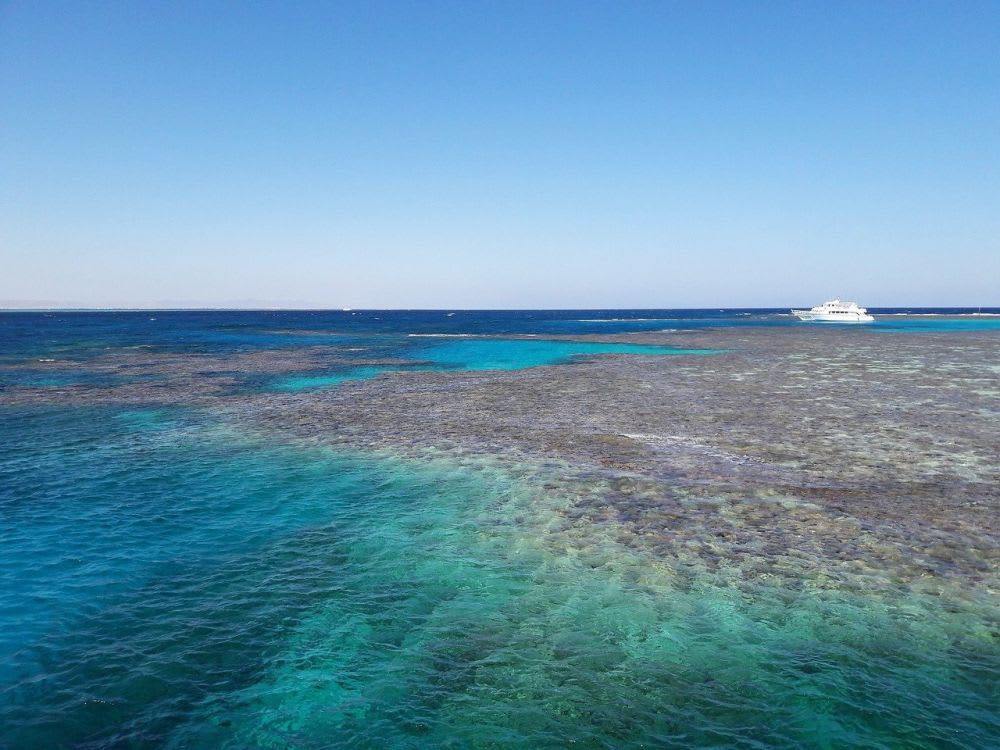 Spy thriller The Red Sea Diving Resort, starring Chris Evans as an Israel Mossad agent who runs a covert operation to rescue Ethiopian-Jewish refuges from Sudan, filmed in Egypt recently.
"We shot the underwater sequences in the Red Sea where the heroes are masquerading as dive tour operators," explains Frog Squad's Jason Martin, marine co-ordinator and camera operator on the movie. "We filmed on the wrecks off the Sinai Peninsula for nine days at depths from 40 meters to shallow reef, which was great, and we hired local divers to act as tourists. With the help of local outfit Pro Dive Travel we also secured a 16-man motor cruiser, which we based ourselves in. It's a great country to shoot in."
_________________________________________
Cayman Islands
The Cayman Islands is a British Overseas Territory. It comprises three islands in the western Caribbean Sea. Grand Cayman, the largest island, boasts beach resorts and varied scuba diving and snorkelling sites.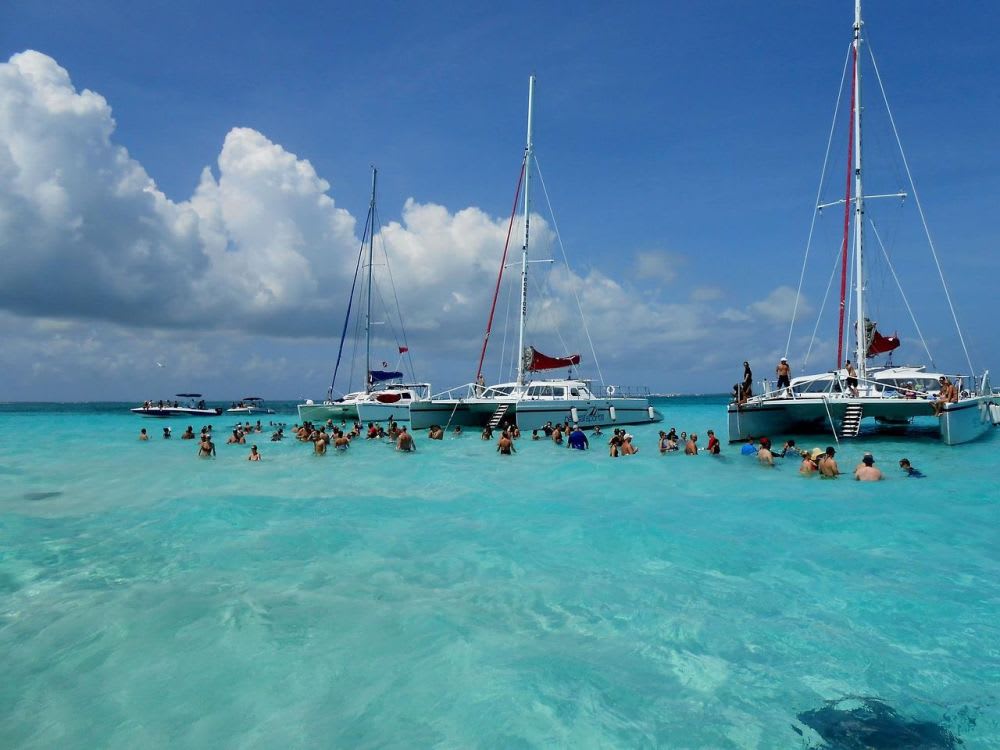 Grand Cayman, Cayman Islands
Cayman Brac is a popular point for deep-sea fishing excursions, and the smallest island, aptly named Little Cayman, is home to diverse wildlife, from endangered iguanas to seabirds such as red-footed boobies of the Sulidae species.
Marine filming

"The Caymans offers a deep trench and you've got beautiful blue water. It's the clearest I've seen," says Steve Smithwick, an underwater set designer who works across films, TV series and commercials.
"I was working on a travel show their recently, and I could see from the surface right down 100 feet below to where the presenter was swimming to a wreck."
Although the Caymans are an English protectorate, they have a huge American presence, which means that everything works. "You can use all the big camera companies. It's very civilized and you can fly stuff in from Miami very easily," adds Smithwick.
He emphasises producers tend to film in the Cayman Islands for the water and great conditions, rather than to double it for other locations. "There are cheaper places to shoot, but you could be experimenting with the weather holding up and the water being clear enough for your job, whereas in the Caymans you're guaranteed both," says Smithwick.
Productions
In March last year, producers William G. Santor, CEO of Productivity Media, and Nicholas Tabarrok, president of Darius Films, announced a production pact of three feature films to all be shot in the Cayman Islands.
Comedy Blue Iguana was the first film announced under the pact and shot on the islands last year.
Travel and infrastructure
The Cayman Islands Film Commission highlights the region's ease of access with its many nonstop flights from the US. It also offers a safe destination with first-class health care and a highly vaccinated population.
The trio of islands offer a range of backgrounds to execute productions that require modern and upscale locales to rustic and untouched hideaways. It boasts world-class infrastructure, communication systems, and leisure activities.
There are a variety of accommodation options from AAA Five Diamond resorts, luxurious villas and condos to moderately priced options to suit all talent and production needs, notes the film commission.