KFTV UNDERWATER FILMING REPORT: PART ONE
KFTV has put together a comprehensive report about underwater filming, featuring insights from dozens of leading experts, including underwater cameramen, directors, producers, DoPs, set designers, water tank specialists, studio heads, film commissioners and more.
The report will be published in three parts over the next few weeks (Part One below) and will include an overview of the underwater filming scene; case studies of major film and TV projects; profiles of the leading underwater filming locations and water tanks; and a look at the future of underwater filming technology.
The report is sponsored by...
Frog Squad Lites Water Stage & Film Studios
PART ONE: Overview of the underwater filming sector; case study of The Matrix Resurrections; and a guide to some of the top underwater filming hotspots around the world…
Deep Dive
From ipad camera control to virtual water stages, underwater filming is diving to new depths. Here we speak to the experts to understand how to get the most out of a tank or open water shoot and what to consider. Chris Evans reports.
From small commercials to major Hollywood blockbusters, productions of all sizes have experimented with underwater filming in rivers, lakes, water tanks and the sea for more than 50 years. Think Poseidon Adventure, Titanic, Jaws, and more recently The Meg movies.
But surprisingly little is known or talked about the filming methods, techniques, prep, equipment and logistics involved in underwater shoots. Speaking to those in the know – underwater cameramen, DoPs, gaffers, studio heads, consultants, water tank specialists etc – has been a real eye opener. There are so many new exciting possibilities to explore, but also a huge list of factors to consider…
"Some productions just don't understand or underestimate what's involved when considering filming underwater," explains Katie-Marie Goodwright, managing director of KMG Management, facilitators of underwater crew and fixers for productions. "It can cost twice as much as above water filming and take twice as long. Even simple things like battery and lens changes are more laborious because you have to take the camera out of the housing. Planning and listening to the experts is essential."
Here's a flavour of just a few things that need to be considered and thought through… there's the decision of whether to do open water or tank filming, or perhaps a bit of both; the quality and heat of the water; choosing a suitable location with the right conditions; the size and breadth of the crew required for the project, including safety divers and camera operators; potentially needing to customize equipment because what's on the shelf isn't good enough; comms equipment for dialogue between production, talent and crew above and below water; dive training for actors. The list goes on.
So, let's run through some of these things with the experts…
Sea versus tank
This is not always a straightforward decision. There are some fantastic coastal locations to choose from with beautiful clear water, like Egypt or the Cayman Islands, and some that also offer water tanks within studios that can seamlessly blend with the sea, like Malta and the Dominican Republic.
"Shooting on location is great as long as you can control it, and certainly if the weather's kind it's possible," says Dan Travers from Diver Dan, a hugely experienced underwater cameraman, whose recently worked on the Netflix horror thriller film Choose or Die, starring Asa Butterfield, and Paramount's Mission: Impossible 8. "In the Mediterranean, for example, there's not much in the way of tides and there's great water clarity. We can shoot in shallow waters and it's almost like a studio."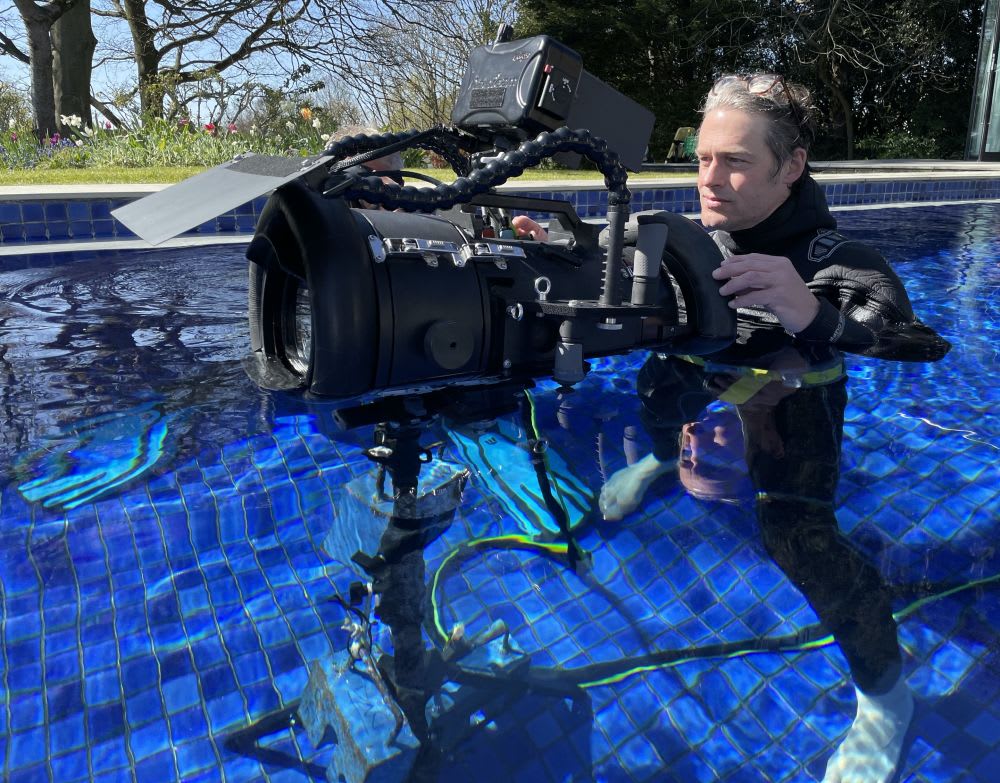 Dan Travers prepping to shoot Netflix's Choose or Die. Credit Diver Dan
Filming in deeper, and likely darker, water comes with its challenges though. "As soon as you're beyond a few metres, everything goes pretty monotone, you lose all the colours and the light completely saturates, so you have to put in colour and illuminate a lot more," explains Bernie Prentice, a veteran gaffer, who's credits include Harry Potter and the Goblet of Fire, Captain Phillips and Jurassic World: Fallen Kingdom.
The crew, often consisting of safety divers, camera operators, DoP, gaffers, and more, have to be hands on. "We're setting the cameras up, the framing, doing the props, everything, and bear in mind you're underwater, which is very tiring, and you're fighting against the current," adds Prentice. "The boat can't be too far away and everything is normally offloaded onto a tender. Then there's the signal as well. There's a certain length of data control cable, which if you go beyond, you wouldn't get a picture, the volt would drop out of the lights, so you wouldn't have any power."
Equally, filming in murky rivers, quarries and lakes comes with its challenges. "I've filmed in UK waters when I can barely see in front of me and have had to dive at slack tide when you've only got a small window to dive. I've also filmed in the Arctic where my breathing apparatus would freeze. It's not easy, but you have to adjust," says underwater DoP Simon Rowles.
Set construction is also potentially a lot trickier underwater. "We've built a lot of room sets underwater, but you have to be careful because a sofa could leak out all the fire retardant elements and then the water gets all cloudy," explains Bafta-winning producer Trevor Evans from Watertight Films, whose credits include Gravity, Captain Phillips and Les Miserables.
Underwater set designer Steve Smithwick adds: "It's complicated building things underwater, you're permanently looking for weights to tie things down, and making sure you use materials that will survive and won't dissolve. I've had a few disasters where bits of the set have peeled off or one time when I inserted a grand piano all the keys floated to the surface."
The films and TV series with bigger budgets and often with lots of action sequences tend to prefer to shoot in the water tanks where the environment is more controlled and safer.
"If you've got planes crashing or boats sinking, things like that, there's going to be a lot of visual and special effects, a lot of technology required and huge hydraulic rigs, so tanks are the best option," says Travers. "It would be a nightmare to try and replicate that in the sea."
Malta Film Studios has hosted a number of action films and TV series over the years at its water tanks, including Sky's Das Boot series, Captain Philipps and most recently Ridley Scott's forthcoming epic film Napoleon.
"When you're shooting with A-listers, it's best to do it in a totally controlled environment where there's safety divers right beneath them," says Jean-Pierre Borg, research and business development manager at the Malta Film Studios.
Some tanks are specially built for a production, like the one at Baja Studios in Mexico (for Titanic) and at Studio Babelsberg in Germany for the Liam Neeson film Unknown back in 2011, which involved a taxi driving into the river. "We planned to then re-build it, but instead left it standing in our biggest stage, and it's since been used by about 60 to 70 productions," says Eike Wolf, director of studio operations and marketing at Studio Babelsberg.
These productions include Netflix's new show 1899, which takes place on a boat, and "they were using a crane to submerge the carriages into the water, so it looks like the water is rising from the floor to the ceiling with people fleeing," says Wolf.
The same effect was used for the Amazon Studios film Without Remorse, which involves a Boeing crashing into the ocean. "We used a real boeing, broke it into parts and submerged it," adds Wolf.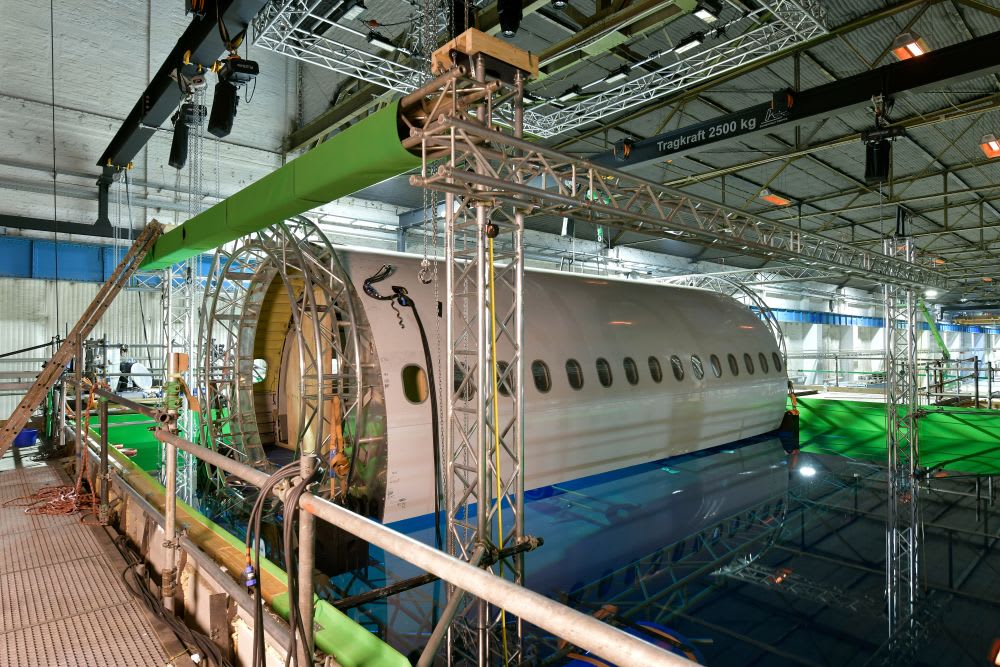 Filming of Without Remorse at Studio Babelsberg
Another recent projects to shoot in the tank was The Matrix Resurrections. The production team on that film worked with local outfit Volucap to built an entirely new underwater studio to test volumetric filming of the infamous slow motion bullet effect. This involved 30 synchronised cameras filming in 3D at 30 frames per second. Something never achieved before… and underwater.
There's also the option of combining tank shots with on location filming. "We've had several projects work our tank a lot and then go for a couple of days to do establishing shots, drone shots and to capture the stunning nature here," says Albert Martinez Martin, COO of Lantica Media, owners of the Pinewood Dominican Republic Studios, which has hosted many productions at its tank, including 47 Meters Down, XXX: Return of Xander Cage and Netflix's new film Nyad, starring Jodie Foster.
The difficulty for some productions is the cost involved in hiring the studios and tanks, which can stretch to thousands of pounds a day. Instead, for those on a cheaper budget, people like Smithwick have been able to build alternative sets on things like "a scaffolding platform mounted on a central gimble and just have two rows of tyres around the side. It depends on your budget and time," he says.
New tech
Breaking new ground is a common occurrence in the underwater filming world because new cameras, studio water tanks and equipment emerge on a regular basis.
Looking back to just 20 or 30 years ago at some of the huge cameras and housings used, compared with the smaller, agile, and remote-controlled versions now is evidence of that change.
"Technology has changed massively, and the quality of the results is so much better," says Rowles. "The kit is a lot more user-friendly and the sensitivity of the sensors is so good now that you can film with small cameras (like the Sony FX 3 or 6) in very low light conditions."
"With the Komodo camera system, we don't even need motors for the lenses anymore," says Pauline Heaton, owner of Watervisions Studio in Vancouver, Canada, which includes a water tank for above and below water shooting. "We can hook up a cable to it and control the camera out of the water on an ipad."
She points to the Hydroflex camera housings, which can also be controlled from outside the water. "The cameraman can follow a whale or whatever, and the guys above the surface can handle the focus."
Hydroflex's latest and most advanced generation of underwater camera housing, the RemoteAquaCam MK5, incorporates a Preston Remote Lens Control system to manipulate focus, iris & zoom of the lens. With block batteries supplying power from the surface you can shoot for hours without pulling the camera out of the water. The director views the full HD video via underwater HD-SDI cable. It can house most top of the range underwater cameras like the Arriflex series (Alexa Mini, Amira, Alexa Plus), Phantom Flex, HD and 4K, Sony F55 and 5, Red Epic and Panavision DXL.
Even simple things like filters have modernised. "With the old cameras, you had to actually tape a filter on to the lens. But with a lot of the modern digital cameras now they have filter software and programmes built in," says Travers. "The way technology is going is shaving time on the shoot."
He adds: "The beauty of shooting underwater with small, mobile cameras is you can capture things quickly, which on land would require cranes and different techniques. I can go around a subject, above and below in a single moment and tell the story very quickly."
A good example of this was for the shoot of a frozen lake sequence at the start of EON's Bond film No Time to Die in which the crew were able to film upwards from beneath the ice looking up at Remi Malek's character wielding his gun.
"My crew put the regular cameras and lenses in the underwater housings – to stop them getting crushed with the pressure – and then the lenses and monitors were controlled by cables to the surface," explains Mark Silk, experienced underwater director from Ocean Scene Films, whose other credits include Gravity, Jurassic World and the upcoming live-action Snow White.
Despite advances in camera and housing equipment, many cameramen still find they have to customise the equipment to suit their needs. "There's nothing really readily available off the shelf to cater for everything. There are various camera housings, but most of them are camera specific. Whereas the housing I've built myself can handle any digital camera inside," says Travers.
It's about problem solving all the time underwater, often adjusting equipment to make it work," adds Travers. "I spend a lot of time in my garage making things or drawing sketches. Then a colleague of mine who's an engineer can machine them up."
Silk adds: "I've created a propulsion vehicle that fits on the camera that I hang on to so I can do high speed shots, tracking shots, or shooting swimming backwards - which is always a bit tricky. It really helps the dynamics of the shot."
While Jason Martin and his team at marine film services outfit Frog Squad in South Africa are constantly creating new equipment, such as barges that fold up onto trailers and "a unique UW comms system that incorporates diver to diver full face masks/hydrophones and unit radios, all linked together," says Martin.
Check out our Q&A with Jason Martin here.
Testing the equipment is also vitally important. "If I'm doing an open water shoot, I'd normally set the camera rig up in a pool first, just to practice with it and become familiar with all the workings of the housing," insists Rowles.
Digital vs film
The transition to digital was also a key turning point. Most film-makers now prefer it to 35mm. Although some still use the latter. "I shot with both for M Night Shyamalan's new film Old," says Ian Seabrook, underwater DoP, whose other credits include Indiana Jones 5 and Jungle Cruise (check out our case study of Jungle Cruise here). "It was interesting that I was the only one there who knew how to fix and repair the film equipment."
Studio competition
The Studios offering water tanks around the world are also constantly having to update and adapt their facilities to outdo competitors and attract international productions.
"I used to shoot European films in Europe at different tanks and studios, and the waves and effects weren't really good enough. I remember directors saying 'is that it?' to effects," says Wim Michiels, head of the impressive Lites Studios in Belgium. "And that is why we built our studio with one of the world's most advanced interior water stages, including a nine-meter-deep tank, warm water, waves up to one meter and a movable pool floor."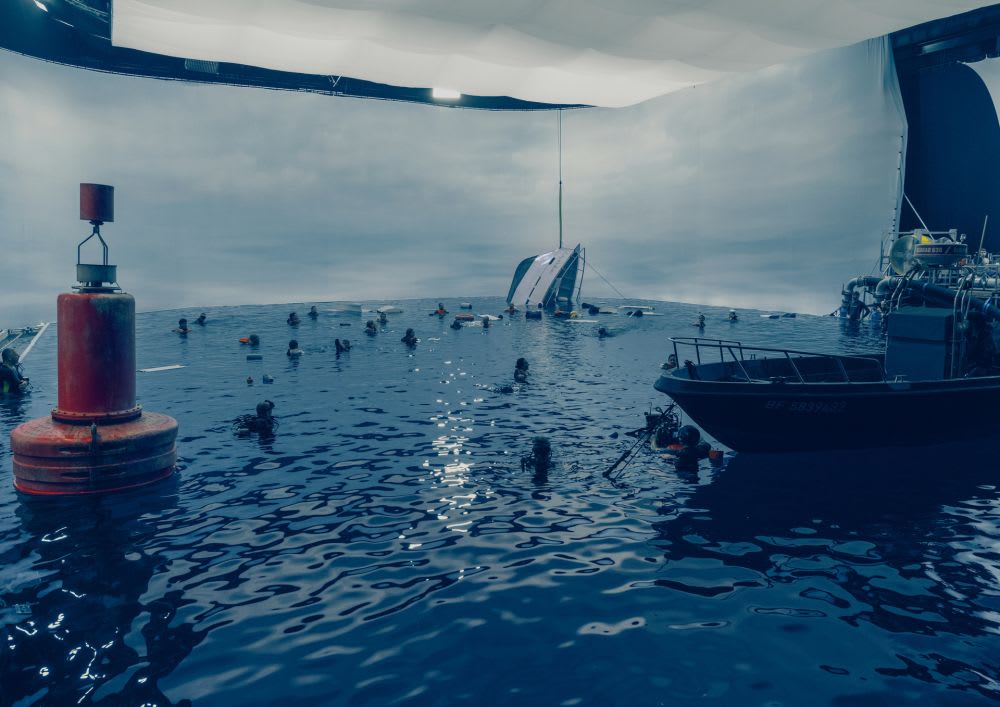 Filming of The Swarm at Lites Studios in Belgium. Credit: Lites Studios
The Lites studio also offers all the latest cameras and equipment, including the Alexa Mini, Sony Venice, all types of lenses, and "we even have the Sony 8K, which reduces the depth of field underwater," adds Michiels.
While Pinewood's Underwater Stage, designed and managed by Diving Services UK, is the only permanently-filled, temperature controlled underwater shooting stage. It recently hosted No Time to Die, Killing Eve and The Nevers.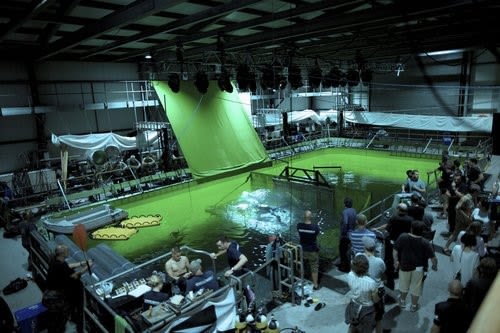 Pinewood Studios' Underwater Stage. Credit: Diving Services UK
"I remember 20 years ago when a film was rumoured to be coming in you could hear the cries echoing around empty stages, 'there's a filming coming in'… and then sometimes hear the words 'and there's loads of water in it'," says Dave Shaw, head of Diving Services UK and the Underwater Stage at Pinewood. "Now, there's not enough stages, studios or crew to go around. This growth is not only the UK, but across the world and our market is not only UK domestic underwater filming but now global."
Over in the US at Louisiana Wave Studios they have an impressive computer programmed system at their water tank (measuring 80ft x 100ft and 8ft deep) that uses three large 150 horsepower fans to generate air pressure in eight subterranean plenum chambers to produce eight different wave patters to match natural effects in the ocean. These range from agitated water, as found at a pier, to full-on perfect storm like waves up to 10 ft. The intensity can be enhanced by dump tank towers, wind machines and rain bars.
"The facility has been constructed with the flexibility to operate in a minimalistic manner for smaller productions with simplistic scene demands, as well as having the capability to support the most complex practical and visual effects of the largest productions," says marine co-ordinator, Captain Lance Julian, who's worked on many productions at the studios since its inception in 2005 for the film The Guardian, starring Kevin Costner.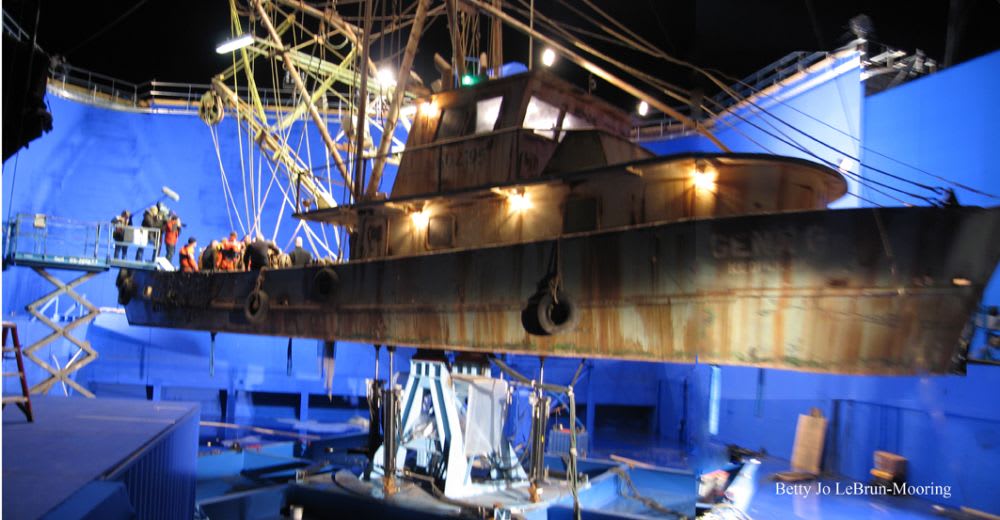 Filming of The Guardian at Louisiana Wave Studio. Credit: Shreveport Film Office
Virtual water stages
There's even talk of some studios experimenting with virtual water stages. This will be LED panels behind the water tanks displaying images for the actors to interact with. Similar to the virtual production stages cropping up around the world, boosted by the success of the Disney + series The Mandalorian.
"This will be a very useful tool to have," insists Michiels. "You will be able to have the background of a harbour, city or boat surrounded by water and then have the reflections in the tank."
Heaton agrees, although with a tinge of sadness. "If they can project images of a kelp forest or a shipwreck behind the actors in the tank then that's really impressive. But my concern is we're going more and more artificial, recreating environments. We're losing our wildlife out there and the oceans are being destroyed. We're now having to resort to simulating our beautiful habitats."
Smithwick adds: "There's less location filming, especially for commercials, now. I used to build massive sets, like houses on the seabed in the Caribbean, but now a lot of it is done in CGI.
"The way that they can reproduce the look of water now is amazing. If you look at the BBC production of The Terror that was almost totally built and filmed in Budapest, Hungary at a green screen stage."
Check out our analysis of the future of new technology here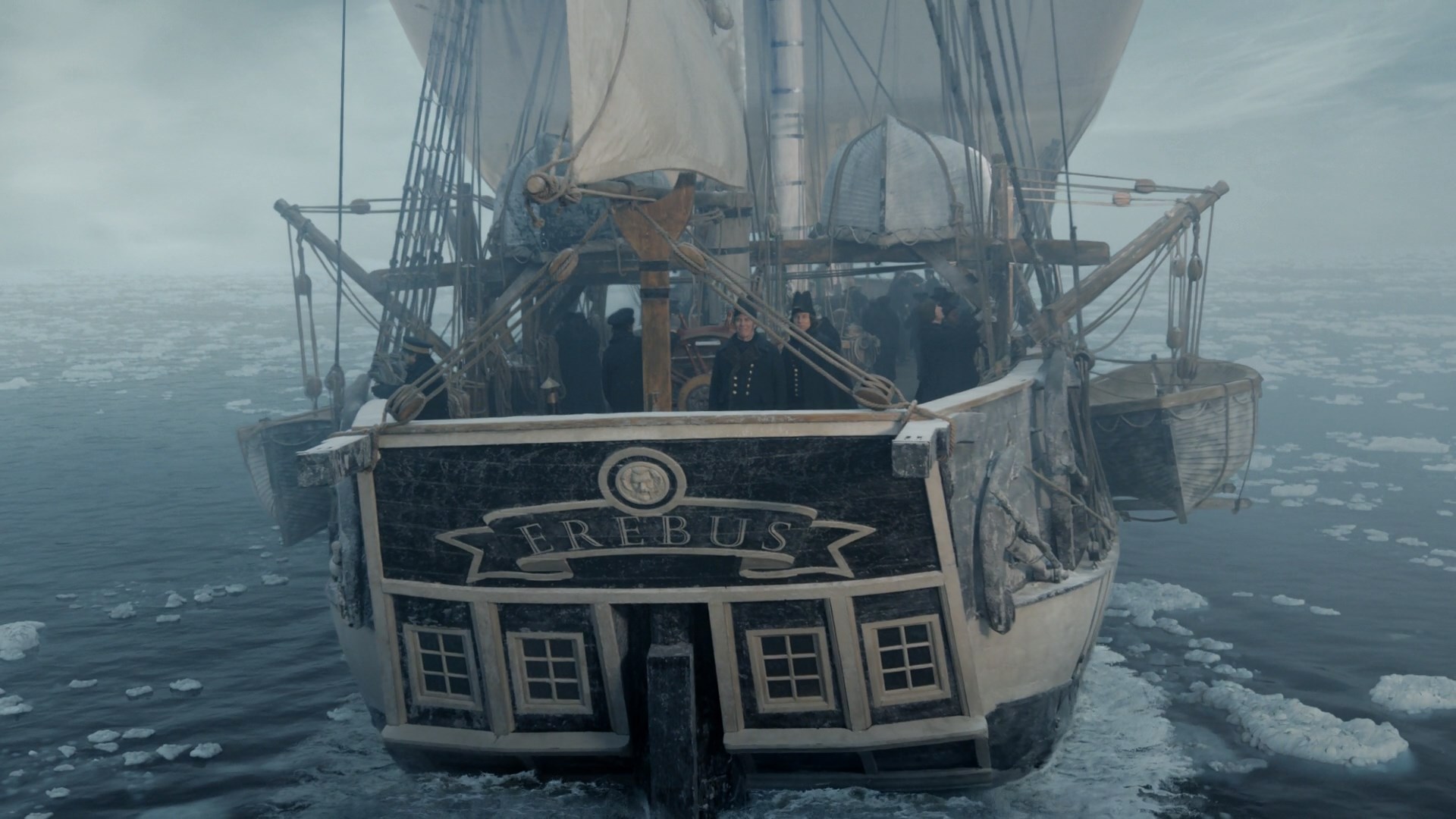 BBC series The Terror filmed in Budapest, Hungary
Sustainability
On the flip side, the reduced location travel by production teams and crew and greater reliance on new technology in a controlled environment is having a positive impact on the environment.
Plus, when productions do shoot on location there is a conscious effort to try and be as sustainable as possible. "We have it at the back of our minds when we're gathering crew and boats and try to keep kit flown in down to a minimum," says Evans from Watertight Films. "We also sometimes use electric boats, which are battery powered, and ideal for dialogue-heavy scenes because they're silent."
Travers adds: "We always try to leave somewhere better or as good as when we found it. The problem is other productions that shoot in the location before us leaving a mess or being too noisy, which poisons the well and makes locals less likely to be accommodating."
The studios are also very much joining the sustainability agenda. "We've just invested in €500,000 worth of solar panels for our Lites Studios," says Michiels.
So, the future for underwater filming is looking bright and sustainable. Just make sure you consult with the experts!
______________________________________________________________
Preparation is paramount
With so many factors to consider on an underwater shoot, preparation is key. Here underwater cameraman Dan Travers and director Mark Silk give their thoughts on prepping locations and cast…
Location and timing (recce vs reality)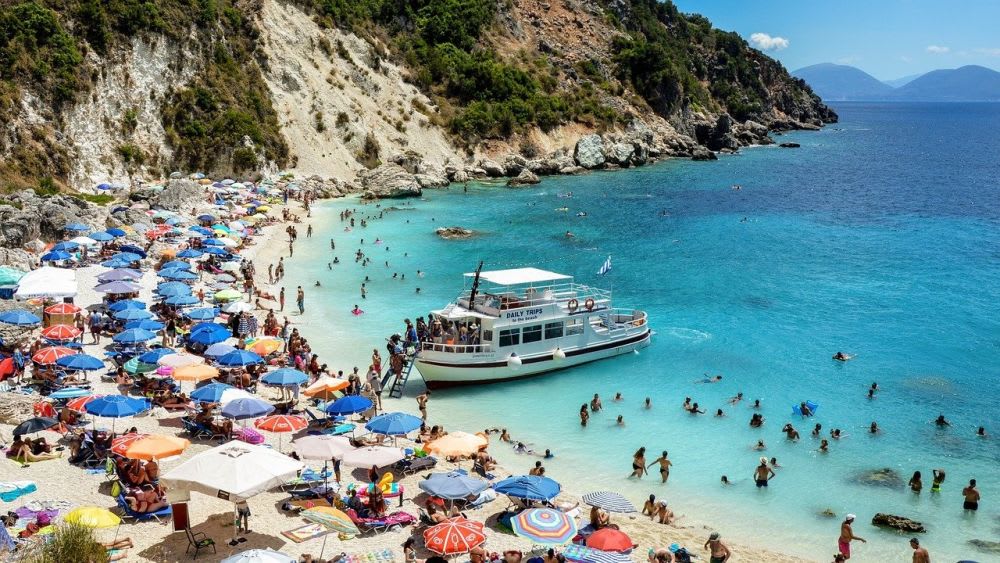 Dan Travers: "The producers of a project may choose a place and think it's ideal. But when they went to do the initial recce there might not have been a ferry there that day, [boat traffic can always be a problem], or they visited the place in spring, and by the summer when they want to shoot the beaches might be packed, such as in places like Tunisia or Spain, and they were planning to shoot a lot of dialogue.
Or if they're shooting in the canals or rivers, it may look ideal, but upstream could be a chemical factory. There may be some spill off or a lot of animal fields surrounding it, so of course, you have to think about water analysis, and things like E. coli and leptospirosis, especially if the actors are entering the water. With my experience I can also recommend a location that's similar, but better on productivity and safety.
Covid has also had an impact on location choices. Sometimes a production will look closer to home instead of venturing abroad. For the forthcoming British-French Apple TV+ series Liaison, starring Eva Green and Vincent Cassel, we were very inventive, doubling a lake in the Cotswolds for Lake Geneva. Fortunately, the settings weren't too dissimilar, we just changed a few signs and made sure it was right hand drive for the cars."
Managing actors
Filming Jason Momoa in Aquaman. Credit: Warner Bros.
Dan Travers: "Many actors choose to do underwater scenes themselves, rather than their doubles, are often not trained divers. So getting the right training from diving experts is obviously important as a starting point.
Then when it comes to the shoot, much like on an above water set, they will need to rehearse. This is usually done with the masks on so they can see clearly. But then as soon as the mask comes off it takes them out of their comfort zone and a bit of time to get used to.
There's also the breathing. Getting used to holding their breath long enough, while focused on their acting and feeling safe. We use signals to make sure they're ok and to give them oxygen. Then when they're ready again, we count them down and say standby, or the AD on the surface will be on the hydrophone looking at the surface monitors with the director, DoP etc, and so everyone knows when to continue shooting.
Plus, with the hydrophone, the director and DoP can make any notes on the fly and give instructions for adjustments, whether it's from the camera perspective (like make it wider, tighter, jib etc), or from the acting point of view they might want the actress to look more scared or dead.
The problem is it's a very slow process, so you only usually get about half the shots that you'd normally get from an above water shoot done in a day."
Mark Silk: "Depending on the actors' own level of experience and underwater resilience, training is provided as much as necessary.
It depends how good they are. For [smaller sequences] we can have actor swim around in the water for a morning, and they're good to go if the artists are good.
Otherwise, it can take weeks if it's really technical, with rigs and other [equipment].
With the bigger shoots they can sometimes take longer than expected but are normally well-prepared to preempt delays or major challenges.
We always try and make sure we've got doubles as well. So if your artist isn't particularly clever [about marine filming], there's a lot you can do with doubles.
In the case of Snow White, the underwater shoot proved seamless as lead actress Rachel Zegler knew exactly what she was doing and was well rehearsed.
Preparing the talent before a shoot is a joint effort between the stunt department and diving supervisors/coordinators. If the shoot is at Pinewood's U Stage then Diving Services are also on hand to facilitate the talent."
Main image of underwater vessel at Pinewood Studios' Underwarer Stage. Credit: Diving Services UK
__________________________________________
Part 2 next week will feature a Q&A with Jason Martin, head of marine film service specialists Frog Squad, and two case studies – Disney's Jungle Cruise, starring Dwayne Johnson, and the forthcoming Scandinavian co-production drama series Estonia, about the infamous ferry sinking, which is filming at Lites Studios in Belgium.