KFTV Underwater Filming Report
Part Two: Q&A with Jason Martin, marine co-ordinator at Cape Town-based Frog Squad, co-sponsors of our report

Can you tell me about your company and team?
"The Frog Squad is 19 years old and was founded by three ex-navy divers and marine specialists. All of our crew are commercially-qualified divers and skippers with international IMCA certificates.
Myself, Jimmy Fraser and Andre Jaques are the three founding partners. We all started our diving careers in the South African Navy, and went our separate ways, Jimmy working in the diving industry in Mozambique , I travelled the world working as a commercial diver / also crew member on ships and yachts, and Aj was an explosives specialist in the red and Black sea. Full bios here: https://www.frogsquad.co.za/our-team/
We then have Butch Kriel and Brendon Bennett that make up the core of the business.
As Frog Squad, we have worked on many shows, including most recently Netflix's One Piece and Resident Evil, HBO's Raised by Wolves and Kanji for Amazon (see more details on these below).
What makes your services and facilities stand-out from the competition?
We have a good working relationship with the entire industry. Our main strength is that we offer both marine and commercial diving services from underwater licensed rigging to underwater camera operators.
Over the years we have developed key equipment unique to ourselves such as a 12 meters x 6 meters pontoon that can be tailored for shoots. We've also developed designed and manufactured 2 barges…
The Nemesis barge, which is a techno crane 50 barge, 12m long, 6m wide and folds up onto a trailer, so we can tow from one location to another and within 90 minutes we have a working platform that can take a techno 50.
The Platana barge was originally built for Free Willy 5 and used again on Dark Tide and Lake Placid. The barge is on a trailer and once we get to the location we are able to split it into two parts and build a gantry with winch. The barge is designed to lift animatronic builds such as killer whales or crocodiles out of the water and transported to set locations.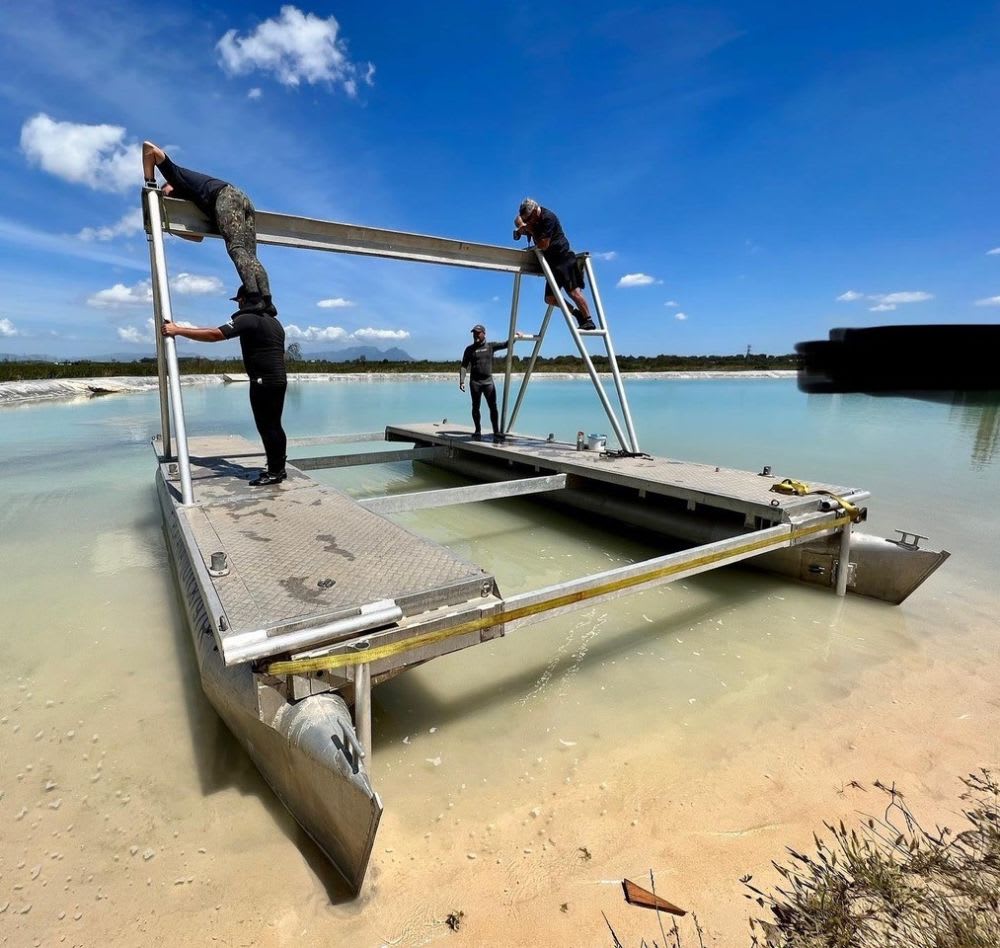 Frog Squad barge used on Netflix's series One Piece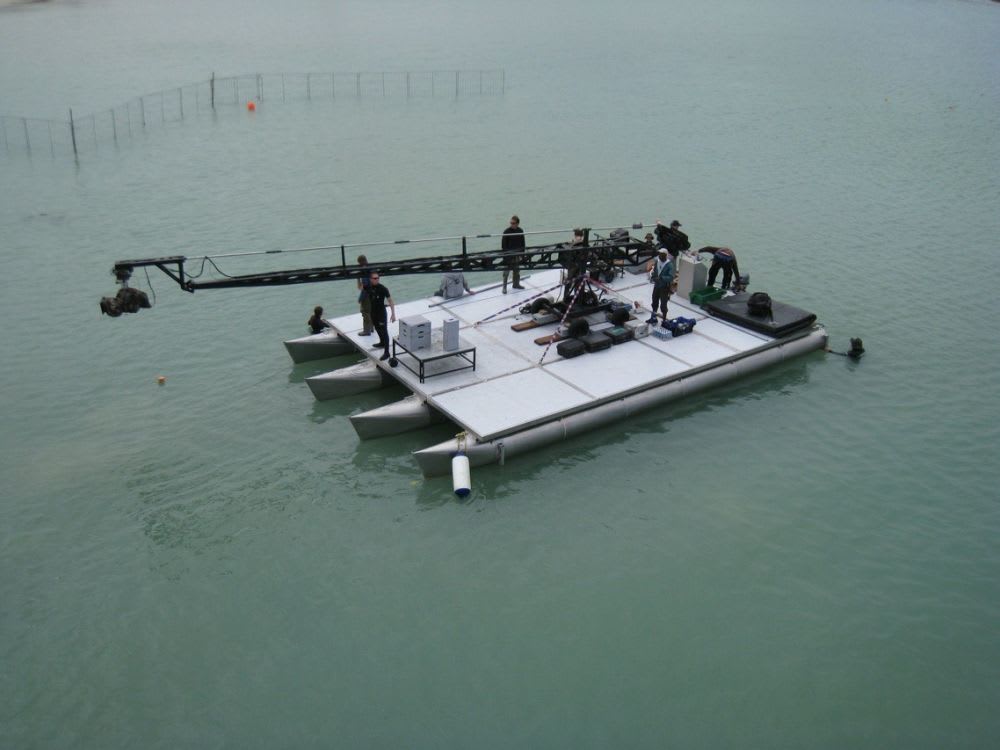 Frog Squad barge used on The Sinking of the Laconia film
The Frog Squad also has a unique underwater comms system that incorporates diver to diver full face masks / hydrophones and unit radios, all linked together, which I've never seen before.
Our camera systems are owned in-house and not rented, designed and manufactured by Gates underwater products, and are able to accommodate any camera, but most impressively the housing size can be adjusted.
We also have underwater cameras and housing for cameras including Red Helium, Alexa mini/ LF, Sony Venus and more.
"We have 2 IMDB accredited underwater camera operators, myself and Brendon Bennett (https://www.imdb.com/name/nm7755517/) who have worked on shows such as Resident Evil, Jack Man, Tomb Raider, Deep Blue Sea, Red Sea Dive Resort, Kissing Booth 2 and 3 and Outlander to name a few.
Our expertise has been used around the world, including for Left Bank Pictures' series Strike Back in Asia, Red Sea Dive Resort in Egypt, Fishing Without Nets in Kenya, and Amazon's Jack Ryan season 2 in Colombia….
Can you tell me about your work on some of the recent projects you've mentioned?
Netflix's forthcoming pirate adventure series One Piece – We have been filming at Cape Town Film Studios in the deep-water tank. There are various scenes that require VFX elements, and scenes with key actors underwater.
The Frog Squad is a one-stop-shop for these sequences, working hand-in-hand with the stunt team and creatives. We provide the dive supervisor, commercial divers, water safety and underwater camera team. Frog Squad also provides the underwater cameras, underwater comms and diving equipment, as well as the working platforms underwater.
We spent weeks training the various cast for the sequences, making sure they are comfortable and able to work on SCUBA. The training included the doubles and the younger cast as well.
Producer Chris Symes always leads from the front giving his crew the tools and manpower required to achieve the work scheduled. We have been shooting with the Alexa Mini LF, and custom-made lenses for the show.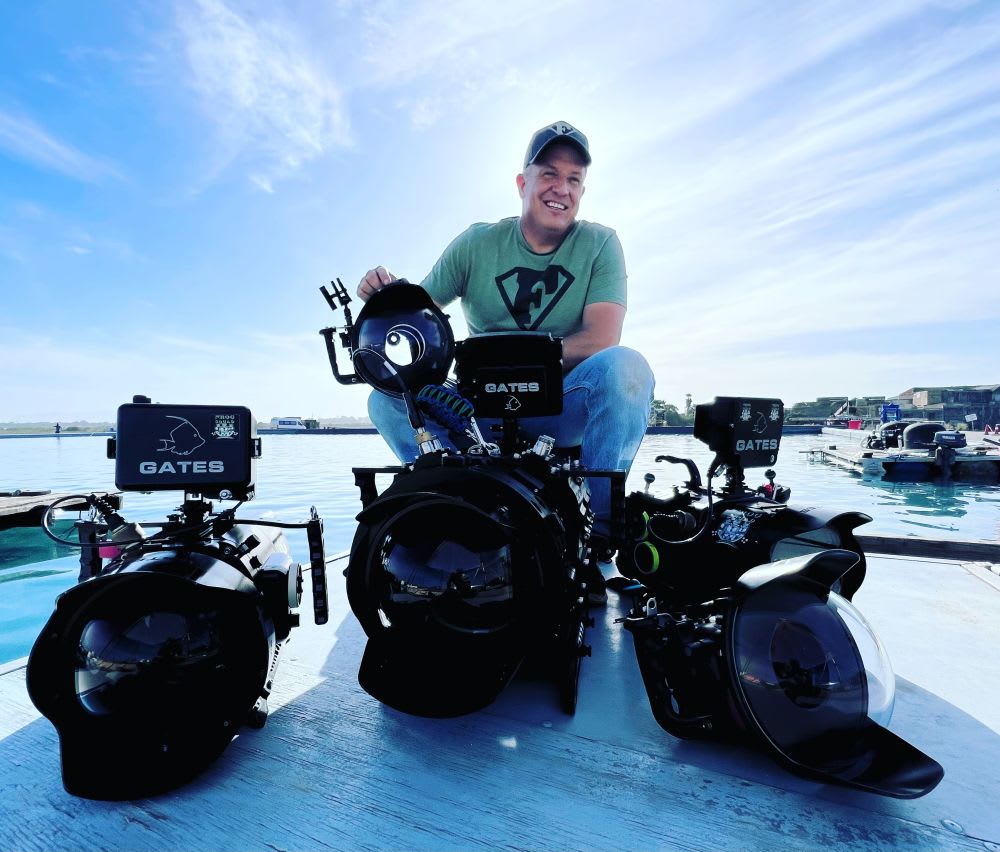 Jason Martin and his equipment on the set of One Piece
Deep Blue Sea 3 - We worked for director John Pogue and producers Hunt Lowry and Paddy Reed. For this show we spent 24 days in a dive studio pool, filming all the action stunt sequences with cast, including lead actress Tania Raymonde, who was incredible in the water. The stunt team designed the various fight sequences and over the four weeks we worked with the various cast and their doubles shooting all the close-up shots for these scenes.
The Frog Squad then moved up the east coast of South Africa to Sodwana Bay and Aliwal shoal, where our dive team re-enacted all the scenes in the open ocean for real - filmed and choreographed by myself. This included fight scenes at 20 meters, close contact with southern oceanic black tips and tiger sharks on a baited dive, swim scenes and chase sequences through coral heads and reef. Two weeks of filming and the 'real' footage were edited into the shoot, giving the audience a bigger world outside the tank.
Resident Evil series – For this show, recently launched on Netflix, we were hired by local line producer Angela Philips to provide marine support and coordination, and shot all the underwater scenes when the cast are thrown into the water and encounter zombie life. Our divers were fitted with prosthetics and trained to dive with the masks on, and then we filmed the underwater sequences in the Cape Town Film Studio tank.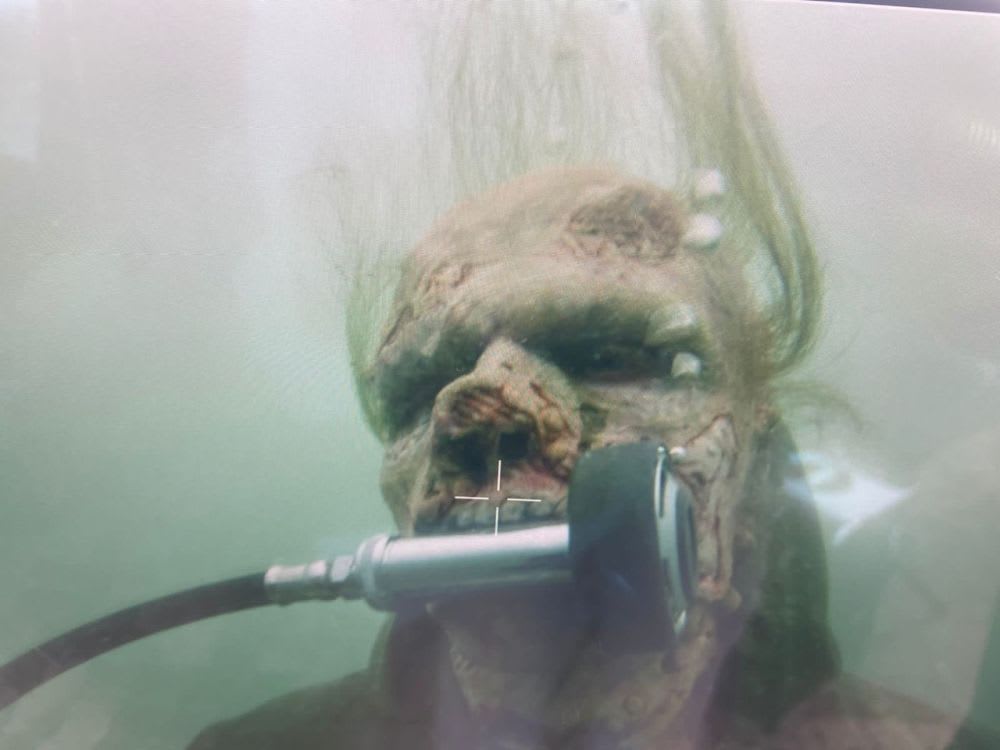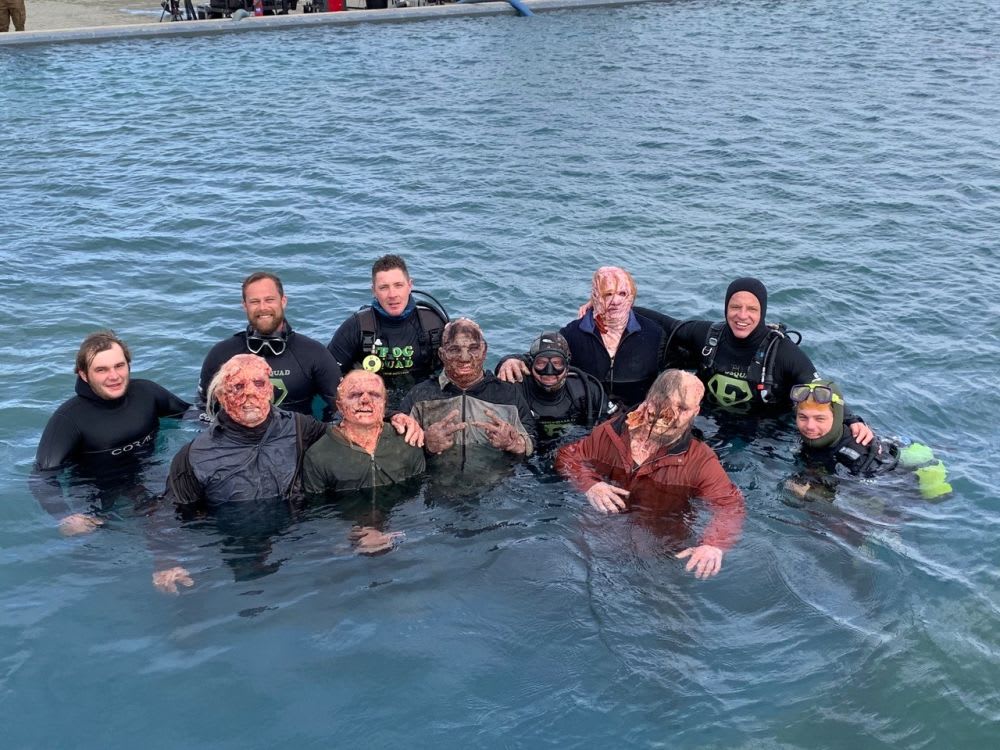 The Frog Squad team and cast shooting Resident Evil
Raised by Wolves – Line producer Cheryl Eatock hired us to film all the water scenes for the birthing on Season two, as well as the elements for the VFX where the monsters POV ends up stealing the baby. The Frog Squad team and camera operators had the fun job of filming in massive sea waves and tidal pools in the open ocean off Cape Town South Africa.
Tom Clancy's Jack Ryan season 2 - We were sent to Colombia in South America to oversee all the marine requirements for season two of this Amazon series. I went as the marine co-ordinator to help coordinate all the boats and art department requirements. I was based in Cartagena where we built the two high-tech SEAL boats that were air dropped into the ocean. I was later joined by a team of five South Africans who were the body doubles for the cast driving boats, and Jimmy Fraser who came over as my camera boat pilot.
We sourced local crew, equipment, boats and gear, and spent two weeks training the crew how to work on a film set because their background was in sport diving and white-water rafting. The boats and gear then needed to be transported across the country to Giradot onto the Magdalena River where most of the sequences were shot. Finally, we returned to Cartagena and filmed off the Rosario islands for the water drop scenes and underwater sequences, which I filmed inside the marina and Playa Blanca resort. The paramount shoot was a slick operation directed by very experienced water-friendly directors, Andrew Bernstein, Phil Abraham, Dennie Gordon.
The Frog Squad Team lead by Jason Martin along with the five SA crew and 18 Colombian local crew had the most amazing experience with a pleasant result on screen for season 2.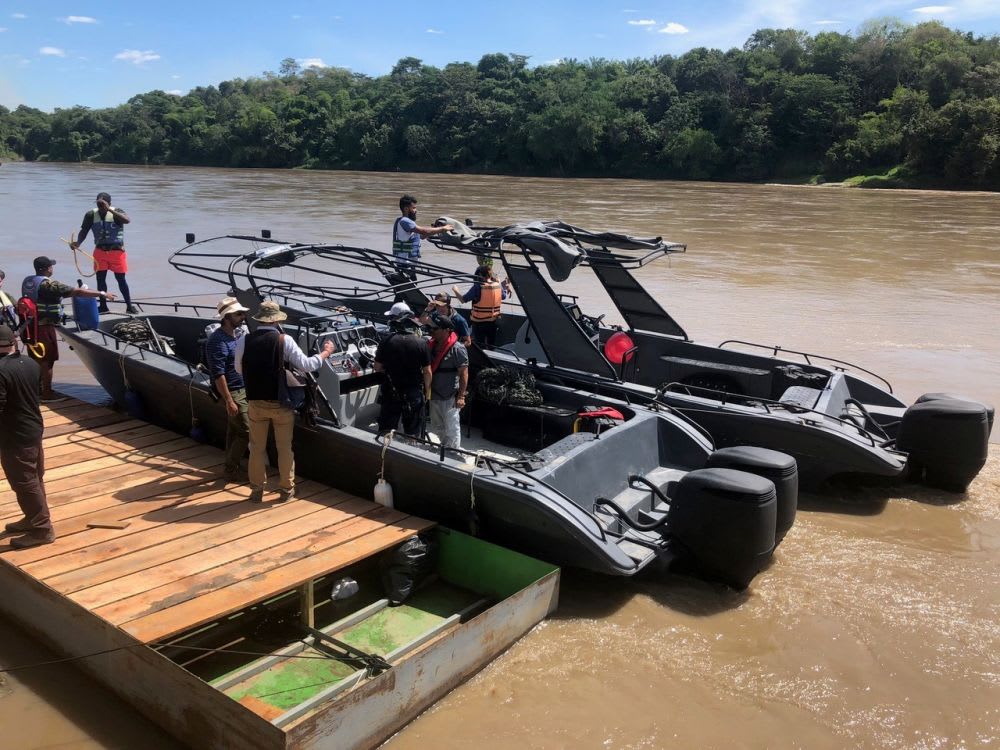 Tom Clancy's Jack Ryan series two filming in Colombia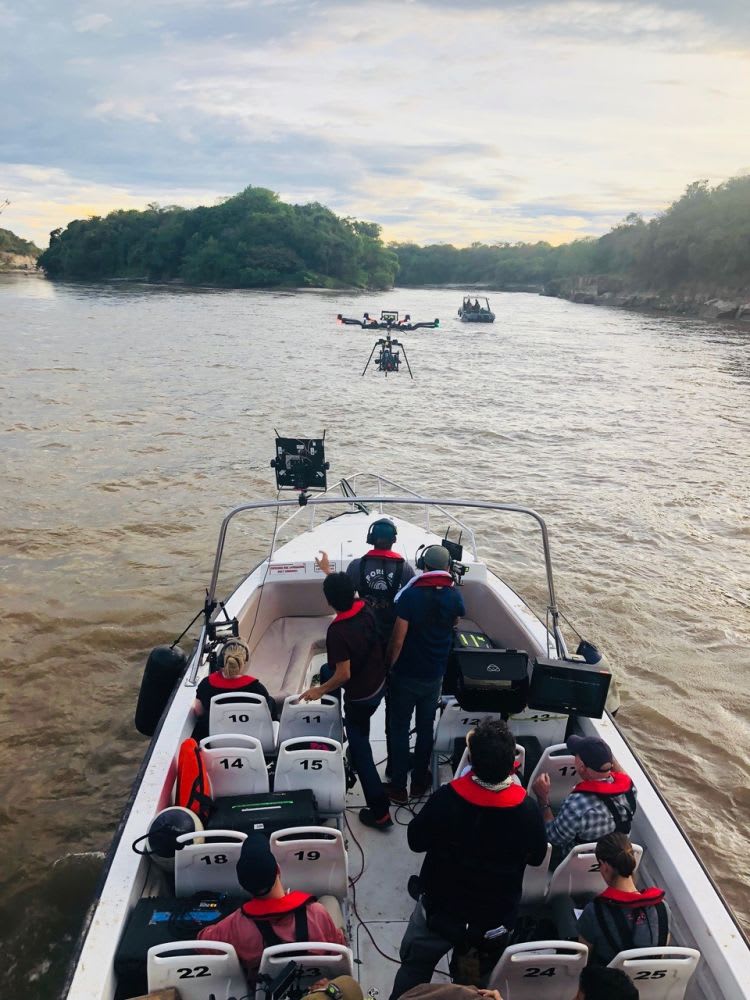 Tom Clancy's Jack Ryan series two filming in Colombia
Red Sea Dive Resort - Filmed in South Africa, Namibia and the Red Sea, this was another show directed by Gideon Raff / produced by Phil Waley where the Fog Squad team got to travel abroad. For this show the marine requirements had 10 navy landing craft in formation beaching in an isolated location to save refugees. I was the marine co-ordinator and sourced and manufactured 10 naval rigid-hulled inflatable boats (RHIBS) 5.5m long with 100Hp motors. We then recruited 20 current navy divers / crew.
Travelling to Namibia we transported boats and sourced local support boats to film the sequence which was filmed hand-held and by drone. The boats were built and camera rehearsals done, then we shot the sequences at night / dusk.
Part two of the shoot we were then asked to fly to Egypt to film the underwater sequences where in the story our heroes are masquerading as dive tour operators, taking tourists on dives and running the resort. We originally planned to shoot this on the actual wreck of the Umbria but the war in Sudan meant we changed location to the wrecks of the Red Sea off the Sinai.
I again lead the team of diving body doubles in wardrobe, and we recruited local divers from the Sinai to act as the tourist being lead on the dives. With the help of Pro Dive Travel, we secured a 16 man motor cruiser where we based ourselves and travelled the Red Sea covering all the wrecks.
The director gave us a shot list and I doubled as the marine coordinator and camera operator filming the various scenes. The divers were dressed in 1970 diving wetsuits and equipment and when meeting other dive boats on the various locations, it was entertaining to see their reactions.
We filmed for nine days at depths from 40m to shallow reef, resulting in an entertaining two minute montage used in the final cut of the film released on Netflix in 2019.
Malang – This is an Indian-Hindi language movie produced by Luv Films, which features a love story song that was filmed in Mauritius. The Frog Squad was employed to oversee all the water scenes, which included cliff jumping, kite surfing, underwater swimming and underwater flyboarding. The Frog Squad team lead by myself built rigs to cheat the kitesurfing and hired professional kiter Oswald Smith to double the lead actor, while Marlin Kronin doubled DIsha Patany. Jason also filmed all the underwater and kiting sequences, with an amazing result on screen.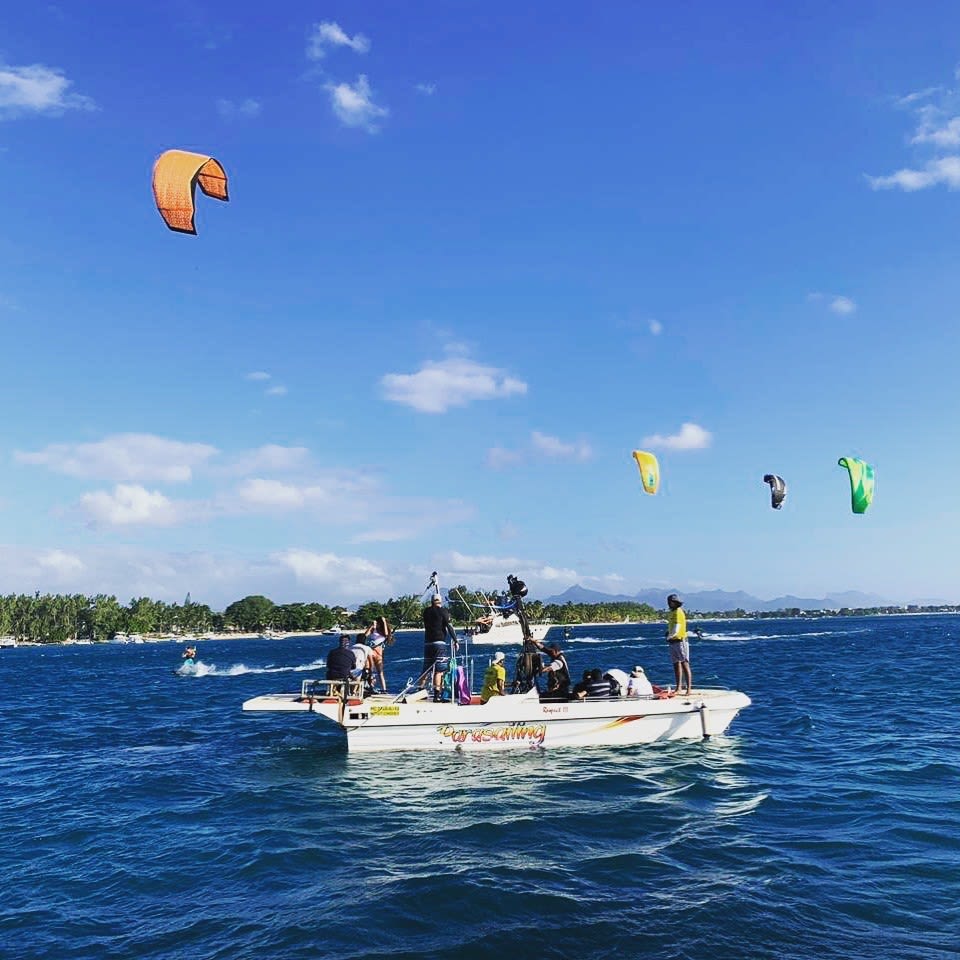 Filming of Malang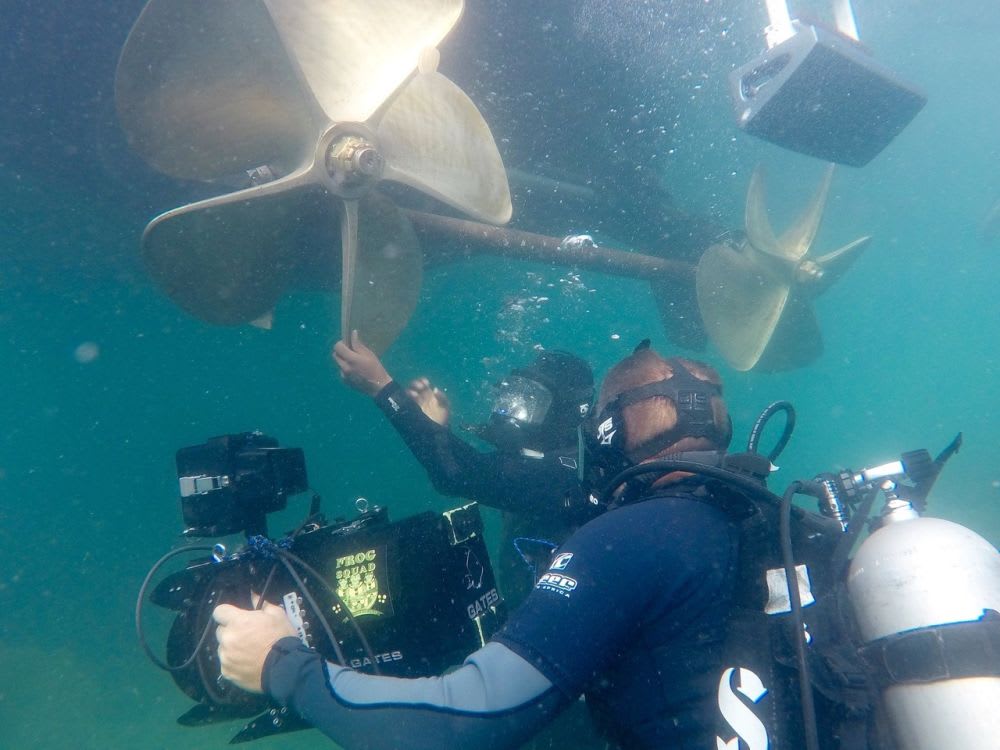 Filming of Malang
Island Doctor – This is a German series, similar to Magnum Pi, in which each episode is a story. The Frog Squad was brought in to do all the water stunts and underwater action sequences.
Mauritius is a beautiful island with many locations both tropical and ocean reef, and a warm climate. The diving is superb and the divers are amazing. We work a lot on the island sourcing boats and overseeing the marine co-ordination. The island is a close five hour flight from South Africa and with some good planning and time is the perfect location for feature films.
What are the benefits of shooting in Cape Town?
Cape Town is nestled at the edge of Africa within the Cape Peninsula and has two oceans surrounded by very different settings.
The Cape Town Film Studios are easy to reach and offer three outdoor water tanks. We are currently shooting the pirate show One Piece there, but we look forward to an indoor studio being built in the not-too-distant future.
Within 50km of the studios we have very different landscapes from forests, rivers and wine farms to deserts, arid sea ways, mountains and dams. We have been able to cheat pretty much anywhere in the world.
Kissing Booth 2 and 3 were filmed in and around Cape Town doubling the US. Certain elements are VFX, but essentially the scenes are scripted as the USA, with Late Placid filmed in the wine region of Cape Town.
Within 50km of Cape Town we have Atlantis dunes which looks like a dessert, while on the west coast of Cape Town we have regions similar to North Africa. The wine region doubles for France and the many farm dams and forests have been shot as North USA or Canada. While the small suburban areas and towns around Cape Town have been used for state side reports or European towns. This is what makes Cape Town the perfect spot to film TVC commercials as well as motion picture films due to location diversity.
There are plans to build a world-class studio tank as well as other sound stages, due to the demand of sound stage space as well as water studios. We wait to see how this develops, but the one thing that is sure, the Frog Squad team are well placed to facilitate your film, no matter what location you choose, either local or abroad, our expertise and experience are unquestionable.