KFTV Underwater Filming Report
Part Three: Future of underwater filming technology
From robot cameras to virtual water stages, underwater technology has advanced at a rapid pace. Here KFTV speaks to the experts about how it's transforming the filming landscape.
Machine learning
Filmmakers and underwater cameramen are constantly innovating and adapting new technology to capture every more impressive shots underwater. A prime example of this is Blockbuster director James Cameron experimenting with underwater motion-capture filmmaking for his forthcoming sequels Avatar 2 and 3.
A 900,000-gallon water tank was built for the sequels as a lot of the focus is on or in the sea. And Cameron and his team then used 3D technology to pick up the dots worn on the actors' specially-made wetsuits while doing breath-hold dives. Blending underwater filming and performance capture had never been accomplished this way before. It took the Weta Digital team a year and a half to develop the system.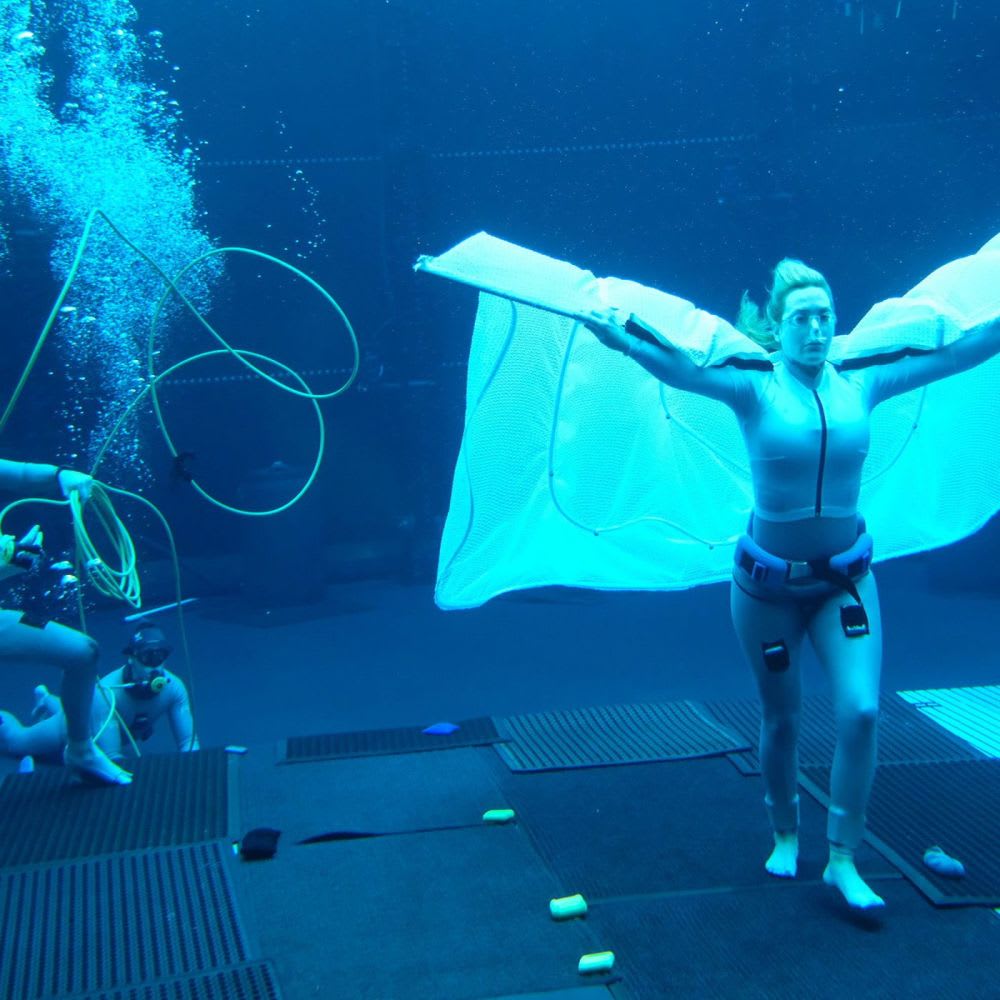 Filming of Kate Winslet in Avatar 2 using motion-capture technology underwater. Credit: 20th Century Studios
The Avatar production team have also designed and built an underwater crabsuit (with six legs), which is a human driven multifunction submersible, courtesy of the Resources Development Administration (RDA).
Extending from this are remotely operated underwater vehicles (ROVs). "These are like little submarines with cameras on, which are going to depths that no-one's been to before," says renowned underwater cameraman and marine co-ordinator Dan Travers, whose credits include Swallows and Amazons, Da Vinci's Demons and Netflix's Choose or Die.
The DTG3 ROV, for example, can go as deep as 200 metres and last up to eight hours on a battery.
However, unlike their drone cousins above water, wireless still doesn't work underwater, so everything has to be tethered, which means they haven't quite got the same freedom.
It's the same with the underwater housing for cameras. The cameraman is linked by a loom to the surface with a focus puller and monitors, so the director and DoP can see what's going on. "For that they need a signal. You can go wireless, but that means I have everything within the body of the housing and I'm alone, so no one can see what I'm seeing," explains Travers. "If everything was automated and wireless, a lot of people like myself might be out of a job."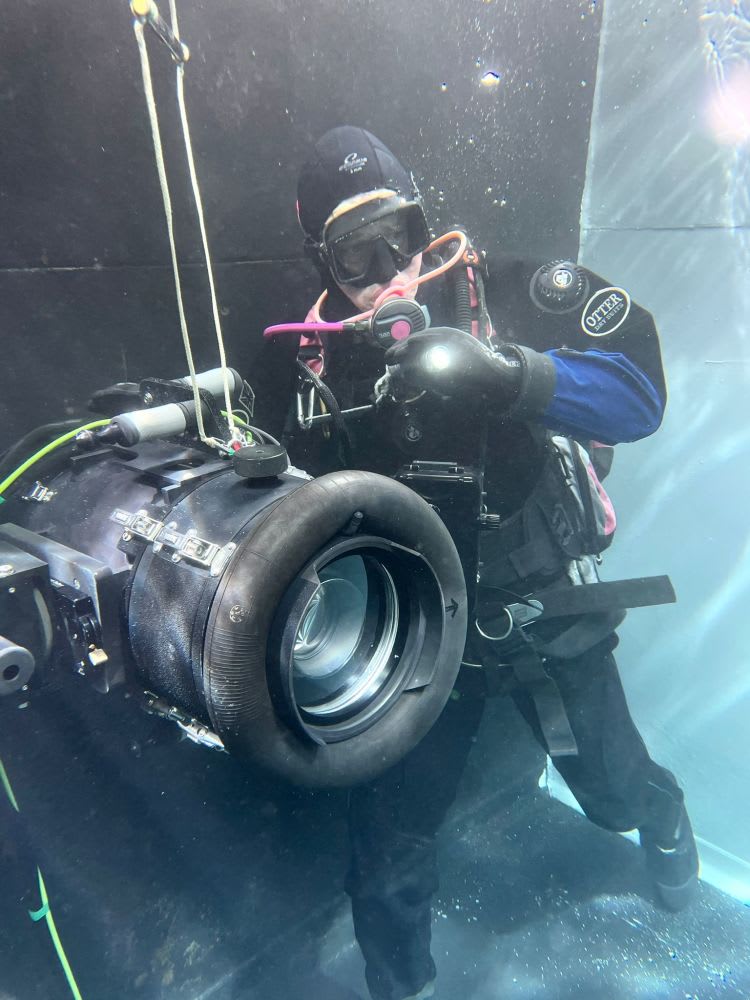 Dan Travers doing an underwater VFX shot. Credit: Diver Dan
Camera equipment upgrades
Camera equipment has definitely become more flexible and adaptable though. Looking back to just 20 or 30 years ago at some of the huge cameras and housings used, compared with the smaller, agile, and remote-controlled versions now is evidence of that change.
"Technology has changed massively, and the quality of the results is so much better," says underwater DoP Simon Rowles. "The kit is a lot more user-friendly and the sensitivity of the sensors is so good now that you can film with small cameras (like the Sony FX 3 or 6) in very low light conditions."
"With the Komodo camera system, we don't even need motors for the lenses anymore," says Pauline Heaton, owner of Watervisions Studio in Vancouver, Canada, which includes a water tank for above and below water shooting. "We can hook up a cable to it and control the camera out of the water on an ipad."
She points to the Hydroflex camera housings, which can also be controlled from outside the water. "The cameraman can follow a whale or whatever, and the guys above the surface can handle the focus."
Hydroflex's latest and most advanced generation of underwater camera housing, the RemoteAquaCam MK5, incorporates a Preston Remote Lens Control system to manipulate focus, iris & zoom of the lens. With block batteries supplying power from the surface you can shoot for hours without pulling the camera out of the water. The director views the full HD video via underwater HD-SDI cable. It can house most top of the range underwater cameras like the Arriflex series (Alexa Mini, Amira, Alexa Plus), Phantom Flex, HD and 4K, Sony F55 and 5, Red Epic and Panavision DXL.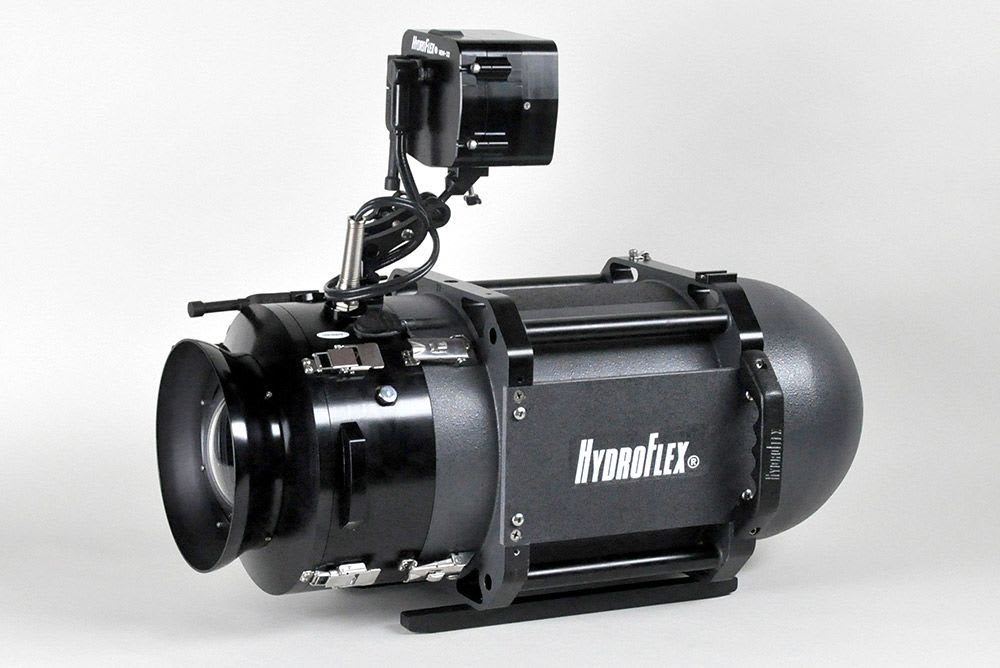 Even simple things like filters have modernised. "With the old cameras, you had to actually tape a filter on to the lens. But with a lot of the modern digital cameras now they have filter software and programmes built in," says Travers. "The way technology is going is shaving time on the shoot."
He adds: "The beauty of shooting underwater with small, mobile cameras is you can capture things quickly, which on land would require cranes and different techniques. I can go around a subject, above and below in a single moment and tell the story very quickly."
A good example of this was for the shoot of a frozen lake sequence at the start of EON's Bond film No Time to Die in which the crew were able to film upwards from beneath the ice looking up at Remi Malek's character wielding his gun.
"My crew put the regular cameras and lenses in the underwater housings – to stop them getting crushed with the pressure – and then the lenses and monitors were controlled by cables to the surface," explains Mark Silk, experienced underwater director from Ocean Scene Films, whose other credits include Gravity, Jurassic World and the upcoming live-action Snow White.
Despite advances in camera and housing equipment, many cameramen still find they have to customise the equipment to suit their needs. "There's nothing really readily available off the shelf to cater for everything. There are various camera housings, but most of them are camera specific. Whereas the housing I've built myself can handle any digital camera inside," says Travers.
It's about problem solving all the time underwater, often adjusting equipment to make it work," adds Travers. "I spend a lot of time in my garage making things or drawing sketches. Then a colleague of mine who's an engineer can machine them up."
Silk adds: "I've created a propulsion vehicle that fits on the camera that I hang on to so I can do high speed shots, tracking shots, or shooting swimming backwards - which is always a bit tricky. It really helps the dynamics of the shot."
German outfit Volucap at Studio Babelsberg have also created and utilised volumetric technology underwater, which digitises a three-dimensional space or object in real-time using an array of cameras. The technology was used in The Matrix Resurrections to capture the slow-mo bullet sequences in the world's first volumetric underwater studio.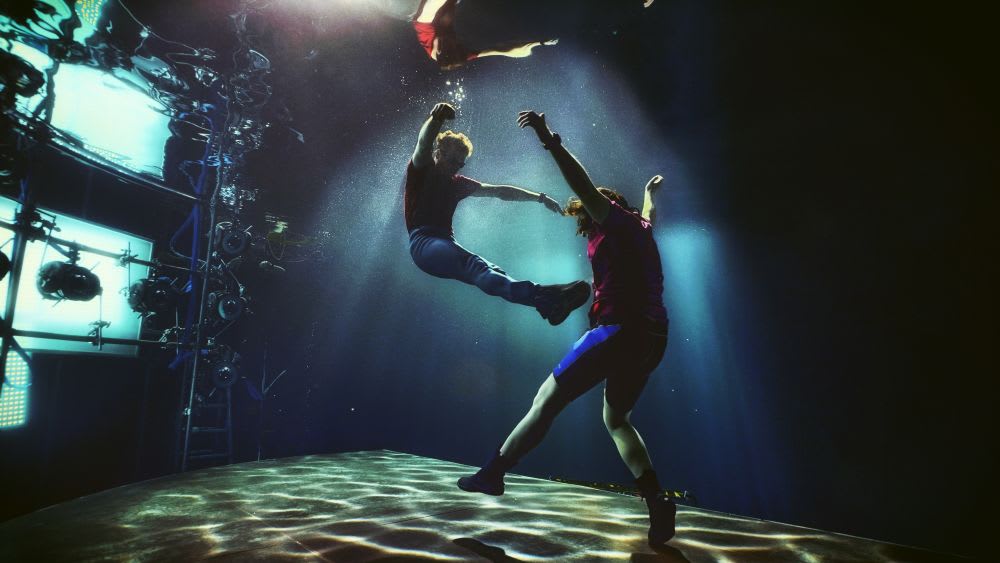 The Matrix Resurrections filming using volumetric technology. Credit: Volucap
Read our Case Study of how the tech was used on The Matrix Resurrections here.
While Jason Martin and his team at marine film services outfit Frog Squad in South Africa are constantly creating new equipment, such as barges that fold up onto trailers and "a unique UW comms system that incorporates diver to diver full face masks/hydrophones and unit radios, all linked together," says Martin.
Read our Q&A with Jason Martin about Frog Squad's services here.
Digital vs film
The transition to digital was also a key turning point. Most film-makers now prefer it to 35mm. Although some still use the latter. "I shot with both for M Night Shyamalan's new film Old," says Ian Seabrook, underwater DoP, whose other credits include Indiana Jones 5 and Jungle Cruise (check out our case study about underwater filming on Jungle Cruise here). "It was interesting that I was the only one there who knew how to fix and repair the film equipment."
Studio competition
The Studios offering water tanks around the world are also constantly having to update and adapt their facilities to outdo competitors and attract international productions.
"I used to shoot European films in Europe at different tanks and studios, and the waves and effects weren't really good enough. I remember directors saying 'is that it?' to effects," says Wim Michiels, head of the impressive Lites Studios in Belgium. "And that is why we built our studio with one of the world's most advanced interior water stages, including a nine-meter-deep tank, warm water, waves up to one meter and a movable pool floor."
Lites Studios has been hosting the multi-European TV series Estonia about the events of the 1994 ferry tragedy. For which, the production and studio team have custom built a tilting platform to hold parts of a replica ship and re-enact what happened. It's an impressive feat of engineering.
Check out our case study of Estonia here to see how they did it.
Lites also offers all the latest cameras and equipment, including the Alexa Mini, Sony Venice, all types of lenses, and "we even have the Sony 8K, which reduces the depth of field underwater," adds Michiels.
While Pinewood's Underwater Stage, designed and managed by Diving Services UK, is the only permanently-filled, temperature controlled underwater shooting stage. It recently hosted No Time to Die, Killing Eve and The Nevers.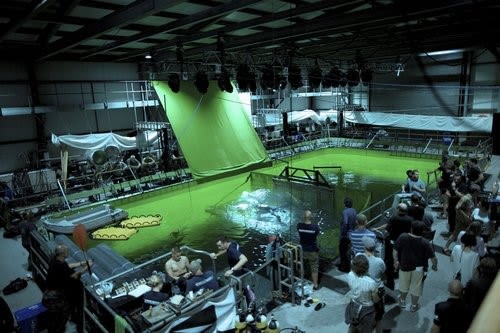 Pinewood's Underwater Stage - VFX shoot. Credit: Diving Services UK
Virtual water stages
There's even talk of some studios experimenting with virtual water stages. This will be LED panels behind the water tanks displaying images for the actors to interact with. Similar to the virtual production stages cropping up around the world, boosted by the success of the Disney + series The Mandalorian.
"This will be a very useful tool to have," insists Michiels. "You will be able to have the background of a harbour, city or boat surrounded by water and then have the reflections in the tank."
Heaton agrees, although with a tinge of sadness. "If they can project images of a kelp forest or a shipwreck behind the actors in the tank then that's really impressive. But my concern is we're going more and more artificial, recreating environments. We're losing our wildlife out there and the oceans are being destroyed. We're now having to resort to simulating our beautiful habitats."
Smithwick adds: "There's less location filming, especially for commercials, now. I used to build massive sets, like houses on the seabed in the Caribbean, but now a lot of it is done in CGI.
"The way that they can reproduce the look of water now is amazing. If you look at the BBC production of The Terror that was almost totally built and filmed in Budapest, Hungary at a green screen stage."
Electronics and water have not always been good bedfellows. But it would seem the underwater experts are doing everything they can to change that and come up with ever more inventive ways of capturing the perfect shots.