Filming incentives to shoot in the AlUla region of Saudi Arabia and the construction of a new film studio were discussed during an exclusive event in Busan on Sunday (October 9).
Invited industry convened at the event – hosted in partnership with Screen International and KFTV at Busan's Park Hyatt in South Korea in association with Film AlUla – to learn about the latest developments in the northwest region of Saudi Arabia.
"The Saudi film industry continues to flourish and strives to become the Middle East's film production hub, and huge internal investments have been made," said Mahsa Motamedi, marketing director at Film AlUla, during an on-stage conversation.
"They're looking at investing $64bn in the entertainment industry by 2030 and the Saudi entertainment market is expected to grow from $23m in 2020 to $1.2bn by the end of 2030, meaning it will become the 10 largest in the world. This is a very exciting time for the country."
Major efforts are being taken to attract international productions to the country and a 40% cash rebate was announced by the Saudi FIlm Commission at Cannes in May.
"Film AlUla will have tailor made incentives to add on to that," explained Motamedi. "It will be on a case-by-case basis… But it's not just the financial support. It is the support that we give on the ground, which includes permits, visas, scouting, the supply chain, the crew and equipment."
Film AlUla was set up as an agency in 2020 by Saudi Arabia's Royal Commission to promote filming in the northwest region, which boasts untouched landscapes, including preserved tombs, sandstone outcrops, mountains, volcanoes, and historic dwellings, such as the UNESCO World Heritage Site of Hegra.
Motamedi highlighted that the agency is "leading the development of a landmark project, the first phase of which will see two state-of-the-art film studios built towards the end of next year to service growth and demand".
The complex in the Fadhla area of AlUla will have two soundstages, both 24,000 square feet, as well as support facilities, including production offices, catering, film clusters, and a backlot.
"We also recently opened our film resort, where crew can come and stay while they're filming," she added. "We have 150 rooms and will be increasing it to 300. We also have an airport, which is 35km away from the city centre and is starting to bring international flights."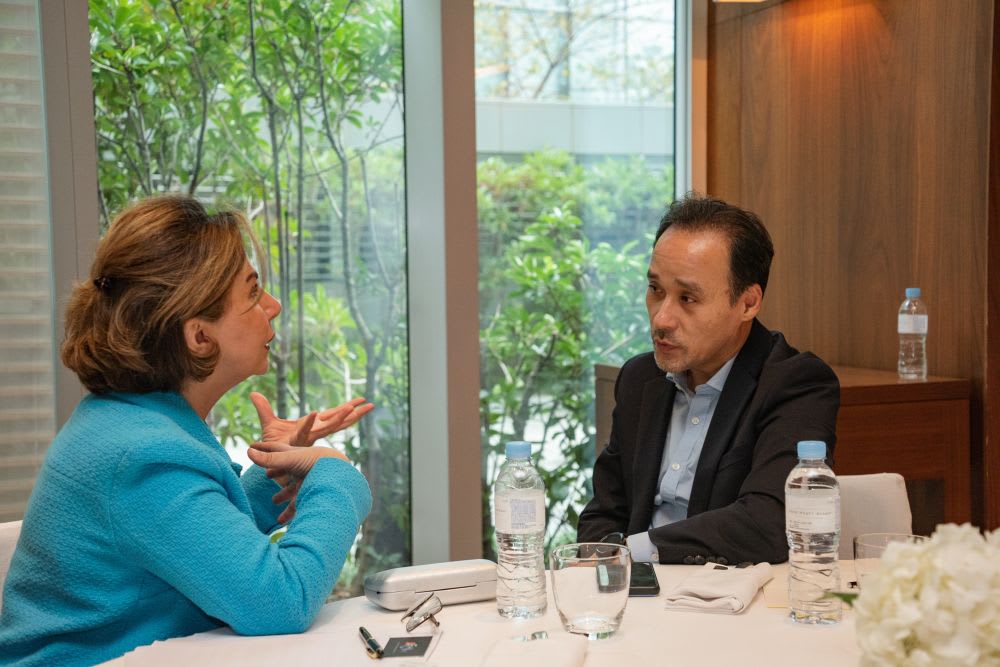 Mahsa Motamedi, Film AlUla, and Phil Choy, AFCNet, at the Busan event
Since opening up to productions in 2020, five feature films have shot in AlUla as well as 35 TV series, 33 documentaries and 55 commercials. These include Ric Roman Waugh's Kandahar, starring Gerard Butler, which is set for release in 2023; the Russo brothers Iraq war story Cherry, for Apple TV+; and Cello, and upcoming English and Arabic language horror film starring Jeremy Irons and written by Turki Al Alshikh.
The first Saudi feature to shoot entirely in AlUla was Norah, the directorial feature debut of Tawfik Alzaidi, which filmed in the region this year.
Highlighting the growth of available talent in AlUla, Motamedi said: "When Kandahar was filmed last year, about 10% of the crew were local talent. When we did Norah, 60% of the crew were local talent. This gives you an indication of the growth within just a few months and shows how people there want to work within the film industry."
In a bid to compete globally, Saudi has started long term educational programmes via scholarships at top film schools globally where it is sending young Saudis for training. "We're also bringing in experts from all around the world, like Creative Media Skills from the UK, which is up a bootcamp to train youngsters that want to be in this industry," added Motamedi.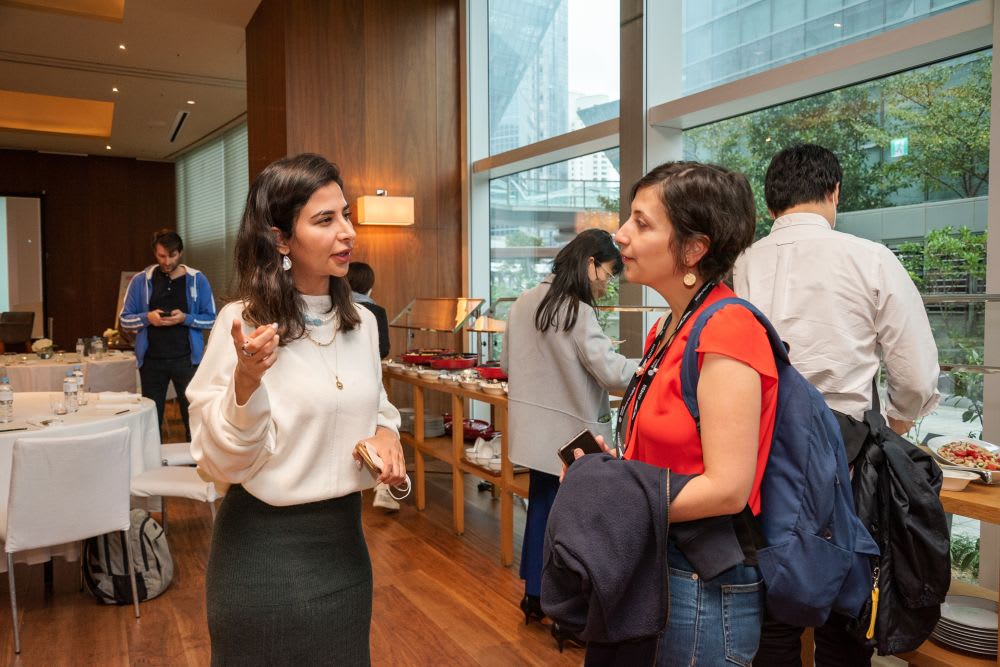 Haifa A Almahri, Film AlUla and Pascale Asmar, MovieTaylor Pictures, at the Film AlUla event
Check out more images from the Busan event here...
https://www.screendaily.com/news/in-pictures-film-alula-roundtable-event-at-busan-2022/5175235.article
Film AlULa also hosted a networking event in partnership with Screen International and KFTV at the Toronto International Film Festival on September 11, at Le Germain Hotel Toronto Mercer.
The event was sponsored by Film AlUla and showcased the Saudi Arabian city of AlUla, a filming location that features spectacular scenery as well as financial and support incentives to facilitate productions from development through to delivery.
Take a look at a selection of photos from the event...
https://www.screendaily.com/news/in-pictures-screen-film-alula-event-at-toronto-2022/5174447.article