KFTV speaks to Alejandra Arróspide, executive producer at Santa Clara Productions, a 10-year old advertising and film production company in the Basque Country and northern Spain — who explains how productions seeking to shoot in the territory will benefit from the great variety of locations, good weather, qualified technicians and impressive tax rebates in Europe.
Who are your sister companies and what are their services, and how do you work cohesively to manage one overall brand?
Our sister companies are Palmera Bambú Film and Vidania Films. Palmera has been shooting TV and internet commercials for the last decade with a strong commitment to aesthetic excellence (as evidenced by the FIAP award for best cinematography in its commercial for the fashion brand Loewe). Vidania already has a long history of shooting in fiction, many short films behind him and a first feature film with a tour of prestigious festivals such as San Sebastian Int. Film Festival, Transilvania Int. Film Festival, Gijón FICX, Barcelona D'A....
The work between the three brands is of absolute cohesion, since the know-how of one always benefits the others with a direct and transparent transmission of information by sharing most of the team. So suppliers, tax rebates, locations, technicians, local film commissions etc, are always in constant relation and evolution from the three companies.
What technical equipment sets you apart from local competition?
We have a close relationship with different camera and lighting suppliers in different cities with the best access to every kind of optics, for example. So we always select the equipment that fits best for each project's requirements. We also have a long expertise in dailies and post production workflow.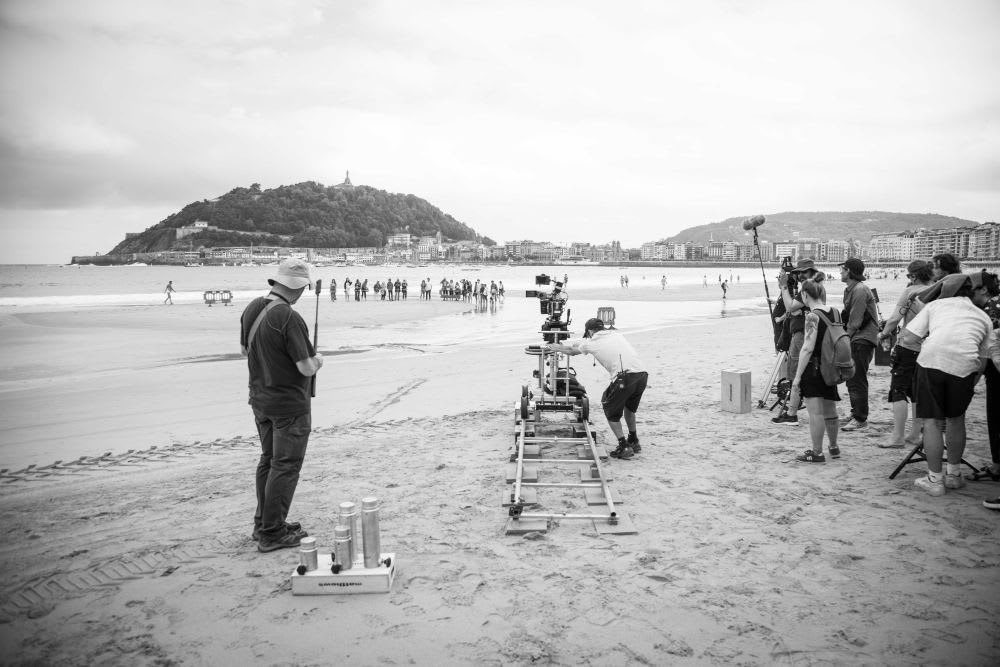 Filming a scene from Stillness in the Storm at La Concha Beach in San Sebastián
How do you approach location scouting as part of your services?
Customer requests can be very varied and at different stages of concretion. There are times when very specific locations are requested (so far we have never had to say "no" due to the variety of landscapes and environments we have in our area in northern Spain and even southern France) and there are times when we have to help define the locations from a more creative dialogue (and that is why the cohesion and know-how of the sister companies is so important for us).
In your 10 years of experience in production services, what have been the major challenges you have overcome that have strengthened the business today?
There are always new challenges that help us get stronger. For example, giving immediate answers to specific technical needs of customers when it is possible that equipment or technicians may need to be expanded, and you always have to give your best so that the gear does not stop. Or the fact that we have learned the workflow of the dailies for the best live reviewing experience. Or the one in which after a PPM and just a few days before shooting, it was decided to change almost completely the style and look of the locations; we had to put all our resources to work and we were able to end up shooting the new aesthetic needs of the ad on time.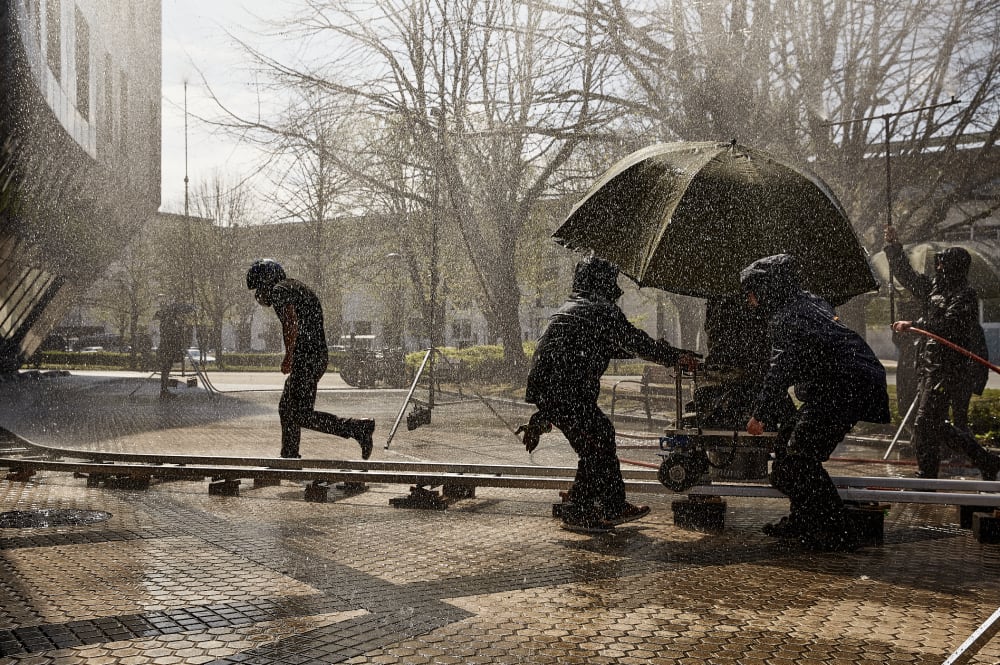 Rain scene in the film Stillness in the Storm
What are the benefits of filming in the Basque region and what have clients said?
In addition to having the best tax rebates in Europe (which can be as high as 60%), we have an increasingly specialised pool of technicians and a growing number of productions in our area. More and more series and films are being shot here, and success stories such as Game of Thrones or Woody Allen's Rifkin's Festival bear witness to this. But we are also very hospitable people here, as we have always been told, and our word is always kept (as the saying goes about the Basques). And we can't forget that spending a few days here to work can be very pleasant, accompanied by an excellent wine and one of the best gastronomies in the world.
What are the standout productions you have facilitated in recent years?
At about the same time we were shooting the feature film Stillness in the storm, we were shooting BTS content, interviews and photo shooting for several days in a desert terrain for the Universal's Vampire Academy series.