Amazon Studio's upcoming film Sitting in Bars with Cake, inspired by true events, tells the story of two twenty-somethings navigating life in Los Angeles.
Based on the book of the same name by Audrey Shulman, who also wrote the screenplay, the movie winds its way through the California city's best bars as Corinne (Odessa A'zion Grand Army, Hellraiser), ultimate extrovert, convinces her shy-but-extremely-talented home baker best friend Jane (Yara Shahidi Black-ish, Grown-ish) to commit to a year of baking cakes and bringing them to bars.
The synopsis continues: "The goal is meeting people and developing confidence, but during their year of 'cakebarring' Corinne receives a life-altering diagnosis, and the pair face a challenge unlike anything they've experienced before."
Speaking to Glamour, director Trish Sie (Pitch Perfect 3) said: "Being in these places was such a great shortcut to everybody feeling the realness and rawness of it all."
Sie added: "Everyone on our crew was based in LA, so they've all been to these bars and some of them haven't been there maybe in 20 years. It was really a fun wormhole into that whole scene, and I think it would be different if you had to fake it."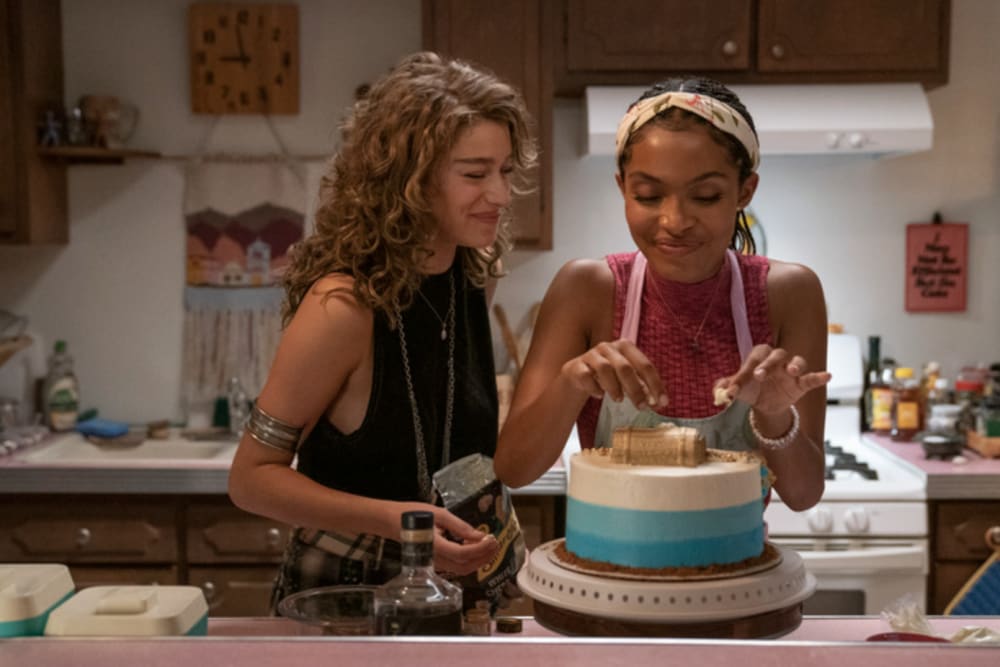 Iconic Los Angeles places include the Hollywood Palladium, the Roosevelt Hotel, Clifton's Republic (formerly Clifton's Cafeteria), Miceli's Restaurant, the Pink Flamingo apartments, Venice Beach Boardwalk, Los Angeles State Historic Park, Moonlight Rollerway amongst many more.
Starring alongisde A'Zion and Shahidi are Bette Midler as Corinne's boss and Ron Livingston as Corinne's father, as well as Maia Mitchell (The Fosters, Good Trouble), Charlie Morgan Patton (80 for Brady, Jesus Revolution), Simone Recasner (The Big Leap, American Horror Stories), Rish Shah (Do Revenge, Obsession), Aaron Dominguez (Only Murders in the Building, Gossip Girl), Will Ropp (The Fallout, The Greatest Beer Run Ever), Adina Porter (American Horror Story, True Blood), Martha Kelly (Gaslit, Euphoria), and Navid Negahban (The Cleaning Lady, Tehran).
The film was produced by Susan Cartsonis, Brent Emery, Suzanne Farwell, and Nick Moceri, with executive producers Yara Shahidi, Janet Knutsen, and Teri Simpson.
Sitting in Bars with Cake is out on Amazon Prime Video from September 8.