The Netherlands has always drawn in productions to its unique locations like the Amsterdam canals, and of course we see a windmill every now and then, says Erno Das, owner of local full-service light rental company Lux & Co, which provided equipment for The Goldfinch among other film, TV and commercial projects.
But there also a vast array of other impressive locations to choose from. "The Netherlands offers a great assortment of classical European locations and cutting-edge modern architecture," John Trapman, head of Amsterdam Production Services, tells KFTV.
His company assisted with the Jason Bourne spin-off TV series Treadstone that partly shot in Amsterdam and the Netflix series Family Business. "The Netherlands also offers an assortment of residential homes and apartments not found in many other countries. The Dutch have always been proud of their interior design and are not afraid to share it."
The film business is concentrated around the picturesque city of Amsterdam, which can get crowded, but Rotterdam, The Hague and other cities offer a variety of shooting options, and impressively, places like Dordrecht and Delft are even being used as doubles for Amsterdam.
The most popular shooting locations tend to be the canals, coastal landscapes (dunes and beaches) and farming fields and meadows. Rotterdam is also attracting interest with its architecture of modern skylines combined with large, industrial ports, says Melvin Kant from local production service outfit We Are Will, who have recently worked on projects for clients such as Amazon, Friso, Lysol and Betty Barclay.
For location back-up or additional ses there are also studios close by available within the cities' borders, adds Das at Lux & Co.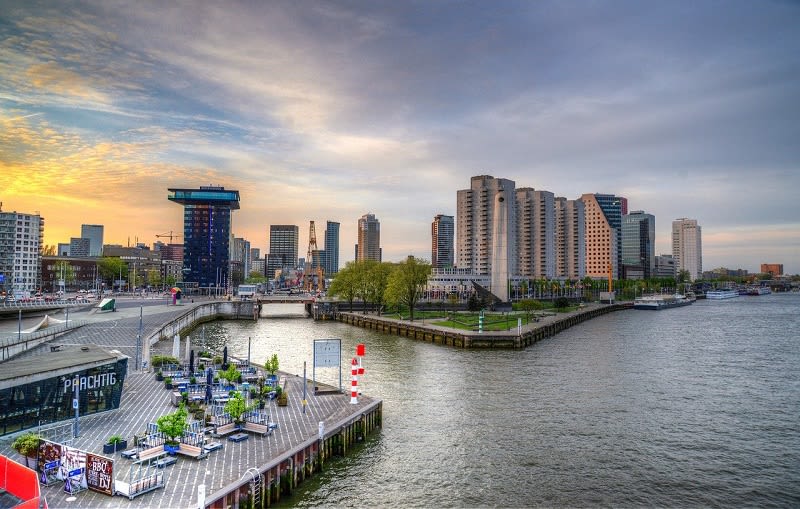 Rotterdam
One of the huge drawcards for international filmmakers is the beautiful Dutch light, a quality mentioned frequently by cinematographers.
The first port of call for any international production team looking to shoot in the country should be the Netherlands Film Commission. But there are also several city and regional film commissions easing the way for international producers.
"The Dutch are practical people and it is relatively easy to shoot in The Netherlands. Each council has its own rules and it's best to go through a local producer who knows the ins and outs of the process," says Trapman.