Croatia has resumed local production filming and is expected to welcome international productions by July, thanks to the country's strict Covid-19 restrictions, which have limited the country to just 100 deaths from the virus.
Movement within Croatia is no longer restricted and some international flights into the country have resumed. Foreign nationals don't need to self-isolate when entering the country, they just have to have proof of accomodation, but there are health and safety guidelines for filming in the country.
This will be good news for Hollywood and international producers worldwide, as Croatia has proven to be one of the hottest shooting territories in the world, constantly featuring high on the Hollywood studios' places to film.
In recent times major projects have included Amazon Studios and Endgame Entertainment's romantic drama Bliss, starring Salma Hayek and Owen Wilson, HBO's series Succession, and the action sequel, The Hitman's Wife's Bodyguard, starring Ryan Reynolds and Samuel L Jackson.
"Croatia is a wonderful place to shoot. The crew are fantastic, no nonsense and talented technicians and nothing seemed to be a problem - there were only solutions," says Matt O'Toole, producer of The Hitman's Wife's Bodyguard, which shot predominantly in the Istrian coastal town of Rovinj. "We pretty much shut the entire town down, the local business owners and authorities were a dream to deal with and helped us achieve everything we needed to, including some hefty action sequences. We also shot in Zagreb, which again was a great experience."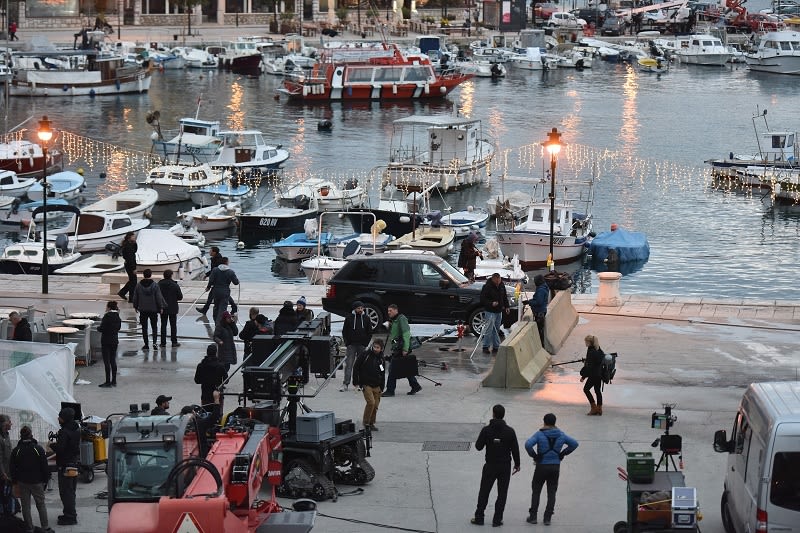 The Hitman's Wife's Bodyguard filming in Rovinj, Croatia. Source: PIXSELL
The popular BBC crime drama series McMafia has also filmed across Croatia, leaving a strong impression on its leading cast member James Norton. "I have been blown away by this extraordinary country. The warmth and energy of the people, the aesthetic beauty of the countryside and coast, and the crew are so good at their jobs, but also such good people individually. Always making sure we were enjoying working in their magical country."
Striking backdrops
Croatia is growing in popularity as a European filming hub thanks to a generous filming incentive, which offers a base 25% cash rebate on qualifying expenses for features, animations, documentaries, TV films and TV series. The rebate can rise to 30% for productions that film in less-developed parts of the country.
The country also boasts reliable local crews and dramatic and varied backdrops. The latter includes cities such as Dubrovnik, which boasts a mix of Roman, medieval, renaissance and baroque architecture, as well as beaches with azure seas, Roman ruins, castles, vineyards, cobblestones and snowy peaks. In recent years, it has hosted an impressive line-up of projects, including Star Wars: The Last Jedi, Robin Hood, Game of Thrones, The Hitman's Wife's Bodyguard and Mamma Mia: Here We Go Again.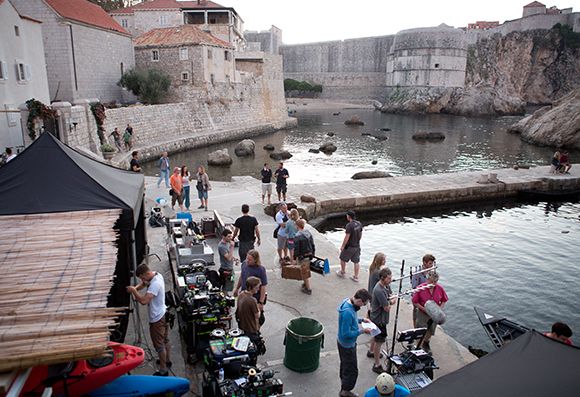 Game of Thrones filming in Croatia. Source: HBO
"Most projects tend to base themselves in Dubrovnik," explains Tanja Ladovic Blazevic, programme co-ordinator at Filming in Croatia. This is partly thanks to the city's good infrastructure, which includes airports and hotels for big crews. But productions need to be careful with set construction and builds as the city is a protected Unesco world heritage site. Capital Zagreb and the city of Rijeka also prove to be popular shooting spots.
Venturing away from the cities, you can explore deep forests covered with snow and within an hour get to the sunny coast of the Adriatic Sea with its Mediterranean cities. There is also everything from idyllic hills in the north (Zagorje) to dramatic river canyons (Zrmanja) and abandoned villages still marked by war (Lika).
Plus, several of Croatia's locations can, and have, doubled for a huge variety of countries. McMafia has doubled Zagreb for Prague, Dubrava Clinical Hospital for a Russian hospital, the Johann Frank nightclub for a club in Tel Aviv, and the lunar-like Pag doubled for the sands of Egypt. In the latest season it also doubled for Italy.