Against the odds, Woody Harrelson arrived in Sweden in late June to shoot his scenes for Ruben Östlund's Triangle Of Sadness.
Harrelson had been in lockdown at his home in Hawaii during the height of the pandemic, and stayed in touch with the filmmaking team throughout the shoot's three-month shutdown. Stockholm-based producer Erik Hemmendorff, who founded Plattform Produktion with Östlund 18 years ago, took a calculated risk to restart the film's production for seven days of shooting, hoping Harrelson could make it into the country.
Harrelson said he felt safe travelling to Sweden and on set, which introduced extra safety measures. "I feel safe, I don't fear the reaper," he said with a laugh on July 3, his final day of shooting. "There are lots of masks and gloves and hand sanitiser."
Hemmendorff spent three weeks meeting with various officials including Swedish border police and the Ministry of Foreign Affairs about travel for the three-time Oscar-nominated actor. "This is a production that creates hundreds of jobs in Sweden," he said. "For Sweden it would have been a very bad thing if he could not come, so that's the reason he is here, he was considered to be doing essential work for the country."
Pre-approval to enter the country is not possible under Swedish government guidelines, so there was always the danger that border police could have turned the actor away as he entered Sweden, despite testing negative for coronavirus before making the trip.
Hemmendorff said not every actor might have made that leap. "He got on that plane not knowing 100% if he'd be let in at the border," said the producer. "I love him for being that loyal. It took us one-and-a-half-years to cast the Captain, and it just didn't feel like an option to replace him. It wouldn't have been the same film."
Disaster almost struck when airline representatives from KLM almost did not allow Harrelson to board his flight from Los Angeles to Amsterdam, thinking he did not have the right paperwork. Hemmendorff quickly got on the phone with KLM to convince them the documentation was in order.
Marxism meets models
Triangle Of Sadness is a satire that follows a model couple, played by Screen Star of Tomorrow Harris Dickinson and Charlbi Dean, who are invited on a luxury cruise. After the yacht sinks, they are left stranded on a desert island with a group of billionaires and a cleaning lady, and the hierarchy is turned on its head as a fight for survival ensues.
Harrelson, who plays the Marxist captain of the ship, said of his character: "The Captain is an alcoholic and in my mind he is very dissatisfied with life because he's a Marxist on a huge yacht with a bunch of capitalists."
Harrelson used the delay caused by the virus crisis to explore extra background reading for the role – not just Marx and Engels but also the works Che Guevara, Fidel Castro, Emma Goldman and Eugene Debs. The latter's 1918 speech from Canton, Ohio is quoted in the film.
Östlund, director of the acclaimed Force Majeure and The Square, recalled: "We were in contact during the corona period, back and forth. He was enthusiastic, sending me things as inspiration, so I knew he was engaged in the project."
Harrelson has been creatively energised by the experience of working with Östlund. "With the three-month delay, I did think they'd just recast it, but they said, 'We'll wait for you'," said the actor. "Ruben is a true genius with his style of moviemaking and the content of his films, the humour in his films. It's a privilege to work with him."
In their one week of work together, Harrelson said Östlund made him rethink some of his comedic instincts. "His ability and dexterity with comedy is really something extraordinary," he recalled. "One of the things I really loved about this time is that if I was doing something that was showing 'I'm doing comedy,' he'd pull me back from that. I can go over the top, but if Ruben sees anything that feels even remotely false, he won't allow that. I may do things differently in the future, maybe I won't go as big or I might be back to my old hijinks. But I was impressed by Ruben's constant search for the truth."
Östlund is known for a directing style that usually involves dozens of takes for each scene. Harrelson enjoyed the approach. "The scene just keeps evolving: you try this, you try that," he said. "From my perspective it's an actor's dream. You like to be part of the creative soup. I don't have as much fun if I'm just showing up and being told, 'Hit this mark and say this line.' With him it's much more free."
Östlund made creative use of the delay. "I tried to use that extra time when we stopped production to cut the first part – the fashion world scenes," the director revealed. "I cut the first 11 minutes of the film in 12 weeks and kept recutting and fine tuning. That was a luxury. At the same time, I came up with a couple of new ideas for the shoot with Woody." This included adjusting scenes to be shot in way that they would not require large numbers of extras.
Harrelson will next move onto a bigger shoot in August for Sony action comedy The Man From Toronto, directed by Patrick Hughes, whose credits include The Hitman's Bodyguard, and starring The Big Bang Theory's Kaley Cuoco and Kevin Hart.
Changing approaches in Covid times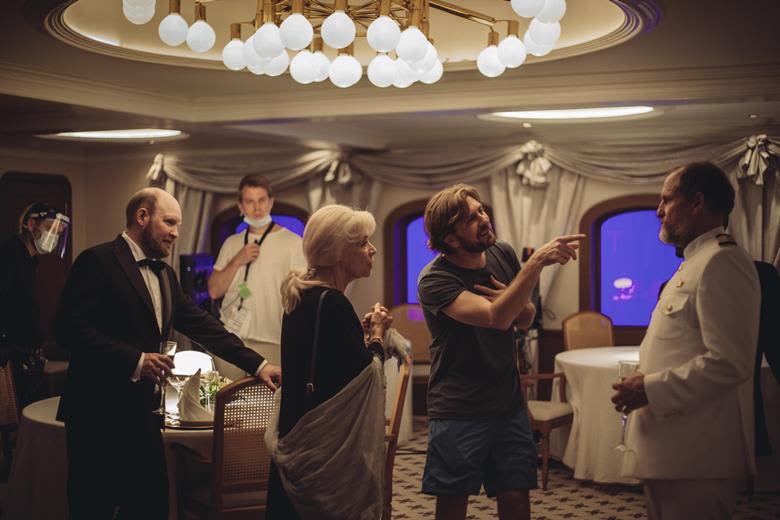 Due to the three-month shutdown and enhanced safety measures, the €13m ($14.7m) budget for Triangle Of Sadness will increase. The Swedish Film Institute offered extra financial support and BBC Films helped mid-shoot by advancing its funding.
The production was lucky because it had built the interior of the yacht in a studio in Trollhättan, and Film i Väst was able to keep that in place during the shutdown. But a deadline was looming because the set would have to be struck in mid-July to make room for other productions.
The film had already shot for 25 days from mid-February and then shut down for three months before the seven days of shooting with Harrelson from late June. Production will move to Greece in September for eight weeks of filming of the desert island scenes, with Greek producing partner Heretic.
Hemmendorff said insurance for the production – secured through Media Insurance Brokers – was in place so long before the pandemic that "it doesn't have a Covid exclusion".
Safety measures on set have included masks and PPE, plus strategic colour coding of different groups of crew. "The idea is that you minimise people who are in contact with each other and then there are a very few people allowed on set," Hemmendorff explained. "Very few people meet the actors."
Östlund has found some silver linings in the way the shoot has been adjusted for safety. "It changes a lot of things on set, and mostly those have been a positive experience," he said. "We have cut down on crew close to camera and for me that actually reduces stress. When too many people are running around on set, it can be harder to make decisions. It was much calmer; people were talking at a lower volume."
Hemmendorff paid tribute to the whole team, which has adjusted to the new realities of production. He said: "Our crew has been with us for the last few films, and we are a close film family that me and Ruben are so lucky to have, and who stay loyal and show solidarity with the film and Ruben's vision."
Philippe Bober at Coproduction Office, which is handling international sales, is also producing, alongside Hemmendorff. The co-producers are Film i Väst, Essential Films, SVT, BBC Films, Arte France Cinéma, and ZDF/Arte, with support from the Swedish Film Institute, Eurimages, BFI, Medienboard Berlin-Brandenburg, the Danish Film Institute, Hamburg Film Fund, the Nordisk Film and TV Fond, and the Creative Europe MEDIA Programme of the European Union
Dan Friedkin, Bradley Thomas and Ryan Friedkin of US-based Imperative Entertainment are backing the project and serve as executive producers with Micah Green and Daniel Steinman of 30WEST. Mike Goodridge is the UK-based executive producer. Co-producers include Marina Perales Marhuenda, Giorgos Karnavas, Konstantinos Kontovrakis, Per Damgaard and Julio Chavezmontes.
SF Studios has the Nordic rights. 30WEST and WME jointly handle North American rights.
The film will be readied for a 2021 launch. Even with delays caused by the pandemic, Triangle Of Sadness may be ready in time for Cannes, where Östlund won the Palme d'Or in 2017 with The Square.