Nothing could have prepared veteran location manager Chris Baugh, LMGI, for his role overseeing the strict Covid-19 protocols on the set of Joel Coen's Macbeth for A24.
Two-thirds of filming at Warner Bros Studios in Los Angeles had been completed when the pandemic forced the production to shut down in March. It returned to the studio through July and August under strict Covid-19 protocols.
The days of crew coming and going freely to set and mixing with the cast on the stages have gone, for now. They are replaced by questionnaire apps both at the studio entrance and for the production, as well as Covid-19 testing labs, colour-coded crew, separate pods and zones for all, and just a handful of people on set during filming.
"The [production] brought me in because they needed assistance with all the logistics of the Covid support, which has proven extremely complicated and potentially life-threatening," explains Baugh, LMGI, whose credits as a location manager include Terminator: Dark Fate, John Wick: Chapter 3 - Parabellum and Argo.
He was part of a team of 12 that included a safety consultant, a Covid compliance officer (a registered nurse who made sure people complied with the rules and fielded complaints), a health and safety supervisor, a health and safety manager, a Covid test co-ordinator, multiple test assistants, a medical doctor and an epidemiologist. "It's a whole different way of doing everything," says Baugh.
At the point of restart, the production and Covid-19 teams communicated through Zoom, unsure how to approach the problem. It was a period spent brainstorming, reading documents and rules, and waiting for the state, county and unions to provide protocols.
Once given the greenlight, Baugh says the requirements "were very specific in requesting how we were laying out sets, where the cameras were going to be, the placement of cast, where the equipment is being set up, how many feet apart, etc. Everything we would normally do intuitively, on the fly, had to be planned out meticulously."
Test period
Before being allowed on set, all cast and crew had to show two negative Covid‑19 tests. The team experimented with off-site and mail-in labs but there were delays processing results as these facilities also serviced the wider community. So the production set up a purpose-built lab on-site. "We decided to use a nasal test that can give you a result in 15 minutes, and were testing the 168-strong crew between one to five times a week, depending on how close they were to the actors," explains Baugh.
The actors were the only ones on set operating at times without a mask, so were potentially the most exposed. Crew and cast were forbidden to mix with other productions on the lot but could return home each day. They were also asked to avoid social gatherings. This was a different stance to that taken on other productions where everyone lives and works together in a bubble during filming, for example on Universal's Jurassic World: Dominion, which is shooting in the UK.
On the set of Macbeth, cast and crew were divided into zones, each wearing a different soccer team colour band. Within these zones were clearly labelled pods. People could not mix across the zones and pods, and were still to practise social distancing.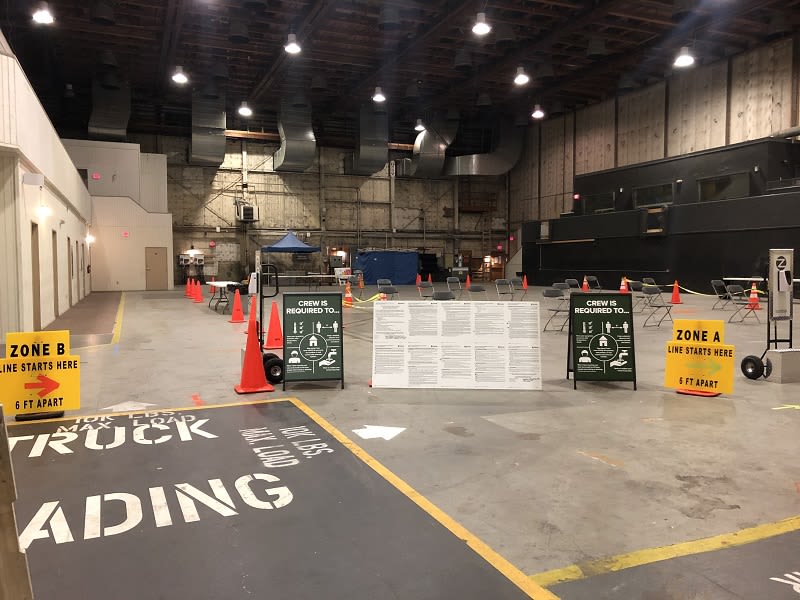 Getting crew to comply was not always easy when they are so used to free-flowing movement and action, Baugh admits. Wearing personal protective equipment (PPE) on set was also problematic. "On the first day, three people refused to wear masks. I told their supervisors and they were dismissed within minutes," he says. "It's the rules. Everyone else has been extremely diligent and sensitive."
Procuring the PPE — masks, gloves, goggles, shields, disinfectant — was a job in itself. There is no established vendor in the film industry so Baugh and his team used multiple sources, including Amazon, which proved costly and time-consuming. "Procuring disinfectants alone proved a huge job," he says. "We went from using five-gallon barrels to 55 gallons and then an entire truckload. It was like a gas station with representatives from each department coming out with receptacles to fill."
Disinfectants can only do so much to protect from a virus that is primarily airborne, notes Baugh. "Productions spend 50% of their budgets on cleaning and sterilisation, but it's only like 1% of the infection rate. Aside from keeping a distance and wearing your PPE and getting tested, you don't want crew to be in a closed space without ventilation or air filtration." High-end air filters were installed on the recommendation of the production's epidemiologist.
Automatic hand sanitisers were placed inside and outside doorways throughout the set, base camp and trailers — the sanitiser machines were prone to breaking so needed to be repaired constantly. There were 12 portable sinks, as well as touch-free toilet facilities with foot-
operated doors and motion detectors to activate the sink and soap. Overnight cleaning crews in full pandemic suits were on hand to spray the trucks and sets.
Trailer camp
"The footprint was double what we used to have," says Baugh of positioning the trailers. Covid-19 protocols also forced changes to working hours, catering arrangements and even drinking water on set.
"In the US they work us pretty hard with long days," says Baugh. "But we started doing French hours [on Macbeth, dropping the scheduled lunch period to shorten the working day]. So, catering and the craft service [snacks] were scaled down. We used to have mess halls under a giant tent where everyone would serve themselves from the buffet. That's gone. Instead, people go up to a tent with a window and place an order."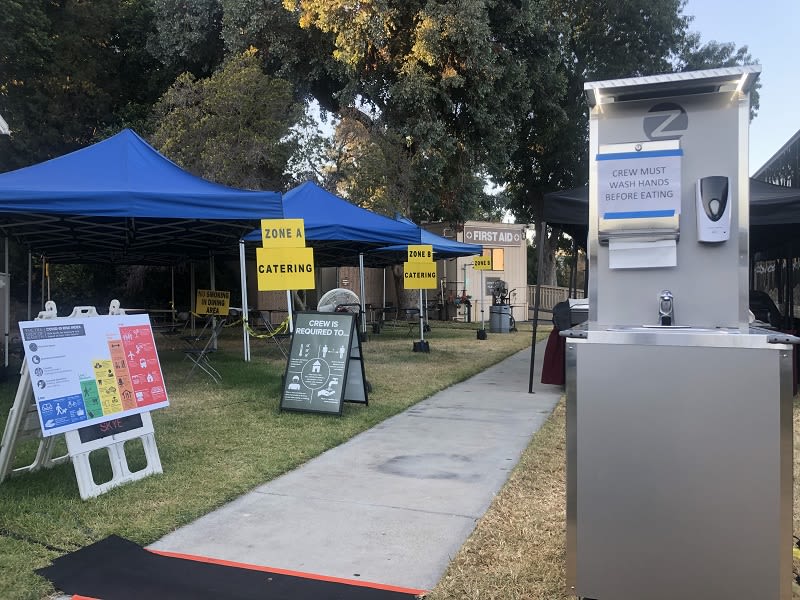 Canopies with the open sides were used rather than enclosed dining tents, and crew members sat alone at three-foot-high cocktail tables arranged in a grid. The production tried six-seat tables with one person at each end, but that created aisles where people were forced to pass each other so was abandoned. As for water, "No one was allowed to drink on set as that requires lifting your mask," says Baugh. "You had to step outside or 10 feet away from anyone. It's extreme but necessary."
Baugh acknowledges the immense emotional burden of keeping cast and crew safe. "If you make a mistake, someone's going to get hurt," he says. "As a result, there was a huge amount of psychological stress on the producers and myself. You do your tasks, your training, make lists of what you think is important, constantly thinking of something new, adding and changing things. Then when you go to bed at night you think, 'Oh my god, have I missed something?'
"It is extremely serious. It can impact the industry if you do something wrong — people might look at this operation as a failed experiment and lock down the industry."
This is why Baugh insists that, for a production to be successful, you need a producer with a strong moral compass and a genuine concern about the health and safety of the crew. "It is a difficult task for them because it's a radical increase in their budget to take this on, but they have to be willing to do that."
The strict approach worked for Macbeth, with no positive tests on set throughout two months of pre-production, filming and wrap. And despite there being an extra 30% prep time, the production team managed to maintain the shooting schedule.
Baugh is now in demand to lead similar procedures on other productions. "I get four calls a day from producers," he says. Next up is Damien Chazelle's Babylon, starring Brad Pitt and Emma Stone, which will shoot for Paramount early next year.
This is an extract from our Special Report called Covid-19 Production: Impact and Future-Proofing, which explores the roles and responsibilities of Covid-19 supervisors and their teams on film and TV sets and how the production landscape has been transformed by the virus.