KFTV Report: 10 Rules For Desert Filming
Brought to you in assocation with Dubai-based production service outfit Central Films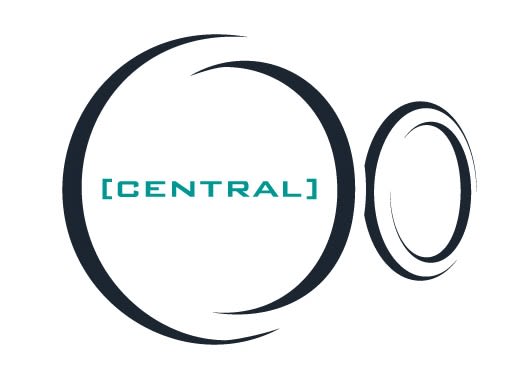 Whether it's the rolling dunes of the Sahara, the grassy prairies of New Mexico or the virgin sands of the Rub' al Khali, desert filming presents plenty of logistics for film crews. KFTV speaks to six leading production experts to get their key insights into desert shoots.
1. Utilize local knowledge, skills and services
Fortunately, many of the locations mentioned above have played host to productions of all sizes over the last decade, and there are plenty of local specialists versed in the art of desert driving, location scouting and catering.
According to Christian McWilliams, the location manager on Dune, John Wick 3 and World War Z, there are now whole towns in Morocco that can act as dedicated production hubs. "We tend to use Erfound, an oasis town on the edge of the Sahara Desert - the community there is small but there's a whole support team, from drivers to prop specialists and camel herders," he says.
Ingratiating yourself with the local communities can make productions in remote locations run smoother even in towns without a previous film heritage.
After selecting the little-known town of Carrizozo for their New Mexico-based conspiracy thriller Wander, starring Tommy Lee Jones and Aaron Eckhart, producer Tim Doiron and director April Mullen were invited by their local film liaison officer to a town hall meeting, which gave them the opportunity to persuade the community to act as their host. "We promised to fill up their three motels and to cater exclusively through their restaurants and they embraced us," says Mullen.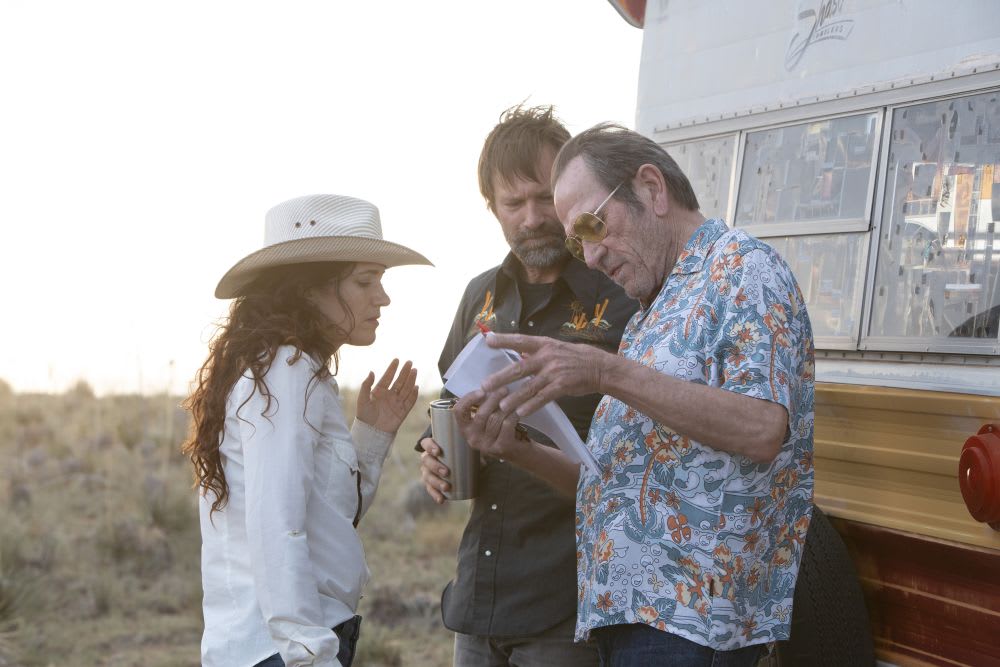 Tommy Lee Jones and Aaron Eckhart with director April Mullen on the set of Wander. Via Wango FIlms
2. Find the best spot
While undisturbed dunes are preferable to tyre-tracked sand, how far into the desert you go depends on time and budget, according to McWilliams.
"Directors will always want to go way in, but you can't take a huge crew into the dunes. You need to think of dull practicalities such as lunch and needing twenty people to carry water and tents. You can do it on John Wick, but smaller productions should stick to areas that are closer to the road," he says.
One of the appeals of Dubai-based desert shoots, according to Ian Ross, managing director of production service providers Central Films, is the city's combination of desert vistas and super modern cityscapes. "They are less than an hour away from each other and both can be shot in the same day," he points out.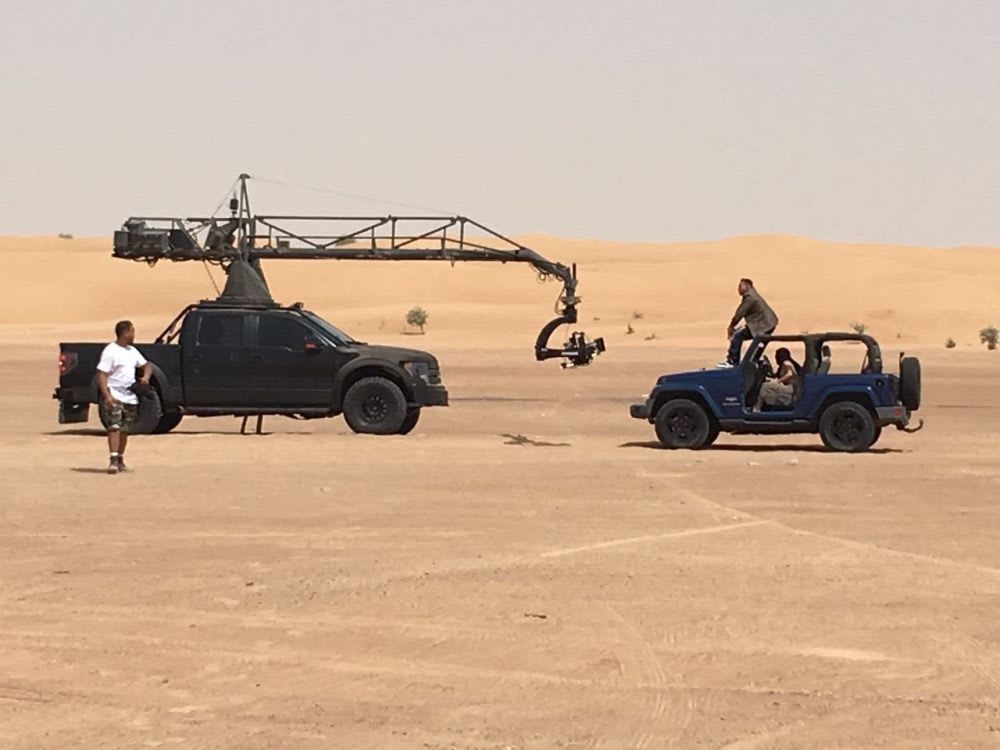 Filming in the UAE via Central Films
However, to secure a tourist-free spot, you may need to employ someone to keep the dunes clean of footprints - or venture further out. According to Shane Martin, managing director of Dubai-based production service outfit Boomtown Productions, there are plenty of unspoiled Emirate options: three hours drive away is the Rub' al Khali (The Empty Quarter) in Abu Dhabi, which recently played host to Mission: Impossible 7 – while the Emirate of Sharjah is also popular for unspoiled sand.
With the lure of a 25% tax incentive and Netflix ABQ Studios based in Albuquereue, New Mexico has also become a popular desert shooting location, although this can lead to competition for resources.
"The industry is really starting to boom there, but there's almost not enough studio space or crew to support everyone. I'd recommend planning ahead if you are going to shoot near to one of the main production centres," advises Doiron.
3.Clear the critters
Logistically, it can actually be more straightforward filming in the desert because there are no parking fees and you can set up a huge base camp anywhere you want to, insists experienced location manager James Cutting, who's worked on a number of film and TV projects in Morocco, including Mission: Impossible – Rogue Nation, Ridley Scott's Kingdom of Heaven and Babel, starring Brad Pitt.
"But you will need to deal with local critters," he adds. "For Kingdom of Heaven we had to clear an area of two rugby pitches. I had to bring in a snake wrangler, an old boy of about 65. In the course of the three weeks to level the ground, clear it of everything to get it just right, we captured 360 scorpions, 36 vipers and 16 black cobra on just that area. After that you put a chemical around the border that the creatures won't cross. So you need to prep.
4. Consider 'cheating'…
The Canary Islands' varied landscapes have doubled for Mexico, the US, Guinea Ecuatorial, the Philippines, Morocco, Egypt, Syria and even Antarctica, according to Veronica Franco, a Tenerife-based location manager.
Franco, whose recent desert-based productions have included Spanish series Morocco, in Love and War and the upcoming Netflix drama Sky Rojo adds that daily flights from many European airports and the fact that there's a port on every island that can be used to ship heavy equipment vehicles, mean that the islands are ideal for film crews. "I really think that filming desert scenes in the Islands is far easier than in any other place," she says.
"There are no snakes, scorpions or sandstorms and the islands are not that big: no matter where you are shooting, at the end of the day you'll be back in your hotel in less than an hour," she adds.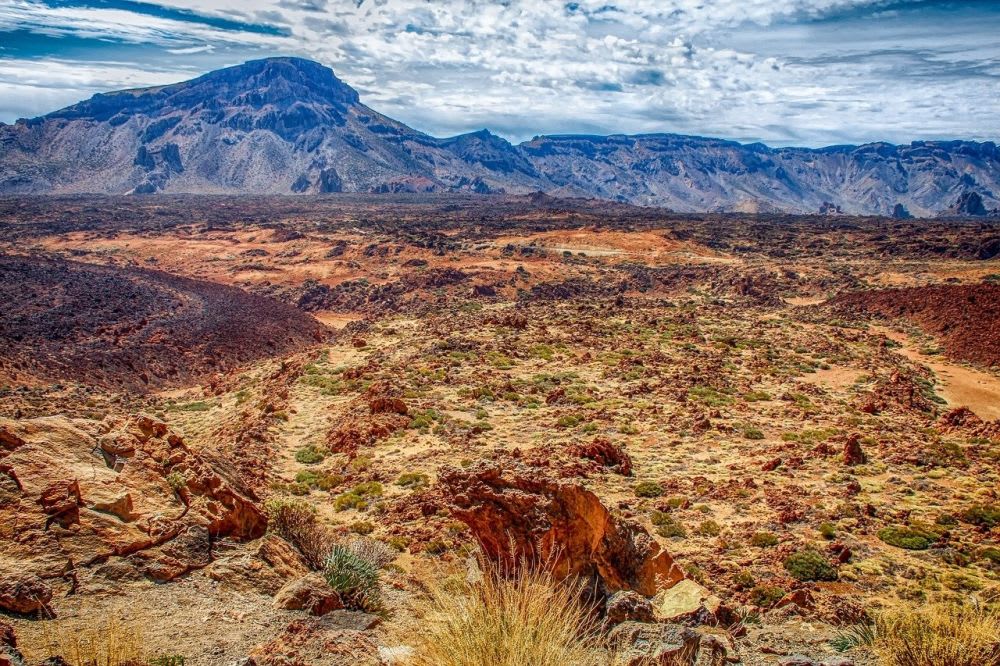 Tenerife, Canary Islands
Hollywood productions such as Disney's Solo: A Start Wars Story (Fuerteventura); Universal Pictures' Jason Bourne (Tenerife) and Netflix series The Witcher (Gran Canaria) have also been attracted by the 45-50% tax rebate on expenditures, while a new 21,000sqm film studio in Gran Canaria looks set to open up even more options.
5. Check the seasons
In many desert territories the summer months can see the mercury soar past the 45-50 C mark. "In Dubai we still film in these months, but it means more shooting days and air-conditioned tents," says Boomtown's Martin. He advises getting out for sunrise and shooting until 10am; then starting again at 3pm: "The light is at its best then anyway," he adds.
It's equally important to be aware of the rainy seasons, as Mullen found ou during the August shoot of Wander in New Mexico. "Our liaison officer warned us about monsoon season, but it was super hot, so we thought 'how bad can it be?'." The director soon found out "within seconds" when an entire storm front moved in.
"There was an electrical storm, which just looked so cinematic, with purples and greys - our T1 lenses were just soaking it all in - but we had to shut down filming that day as the lightening got too intense. Basically if you are filming during this season you need to be smart with you scheduling," Mullen adds.
According to McWilliams, even planning does not account for spontaneous freaks of nature. During filming in the Sahara desert on Peter Weir's The Way Back they drove deep into the dunes ("where it never rains") only to experience a freak rainfall, which left the desert sprouting greenery which the crew then had to weed out.
Sandstorms are another phenomena that can be a very real threat to filming. On the same Weir shoot, just as the director was planning a sandstorm, one actually occurred. McWilliams recalls: "We got everyone back into the Land Rover which got pelted pretty hard. Peter left the camera running but we had to dig everything out afterwards because the kit had become embedded in the sand.
6. Take care of the crew
Making sure that the crew come doused in sunscreen and are rested and hydrated is essential - electrolyte pellets and electrolyte-intense drinks such as coconut water are often shipped in for desert shoots.
"If you're shooting in the desert up to June/July, you need to drink two to three litres a day, after that you're looking at four to four and a half litres," insists Cutting.
When filming in Muslim countries during Ramadan, productions also need to be mindful of fasting crew and crew support. Martin adds that they tend to hire extra tents for crew to eat in during this time, so that they are doing these activities away from those who are fasting.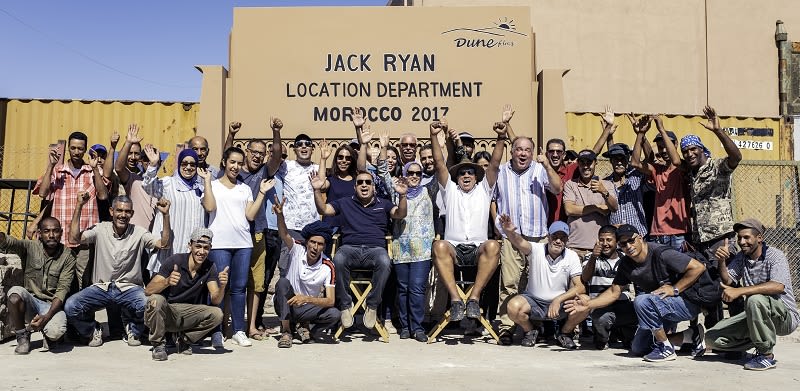 The crew of Amazon Studios' Jack Ryan series via Christian McWilliams
According to McWilliams, many productions also employ a 'Sand Doctor' - a medic on a sand bike who can quickly access the location. Stunts with horses or camels meanwhile, may require an air ambulance on standby or a private plane to fly people back to civilization.
During the pandemic, to comply with Covid filming regulations, extra vehicles may also be required due to passenger limitations. Shooting with masks during the height of summer can also be uncomfortable, and Martin advises productions to budget for plenty of spares.
7. Take care of the kit
Small amounts of sand do not damage cameras or lenses, according to Central Films' Ian Ross. "Lenses are sensitive to scratches so care needs to be taken when cleaning them and it's best not to blow compressed air onto the barrel, as that just forces the sand deeper in. We try to brush it off and at the end of the day and vacuum it out," he says.
Ross adds that when a sandstorm starts to blow it's best to cover as much of the camera as you can in a big see-though plastic bag with holes cut in places for access to the controls and to allow cooling air to come through.
Most filmmakers agree that overheating in extremely hot conditions is less of an issue now with disk-based cameras - although Ross adds that it can still happen when shooting at high resolution and low compression.
"To avoid this we try to keep the cameras out of direct sunlight as much as possible with umbrellas. We try never to cover the camera body and we always keep the internal fans at maximum," he says.
In terms of systems, according to Martin, popular accessories on desert shoots right now are Russian Arms mounted onto specialised 4-wheel drives - used to film moving vehicles from a variety of angles - and FPV Drones, which are frequently being used to capture car chase sequences.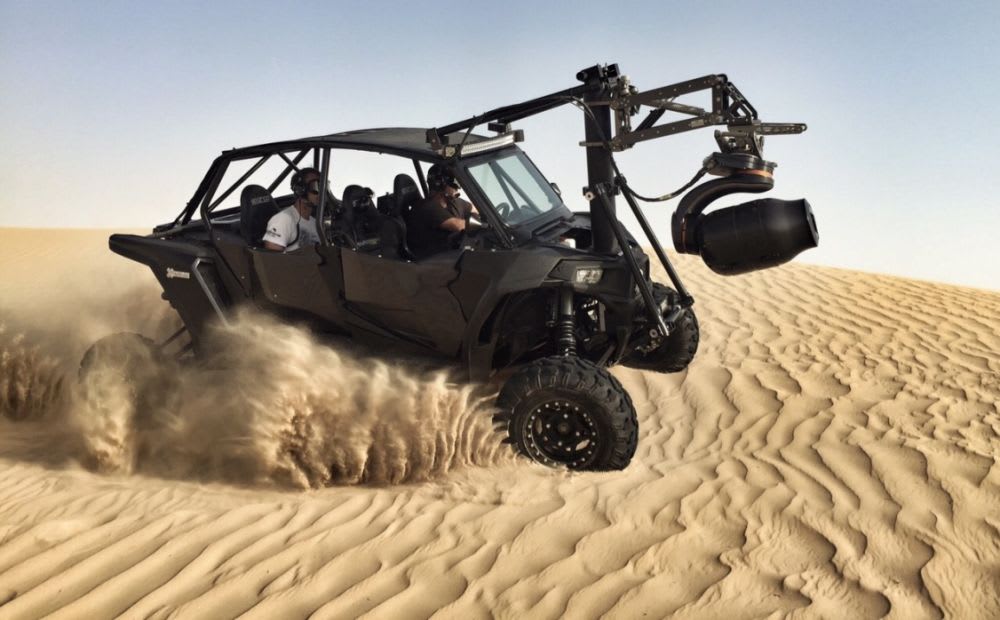 Filming action sequences in the desert, via Central Films
8. More animals mean more humans
Camels and the desert go hand-in-hand, and while they're generally well-behaved creatures bred to work with tourists, McWilliams points out that if you need a hundred for a scene you will need to employ at least 15 handlers to keep them busy.
Other animals to be mindful of are the ones you need to avoid. Scorpions and snakes are the main creepy crawlies on desert plains. According to McWilliams, most scorpion populations scuttle off at the first sound of a noisy film crew, "but it might be necessary to hire a person or two to sit on a dune for two or three days to drive out the snakes," he adds.
9. Leave before it gets dark
While you can't beat a desert sunset, it's wise to leave before it gets dark to avoid getting lost or stuck in sand, says Martin. "It's incredible how the desert changes once it gets dark and it's far harder to get around - lots of people end up having to be rescued.
"This is why you need to find professional guys that are used to night time driving; that know how to drive on dunes and let the air pressure down on their tyres and then know how to re-inflate them…"
10. A fond farewell
Martin says that on their departure, crews should be careful to leave the sand as they find it: "It's important to leave the desert unspoiled, that is after all, what makes it so beautiful in the first place."
Additional reporting by Chris Evans, Editor of KFTV.
This report is sponsored by Central FIlms in the UAE