Vilnius, the capital of the small country of Lithuania, situated in northern Europe along the south-east shore of the Baltic sea, has moved into the spotlight since it doubled for 1980s Ukraine in Sky and HBO's award-winning series Chernobyl.
Since then it has also played host to a number of other high profile series and films, including Sky and HBO's Catherine The Great, starring Helen Mirren, Net­flix's English-language series Young Wallander, and just before lockdown, the streaming giant managed to finish filming season four of Stranger Things around the city.
"It's such a pleasure to be back. Everyone here works so hard to ensure everything runs smoothly," enthuses Marshall Leviten, producer of Young Wallander. "The locations work really well, the crews here are so professional, and the hospitality both at work and everywhere else is fantastic. I must give a special mention to all the amazing staff at The Pacai Hotel, who are welcoming us back for a second time. It really is a home from home."
Shawn Levy, director of Netflix's Stranger Things series four, adds: "My adventure in Lithuania in bringing the reveal of the 'American' to life has been a huge challenge but an even bigger inspiration, and we are so thankful to the city of Vilnius and the beautiful country of Lithuania for their hospitality."
There's also been a plethora of international projects arriving from Finland, Norway, Sweden and France since August last year, including Netflix's six-part Swedish crime drama series Clark, directed by Jonas Åkerlund and starring Bill Skarsgård, and the Nordic Entertainment Group (NENT) series Max Anger, co-produced by UK outfit Twelve Town, about a Russian expert and former special ops soldier who goes looking for a missing colleague in St Petersburg.
"We had our challenges shooting in Lithuania," admits Alexander Tanno, head of Nice Drama (A NENT Studios company), co-producers of Max Anger. "But what I can say is that it worked well as a stand in for St Petersburg in 1996, which is when our show takes place. Moreover, the size of Vilnius worked in our favour because it was easy to get around and we weren't stuck in traffic or had to spend loads of time getting around. Moreover, the tax credit system [worth up to 30%] has worked well for us [with the project receiving €1.4m]."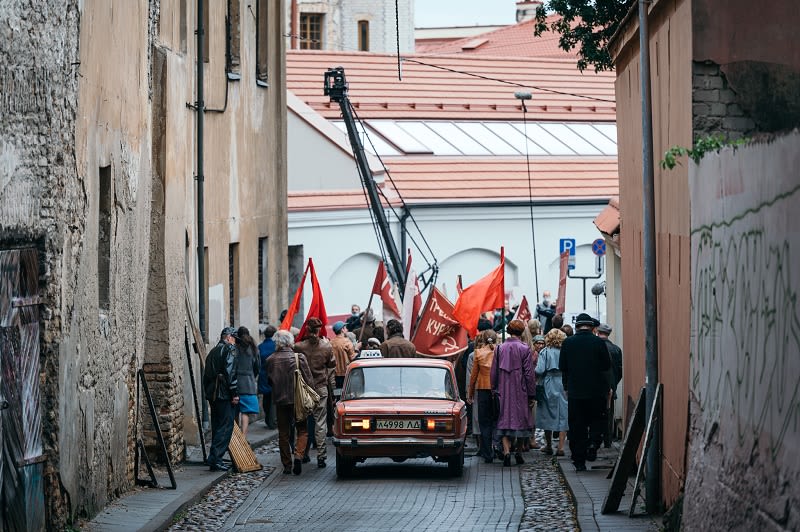 Max Anger series filming in Vilnius. Credit: Nice Drama.
A total of 21 foreign productions accessed the incentive in 2020, receiving €8m in funding, despite Covid causing disruptions. In total production expenses in Lithuania were €38m, making it the most profitable year for the tax scheme since its launch.
The Vilnius Film Office has worked closely with filmmakers by helping organize shootings in public spaces and public institutions, issuing permits quickly, with no deadlines.
Why Vilnius?
Vilnius is the key focal point for many of the productions that come to the country due to its multifaceted history, offering gothic, renaissance, baroque and neoclassical architecture that provide perfect backdrops, and a highly skilled film industry workforce.
"Offering an abundance of compelling locations, from moody dark alleys and disused prisons to shining trendy restaurants, Vilnius provides the wide-ranging look and feel productions are after," says Jurate Pazikaite, film commissioner and director of the Vilnius Film Office. "Diverse historical backgrounds are imprinted in the city's surroundings, making Vilnius a go-to location for shooting films depicting various periods."
Highlight: Kino Studija (colloquially referred to as Martynas Studio)
This impressive complex situated just outside Vilnius was used for Chernobyl and is now a viable studio, including a warehouse area of nearly 2,000 square meters, 4 hectares of backlot, and nearly 1,000 sq m of production office space.
"We turned it into a backlot, converting the interior into sets with connected power, cleared parking areas, and turned factory offices into production and art departments and accounting offices. It's a great space for productions to build sets."
Rob How, Chernobyl series' UK line producer
Key facts
Lithuania offers a 30% rebate - International productions should spend at least $46,500 (€43,000) and shoot for at least three days in Lithuania to qualify for the support and must work with a local co-producer.
Vilnius Film Cluster is the main production facility with a base for nearly two dozen audio-visual companies. It has a soundstage of 1,100 square metres and a 350 square metre greenscreen.
Lithuania is a small country with good road and rail links. There are direct flights to Vilnius from the main European capitals.
Main image: Netflix's Clark. Credit: Dansu.