Exclusive KFTV Report: Top 10 things to know about filming in Norway
An astounding three of the top 10 box office hits of 2021 chose Norway as one of their filming locations - No Time to Die, Dune and Black Widow.
While, looking ahead, Paramount's Mission Impossible: Dead Reckoning Part 1 will feature Tom Cruise's likely most daring stunt yet, riding a motorcycle off a Norwegian mountain. The next instalment of the series is slated to shoot in Norway sometime soon. In addition Black Panther: Wakanda Forever is conducting VFX in Norway, and a slew of Jo Nesbø productions are either wrapping up or slated to produce soon.
It's no surprise, producers who have filmed in Norway say, "everything just works". Stunning and accessible locations, lean and experienced crew with a can-do attitude, and a highly-functioning society with amazing infrastructure.
Here we talk to Meghan Beaton, film commissioner for Norway at the Norwegian Film Commission, about what is drawing these projects in and the top 10 things international production figures need to know about shooting in Norway…
1/ Locations
While Norway has hosted many large productions recently, there are many virgin and unique locations that have yet to be captured on film.
Heralded regularly as the world's most beautiful country, there are a wide range of diverse and dramatic locations in close proximity. Productions can find an eclectic mix of architecture styles from hyper-modern to Hanseatic, neo-classical, brutalist and art nouveau. The modern Oslo Opera House featured in Christopher Nolan's Tenet, while new sites like The Twist – a gallery, bridge and sculpture over the Ranselva – and underwater restaurant turned artificial reef Under are primed and ready for a chance to feature in a film.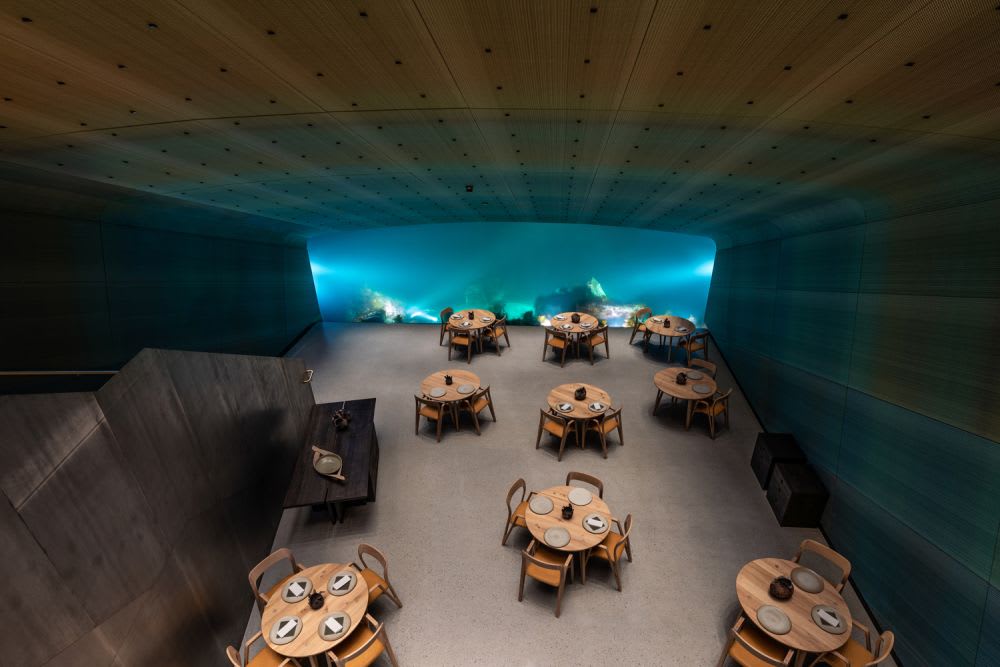 'Under' restaurant in the remote Lindesnes area. Credit: Snøhetta
There are, of course, also a stunning array of natural landscapes and sites, which are perfect backdrops and accessible for productions thanks to extensive and impressive infrastructure projects. These include serpentine bends up jagged, alpine mountains, and several of the world's tallest waterfalls. As well as unique geological formations like the Stadt region where Denis Villeneuve's epic movie Dune filmed, taking advantage of the stunning mountain plateaus and surrounding fjords.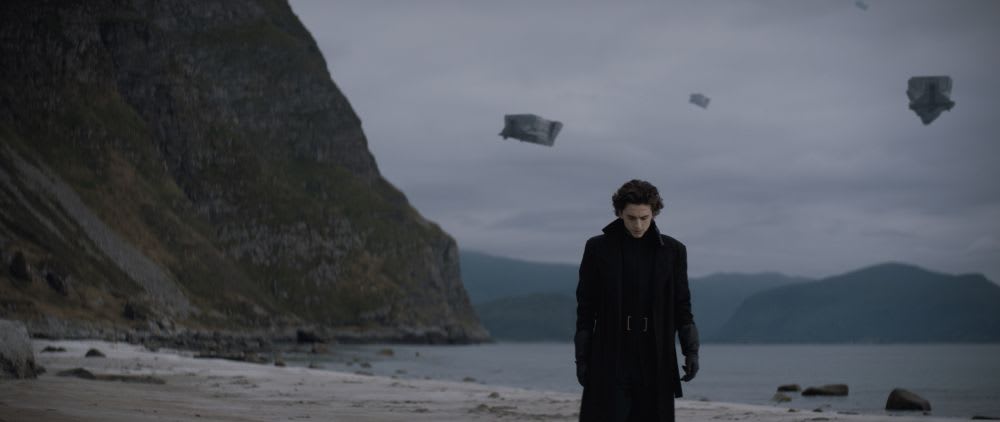 Dune filmed in the Stadt region of Norway. Credit: Warner Bros. and SF Studios
Plus, there's Trolltunga and Preikestolen, a steep cliff hanging above the Lysefjord, unforgettably portrayed in Mission Impossible : Fallout.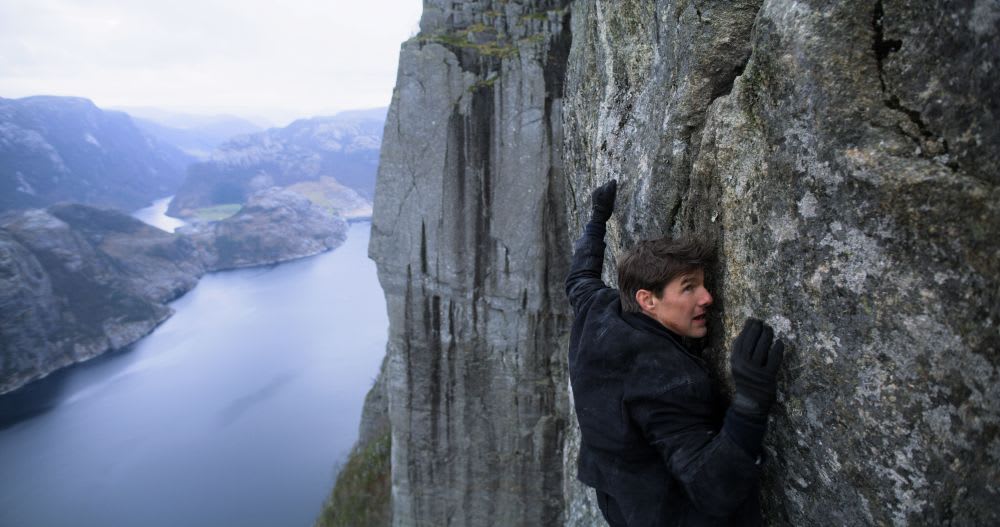 Tom Cruise climbing Preikestolen for Mission: Impossible: Fallout. Credit: Paramount
Norway is a long country bespeckled with fjords, giving it one of the longest coastline in the world. But while the Nordic country has hosted many large productions of late, there are so many virgin locations that have yet to be captured on film and there is a huge amount of untapped potential.
2/ Doubling
Norwegian locations can also naturally double for anywhere in the Nordics, as well as other countries and regions with snow, ice, mountain and fjords such as Canada, New Zealand, Alaska, Russia, the Alps and more. Comparatively, Norwegian nature is highly accessible.
"Norway doubles brilliantly for the Colorado Rockies, Canada and Alaska. It felt a bit like Scotland, where I'm from, but Scotland on superdrugs. It's incredible, these vertical hills, waterfalls everywhere and deep, deep fjords and sea lochs" — Andrea Macdonald, producer, Ex Machina
Juvet Hotel, where Ex Machina filmed, is often ranked one of the most beautiful filming locations in the world...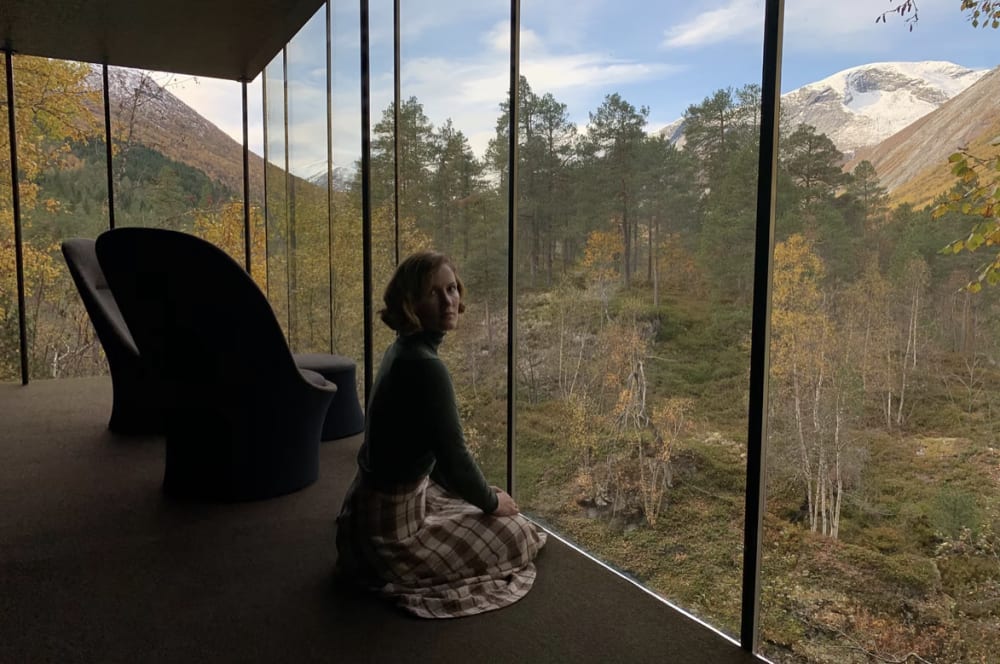 Ex Machina filmed at the Juvet Hotel
Urban areas of Oslo can double for modern cities of Europe and the Nordics, and the hyper-modern architecture of Oslo is becoming well-known for narratives set forward in time.
3/ Light & seasons
Year-round the lighting conditions in Norway are spectacular, from long days and dusks in summer, to the Aurora Borealis in the winter. In the summer it never really gets dark, and up in the north the sun stays in the sky.
From late September to late March, northern lights frequently soar across the sky in northern Norway with a colour palette of green, blue, even pink and violet.
4/ Film-friendliness
Open access to nature is deeply ingrained in Norwegian society. Norway is very film-friendly and does not have a film ordinance. Permitting is not needed on minimal-impact productions in public areas and on uncultivated land, but is needed in instances of closing off public areas etc. The permitting process is often straightforward and quick.
Productions are met with a willingness and can-do attitude from local authorities in Norway. Commissions can provide advice and introductions, as well as assist with government and communication relations on high-impact productions. Local service production companies can assist with applications to municipalities, port authorities, national parks and more.
5/ Crew & services
Norwegian crews are renowned for high on-set efficiency and experience and are well-accustomed to working on international sets. Crews and the general populace alike speak fluent English. Norwegian business culture is lean and this extends to film sets, with productions able to plan for a smaller crew compared to international standards. Norwegian crew rates are also highly competitive and are significantly lower than the UK.
Rental houses offer state-of-the-art equipment and a wide selection of cameras, lights and cranes — a complete technical pipeline with rates on par with the rest of Europe.
Norway offers award-winning post-production and VFX facilities and talent, and currently Black Panther : Wakanda Forever is conducting post in Norway.
There are several purpose-built soundstages in the capital, Oslo, and the largest cities like Bergen and Tromsø have studios.
6/ Logistics
Norway has invested long-term and heavily in infrastructure, as such the stunning nature is also extraordinarily accessible to productions.
Norway boasts over 50 airports, and all major national hubs offer daily flights to London. The variation combined with this accessibility means that productions could film on a sandy beach and a glacier in the same day.
Mobile and internet coverage throughout the country is first-rate, even in remote areas.
Norway is also a very sustainable filming destination, with a high level of renewable energy combined with the world's largest electric car park. With such close proximity to London, Norwegian nature is the shortest flight possible for major productions to access.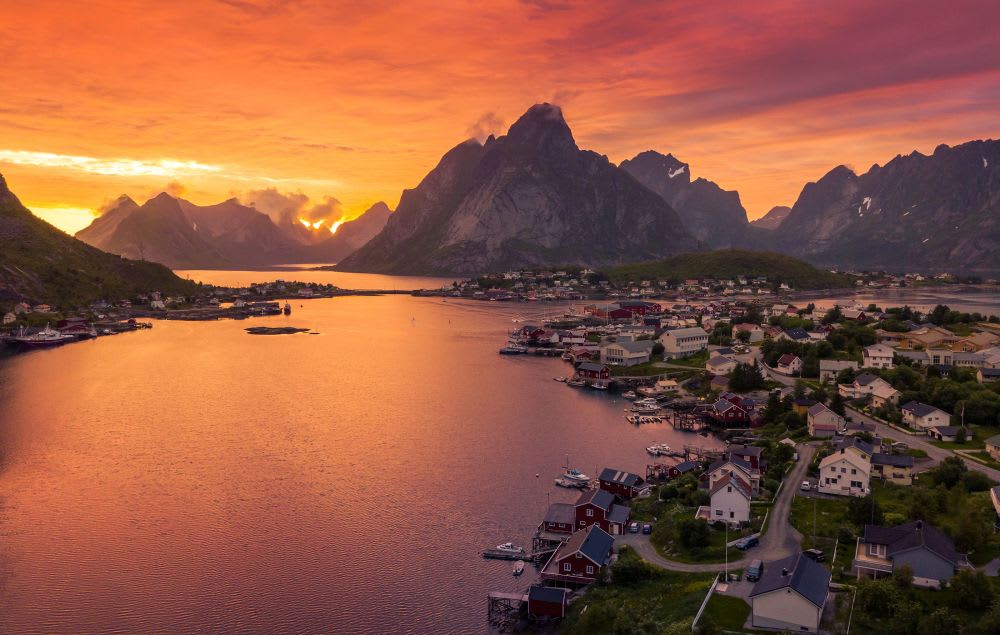 Lofoten archipelago, Norway. Credit: TR Photos, Shutterstock
7/ Ease of business
Business culture is characterised by a range of factors making it a great place to conduct business — open and direct dialogue and professionalism, transparency, equality and predictability. Hyper-modern banking practices have led Norway to be a near cashless society.
Norway is a member of Schengen and the European Economic Area. There are VISA exemption agreements with all EU/EEA countries as well as 65 countries outside of the EU, including the United States. Crew members entering Norway for productions under 90 days do not need a visa if they are being paid by a foreign company from a visa-free country.
8/ Snow Secure
Uniquely, productions can find snow and ice in Norway throughout the year.
Some glaciers are easily accessible throughout the summer months, offering a variety of snow locations and ice fields.
Respect for the environment is a key value of Norwegian society, and Norwegian crews and suppliers are adept at filming in snow and ice in a wide variety of conditions.
9/ Incentives and funds
Norway's film incentive offers a 25% cash rebate on local spend to a number of qualifying projects. The rebate is awarded to the highest-ranking projects in each application round.
The 2023 incentive application window is already open.
Norwegian Film Institute is the main film financing body in Norway and offers a variety of funding programmes for the development and production of feature films, TV drama, documentaries and games, totalling about €60m. Minority co-production funding is also available, and priority will be given to projects with a strong artistic potential, and / or a recognized potential in the Norwegian market.
Through a Norwegian co-producer, productions can access funds both at a national and regional level. Importantly, regional funding can be combined with the film incentive.
10/ Commissions
The national film commission Norwegian Film Commission has been given the remit by the government to facilitate, attract and maximise international film and TV production in Norway. The commission offers bespoke production support, trouble-shooting, location scouting services for high-end feature film and TV productions, and can assist international producers in finding both locations and suppliers.
In addition to the national commissioner, there are five well-established regional film commissions, Western, Eastern and Northern Norway, Midgard and Oslo. Each offers bespoke services in addition to in-depth knowledge of their respective regions.
KFTV is hosting a Talk about filming in Norway on 22 June at 4pm UK time, featuring top-line speakers including Meghan Beaton and production figures who've worked on major projects like Dune, No Time to Die, Black Widow and Mission: Impossible.
Sign up to attend here.
Homepage image: No Time to Die. Credit: Moviebird