KFTV talks to José Cohen, executive producer at Mexico's Cactus Film and Video about the company's services, specialisms and standout filming locations across the country.

Founded in 1998, Cactus Film and Video is a production company based in Mexico City working all over Mexico and Latin America.

Please provide details about your company your services.
We have many years of experience in production services, equipment rental, news coverage, and live transmissions. Our skilled, multilingual team and specialist equipment allows us to produce a variety of different types of projects including long form entertainment, short films, news, commercials, music videos and more.
What specialist equipment and experience distinguish you from competition?
Cactus has some of the best specialist equipment available to rent for all types of projects. Our cinematic lenses are a customer favourite of which we have a vast collection depending on the needs of the DP of the project. At Cactus Film and Video, we make sure to always have the up to date industry standard cameras and equipment. Another thing which distinguishes us is our rich experience in news and live transmissions.
Our teams' skills and experience has previously meant that Cactus has often been one of the first teams on the ground at many historic events in Mexico and the Latin Americas. Our background in news means that we are well connected to offer fixing services for fiction, reality TV or documentary productions. It also means that our team has experience and training working in hostile environments.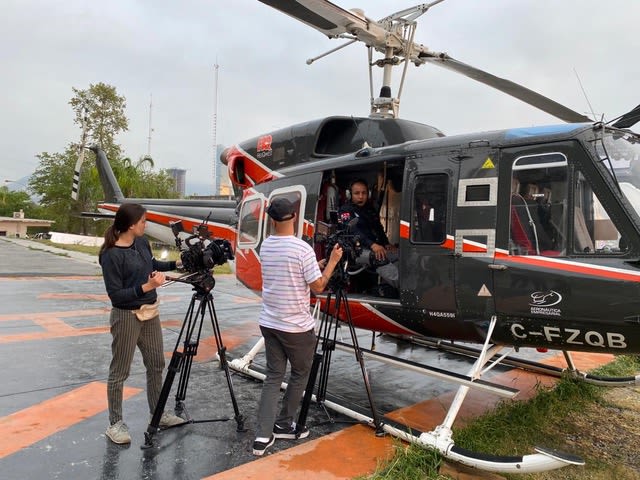 (Enrique De la Cruz & Amanda Perez Contreras)
What is appealing about filming in Mexico, and is there doubling potential?
Mexico has it all. Stunning coasts, tropical and temperate forests, deserts, mountains and volcanos as well as diverse urban scenery both modern and historic. All together this means that Mexico is the perfect film set that can cater to any productions needs. It also means that wherever you go in Mexico there is endless doubling potential.
Our forests can double as any rainforest or temporal forest in the world. Our deserts, whilst unique, also resemble other desert landscapes in the world and our coasts, mountains, rivers lakes and waterfalls also serve as great doubling locations. There are a huge variety of cities and towns in Mexico meaning that Mexico offers both modern back drops for example Mexico City and also more rural scenery in the small towns and villages some of which have been used before to film westerns.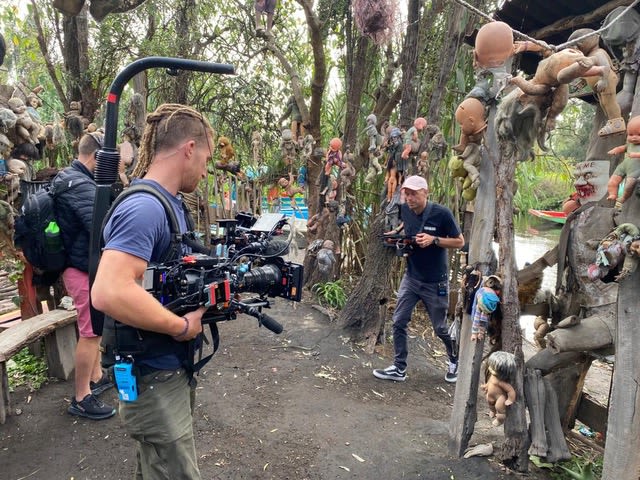 (Tom seal - DoP - Phil Ashton - Director - Doll Island, Xochimilco Mexico)
What international projects have you worked on recently?
Cactus Film and Video have worked on a variety of international projects recently. Most Notably, Cactus produced the Mexico episodes of the Netflix Series How To Change Your Mind by Lucy Walker. We also offered fixing and production services for the ITV series Breaking Dad, in which we travelled from Mexico, through Guatemala Nicaragua and Costa Rica to Panama.
We also worked with Nat Geo for their show Drain The Ocean and co-produced the award winning film Noche De Fuego with multiple Academy nominations. Our team speak excellent English which makes it easy for us to work with international directors and film crews.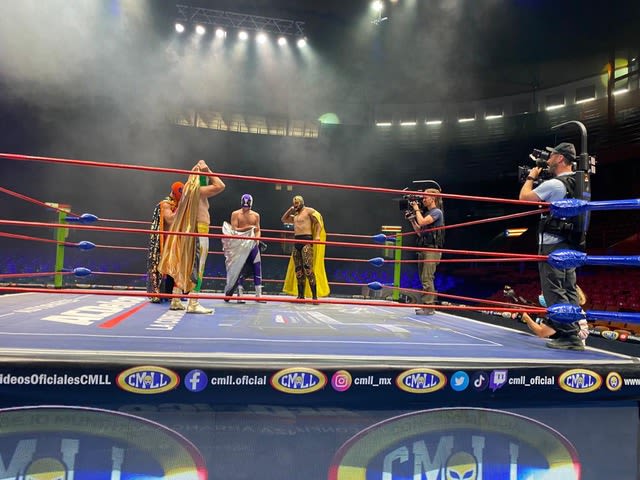 (Tom Seal & Simon Dadge at Arena México, Mexico City: ITV/HungryBearMedia 'Breaking Dad')
What projects are lined up for 2023?
We continue to work on our in house documentary projects, offering fixing and production services for our international clients and starting preparation for the 2026 World Cup which will be hosted in Mexico and North America.