KFTV hosted its Covid Alternative and Doubling Locations webinar on 3 February with leading industry experts currently working on film, TV and commercial projects discussing their production experiences.
The lively and informative debate, hosted by Chris Evans, Locations Editor for KFTV, came off the back of our comprehensive new International Production Guide 2021.
CLICK ON THE IMAGE BELOW TO WATCH THE ZOOM VIDEO...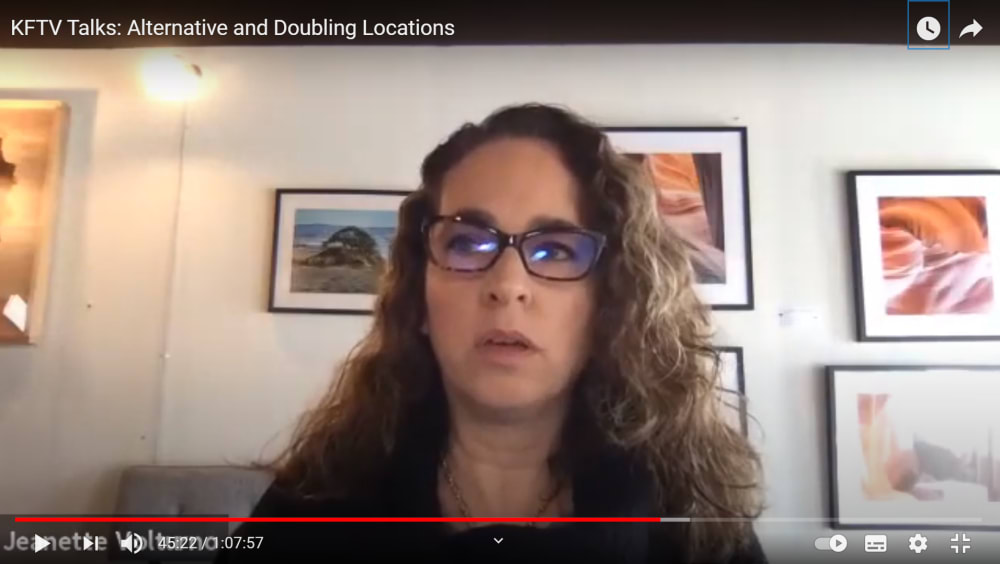 The Talk was sponsored by the Croatian Audiovisual Centre, Filming in Croatia and the Production Service Network.

In a wide-ranging chat, the panellists covered issues like…
Picking doubling locations
Jeanette Volturno, founding partner, CatchLight Studios, US
In the past I was looking at weather, crew availability and what productions were coming in, and what the locations looed like. Currently, in the past few months, we have been looking at how far the actors will travel. So, it's about how we're casting the production. We're looking at actors who are from that region, connection with the region or can travel to that region. We're working on a project filming in Western Australia and are looking at Australian actors travelling inner-state, rather than from the US.
We picked Australia because of the financing and look of the film, which lends itself to wide open spaces. It's also still about crew availability because it's getting really busy out there.
For the Blumhouse/Universal film Black Christmas we shot it in June/July and it was released in December. We had about 10 weeks before shooting to find a location. Without being able to throw a lot of money at it, needed somewhere to double the East Coast of the US and was cold, so we chose Dunedin in New Zealand. Very hard to double the lawns and drive ways, but we were able to find enough pieces there and make them look like the US.
Rob How, line producer (Dangerous Liaisons, Munich 38)
We're doing the Dangerous Liaisons TV series for Starz. We're shooting in places just outside Prague. Re-starting on the basis that we can get the crew and cast we need for shooting from April. We chose Prague because of the variety of financial incentives, but also because of the locations. The film is set in 1780 Paris, but France and the UK were not an option for us because of expense. Prague is a more economical place to film.
Last year for Munich 36 the project was set in Munich, but we also filmed in Berlin because it is film friendly and we filmed in large squares in the centre of town built pre 1938. We also went to Dresden to double for Munich and filmed in Munich itself, although they were understandably nervous about the film's subject matter. The difficulty we had was hanging large swastikas up, they didn't want that.
We also filmed Liverpool for London in 1938 because they had stucco fronted buildings in the docks that could double for Whitehall and Piccadilly (for scenes in the Ritz), and because it is very difficult and expensive to film in those areas of London.
Jonathan Halperyn, managing director of Hero Squared in Hungary (co-producers of Mrs Harris Goes to Paris)
Budapest is a very convincing double for Paris, which is why it was chosen for Mrs Harris Goes to Paris. In Buda you can convincingly film Montmartre with the staircases and rolling hills. We were all over at the theatre, which is a convincing Moulin Rouge. Normally it would be hard to film there, but this time it was shut down.
The National Film Institute in Hungary was also supportive in pushing out the message that Hungary was open for business and doing that with generous financial support for projects coming in, on top of the national financial incentive.
Tanja Ladovic, Filming in Croatia
Croatia is a small location, but so diverse, so we can double for almost anywhere. On the BBC series McMafia they were able to double for 12 different countries. Our capital alone, Zagreb, doubled for Prague, London, Moscow and Geneva. Croatia can also double for Italy and the French Riviera. Dubrovnik also doubles for Jerusalem.
Covid protocols
Rob How, line producer
We're operating under Covid protocols, which in prep is not too bad. You're wearing masks, you have perspex screens, your offices grow to accommodate the people, you hire more vehicles to take you around (two to three people maximum). Have to have in back of your mind the Covid protocols must be followed.
Where we're filming outside Prague are in the country, stately homes and country houses, and largely they are empty because there is no tourism. So just our crew there observing the protocols. Gives us a fairly safe environment.
I was filming in Germany last year for the Netflix Munich series and we were bubbling in 150 to 200 people and we were safe, testing two or three times a week, which helped. But it's not cheap. The studio was paying the Covid costs, over and above the production costs.
Jonathan Halperyn, Hero Squared
You can come right in to Hungary, not necessarily quarantine, although we have our protocols where you have to be tested twice and stay put in your hotel room. But the government wasn't mandating any productions like Mrs Harris Goes to Paris coming in, and they still aren't. With our invitation letters you can come in and be under our supervision.
There are benefits to shooting in Covid because the streets are empty and restaurants are happy to accommodate you for crew or catering for a lot less money than normal. There's a curfew at 8pm, but we have permits to shoot after that, so you're on empty streets – a film maker's dream.
Tanja Ladovic, Head of Filming in Croatia
We had a peak of Covid cases in December in Croatia, but the government is loosening measures and we expect international productions to resume from March.
Michael Moffett, MD of the Production Service Network
When we tackle safety we see it as a moving target and we're all trying to predict how things will be. But ultimately if you're working on long format they have time to plan ahead and shift schedules, but for commercials it's more of a juggling act over these past few months.
Alternative locations
Jeannette Volturno
I've taken everything from abandoned buildings or warehouses or old newspaper buildings with taller ceilings, anything we can get to transform the place. When I'm looking at countries and cities, I look at what space is large enough to accommodate us (with no pole in the middle) and can double for elsewhere.
Jonathan Halperyn
On location can sometimes mean a small English pub. We found one in a tiny location. But it was a real consideration. We had lots of extras and needed proper ventilation. Directors and creatives aren't liking it, but we have to use half the number of extras.
Travel restrictions and logistics
Michael Moffett, managing director, Production Service Network
Producers have lead feet now. Travel is reduced and you think twice about just jumping into a plane and heading elsewhere. So, we're looking to get the most out of locations. It's about cost and Covid.
Jeanette Volturno
We're like little mobile army units. Here in the US we're considered essential workers under the law. Everyone needs escape entertainment and shelves are empty. As long as we operate in pods and do all the testing, where there's a will there's a way. It's been amazing to see the tech grow in this system and people adapt. We can produce shows remotely. That has made it safer to send teams to different places, but not everyone, in a way that is safe.
Rob How
Brexit is the big elephant in the room. We are now having to get visas for everyone coming from the UK to Prague. Not a huge deal, but need to go to a different embassy to get them.
Lessons learned
Michael Moffett
We need to value the confidence amongst producers. I've seen a wide variety of producers and their success rate is determined by their confidence and transmitting it to all levels. We're walking on eggshells, but all getting more used to filming in Covid.
Jonathan Halperyn
It's a different way to make movies and shows, but everyone knows they need to be responsible on set.
Jeanette Volturno
For Songbird it was very apocalyptic. Los Angeles with no cars around is a strange place to be. We were the first to get permits. We were testing whether the protocols work. People were hesitant at first, but soon got used to it. We interviewed every HoD and were able to report back to the unions what worked and what didn't.
We learned that when you se up the pods and groups it's great on paper, but once you have to go out into the public (eg for costumes), you need more time and ability to protect those crew.
Rob How
Provided protocols are in place and Covid supervisors are available at all times then things can work. Crew soon realised the importance of wearing masks. Everyone is taking it seriously. But it definitely costs more money to put Covid protocols in place.