Greece is expected to host more than 20 projects in 2021, and already has about 16 scheduled, including: a follow-up film to the murder mystery Knives Out, starring Daniel Craig, from Netflix; Amazon and Paramount's Tom Clancy's Jack Ryan season three; and a new sci-fi film from David Cronenberg.
Disney+ is also planning to shoot a move called Greek Freak about the life of Milwauke Bucks basketball player Giannis Antetokounmpo, and Nia Vardalos is working on My Big Greek Wedding 3, which will also shoot in the country.
Here we talk to Venia Vergou, director of the Hellenic Film Commission (HFC), about what is drawing these projects in and the top 10 things international producers and location managers need to know about shooting in the country.
WATCH THE FULL INTERVIEW HERE...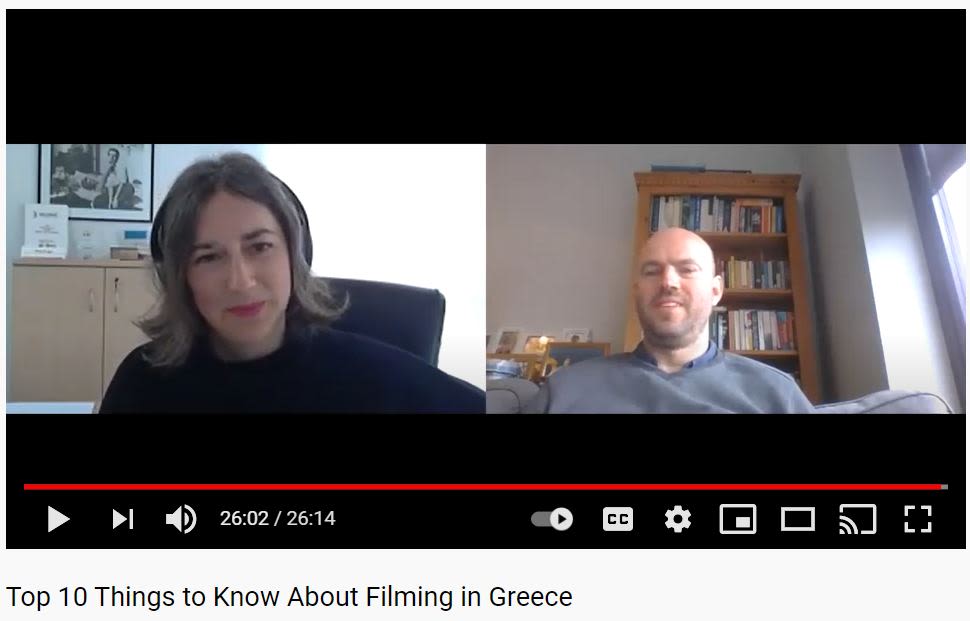 1/ Stunning locations
From archaeological sites and islands to jungles and snow-capped mountains, Greece offers every type of location, which can double for anywhere in the world.
"Everybody knows Greece has fantastic locations, and It's not only the incredible islands, but also over the mainland with a huge variety of archaeological and historical sites that span different Millenia, from the Acropolis to medieval towns and Venetian ports," enthuses Vergou.
There's no doubting the appeal of the islands, though. Last year Ruben Östlund' shot his dark comedy Triangle of Sadness, starring Woody Harrelson, on the island of Evia, which combines mountains, forests and rivers with great beaches offering stunning jungle like backdrops.
While the island of Spetses, with its Venetian mansions, played host to Maggy Gyllenhaal's directorial debut, The Lost Daughter, starring Olivia Colman and Dakota Johnson, in autumn last year. "They were really happy to be safe in a protected, Covid free island," enthuses Vergou. The island is also now expected to host the follow-up film to Knives Out this summer.
The beautiful Ionian island of Corfu has also been used for the ITV series The Durrells with its Italian and Venetian architecture and flavour.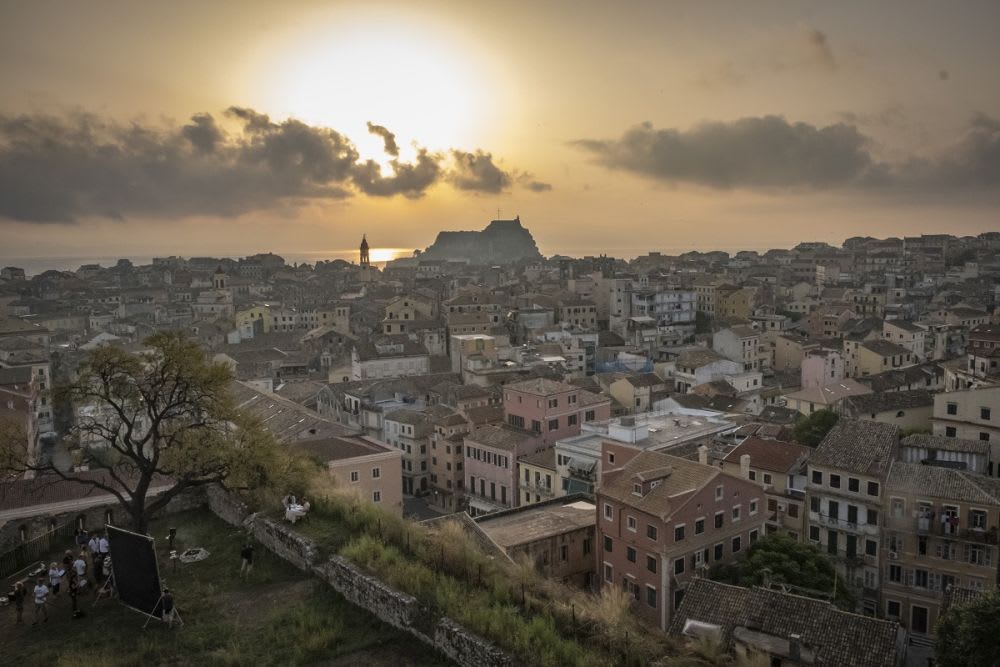 ITV's The Durrells filming in Corfu via Hellenic Film Commission
"You can even film within the crater of a volcano on the other worldly island of Nisyros, as Miguel Angel Jimenez did for his Spanish-Greek co-production, Window to the Sea," adds Vergou.
Greece is also great as a double for other places. The Israeli TV series Tehran, for example, managed to shoot Athens for Iran. "While the BBC's Little Drummer Girl series used Elefsina to represent Lebanon and doubled Nikaia in Athens for Palestine," says Vergou.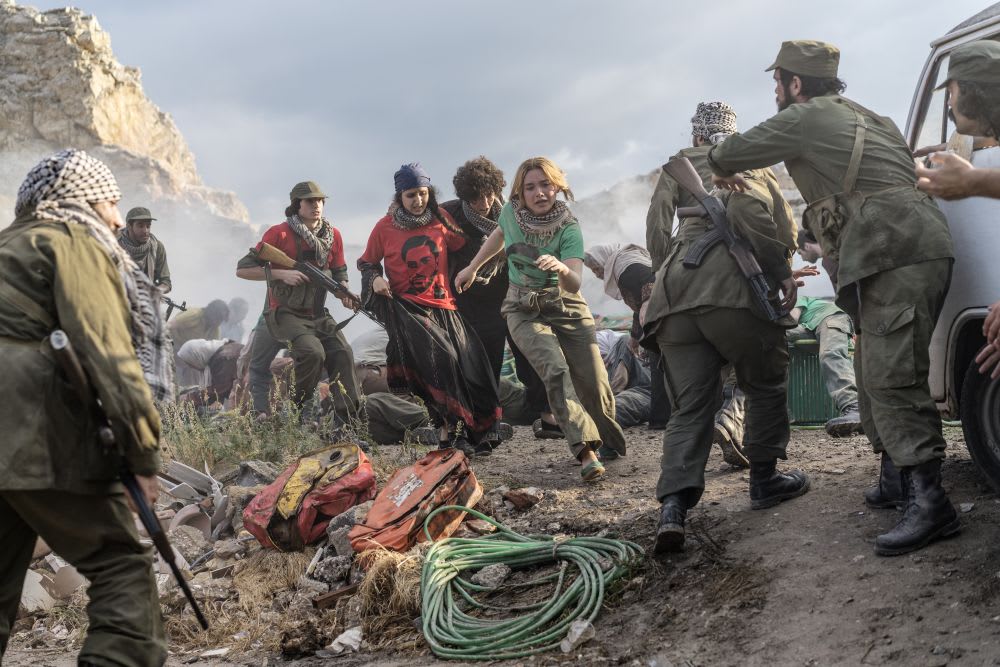 BBC's The Little Drummer Girl doubles Greece for Lebanon and Palestine via Hellenic FIlm Commission
2/ Light and Climate
There are 250 days of bright sunshine each year in Greece. "We have the best climate in Europe and long hours of daylight for shooting, which is something that film crews and DoPs really appreciate," says Vergou.
3/ Incentives
Aside from the striking locations, another key drawcard for international productions is the country's impressive combination of a cash rebate worth up to 40% and a 30% tax relief.
"Greece has been in the spotlight because of these incentives, operated and handled by EKOME (National Centre of Audiovisual Media and Communication), which a lot of productions have already benefited from," says Vergou. "The minimum expenditure for the cash rebate is very low, for example it's only €100,000 for feature films."
Applications for the cash rebate are allowed all year round and just need to be done at least 10 days before shooting begins. International productions need to pass a cultural test and apply through a local production outfit.
"After you finish the shoot and the auditing process is over, you get the rebate back within six months, so it's a straightforward procedure," insists Vergou.
The tax relief can be combined with the cash rebate, but you have to apply separately and they don't work on top of each other. "It's not 40% plus 30%, so 70% off," explains Vergou. "The rebate you get back after the production is done, whereas the tax relief means 30% of the eligible costs of a production are deducted from the taxable income of the investor."
More information can be found on the EKOME and Hellenic Film Commission websites.
4/ Further economic/financial support?
The Hellenic Film Commission also offers a new Location Scouting Support Program available to international film and TV projects conducting preliminary scouting in the country. They will need to shoot for at least 15 days (7 days for docs) and spend at least €50,000 in Greece. The maximum subsidy is €10,000, which has to be accessed through a Greek company.
"We want to attract productions as early as possible and guide them through the landscape and filming environment in Greece," says Vergou.
The Greek Film Center also offers several funding programs for the support and development of film and TV production, including international projects.
5/ Co-production treaties
The Greek Film Centre (GFC) is the official representative of Greece at Eurimages "with many successful co-productions through that," says Vergou. "And we have representation at Creative Europe Media."
Greece has also signed the European convention for co-productions and boasts treaties with the likes of Canada, Israel and China. "So, productions and producers from these countries benefit from these, including David Cronenberg's new project," says Vergou.
6/ Film office support
The Hellenic Film Commission should be the first port of call for international productions. Not only do they explain about the incentives and the location scouting program, they can also provide productions who have scheduled to shoot in Greece with a letter to facilitate filming, which has proved useful for them when applying to local authorities for filming permits.
Once projects are in the country, the HFC can also liaise between the production figures and local authorities, and provide networking with local crew, such as location managers.
Aside from the Hellenic Film Commission and Greek Film Centre, there's also the Athens Film Office, which has been operating for a year now and assisted several productions, as well as regional offices in Central Macedonia, Epirus, Ionian Islands and Western Greece.
"There are many others coming up because EKOME and ourselves are working with other regions to help them set up film offices and attract productions, guiding them through their own territory and location authorities," says Vergou.
7/ Handling Covid and protocols
"One of the reasons we've had such great traffic of productions coming into Greece is because we've handled the pandemic well and have thorough protocols in place issued by the Ministry of Culture," insists Vergou.
When Greece entered the second state of lockdown in November, there were a few productions still shooting in the country, including Östlund's Triangle of Sadness. "That only had five days left of shooting, so we managed to persuade government officials that is was important for filming to continue with extra protocols and measures," adds Vergou.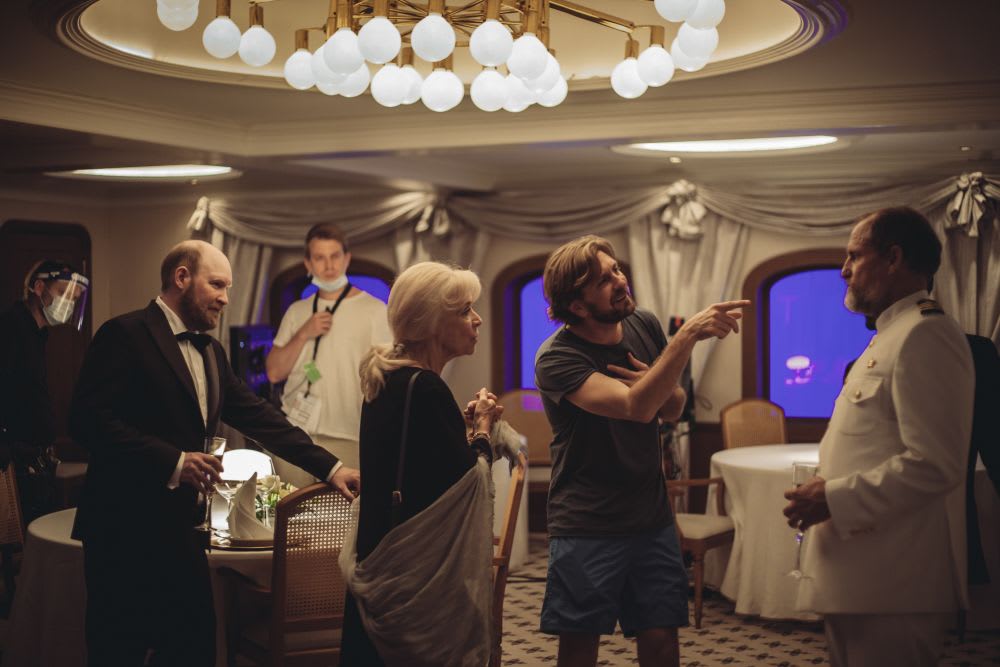 The Triangle of Sadness filming in Greece via Hellenic Film Commission
The HFC has been supporting productions and now film crews doing scouting can continue working under strict protocols once they have a negative PCR Covid test.
8/ Quality crew
Greece has high-quality experienced crew who speak English. The majority of crew are based in Athens but can work all over the country.
The increase in the number of international productions shooting in the country and using local crew over the past few years has undoubtedly helped.
"Plus, we have encouraged productions to take advantage of our growing number of film schools and students, so that the next generation are just as capable of working on projects of all sizes," says Vergou.
Some of the major studios and streamers that come to shoot in Greece are also helping train local crew to meet their standards.
9/ Safe country in the Mediterranean basin
"Greece is actually one of the safest and most welcoming places to film," says Vergou.
Despite their being restrictions on movement between regions for the general public, this does not apply for film crew who can work anywhere as long as they follow certain procedures like getting a specific permit from the General Secretariat for Civil Protection of Greece.
10/ Quality of life
We have quality weather, food, hotels everything. Everyone has a huge smile on their faces when they film here. "Ruben Östlund said filming in Greece reminded him of why he loves his profession," says Vergou.